If you need a dish that will impress your family and friends, these appetizers for Christmas Potluck parties are exactly what you are looking for!
Sometimes during the holidays, the appetizers are the star of the show and it's fun to bring a dish that everyone asks you for the recipe.
These potluck appetizers are guaranteed to win everyone over and we know that you will find a couple of new go-to recipes that you will love.
We put together 55 of our favorite party food appetizers that would be perfect for your next Christmas potluck or any event you have on your calendar.
What do you bring to a Christmas potluck?
For more potluck parties, one of the best things to bring is some type of finger food.
People love small things that they can munch on while they socialize with family and friends and it tides them over until the official meal.
Many people also bring desserts, which are perfectly fine too. No one will ever turn down a delicious snack that you bring to share!
What is the most popular appetizer?
During the holidays, the most popular appetizer on this list is our Spinach Artichoke Dip, but there are so many good ones.
See the list below for many more appetizers that we know your party-goers will love!
Love cooking as much as we do? Join our FREE private Facebook Group: Six Sisters' Dinner Club!
55 of the Best Appetizers for Christmas Potluck (Favorite Party Foods)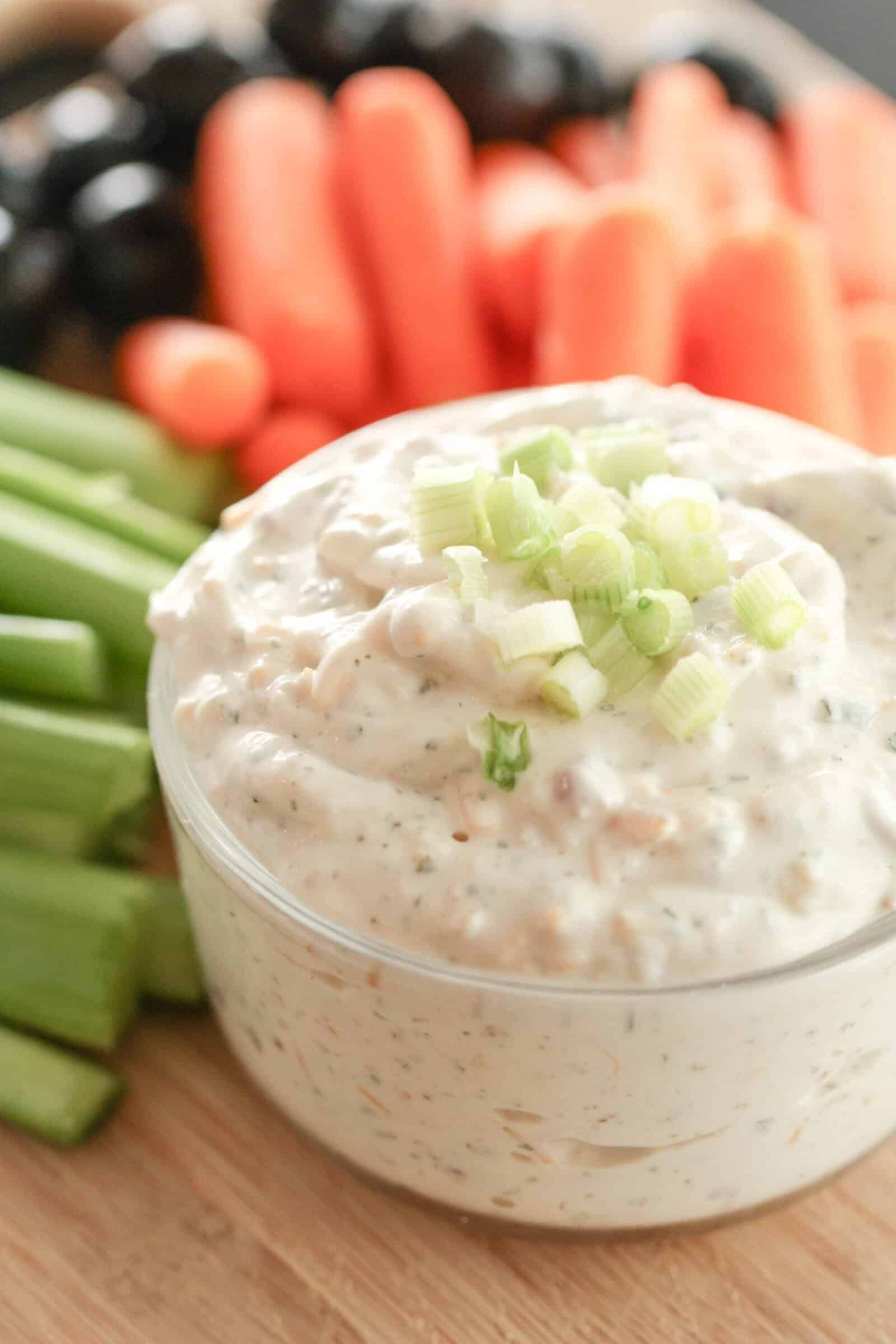 1. Cowboy Dip: I love the holidays, because I love all the delicious food that comes with it. I can't wait for our next family party, because I am bringing this Cowboy Dip, and I know my family is going to go crazy for it.
2. Baked Mozzarella Cheese Sticks: These Baked Mozzarella Cheese Sticks are one of our favorite snacks – and no deep frying is required because they cook in your oven!
3. Slow Cooker Sweet Meatballs: These Slow Cooker Sweet and Tangy Meatballs only have 3 simple ingredients. Throw them in your crock pot and serve them over a rice as a main dish or eat them with toothpicks as a quick appetizer.
4. Cranberry Bacon Jam Crostini: This Cranberry Bacon Jam Crostini is the perfect party or game day appetizer. A toasted baguette topped with smoked cheddar cheese and a flavorful cranberry bacon jam makes this one party food that everyone will be talking about!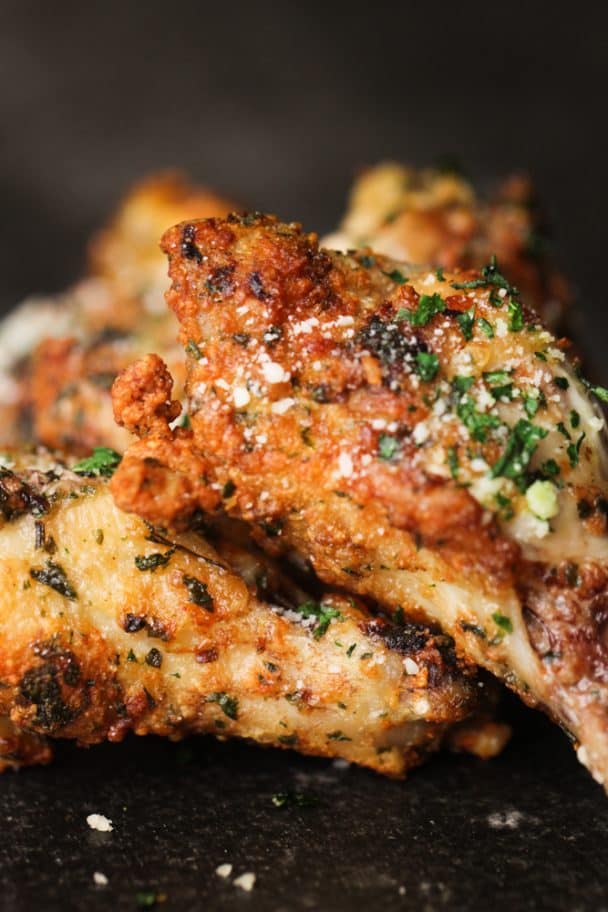 5. Garlic Parmesan Chicken Wings: These Garlic Parmesan Chicken Wings are so yummy and easy to make. They are full of flavor and only take a few minutes to come together. The best part is that they are healthy, and you would never know.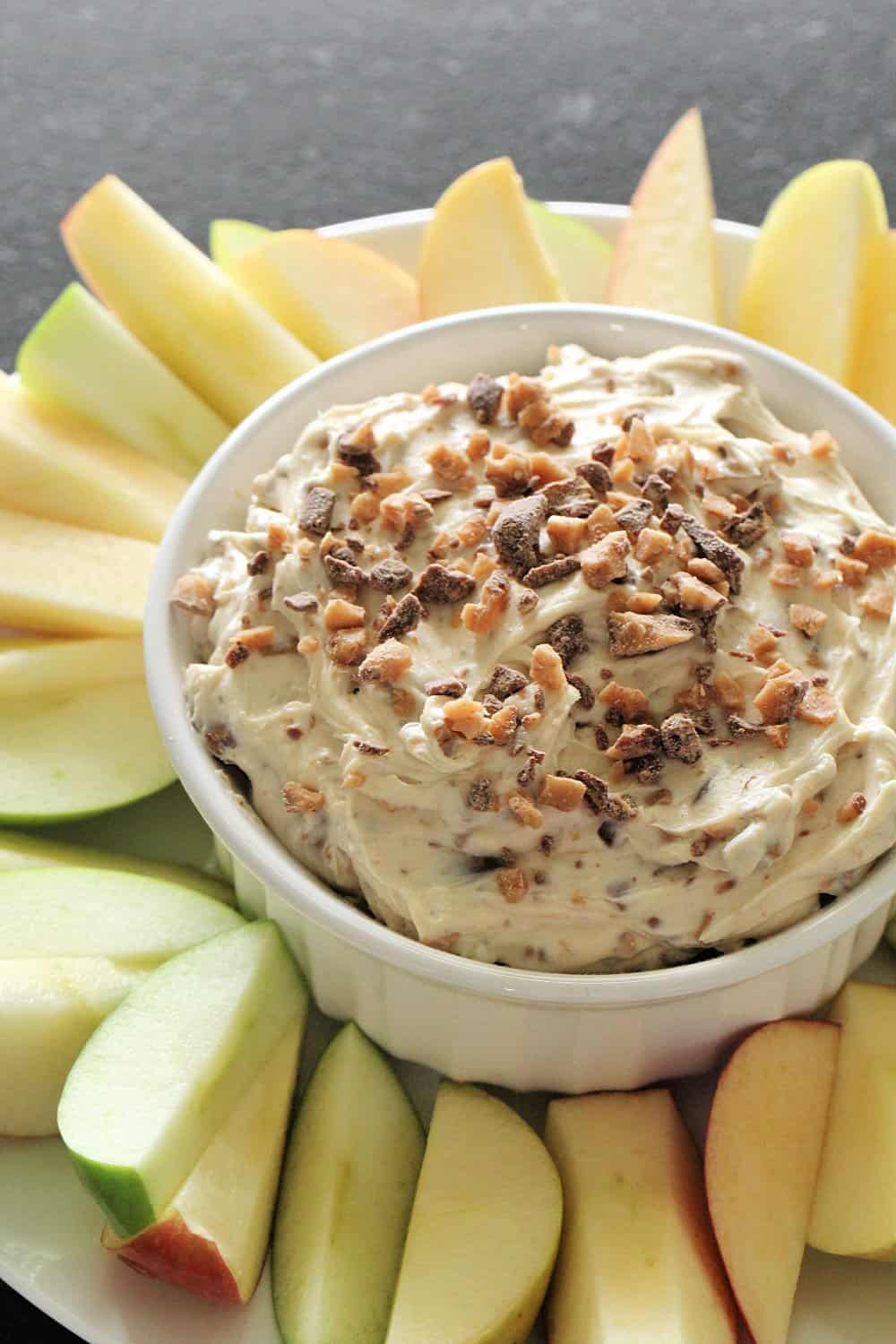 6. Toffee Apple Dip: This Toffee Apple Dip is a new favorite at our house. It is incredibly easy to make, and is full of delicious flavor. If you are looking for a quick and delicious appetizer or healthy treat, this is a recipe I would definitely recommend.
7. Instant Pot Spinach Artichoke Dip: This Instant Pot Spinach Artichoke Dip Recipe is easy to throw together and is perfect for holiday gatherings! It's delicious!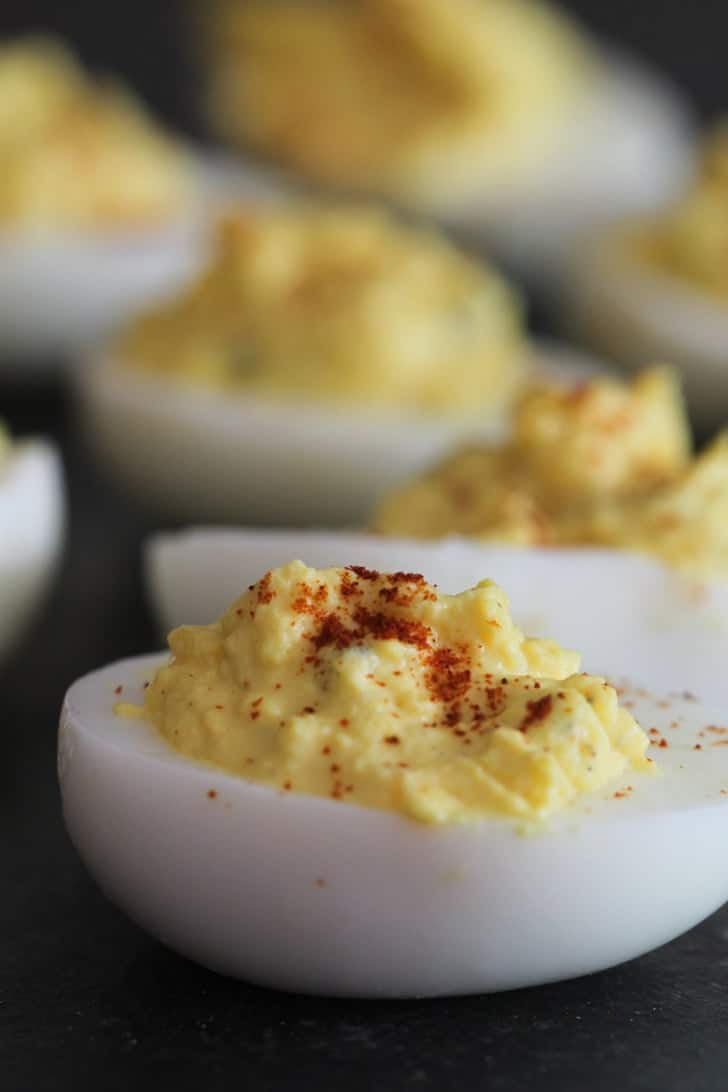 8. Easy Deviled Eggs: Our easy deviled eggs recipe makes the most delicious and creamy deviled eggs. With a simple and easy-to-make creamy egg filling, this will be your go-to deviled egg recipe.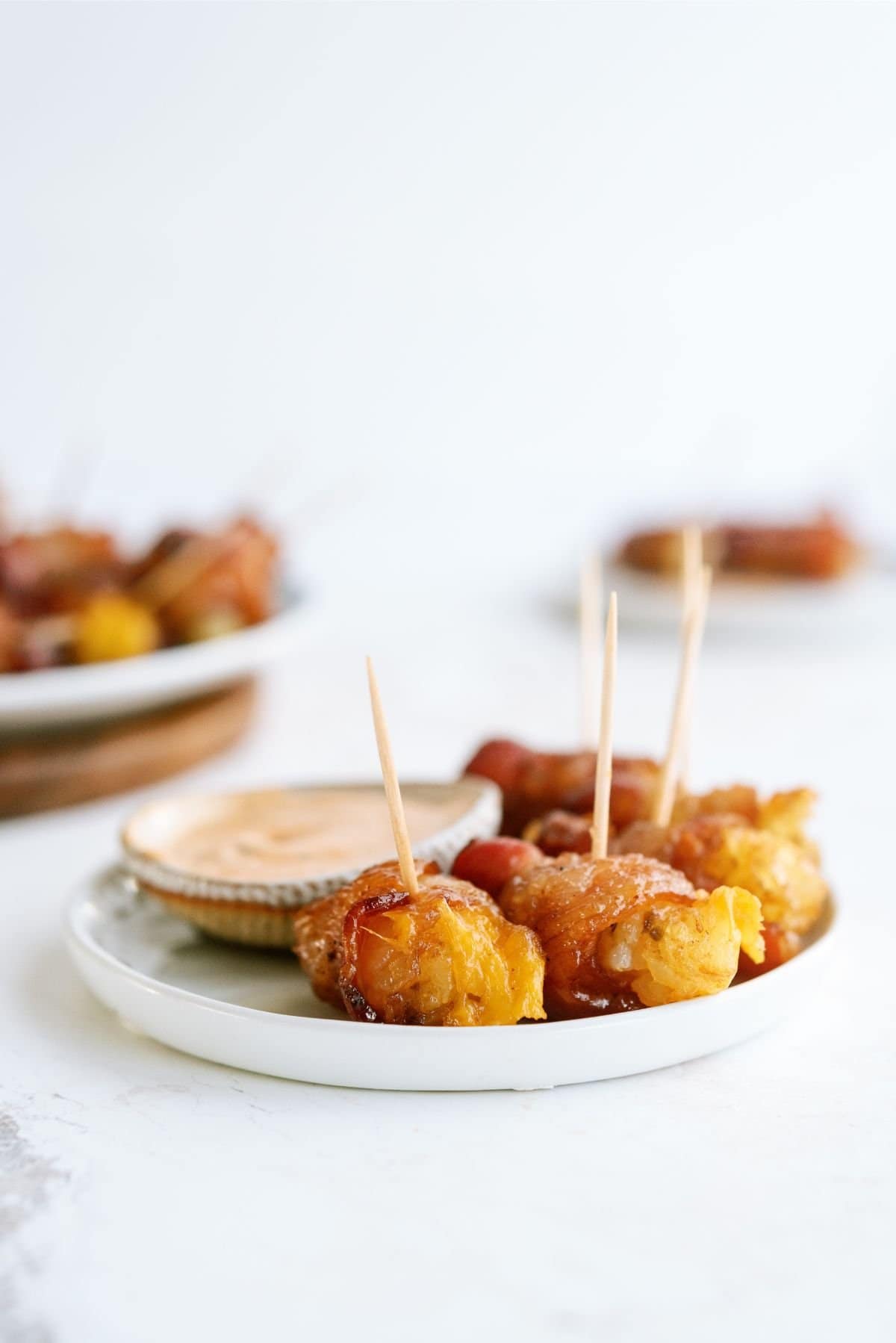 9. Bacon Wrapped Tater Tots with Cheese: These Bacon Wrapped Tater Tots with Cheese Recipe are the perfect party food and appetizer! The Secret Dipping Sauce takes them over the top. Everyone will ask for this recipe!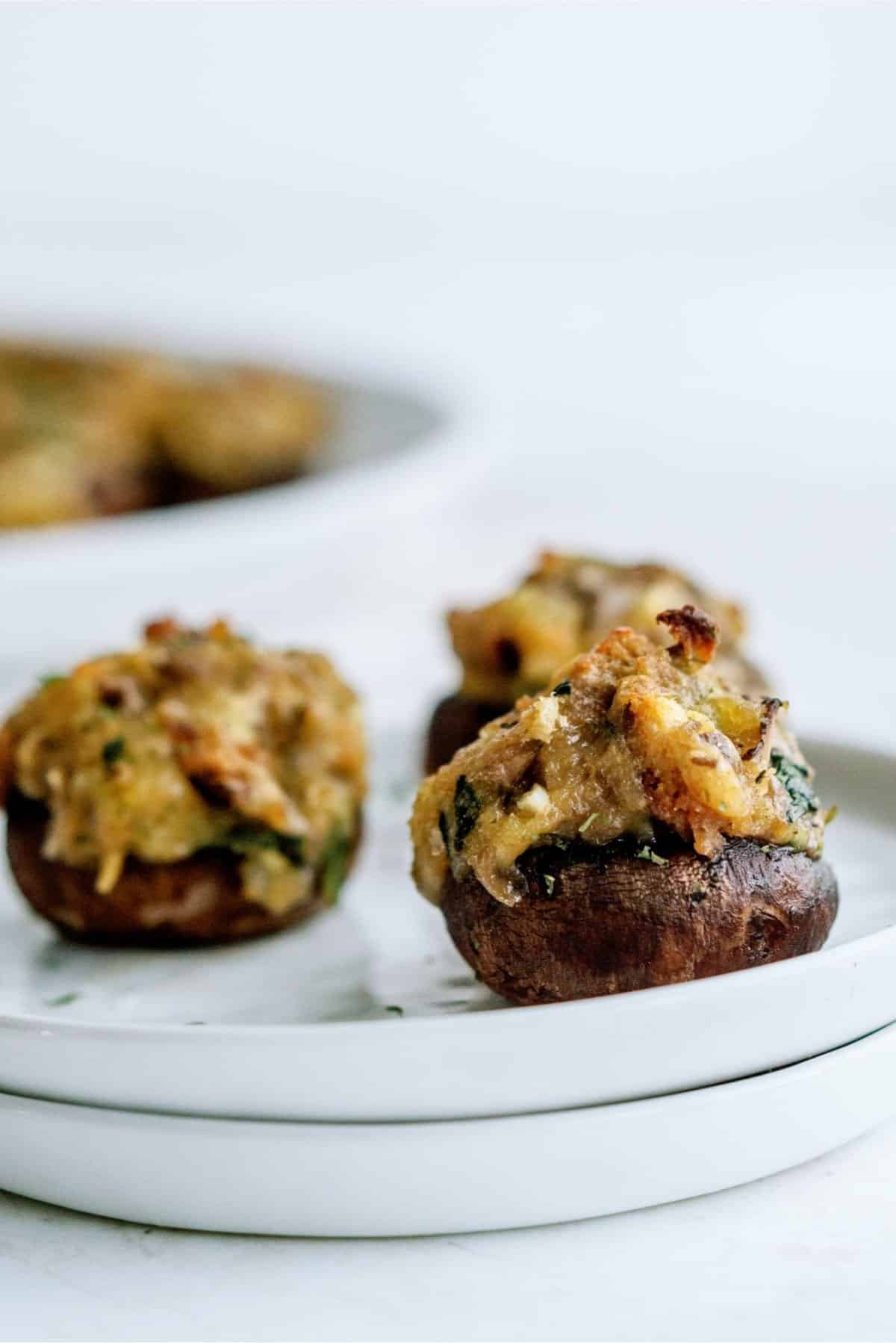 10. Parmesan Spinach Stuffed Mushrooms: You've just found the best appetizer recipe – our parmesan spinach stuffed mushroom recipe.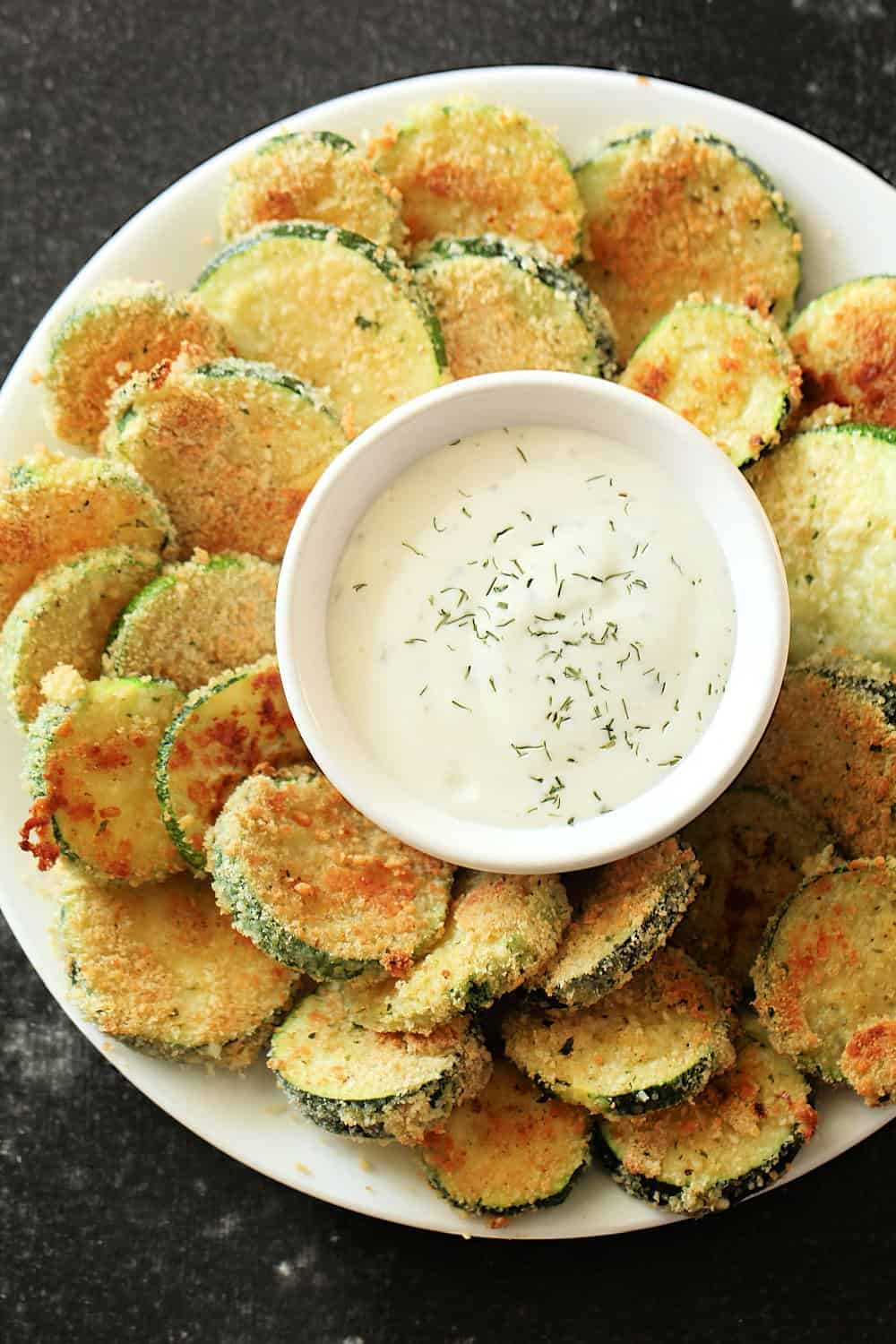 11. Baked Zucchini Bites: Our Baked Zucchini Bites have a crispy crumb breading on the outside, but are perfectly cooked on the inside. This is our favorite way to eat zucchini!
12. Asian Glazed Chicken Drumsticks: Asian cuisine is a favorite in our house and this Asian-glazed chicken drumsticks recipe is by far a favorite chicken drumsticks recipe.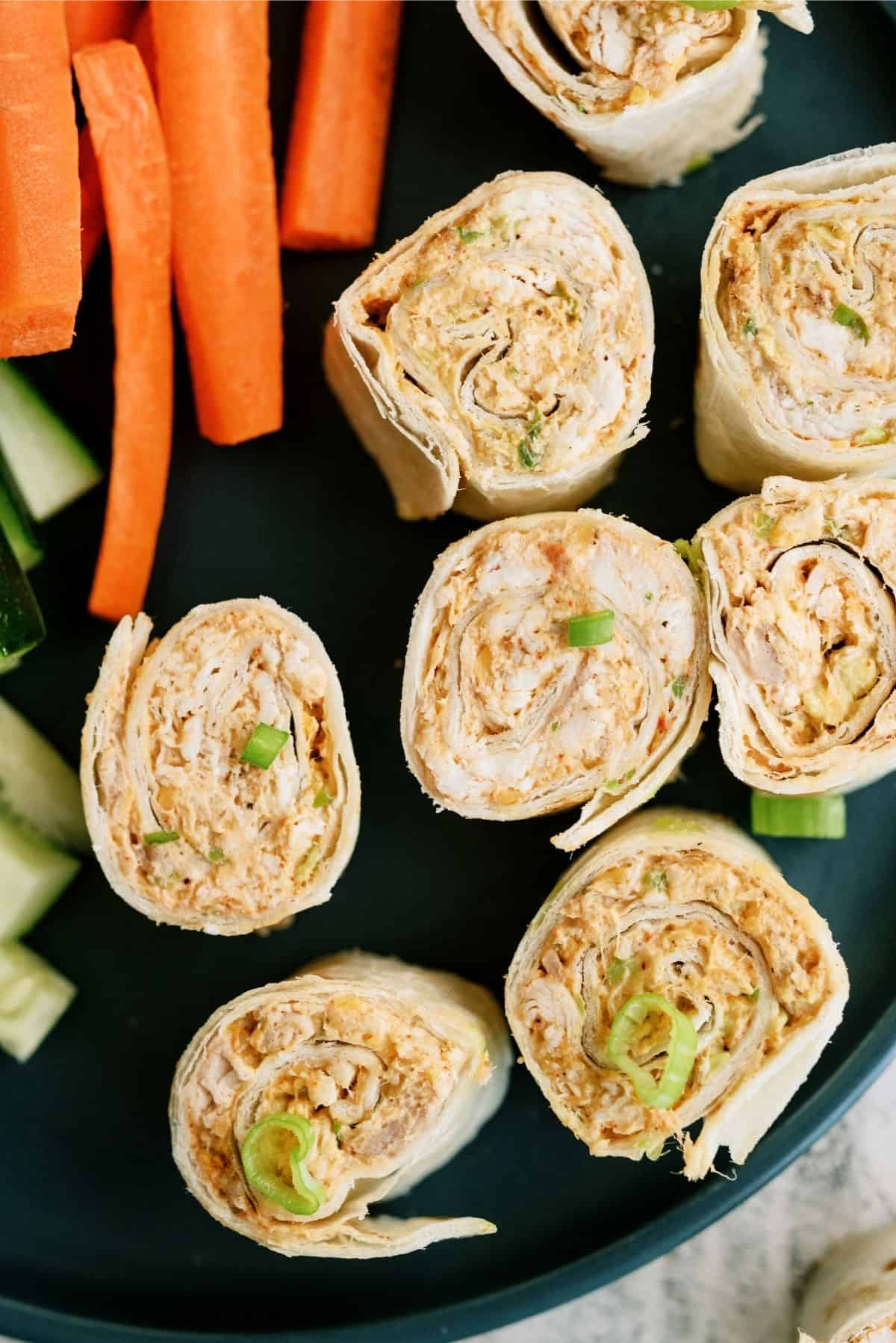 13. Chicken Taco Roll-Ups: If you are looking for some fun summer ideas, this chicken taco roll ups recipe is perfect! For this easy no-bake dinner recipe, you can get the delicious taste of a chicken taco in a roll.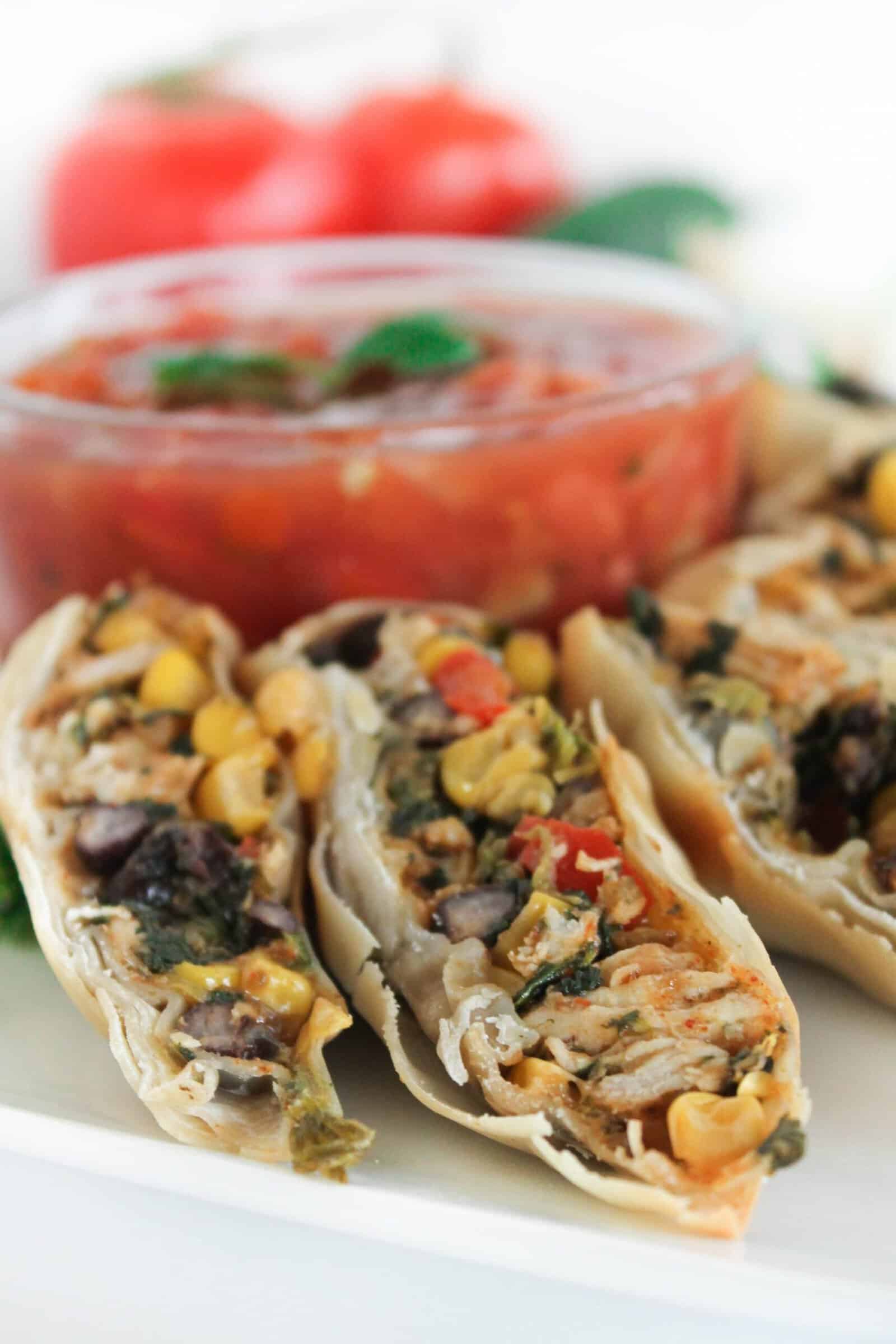 14. Baked Southwest Egg Rolls: These Baked Southwest Egg Rolls make the perfect appetizer, side dish, or even main dish.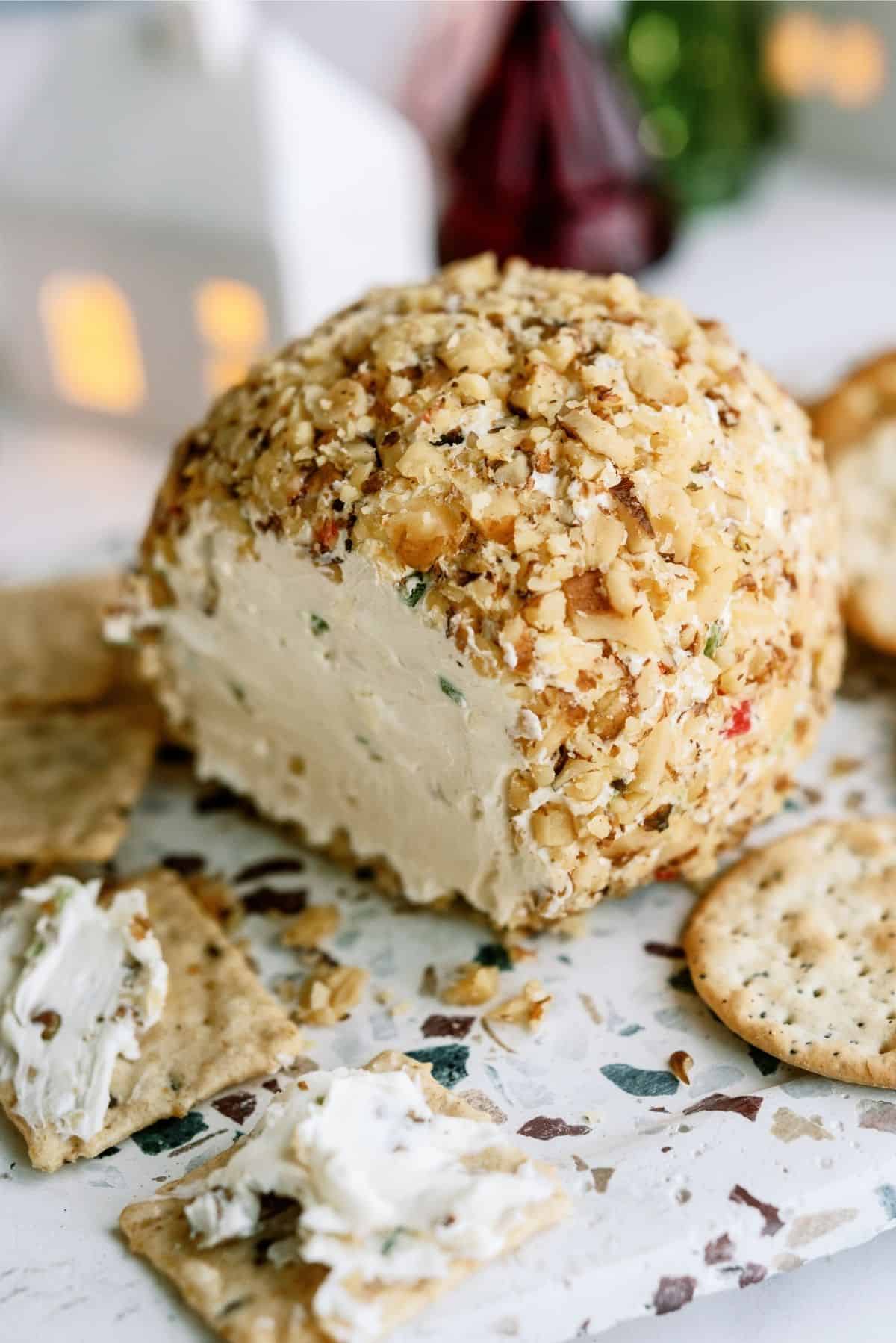 15. Grandma's Holiday Cheese Ball: Think outside the box and make Grandma's holiday cheese ball for your next event. This is the most wonderfully spiced cheese ball that is wonderfully creamy, cheesy, and has the perfect amount of crunch!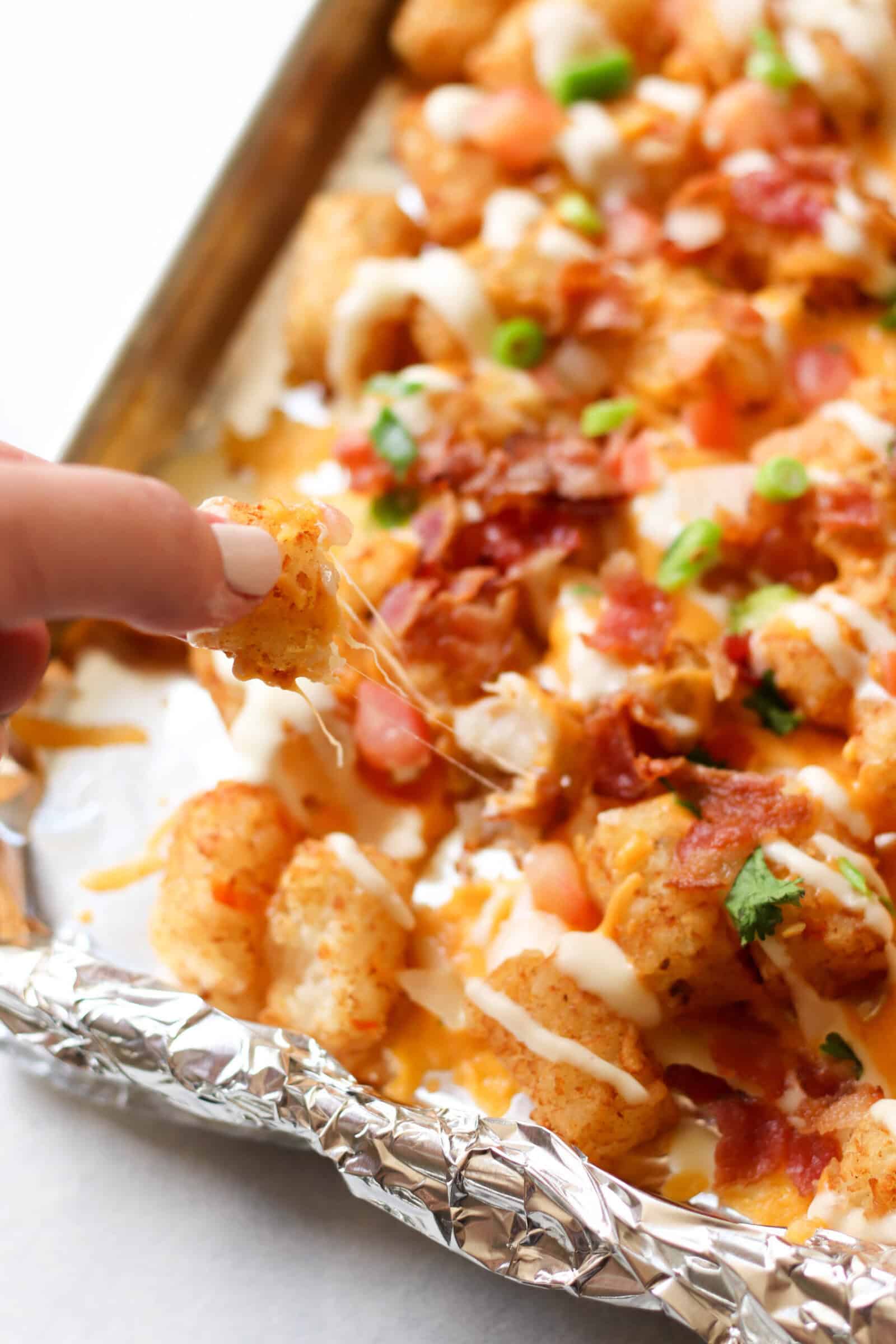 16. Game Day Totchos: Fuel your game day with our easy and delicious tater tot nachos. Topped with two cheeses, bacon, pico de gallo, and green onion – they're perfect for feeding a crowd.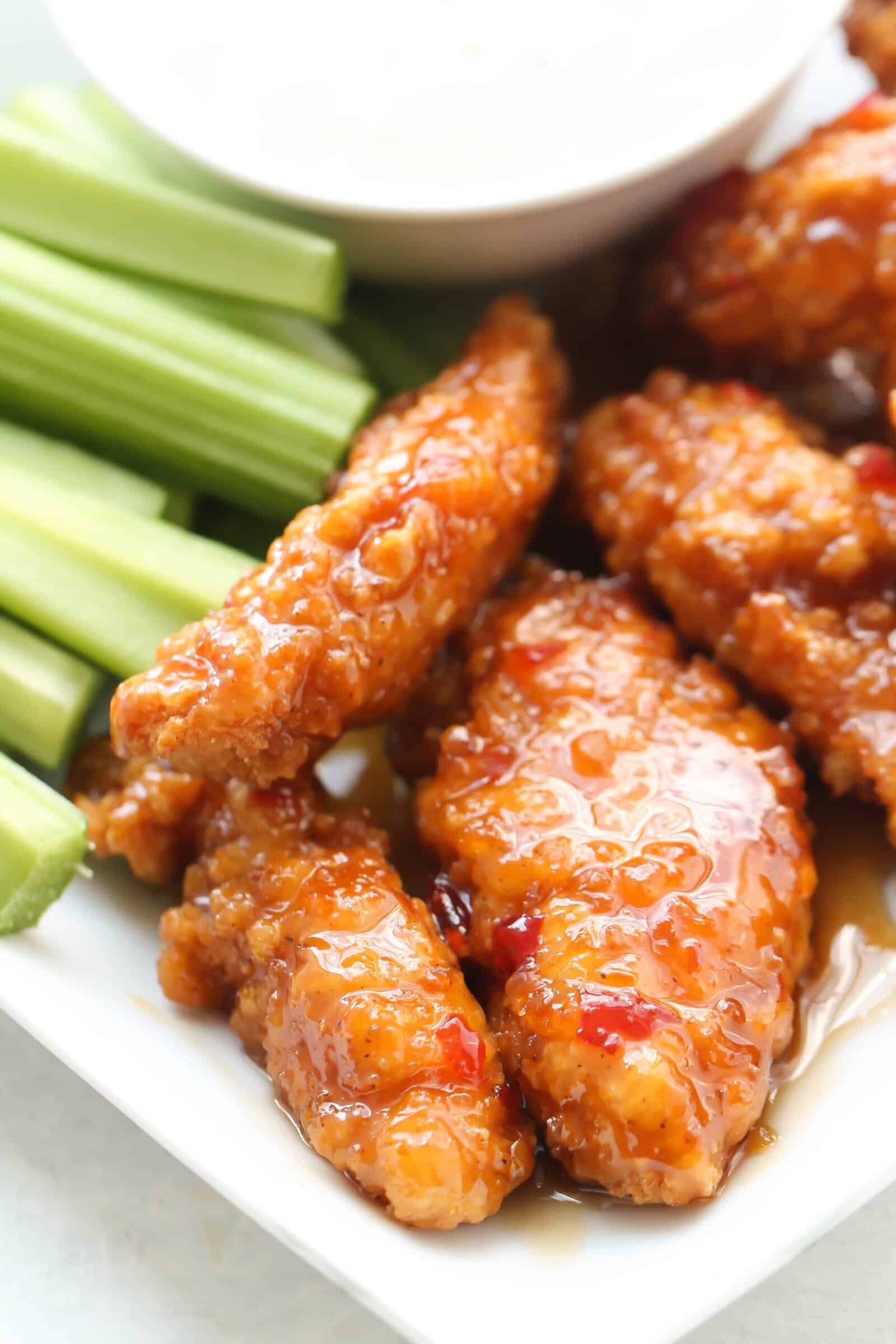 17. Wingers Sticky Fingers: Now you can enjoy these delicious Winger's Sticky Fingers anytime you want. They are a family favorite when we eat out at Winger's. They are so easy to make.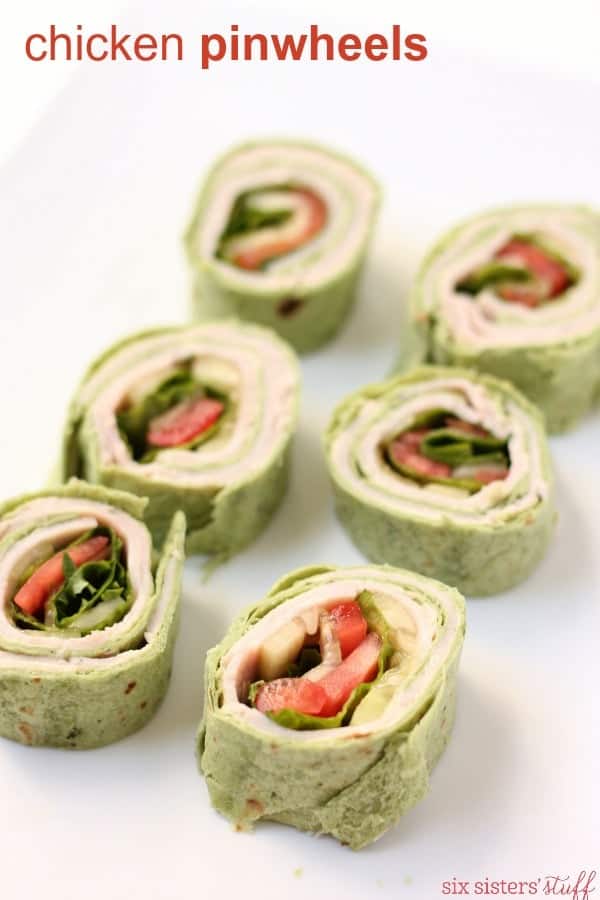 18. Chicken Pin Wheels: These Chicken Pinwheels are easy to make and full of flavor. They take a few minutes to throw together and have the most amazing flavor. Healthy eating has never tasted so good. Your family is going to love this recipe.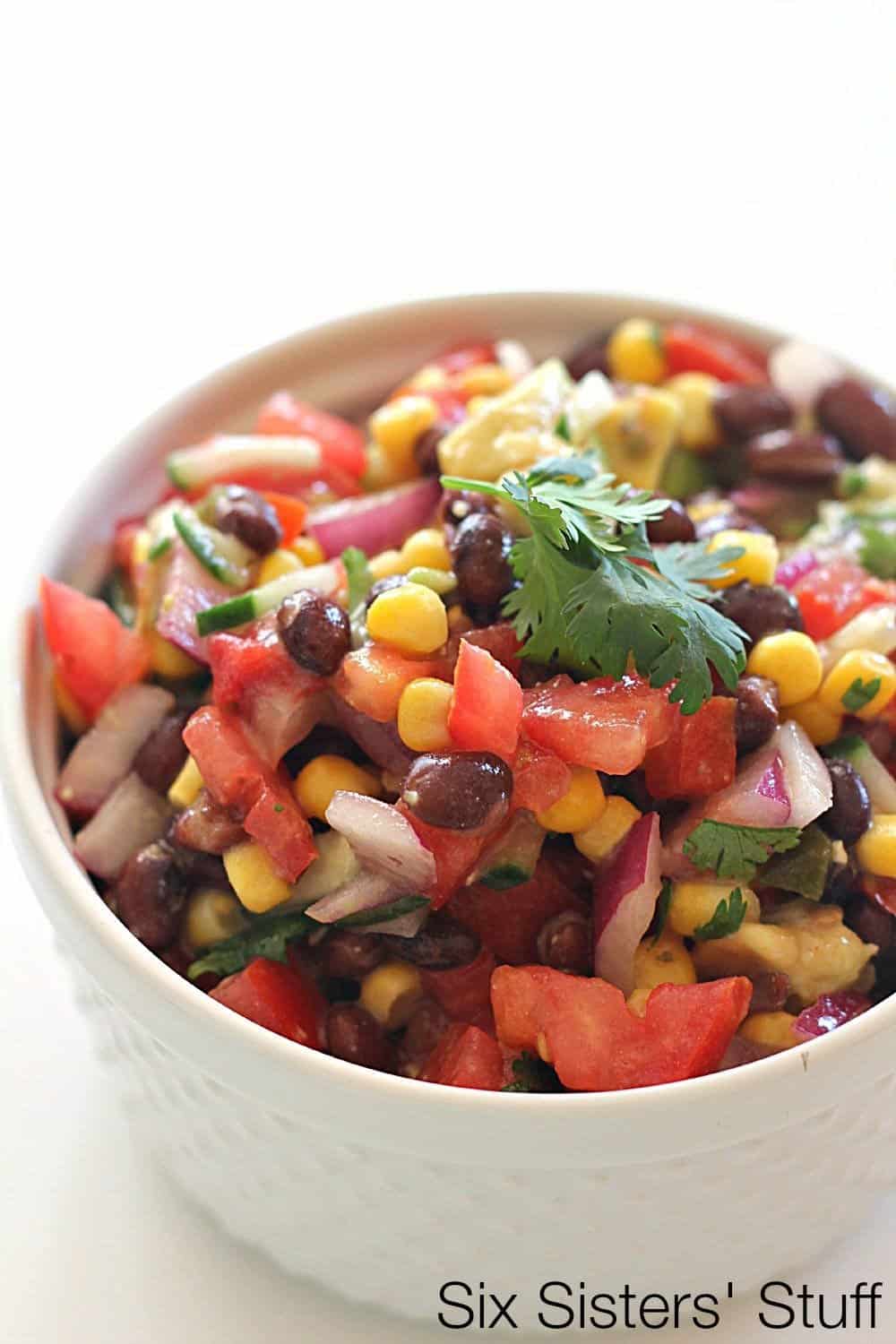 19. Cowboy Caviar Dip: Cowboy Caviar is the perfect dip! Loaded with fresh vegetables and lots of flavor, it's perfect for any family party or potluck.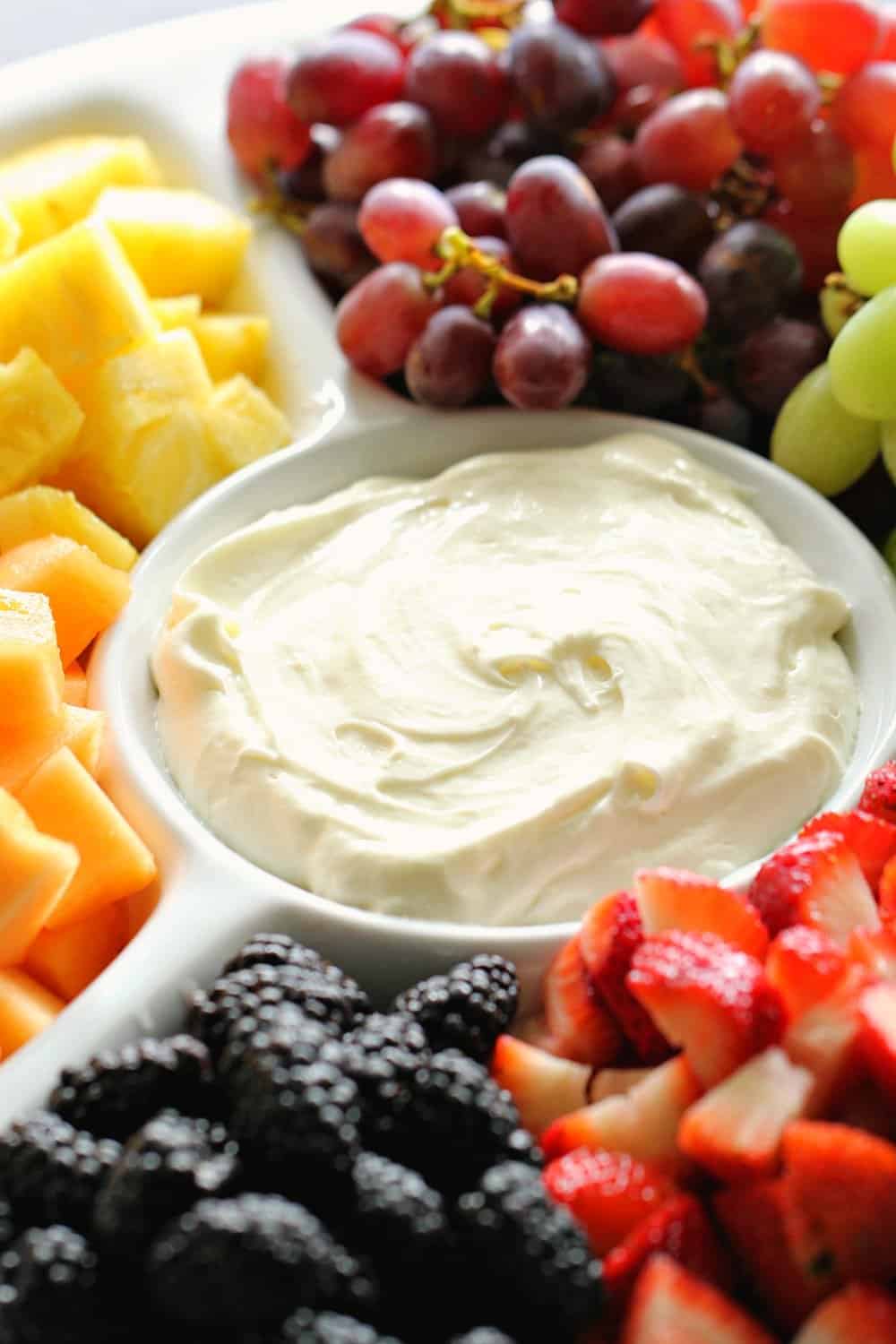 20. Cream Cheese Fruit Dip: Only two ingredients needed to make this delicious dip. Fluffy and creamy, it pairs with strawberries, bananas, pineapples, and all your favorite fruit.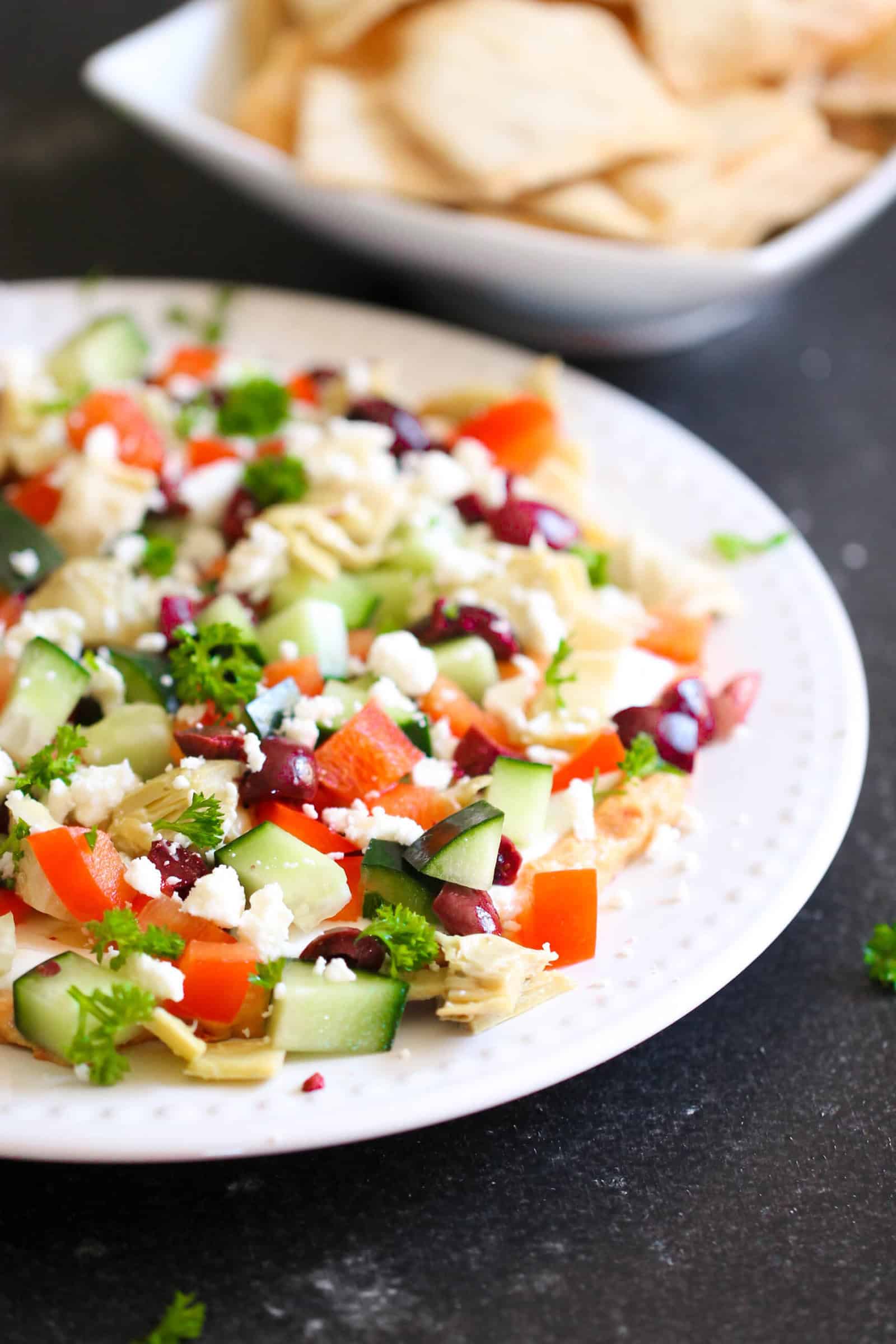 21. Easy Mediterranean Dip: This fresh Mediterranean Dip is layers of hummus, feta, cucumbers, tomatoes, Greek yogurt, Kalamata olives and more!
22. Hot Bacon and Swiss Dip: I was practically drooling when I saw this Hot Bacon & Swiss Dip – and it definitely did not disappoint! I think it's safe to say it's my new favorite appetizer.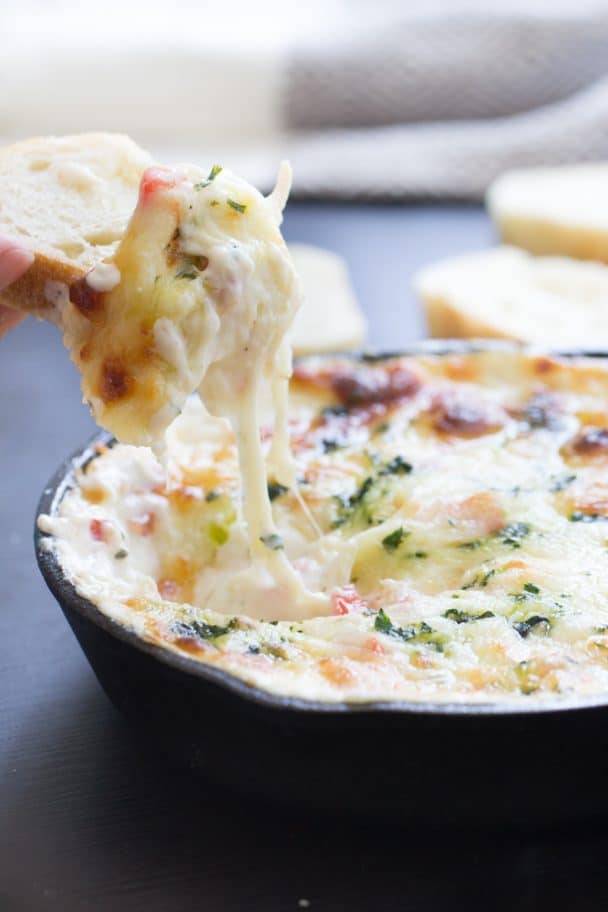 23. Chicken Alfredo Dip: Taking our favorite pasta and turning it into a delicious dip! This is perfect for game day, as an appetizer, or even as a main dish! We love dipping bread or crackers into this cheesy goodness.
24. Baked Avocado Egg Rolls: These Baked Avocado Egg Rolls are loaded with fresh avocados, red onion, cilantro, and sun-dried tomatoes then wrapped together make the perfect appetizer or snack!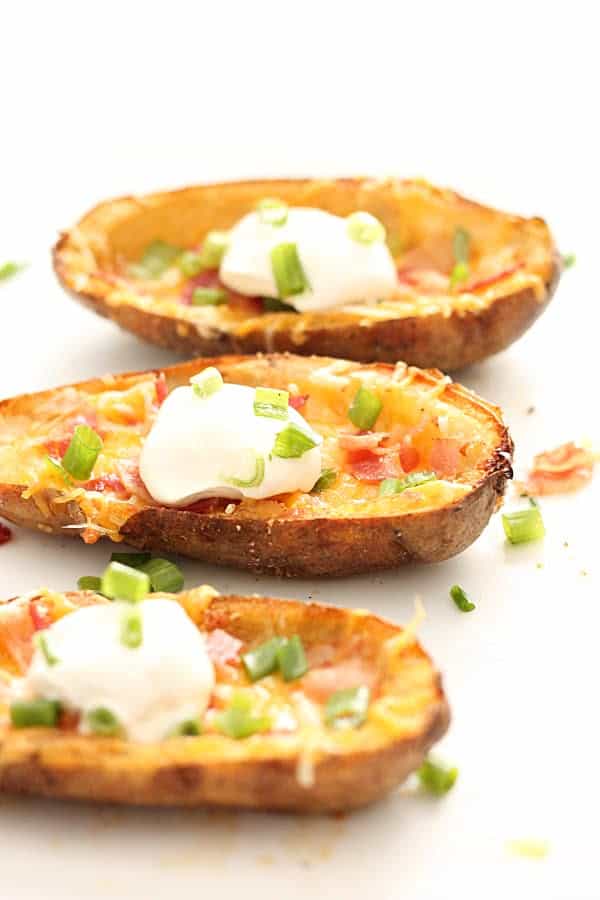 25. Loaded Baked Potato Skins: Crispy baked Loaded Potato Skins twice baked to perfection and topped with bacon, cheese, sour cream, and green onions. A fail proof side dish or tailgate snack!
26. Easy Charcuterie Board: Build your own kid-friendly charcuterie board with these easy-to-follow instructions. Charcuterie boards are perfect appetizers for when you are hosting people or just want a simple fuss-free dinner.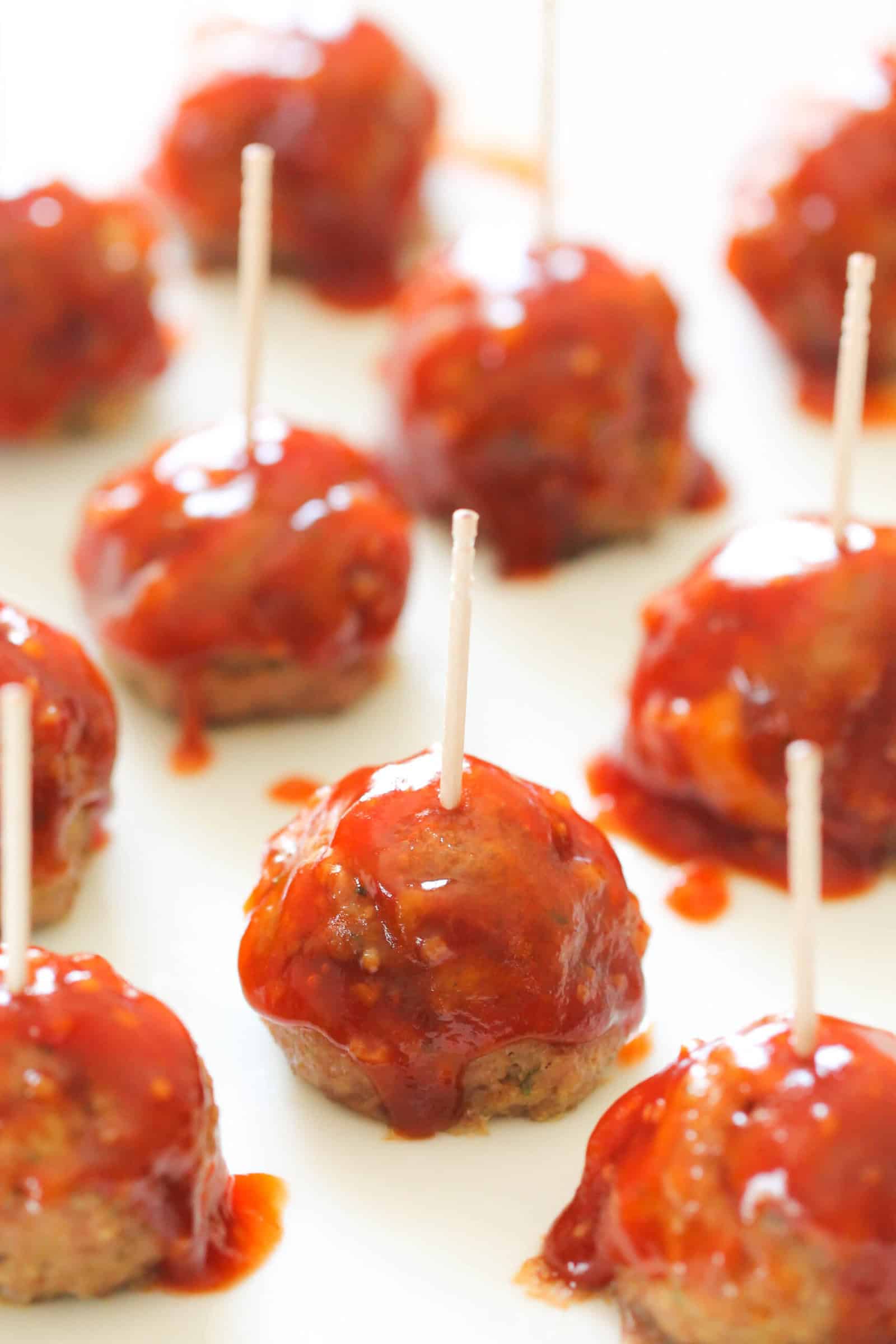 27. Honey Garlic Glazed Turkey Meatballs: These honey glazed turkey meatballs are great as an appetizer or as a main dish. A sweet and savory meatball your guests will love.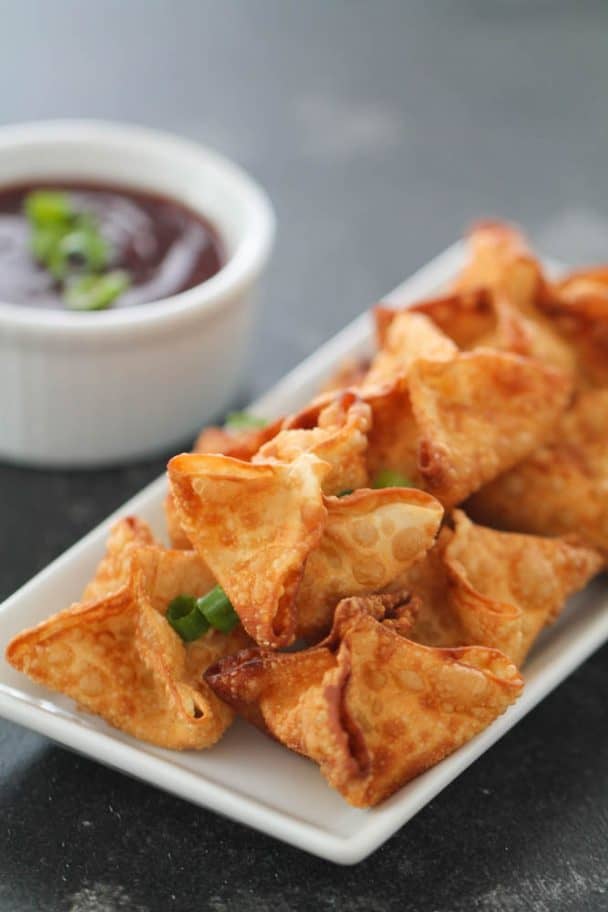 28. Cream Cheese Wontons: These Easy Cream Cheese Wontons taste like they came straight from a restaurant! These delicious wontons have a crispy shell and are filled with a delicious cream cheese filling. Dip these wontons in sweet and sour sauce and you have the perfect Asian-inspired appetizer that is better than takeout.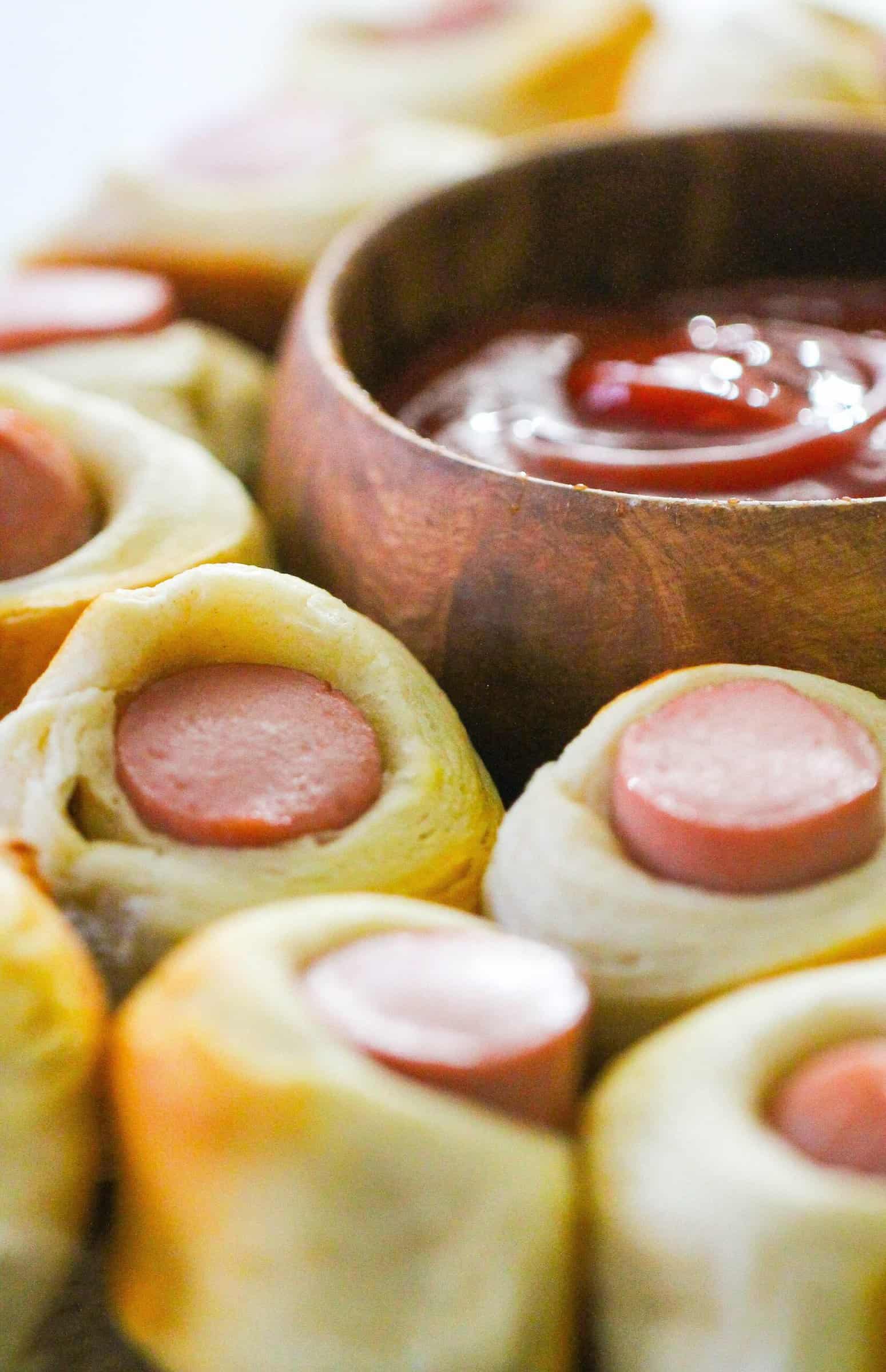 29. Classic Pigs in a Blanket: Whether it is a big game, an after school snack, or even your dinner, this classic recipe of pigs in the blanket is perfect for all occasions.
30. Jalapeno Popper Deviled Eggs: Nothing beats the taste of a jalapeno popper, at least until now! These Jalapeno Popper Deviled Eggs have the delicious jalapeno popper flavor without the intense spice.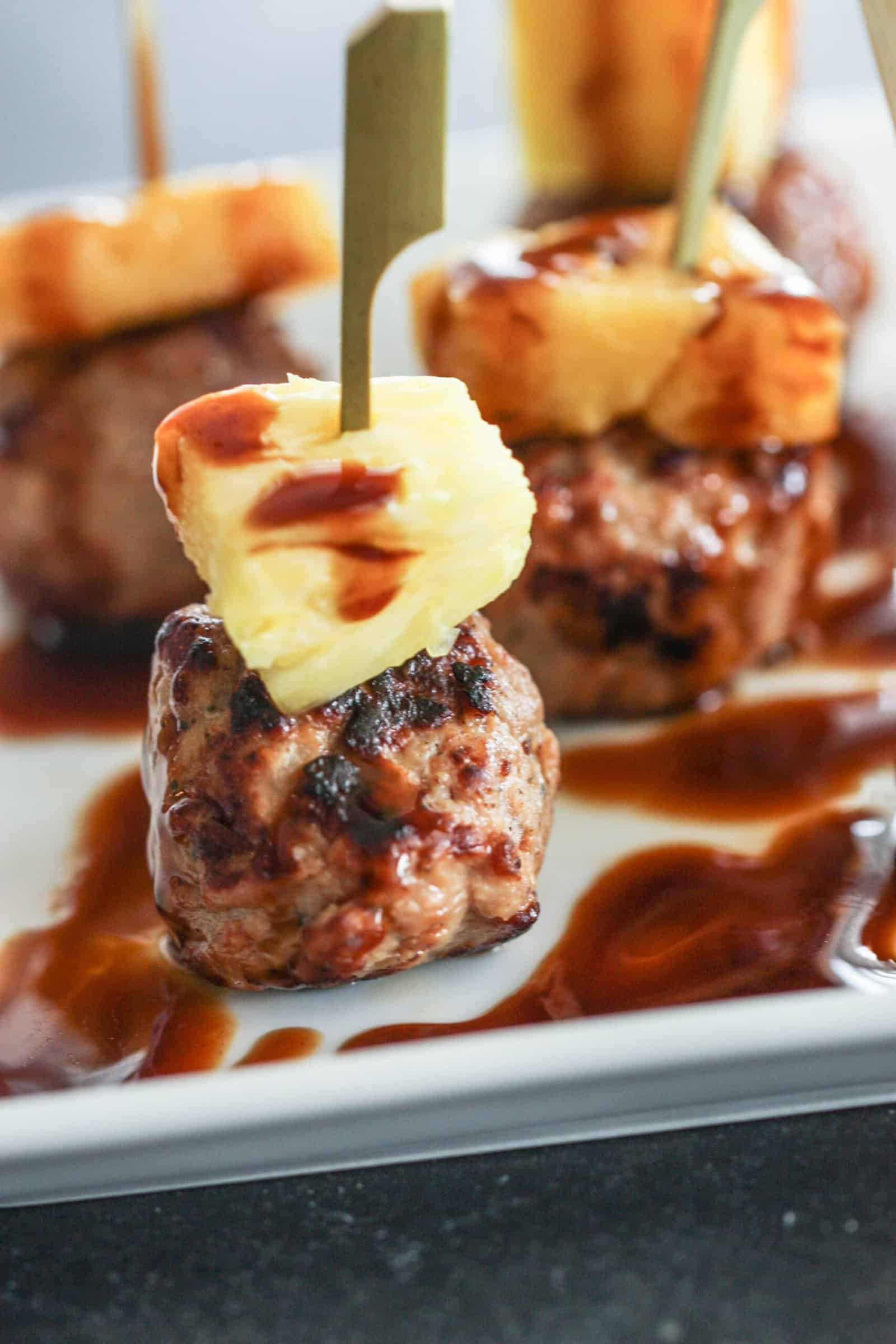 31. Hawaiian Chicken Meatballs: With the big game right around the corner, I have been keeping my eye out for some good game day snacks. I have finally found the award winner finger food.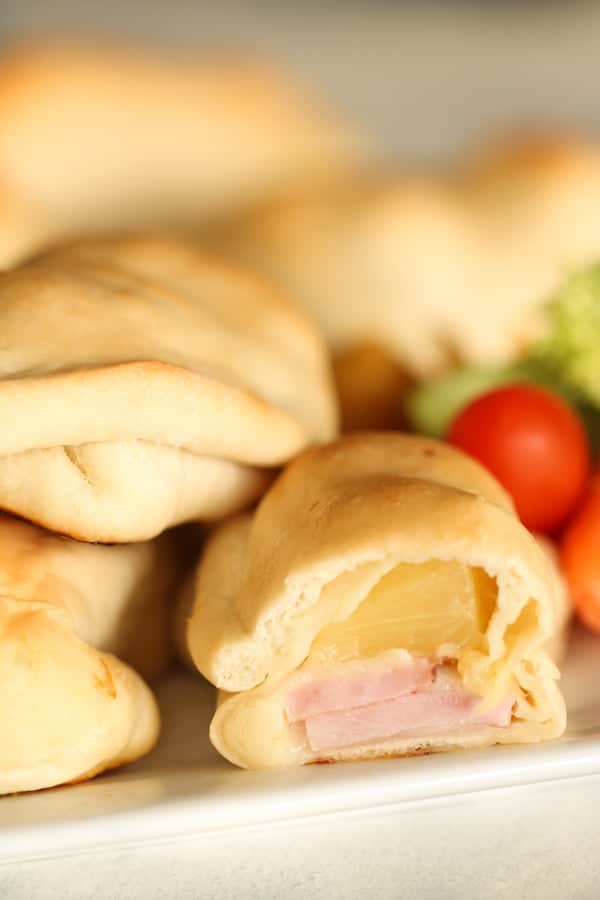 32. Ham and Pineapple Roll-Ups: We created this Ham and Pineapple Roll-Up in delicious roll dough. It has turned out to be one of our favorite family meals. We think you will agree. And they are so easy to make.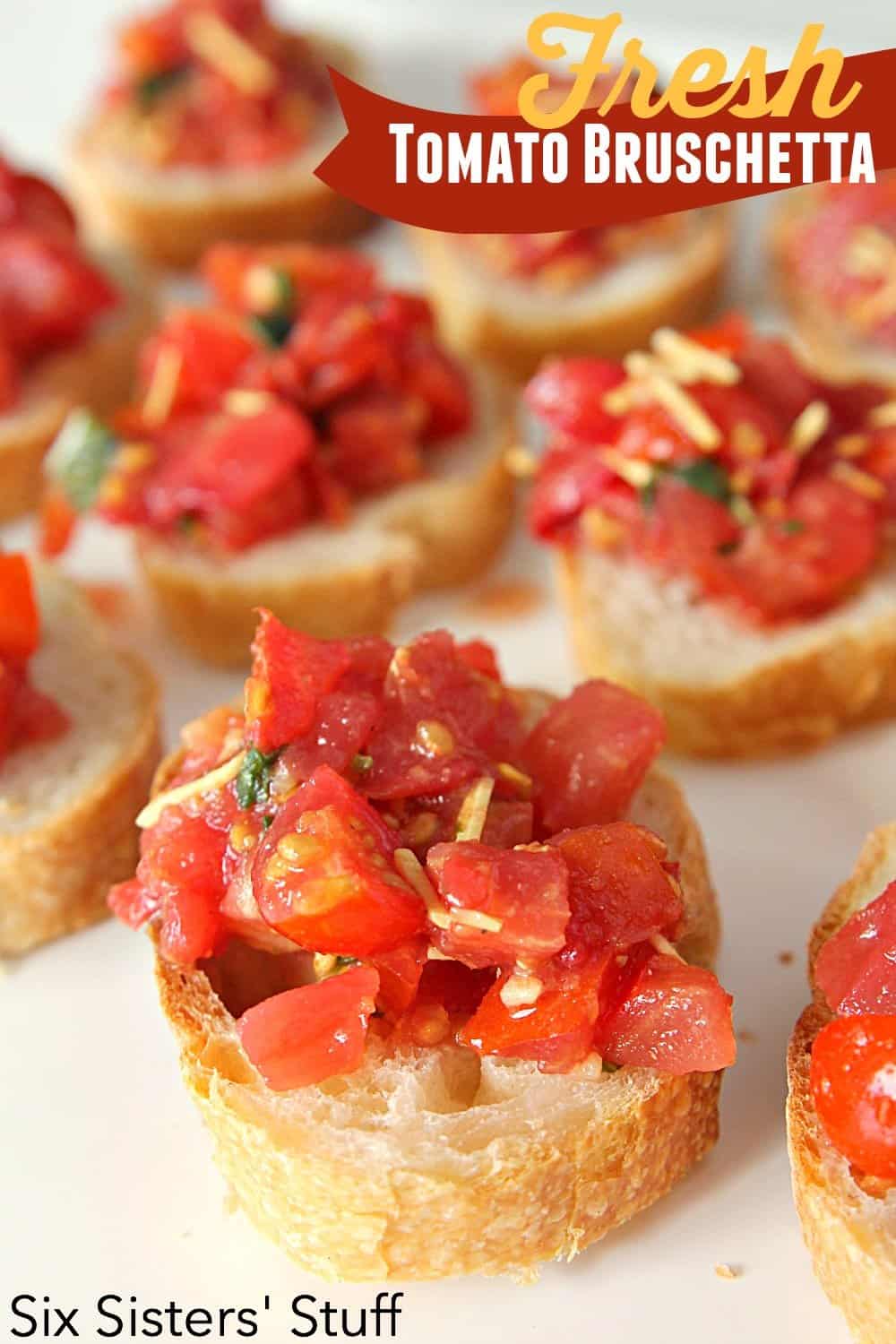 33. Fresh Bruschetta: Fresh Bruschetta makes the perfect appetizer! We use fresh tomatoes, basil, and garlic drizzled in olive oil and balsamic vinegar to give this easy bruschetta a delicious fresh flavor.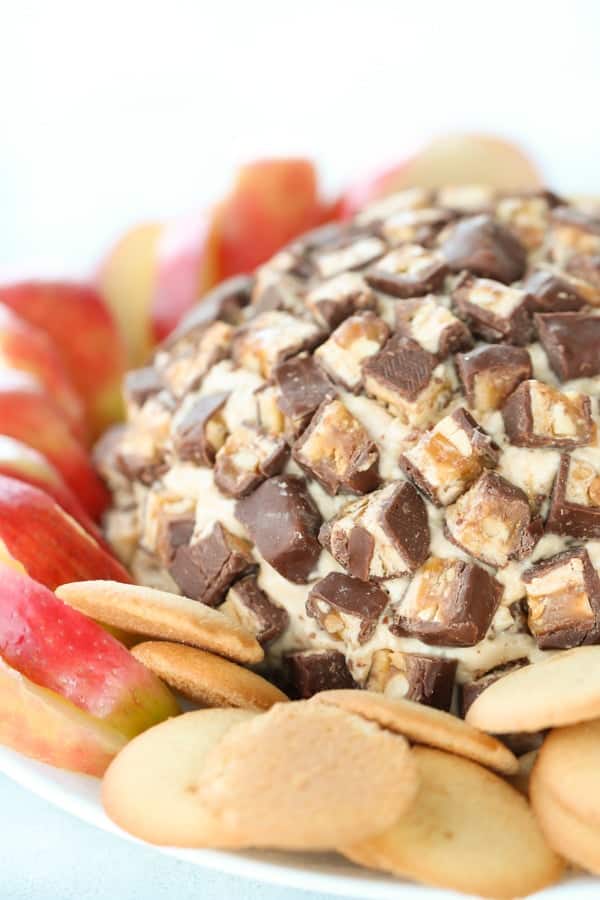 34. Snickers Cheeseball: It's the time of year for parties, get togethers, and tailgating. Snickers Cheese Ball is the perfect appetizer to take to any party. You are sure to get compliments. Snickers Cheese Ball is so easy. All you do is mix ingredients together and refrigerate. SO simple to make.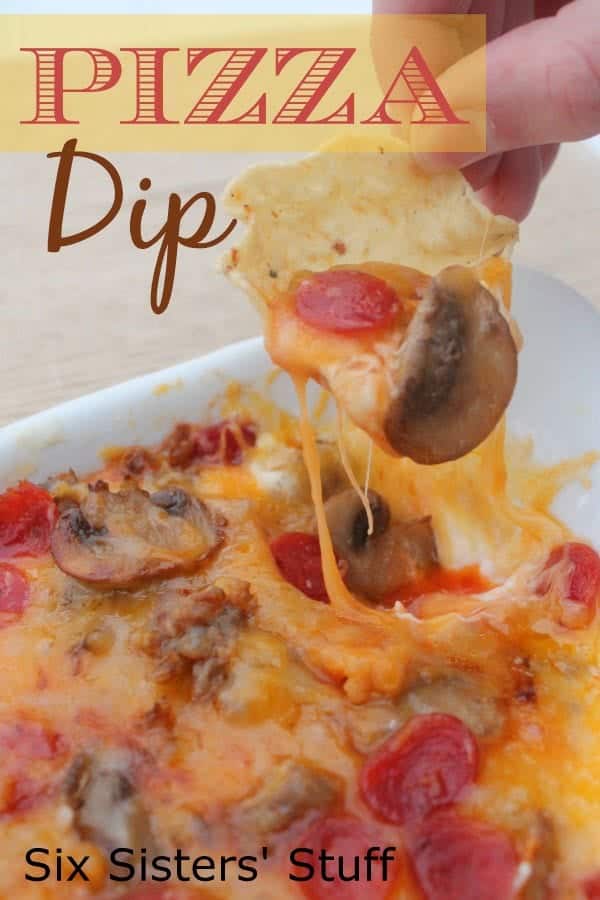 35. Pizza Dip: This pizza dip would be the perfect appetizer for your holiday party! If you are a pizza lover, you will definitely love this dip!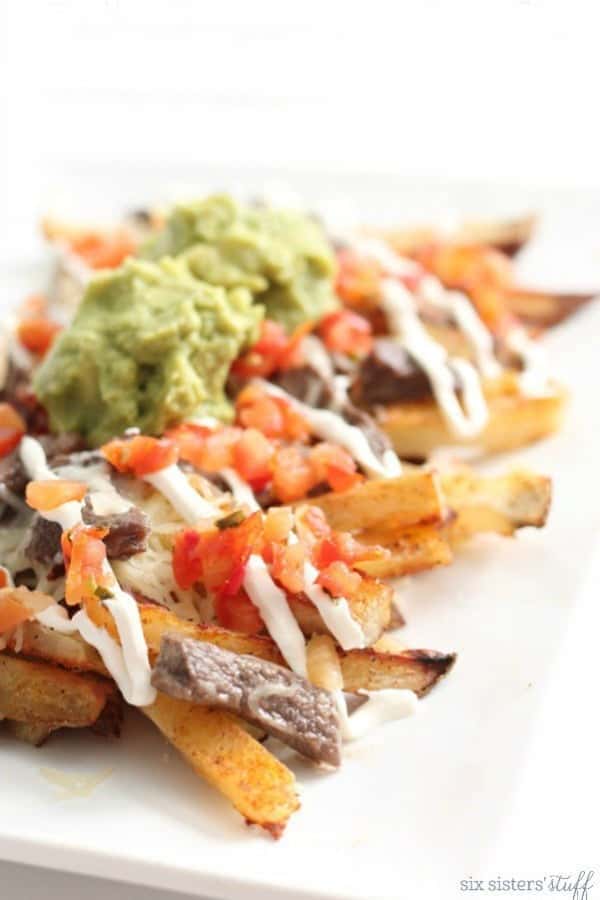 36. Baked Carne Asada Fries: These Baked Carne Asada Fries are smothered in cheese, steak and guacamole for the perfect appetizer, side dish or dinner. These fries are always a crowd-pleaser and everyone is always asking for more.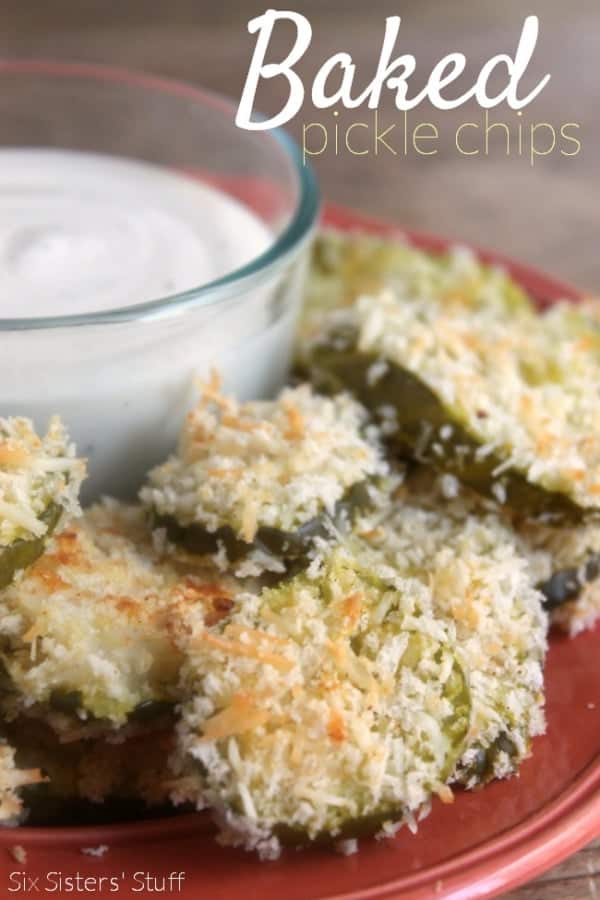 37. Baked Pickle Chips: A healthier take on popular Fried Pickles, our Baked Pickle Chips are a simple and healthier version you can make at home. Baked Pickles makes a great appetizer or party dish!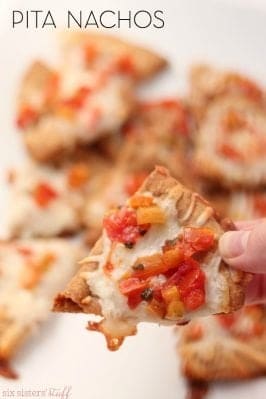 38. Pita Nachos: Pita Nachos are my new go to snack food. We even had them for dinner the other night because they are so easy to make and full of amazing flavor. They are also pretty healthy, which is a plus.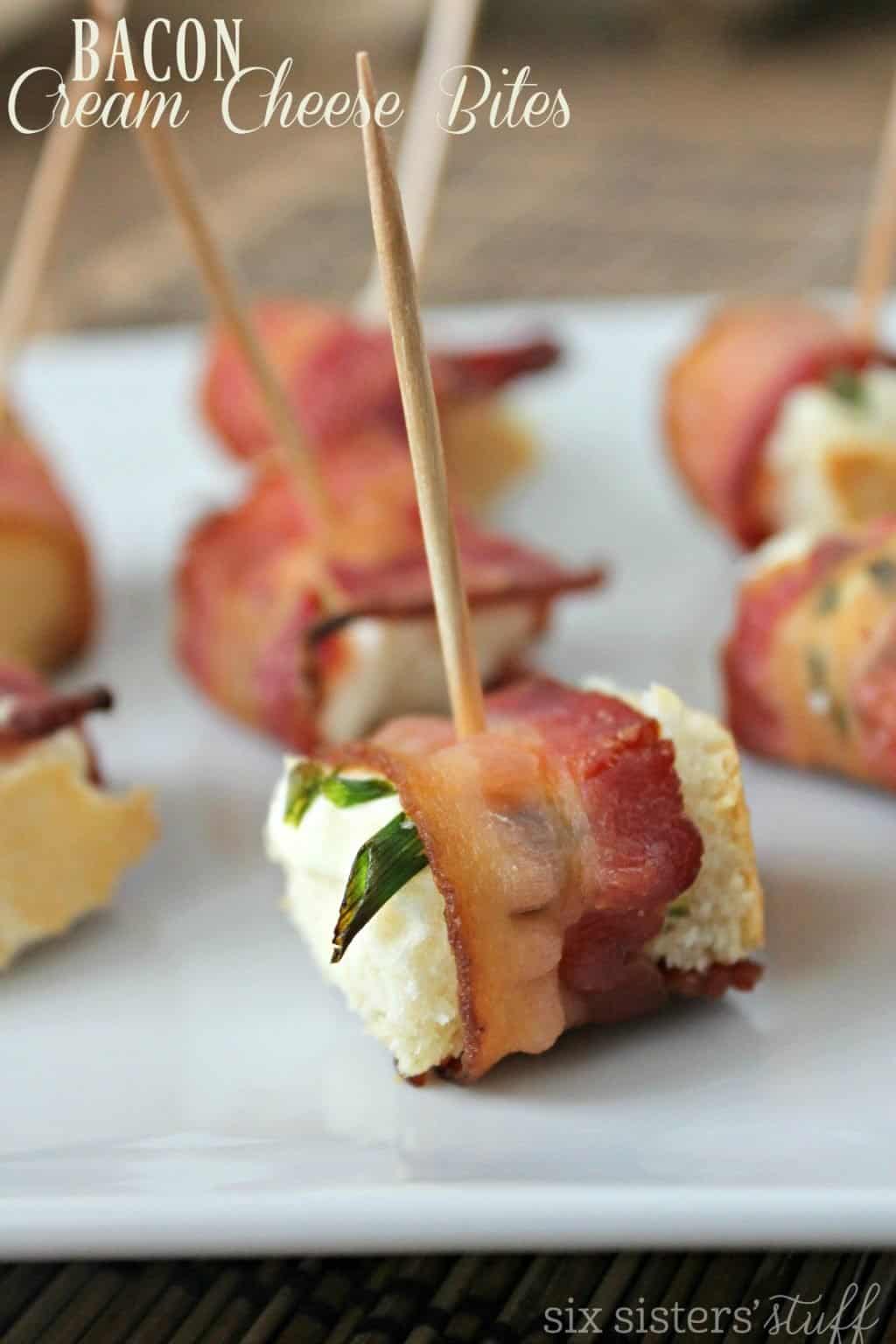 39. Bacon Cream Cheese Bites: A simple and out-of-this-world delicious appetizer with bacon and cream cheese.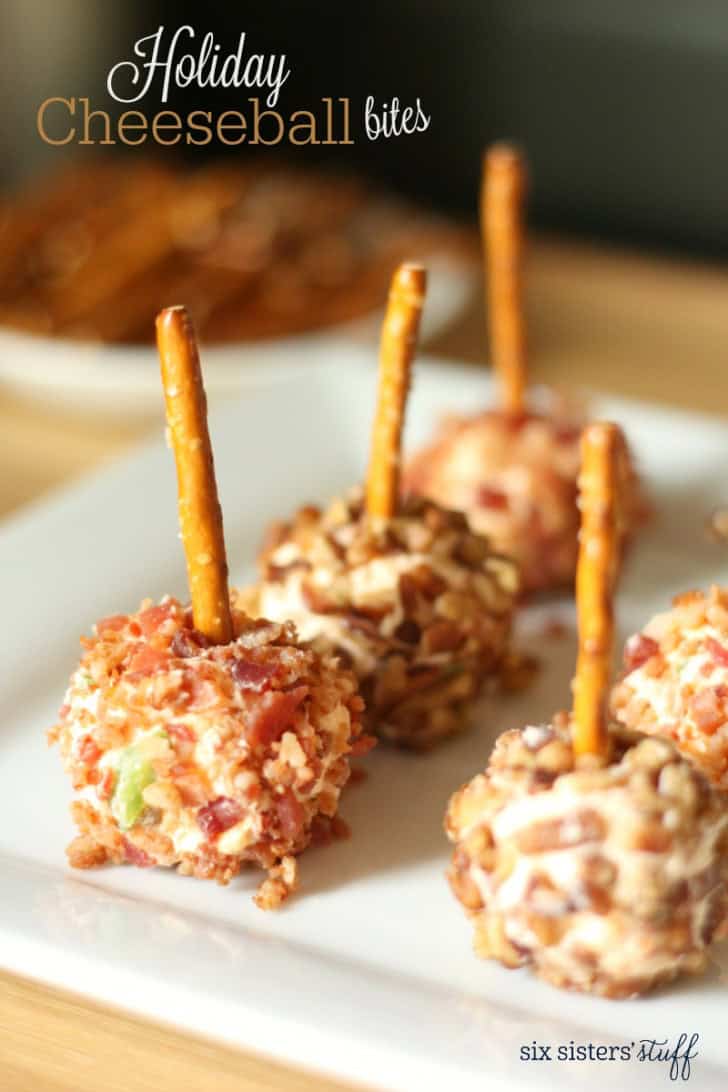 40. Cheeseball Bites: Holiday Cheeseball Bites, just took the regular cheeseball to a whole new level. These Holiday Cheeseball Bites, have all the flavors in just one bite. They are so easy to make and taste amazing. These are by far, the best holiday appetizer.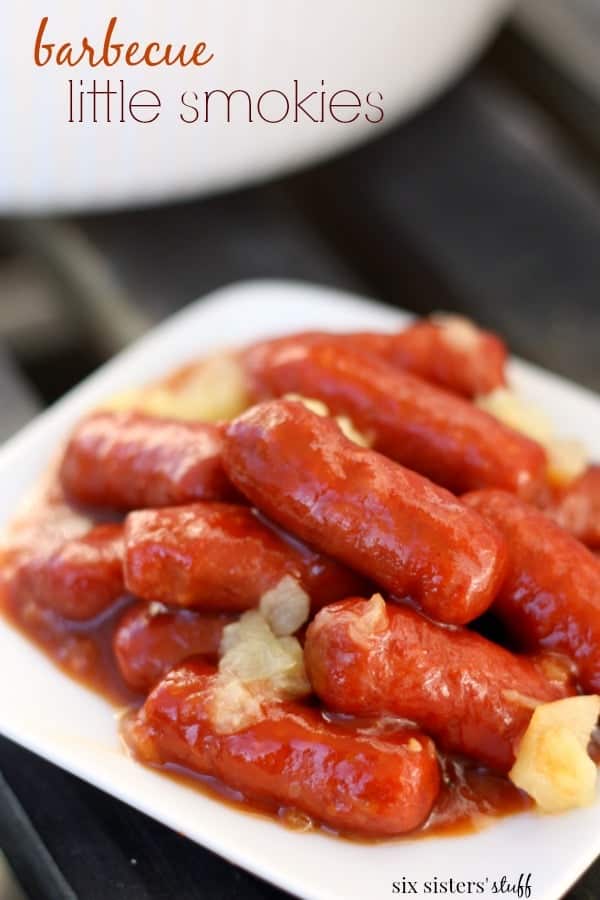 41. BBQ Little Smokies: These Barbecue Little Smokies are the best appetizer for the holidays. They come together in a matter of minutes, and are definitely a crowd favorite. They taste amazing with the pineapple.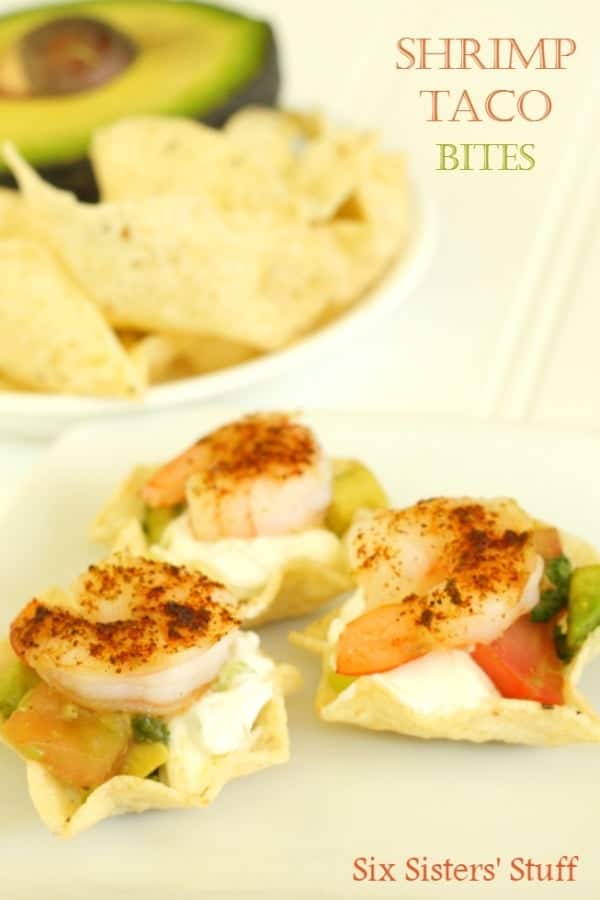 42. Shrimp Taco Bites: These Shrimp Taco Bites are so easy to make and full of amazing flavor. If you are looking for a simple and delicious appetizer, then this is the recipe for you.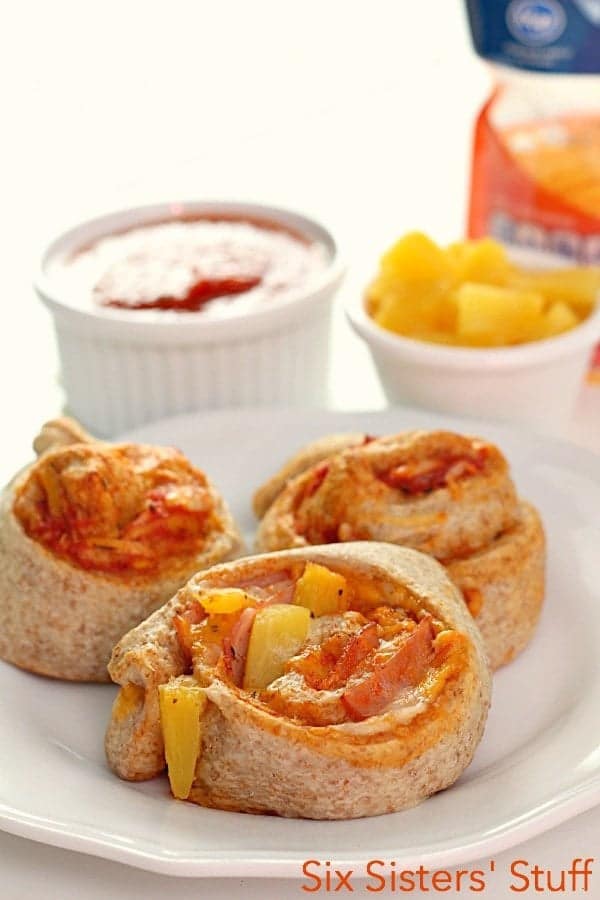 43. Ham and Pineapple Roll Ups: These make a perfect snack, lunch, or even dinner – or whip them up as a quick appetizer for your guests at any upcoming holiday party!
44. Baked Crab Rangoons: I made this baked version a few weeks ago, and it did not disappoint. Whether it's an appetizer or a main dish, these crab rangoons will be a crowd favorite.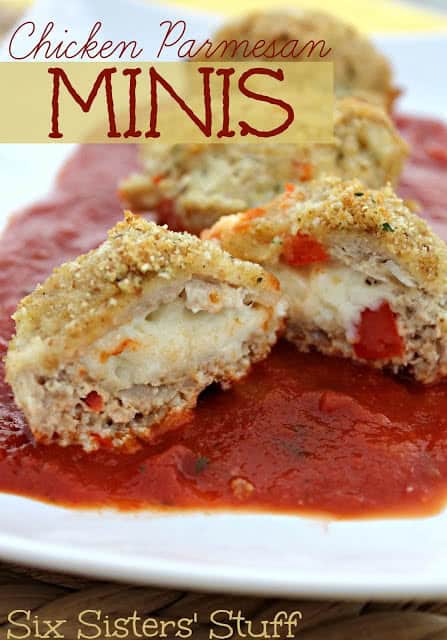 45. Mini Chicken Parmesan: My kids always eat things when they come in smaller portions. These Chicken Parmesan Minis were a huge hit for my little ones and my husband! They tasted amazing with marinara sauce!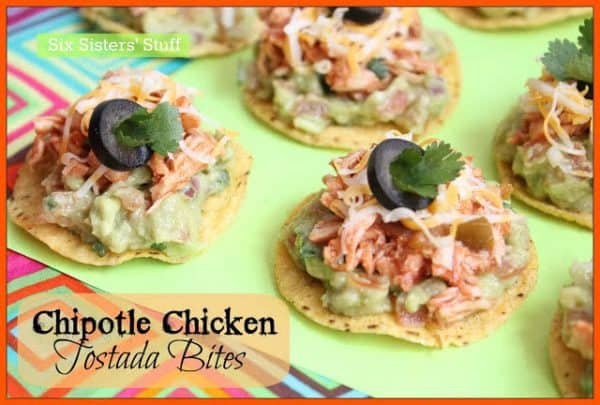 46. Chipotle Chicken Tostada Bites: These Chipotle Chicken Tostada Bites are so easy to make, and make a great snack or appetizer. You could also make it into a main dish, and use taco shells or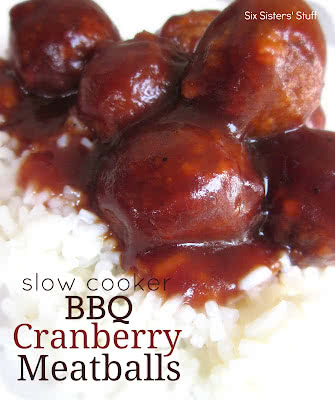 47. BBQ Cranberry Meatballs: Don't you love recipes where you simply dump the ingredients in your slow cooker and let it do the work for you?! This recipe has only 3 ingredients and is so delicious that you'll want to make it again and again!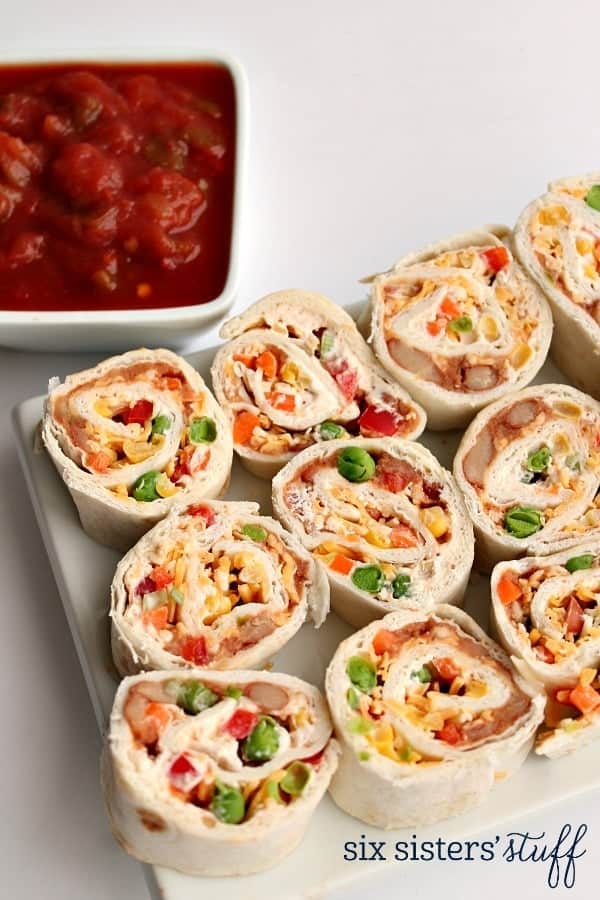 48. Mexican Tortilla Wrap Roll-Ups: These Mexican Tortilla Wrap Roll-Ups are a delicious and healthy appetizer, snack or lunch recipe, full of vegetables and flavor. You are going to love how easy these are to make, and how delicious they taste.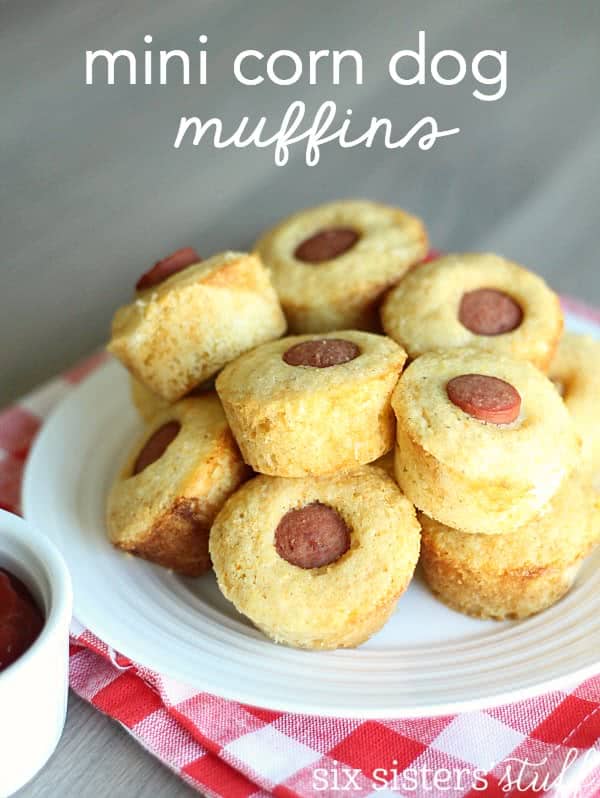 49. Mini Corn Dog Muffins: Homemade cornbread muffins filled with hot dogs to make one recipe even your kids will love!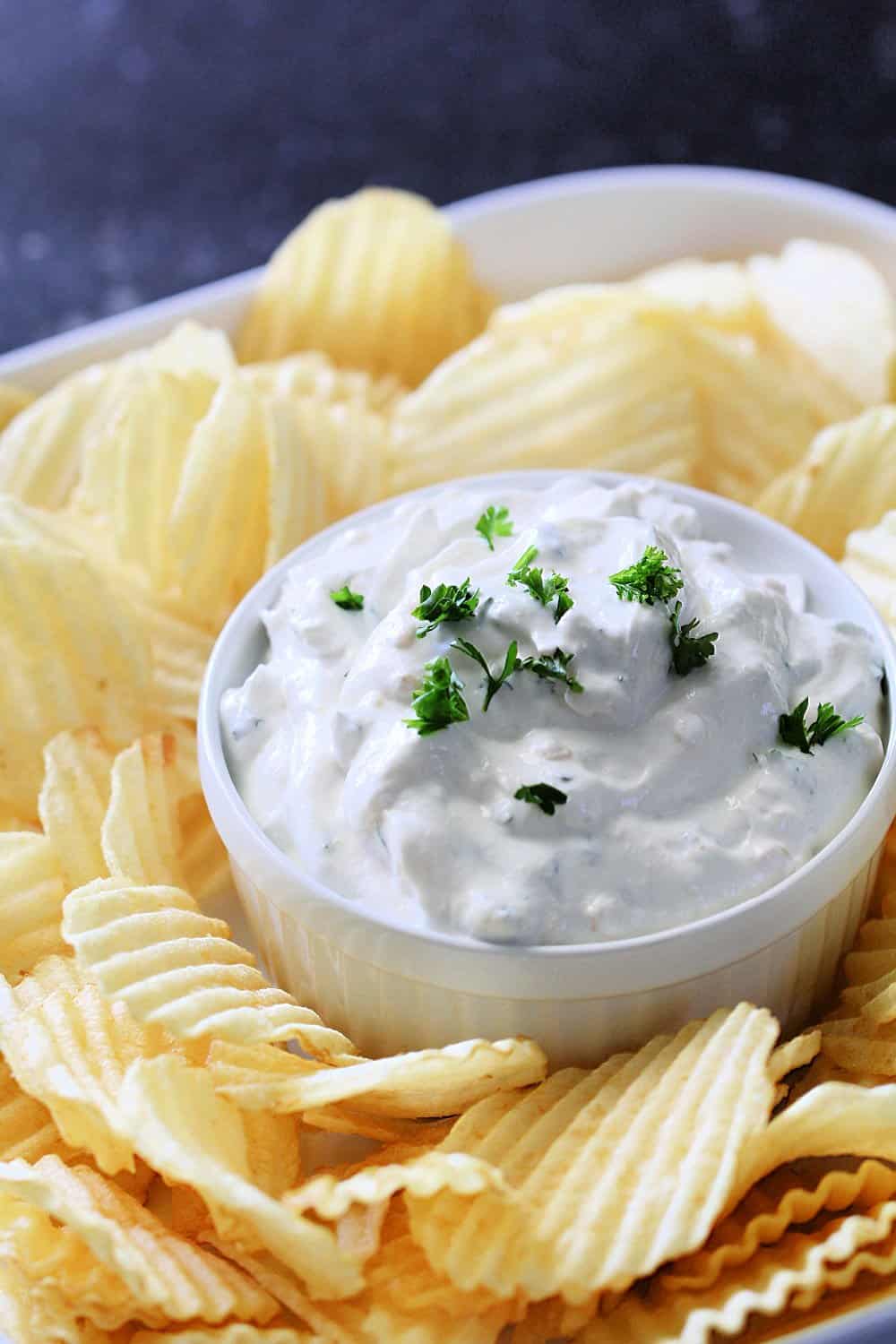 50. 5 Minute French Onion Dip: This quick and Easy French Onion Dip only takes five minutes to throw together and tastes amazing! It's the perfect party snack or appetizer!
51. French Dip Crescents: These French Dip Crescents are the perfect handheld sandwich with only 4 ingredients. They're ready in less than 30 minutes and they make a great appetizer, lunch, or dinner.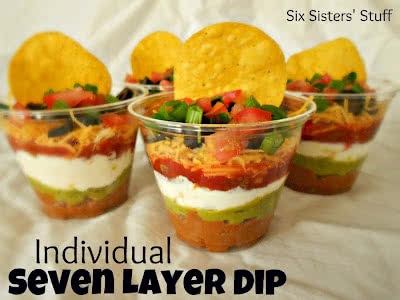 52. Individual 7 Layer Dips: Everything you love about Seven Layer Dip assembled in individual-sized servings. These 7 layer dip cups make the perfect party appetizer!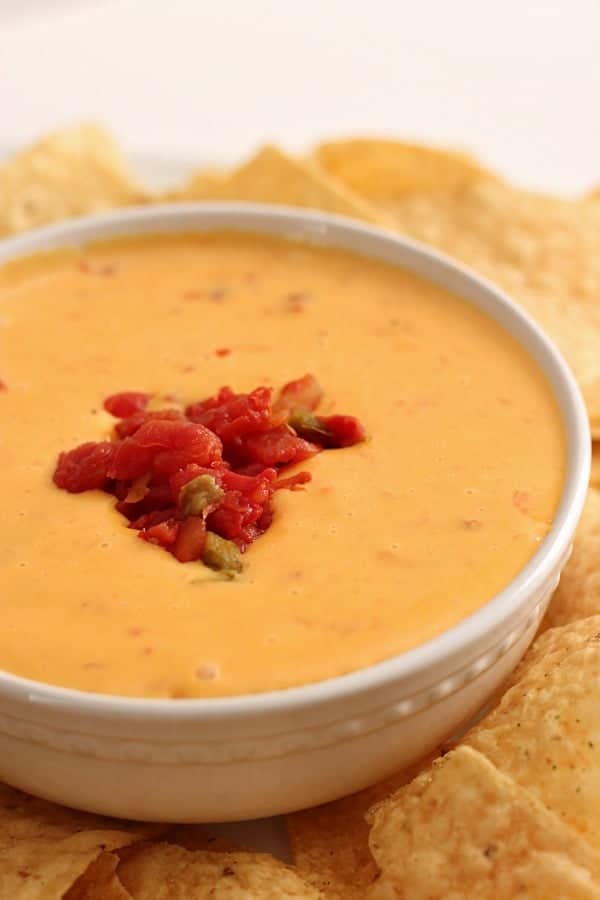 53. 2 Ingredient Cheesy Queso: If the title, "Two Ingredient Cheesy Queso Dip" doesn't tempt you enough, I don't know what will. This queso dip is your new go to when you need an appetizer, snack, or side dish, quick.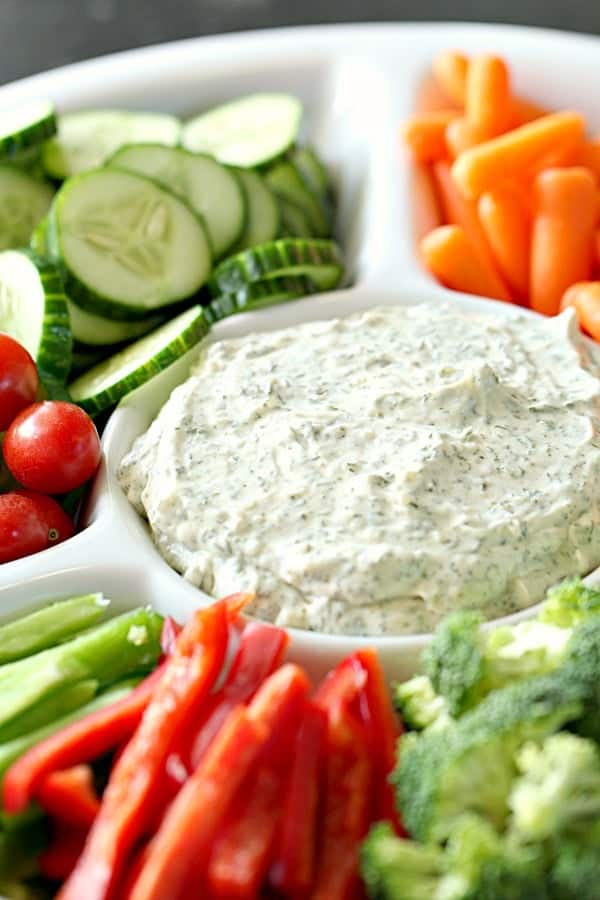 54. Vegetable Dill Dip: With only 6 ingredients, this homemade Vegetable Dill Dip is going to be your favorite dish to serve with fresh vegetables. It's also delicious served with chips or crackers.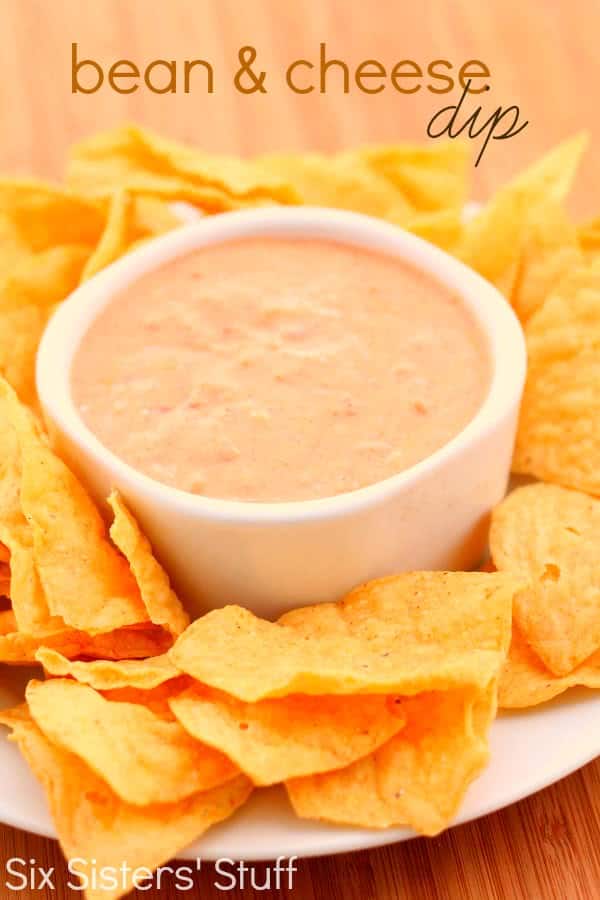 55. Bean and Cheese Dip: A party just isn't party without some sort of dip! This recipe is so easy to make but tastes AMAZING. It is definitely one of our favorite party foods!
Want More Easy Dinner Ideas?
Join our email list today and we will send you a FREE ebook of our favorite dinner recipes – plus we will send you recipes each week to help make your dinner planning easier!
Join today by CLICKING HERE.
Have you checked out our YouTube channel? We show you how to make our favorite recipes right in our own kitchens!
Have you heard about our newest cookbook, Copycat Cooking? We took over 100 of our favorite restaurant recipes and simplified them so that you can make them right at home!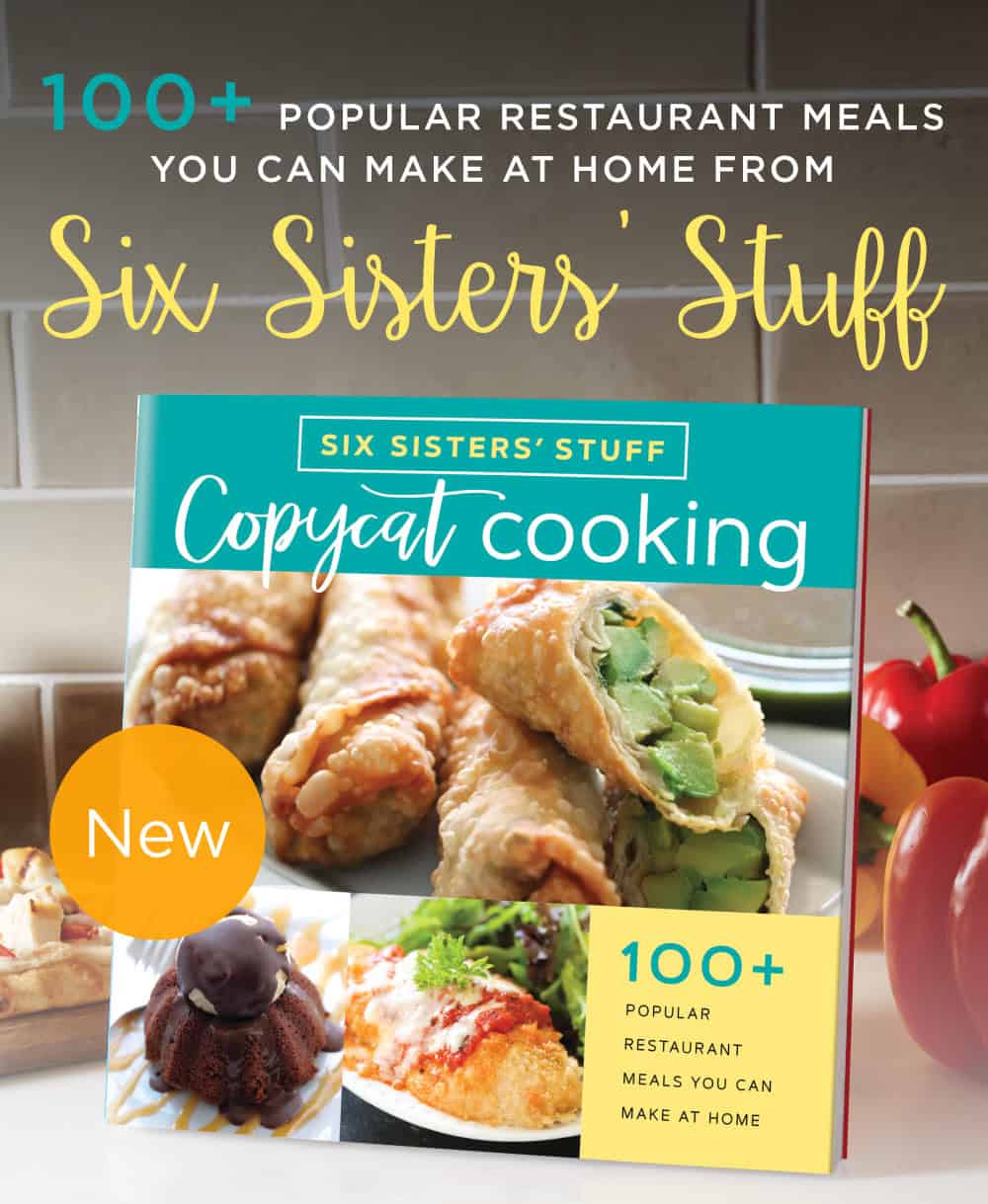 This cookbook includes copycat recipes from Wingers, Texas Roadhouse, Starbucks, Panera, Cheesecake Factory, Kneaders, and so much more. We have you covered from drinks to dessert and everything in-between.
We are so excited to share these recipes with you. Order your copy today!
Six Sisters' Stuff COPYCAT COOKING <—– Click here to order!