I love the holidays, because I love all the delicious food that comes with it. I can't wait for our next family party, because I am bringing this Cowboy Dip, and I know my family is going to go crazy for it. The best food is finger food, and this is one finger food appetizer you need to try.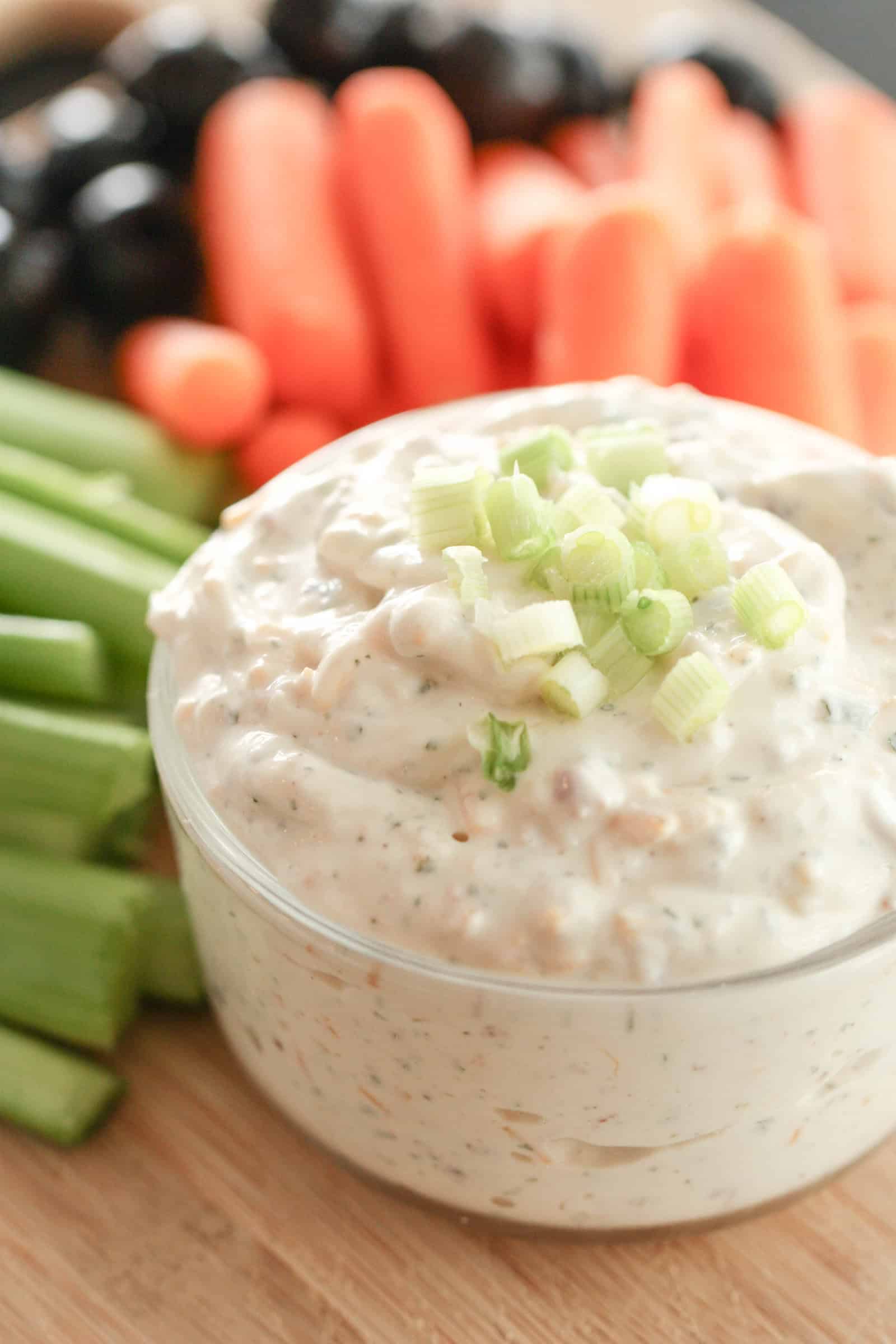 I am a huge dip person. If I can dip it, I will eat it. I think this Cowboy Dip brings a whole new burst of flavor and texture to food.
Between dip and sauces, I am probably consuming more calories, than the actual food I am eating, but hey, it's a holiday and I plan to celebrate it the right way.
If you are looking for a lighter dip, try our Skinny Taco Dip recipe!
If you are anything like me, vegetables can be a little hard to eat down, but all you need is a little Cowboy Dip and you won't be able to stop eating them.
This dip as so much flavor, and the most amazing texture. It has the slightest flavor of bacon, and I can't get enough of it. I promise you are going to love this recipe.
How could I make this Cowboy Dip recipe more calorie friendly?
This dip, is full of delicious flavor, but it isn't what I would call calorie friendly. If you are looking to make this dip a little more nutritious, here is what I recommend:
-Replace the sour cream with plain Greek yogurt: Greek yogurt and sour cream taste almost the exact same to me.
I have started replacing all my sour cream recipes with Greek yogurt, and they are just as delicious, and half the calories.
If you are looking for another dip made with Greek yogurt, try our Mediterranean Dip!
-Use turkey bacon instead of bacon bits or crumbles: I don't know if you have ever tried turkey bacon, but I personally love it.
It has a different taste, but it is a delicious taste. I now prefer turkey bacon, over regular bacon. I know, I can't believe it either, but it's true.
-Take out the cheese: I love the cheese in this recipe, but you could easily take it out, or add less.
You could also use fresh shaved parmesan cheese, and use less of it, if you are looking for a replacement.