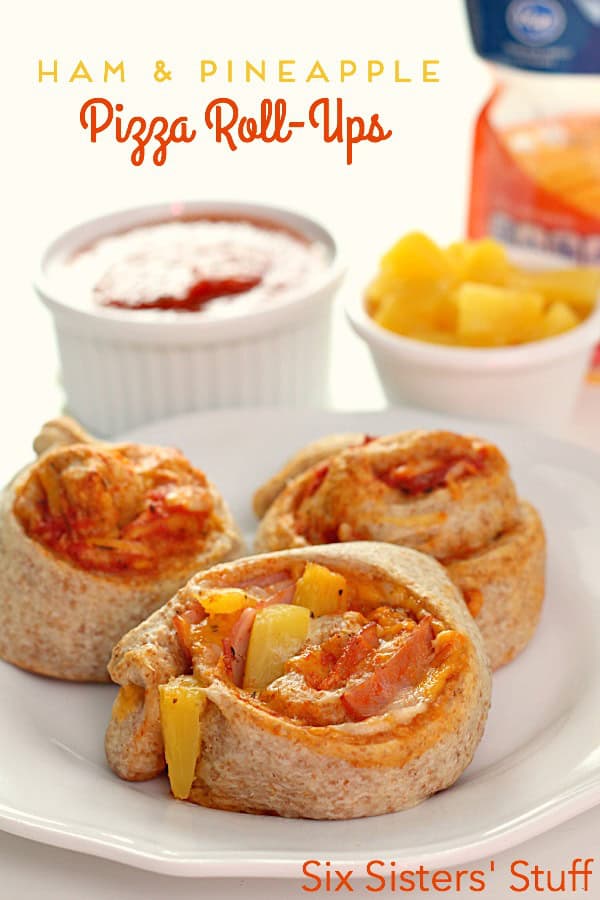 When I was approached by Mom It Forward to try out and review the new Toca Kitchen 2 app, I jumped at the chance because I am always looking for ways to involved my kids in the food prep and cooking process of our family meals. Although this post is sponsored by Toca Boca, all opinions and ideas shared in this post are 100% mine.
Today's recipe for Ham and Pineapple Pizza Roll-Ups comes straight from the brain of my 7 year old daughter. These make a perfect snack, lunch, or even dinner – or whip them up as a quick appetizer for your guests at any upcoming holiday party!
When I was growing up, I learned a lot of things about cooking from being with my mom in the kitchen, but after I moved out on my own, I never felt confident in what I was doing. I needed my mom to be there by my side! I decided that with my children, I was going to start young with making my kids cook on their own- leave them 100% in control of what they are making so that they could get messy and make mistakes.
When I first played around with the Toca Kitchen 2 app, I was surprised at how simple it was – there really were no rules, just one simple idea: make food to feed your guests.
Each guest has different likes and dislikes (and even allergies!), so you have to find what it is that they will eat.
In the app, you have a fridge that is stocked with many different foods (all whole, healthy foods) and then off to the side of the fridge are different ways to prepare those foods: a juicer, an oven, a pot to boil, a cutting board and knife, and a grill pan. You job is to prepare food for your guests that they will eat.
I handed the app over to my 7-year-old daughter Brynlee and she went CRAZY! She loved that she could mix different items and make smoothies or chop up pineapple and chicken and grill it together on the pan. One of the best parts to her was that there was no rules- she could be as creative as she wanted to be and she kept coming up with the funniest concoctions – fish smoothies, anyone? – and loved to see if her guests would like them or not (surprise- one of them did approve of her fish smoothie!!).
After watching her play with the app for a while, we decided to let her be in charge of lunch for that day. She rummaged through the fridge and decided that she wanted to make some kind of pizza (one of her favorite things) and make them like cinnamon rolls (her favorite dessert).
She pulled out a roll of pizza dough, ham slices, and cheese from the fridge and then grabbed a can of pineapple and a can of marinara sauce from the pantry. All that I had to do was put the foil on the pan and pop open the roll of dough, then she went straight to work.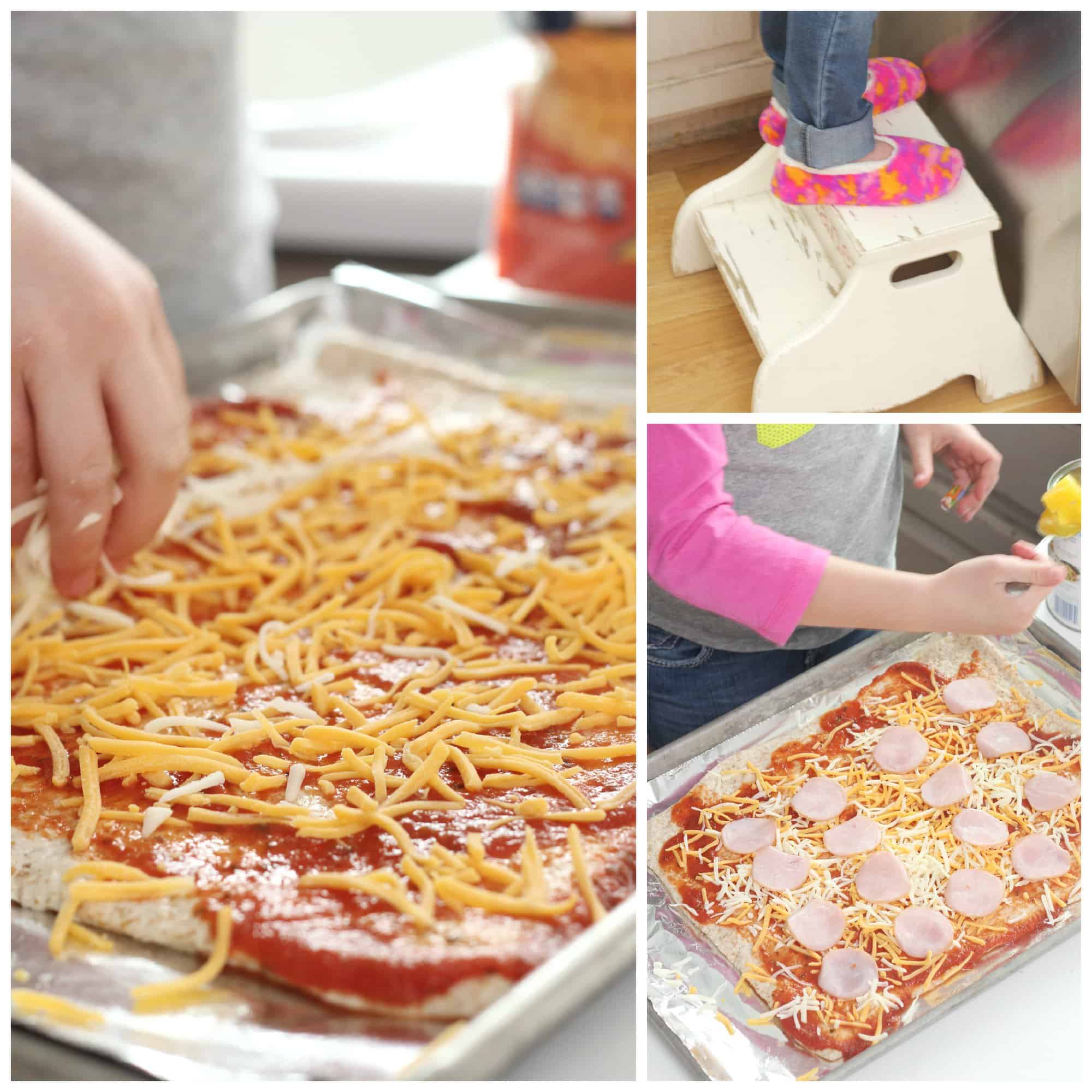 For me, there are so many memories and happy traditions centered around food. The kitchen has always been a happy place to me and that is something that I want to pass onto my children. I also want them to feel free enough to try new things and experiment with food- my daughter didn't know how much she loved cauliflower until we were making a vegetable dip and that was the only vegetable available for her to try it. I have also found that when my kids help me prep dinner, they are WAY more likely to eat it. I love that the app lets them play with their food and prepare it in any way that they can come up with, exposing them to new ideas and letting their imaginations run wild.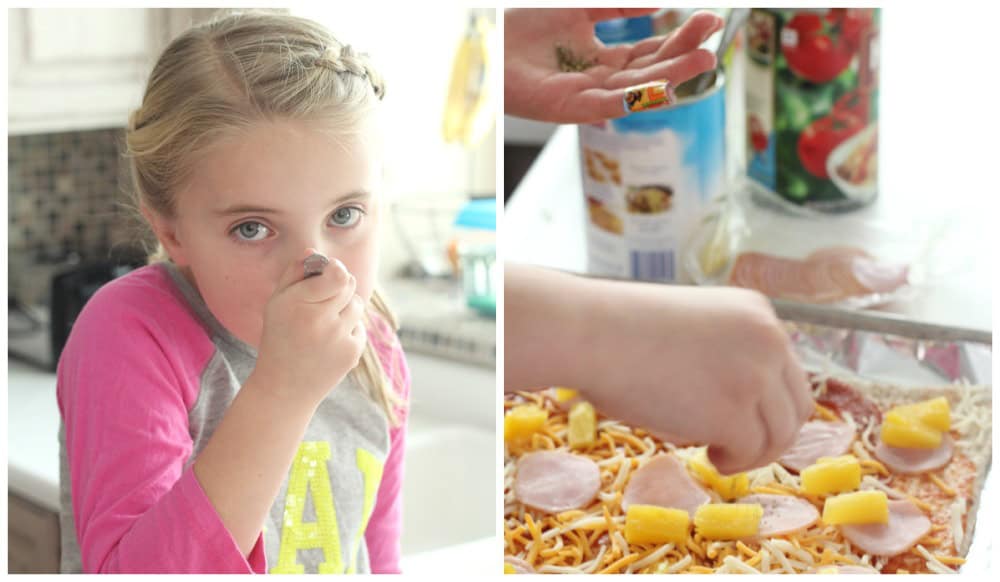 After sampling a couple of things and adding a little bit of seasoning, I helped her roll up her pizza dough and then we cut it into 1″ rolls.
Brynlee arranged them on the baking tray and carefully placed them in the oven (with lots of supervision from mom!!!).
They came out of the oven and Bryn was so excited to try them . . . she loved it! Her dad started to tease her that he would be eating four of them for lunch and Brynlee whispered to me, "Please make sure that he only has two so that it's fair for everyone." Ha ha! She really is such a sweetie.
Bryn loved making us lunch and having free reign in the kitchen, which is the way that it should be! But for days when you need some mess-free kitchen creativity, I highly recommend the Toca Kitchen 2 app – available for iPhones, iPads, and iPod touch – for only 99 cents. Another bonus- there are never advertisements or third-party pop-ups, which means your kids can safely play in the app (which is worth every penny!).
Ham and Pineapple Pizza Roll-Ups Recipe
An easy and delicious meal that your children can help you whip up in a matter of minutes! Have your picky eaters add their favorite toppings so that it's a meal they are sure to enjoy.
Ingredients
13.8

ounces

refrigerated pizza dough

1 can

2

cups

marinara sauce

divided

1

cup

cubed cooked ham

1

cup

pineapple tidbits

1 can. drained

1

cup

shredded cheddar cheese

1

cup

shredded Mozzarella cheese

Italian seasoning, to taste

garlic salt, to taste
Instructions
Preheat oven to 350 degrees (F).

Line a 15 x 10 x 1 inch baking sheet with aluminum foil and spray with non-stick cooking spray.

Spread pizza dough out on the baking sheet and spread 1 cup marinara sauce over the dough.

Top with ham, pineapple, cheddar cheese, mozzarella cheese, and seasonings.

Roll up the dough into a tube-shape and using a sharp knife, cut into 1" slices.

Spread rolls out on the baking sheet covered with aluminum foil and bake for 15-20 minutes, or until the roll is golden and the dough is fully cooked.

Serve with 1 cup marinara sauce for dipping.
Nutrition
Calories:
273
kcal
·
Carbohydrates:
32
g
·
Protein:
14
g
·
Fat:
11
g
·
Saturated Fat:
5
g
·
Cholesterol:
36
mg
·
Sodium:
1013
mg
·
Potassium:
304
mg
·
Fiber:
2
g
·
Sugar:
10
g
·
Vitamin A:
516
IU
·
Vitamin C:
10
mg
·
Calcium:
186
mg
·
Iron:
2
mg
Equipment
cooking spray

15x10x2 Sheet Pan

Aluminum Foil
Recipe Details
Learn the best way to meal plan for your family from our FREE mini course.
Learn More