With only 6 ingredients, this homemade Vegetable Dill Dip is going to be your favorite dish to serve with fresh vegetables. It's also delicious served with chips or crackers.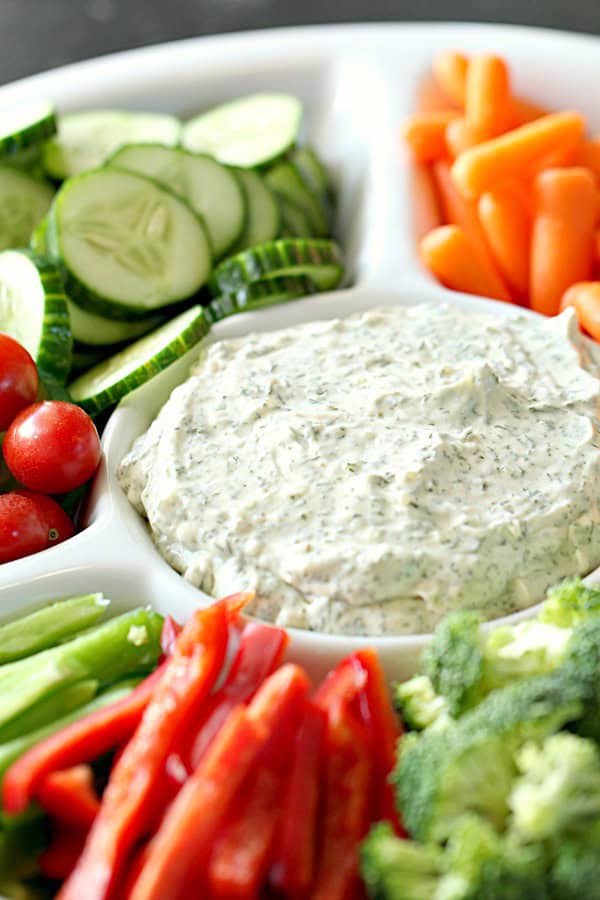 Looking for the perfect dip for raw vegetables? Look no further! This Vegetable Dill Dip is a family favorite!
I am going to be completely honest – I don't get excited about eating raw vegetables. However, if you serve some dip with those raw vegetables, I can eat a pound of carrots in one sitting!
Some may argue that dip counteracts eating healthy vegetables, but it doesn't take much of this flavorful dip to go a long way.
I love making this dip when I need a quick side dish for dinner or even a party – it comes together in less than 5 minutes and is made with ingredients that I usually always have on hand.
After you are done mixing this dip together, I highly recommend letting it sit in the fridge for about 30 minutes before eating to let the flavors meld together. It tastes amazing!
This dip will last up to 5 days in the fridge when kept in an air-tight container.
Ingredients needed for Vegetable Dill Dip:
mayonnaise
sour cream
dried parsley