Flavorful marinated honey lime chicken wrapped in tortillas and cheese with a creamy white sauce. These enchiladas can also be made ahead of time and frozen for another day!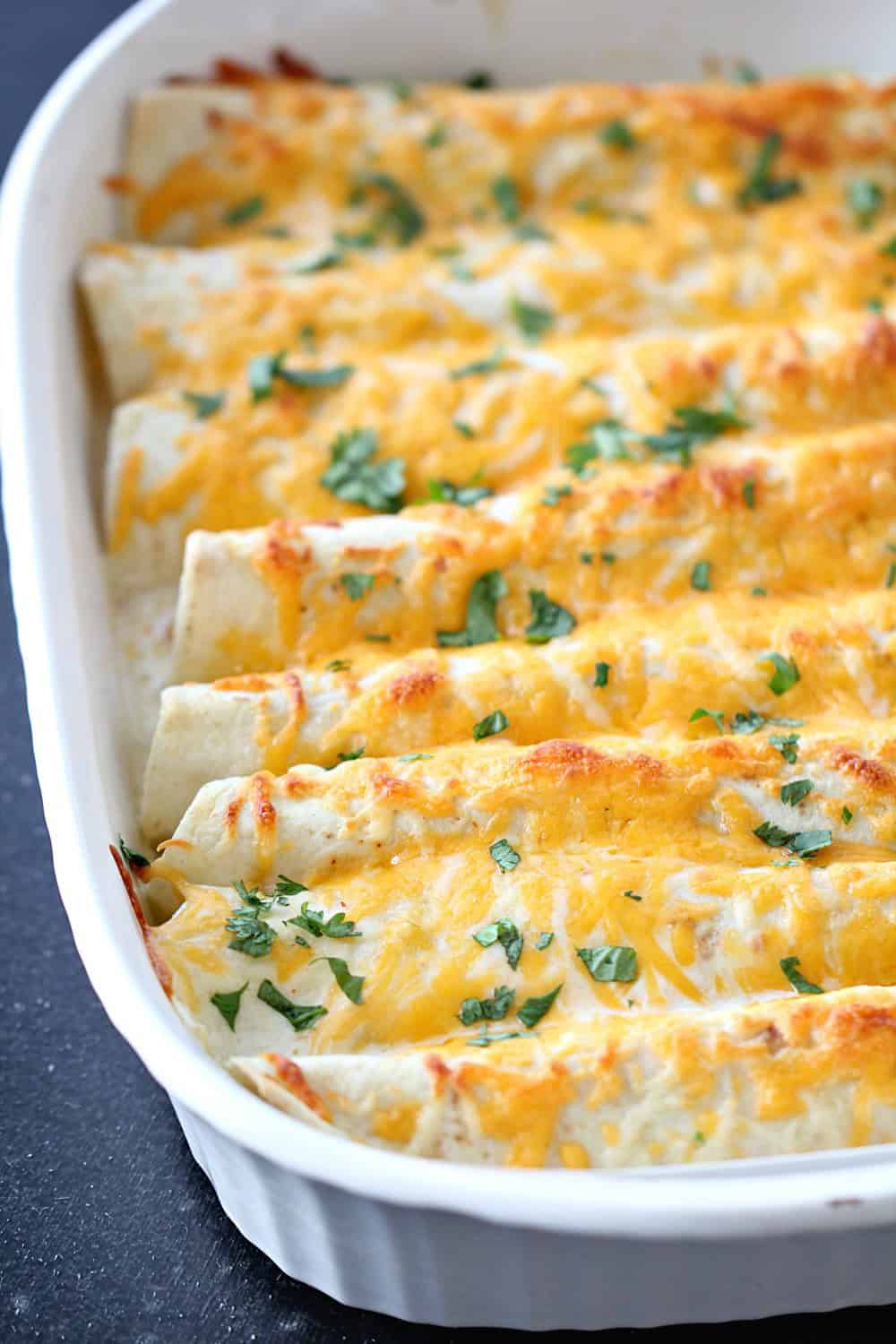 Of all the recipes on our site, this recipe for Honey Lime Chicken Enchiladas is in our top 3. They are seriously that good!
When someone in my neighborhood has a baby, this is the meal that I take them to celebrate their new arrival (every mom needs a night off from cooking!) It's fairly simple to make and everyone who tries these enchiladas falls in love instantly.
So, if you need the perfect Mexican dish that your family will love, look no further! This is the recipe that you need in your life.
Related Recipe: Try our Slow Cooker Cheesy Chicken Enchiladas
Want even more recipe ideas that use already made chicken ?! Try these 45 Cold Chicken Recipes (Best Leftover Chicken Ideas)!
How to make Honey Lime Chicken Enchiladas:
In a resealable gallon-sized bag, mix together marinade ingredients (honey, lime juice, chili powder, and garlic powder). Add in cooked and shredded chicken (rotisserie chicken works great!).
Let the chicken marinate for at least 30 minutes (I prefer 4-6 hours to get maximum flavor!).
Preheat oven to 350 degrees.
Fill each tortilla with a scoop of chicken and some shredded cheese; roll up and place in a pan.
Mix enchilada sauce with heavy cream and pour over the top of the rolled tortillas.
Sprinkle cheese on top and bake for 30 minutes.
Related Article: The perfect side dish to any meal, Mexican Street Corn Salad!
Flour VS corn tortillas for enchiladas:
While most traditional enchilada recipes are made with corn tortillas, we prefer this recipe using white flour tortillas.
However, if you only have corn tortillas on hand, they will still work (and that is actually what we prefer if you are going to be freezing these – read below).
Related Recipe: Looking for more Lime Chicken?! Try our Baked Chili Lime Chicken Tenders!