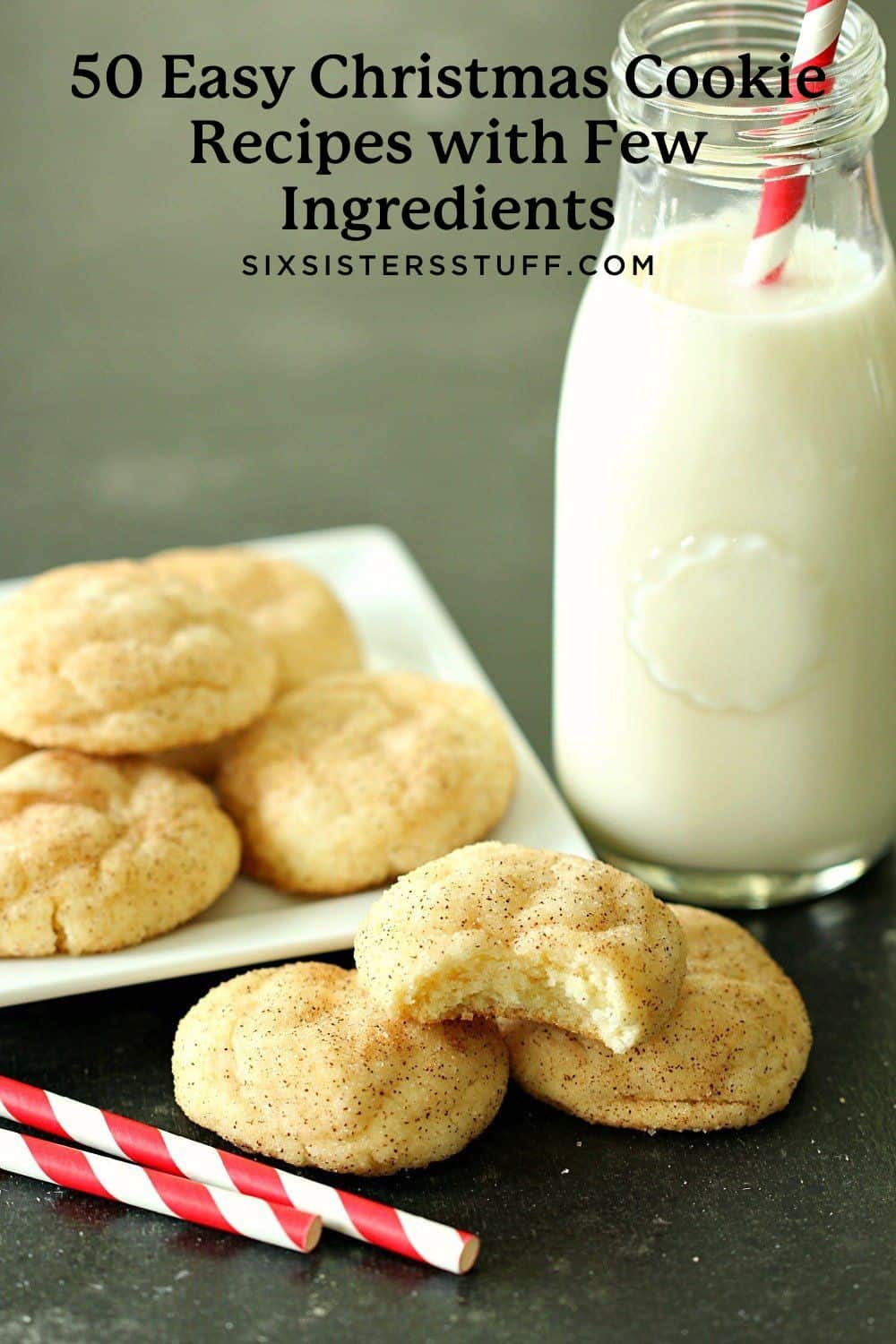 The holiday season can be really busy, so we put together a round-up of our favorite easy Christmas Cookie Recipes with few ingredients to help make your life a little easier.
Most of these recipes use ingredients that you probably have on hand right now! You can still whip up a batch of Christmas favorites in a matter of minutes.
All of these recipes have less than 10 ingredients (some of them have only 3-4 ingredients!). We love easy no-bake cookie recipes and even cookies made from a cake mix!
Check out all of the yummy recipes below – we are sure that you will find a few new holiday favorites in this amazing collection of recipes!
How many days before Christmas can I bake cookies?
There are some cookies that can be made up to 2-3 months in advance (just place them in a freezer-safe container and freeze until you are ready to eat them). We let them thaw at room temperature for 12-24 hours before eating them.
If you are not freezing your cookies, some cookies are good for up to 4-7 days if kept at room temperature. They can sometimes last up to 10 days if kept in the fridge.
What cookies stay fresh the longest?
Drier cookies (like gingersnaps, shortbread cookies, or butter cookies) will stay fresher for longer because they have very little moisture in them.
What is the most popular cookie in the world?
In America, the most popular cookie is the chocolate chip cookie.
If you need a good chocolate chip cookie recipe, our Chewy Chocolate Chip Cookies are a fan-favorite!
50 Easy Christmas Cookie Recipes with Few Ingredients
1. No Bake Peanut Butter Kiss Cookies  -These delectable no bake peanut butter kiss cookies are addicting! They have the wonderful crunch of the rice crispy, with a smooth and creamy texture of the peanut butter and topped off with a creamy and delicious Hershey's chocolate kiss.
2. Andes Mint Cookies: Andes Mint Cookies are my new favorite cookie. They are so easy to make. They are the perfect combination of mint and chocolate chewy cookies, and you will go absolutely crazy for these this time of year.
3. Cookies and Cream Cookies: If soft, tasty, decadent cookies are your thing, then making these cookies and cream cookies are a must! The only problem you'll have will be stopping yourself from eating them all!
4. Soft Vanilla Sugar Cookies: These Soft Vanilla Cookies are rolled in sugar and are perfectly soft and chewy. You don't need a rolling pin or cookie cutters to make these delicious sugar cookies.
5. Orange Creamsicle Cookies: This orange creamsicle cookie recipe is not your traditional cookie recipe. They are filled with wonderful orange and cream flavors, making them extremely refreshing.
6. Santa Sugar Cookies: These Santa Sugar Cookies are such a fun idea for Christmas. They are our favorite sugar cookie recipe. They have a secret ingredient that makes them moist and soft. You are going to love this recipe, and no fancy cookie cutter is needed!
7. Cherry Cheesecake Cookies: These Cherry Cheesecake Cookies are like nothing I have ever had before. My two favorite desserts come together and form a masterpiece. They are inexpensive, delicious, and so easy to make. If you need a quick cookie recipe, unlike any other cookies you've ever had before, try these.
8. Peanut Butter Cup Pudding Cookies: You can't go wrong with the classic chocolate and peanut butter combo . . . and these cookies are incredibly moist and delicious!
9. Meltaway Cookies: These Meltaway cookies are AMAZING! They are buttery and literally do melt in you mouth, just like their name says.
10. White Chocolate Chip Oatmeal Cookies:  These White Chocolate Chip Oatmeal Cookies are so easy to make and taste absolutely amazing. If you need a new cookie recipe, these are the perfect combination of chewy and soft.
11. Grasshopper Mint Cookies: These Grasshopper Mint Chocolate Cake Mix Cookies Recipe have an easy cake mix cookie bottom, topped with creamy mint frosting and covered with a perfect chocolate ganache.
12. Chocolate Chip Pudding Cookies: Do you struggle making chocolate chips cookies? You NEVER have to mess them up again! These Chocolate Chip Pudding Cookies are FAIL PROOF!
13. No Bake Chocolate Peanut Butter Cookies: This recipe is a healthier and wonderfully delicious take on the popular No-Bake Chocolate Peanut Butter Cookies. These cookies have all the flavor and satisfaction of the original, but these Healthier No-Bake Chocolate Peanut Butter Cookies will leave you feeling guilt-free!
14. Hershey's Hug Brownie Cookies: These Hershey's Hug Brownie Cookies are easy to make and taste absolutely amazing. They only require a few simple ingredients and taste similar to brownies, but even better. Our two best worlds have collided to bring you a new favorite dessert.
15. Nutella No-Bake Cookies: These Nutella No Bake Cookies are so easy to make and come together in minutes. If you are looking for a quick and simple dessert, we highly recommend trying these.
16. Sheet Pan Chocolate Chip Cookie Bars: All the flavor you love from our chocolate chip cookies – made in one single batch. No scooping or rolling required. Perfectly thick, chewy, chocolatey cookie bars made to feed a crowd.
17. Peanut Butter Nutella Swirl Cookies: Take your peanut butter cookies to the next level with our Peanut Butter Nutella Swirl Cookies. The perfect chewy peanut butter dough, marbled with creamy Nutella and baked to perfection.
18. No Bake Fluffernutter Cookies: Enjoy the creamy peanut butter and marshmallow flavors of this easy no bake fluffernutter cookies recipe. You might also know them as avalanche cookies!
19. 4 Ingredient Rolo Cookies: If you want the most amazing cookie ever with only 4 ingredients, then Rolo Cookies are for you! The main ingredient is a devil's food cake mix. The chocolate and gooey caramel center takes these Rolo Cookies over the top.
20. Red Velvet Kiss Cookies: Our Red Velvet Kiss Cookies will be a family favorite!
21. Strawberry Crinkle Cookies: These Strawberry Crinkle Cookies are the perfect festive cookie for the holiday.
22. Chewy M&M Cookies: These Soft Batch Chewy M&M Cookies are really so soft and chewy – they are definitely a go-to recipe when you need a good cookie!
23. Cake Mix Christmas Cookies: These Cake Mix Christmas Cookies are a festive, quick treat that is perfect for a holiday party, as a gift for neighbors, or to leave out for Santa on Christmas Eve.  
24. Best No-Bake Cookies: These classic No Bake Cookies are the absolute best! You can make these chocolate peanut butter cookies on the stove top in less than 15 minutes from start to finish.
25. Chocolate Caramel Nutella Cookies: These Chocolate Caramel Nutella Cookies, are what Nutella fans dream about. A boxed cake mix, Nutella, and chewy caramel put these cookies over the top delicious!
26. Peppermint Snowball Cookies: Peppermint Snowball Cookies will be your favorite Christmas cookie! These cookies are a soft buttery pecan cookie topped with white chocolate and crushed candy canes.
27. Molasses Cookies: Molasses Cookies are the BEST holiday cookie. I love the sugary glaze, and the spice of flavor. If you are looking for a simple and delicious cookie, you have to try these ones.
28. Best Banana Cream Pudding Cookies: These Banana Cream Pudding Cookies are THE BEST. Loaded with banana flavor from a pudding mix and a mashed banana, they turn out soft and chewy every time.
29. Brownie Mix Cookies: These Brownie Mix Cookies are chewy, fudgy cookies that are made with a simple brownie mix, eggs, oil, and flour! Mix in your favorite chocolate chips or candies and you have a quick dessert ready in minutes.
30. Peanut Butter Cookies: These Perfect Peanut Butter Cookies are absolutely foolproof and are so easy to make! These soft, chewy peanut butter cookies melt in your mouth, so be sure to have a glass of milk on hand.
31. Chocolate Marshmallow Brownie Cookies: These Chocolate Marshmallow Brownie Cookies are easy to make and full of chocolatey flavor. They come together quickly and taste absolutely delicious.
32. 5 Ingredient Snickerdoodle Cake Mix Cookies: Cookies are great for any occasion, even better if they are simple! These Snickerdoodle Cake Mix Cookies are so easy to make and are fluffy, buttery and bursting with that lovely cinnamon sugar flavor.
33. No Bake Cookie Butter Cookies: Just when you thought cookie butter couldn't get any better, we make our Cookie Butter No Bake Cookies! They are what dreams are made of. So simple to make, chewy and delicious!
34. Chocolate Peanut Butter Sandwich Cookies: If you have never been to Disneyland to experience their Chocolate Peanut Butter Sandwich, no stress. We have the recipe that tastes identical and you can make it in the comforts of your own home.
35. Cake Batter Chocolate Chip Cookies: These Cake Batter Chocolate Chip Cookies are a delicious, quick treat. They are perfect for a classroom party, as a gift for neighbors, or to treat your kids after a long day at school.
36. Sprinkle Sugar Cookies: The perfect sugar cookie rolled in cute colorful sprinkles makes for every kid's favorite snack. What do you think, are sprinkles better than frosting?
37. Christmas Corn Flake Wreaths: These Christmas Corn Flake Wreaths are the perfect holiday treat for the kids. They are so easy to make and come together in a matter of minutes. They look so cute, I like to make them at holiday classroom parties and family get togethers. Everybody always raves about them. Try them!
38. White Chocolate Dipped Peppermint Cookies: These White Chocolate Dipped Peppermint Cookies are the BEST Christmas cookies. They taste like the holidays, and are beyond easy to make. If you are looking for a quick, delicious, and beautiful cookie recipe, this is the one you need to try.
39. No Bake Thin-Mint Cookies: Oh my goodness!!! They are so easy to make and taste amazing.  Now we can enjoy the delicious taste of girl scout cookies all year round!  And the best part is that they are no bake.
40. Mint Chocolate Thumbprint Cookies: It just wouldn't be Christmas without delicious cookies and heaven knows that chocolate and mint are a match made in heaven!
41. Matterhorn Macaroons Cookies: These Matterhorn Macaroons are so tasty, and so easy to make. They are also adorable, and perfect for any party… or just to eat a whole batch on your own… 🙂
42. Mookies (Muffin Cookies): Mookies are the perfect combination of cookies and muffins, that you are going to love. If you are looking for a simple, fast, and delicious dessert recipe, than this one is for you.
43. Double Chocolate Chip Pudding Cookies: A quick and easy cookie that is so soft with pudding in the cookie dough. A chocolate lovers dream!
44. Coconut Macarons with Chocolate Drizzle: These macaroons are so soft and chewy on the inside and the chocolate drizzle on top takes them over the edge!
45. Shortbread Chocolate Chip Pecan Cookies: We love a tasty shortbread cookie and this one is amazing.
46. Gooey Butter Cookies: These cookies are so easy to throw together and taste just like my favorite dessert (Cheesecake Chess Squares) in a cookie form!  They are sure to be a crowd favorite!
47. 3 Ingredient Pumpkin Chocolate Chip Cookies: These cookies are my favorite to make. They are impossible to mess up and they are a crowd favorite all year long!
48. Fudge Crinkle Cookies: The best partabout these cookies is that they only require4 ingredients (and I bet that you have them in your pantry right now!).
49. Homemade Oreo Cookies: They homemade Oreo cookies are so easy to make and use a cake mix, which makes them perfect for any little baker in your family!
50. Funfetti Cake Batter Cookies: Anything made from a Funfetti Cake Mix is my favorite!  My little girls loved all the sprinkles – you could even see the sprinkles on the bottom of the cookie!
Want More Easy Dinner Ideas?
Join our email list today and we will send you a FREE ebook of our favorite dinner recipes – plus we will send you recipes each week to help make your dinner planning easier!
Join today by CLICKING HERE.
Have you checked out our YouTube channel? We show you how to make our favorite recipes right in our own kitchens! 
Our latest cookbook – Six Ingredients with Six Sisters' Stuff –  is all about using a few ingredients to make a delicious dinner! With only 6 ingredients or less per recipe in this cookbook, cooking has never been easier!
Whether you are a cook just starting out or a busy parent looking to save time in the kitchen, this cookbook is for you! It's full of entrees, side dishes, and desserts.
We are so excited to share these recipes with you. Order your copy today!
SIX INGREDIENTS with Six Sisters' Stuff <—– Click here to order!
Love cooking as much as we do? Join our FREE private Facebook Group: Six Sisters' Dinner Club!
Be sure to not miss another recipe! Follow Six Sisters' Stuff on Instagram|Facebook|Pinterest|YouTube
If you made our recipe be sure to tag us on Instagram so we can see your hard work using #sixsistersstuff.