These Brownie Mix Cookies are chewy, fudgy cookies that are made with a simple brownie mix, eggs, oil, and flour! Mix in your favorite chocolate chips or candies and you have a quick dessert ready in minutes.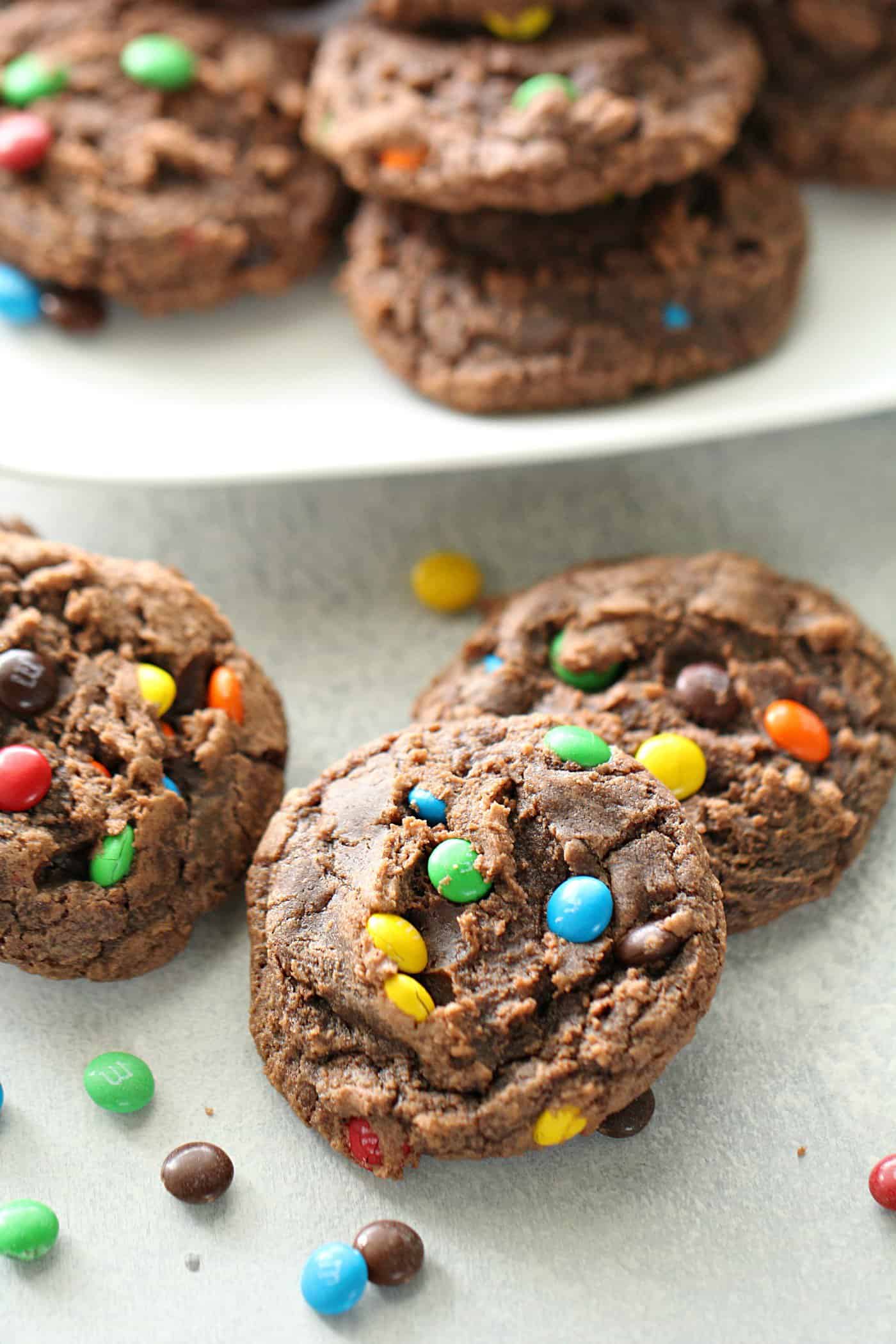 The other night I had some of my nieces and nephews over for a sleepover and decided that we needed a late night snack.
In an effort to keep things simple, I looked in my pantry and found a box of brownie mix. I was in the mood for cookies (they cook faster than brownies and when you are entertaining hungry kids, time is everything!) and so I did a quick Google search and found that you can make cookies from a BROWNIE MIX! I decided to put it to the test and see how they turned out.
After making a few batches over the weekend (gotta love recipe testing), I feel that this is the recipe to get the fluffiest, chewiest, and fudgiest cookies possible. They are simple and delicious!
Add in whatever mix-ins you want and make these cookies your own. We added M&M's to this batch.
If you love fudgy cookies, you are going to want to check out our Andes Mint Cookies and our Chocolate Marshmallow Brownie Cookies!
Make sure to have these items to make the best brownie cookies:
The ingredients in these cookies are simple – you probably have all of them on hand right now!
Box of brownie mix (I used an 18.4 ounce Pillsbury Chocolate Fudge Brownie mix)
All-purpose flour
Vegetable oil
Eggs
Mini M&M's (or your choice of Mix-in)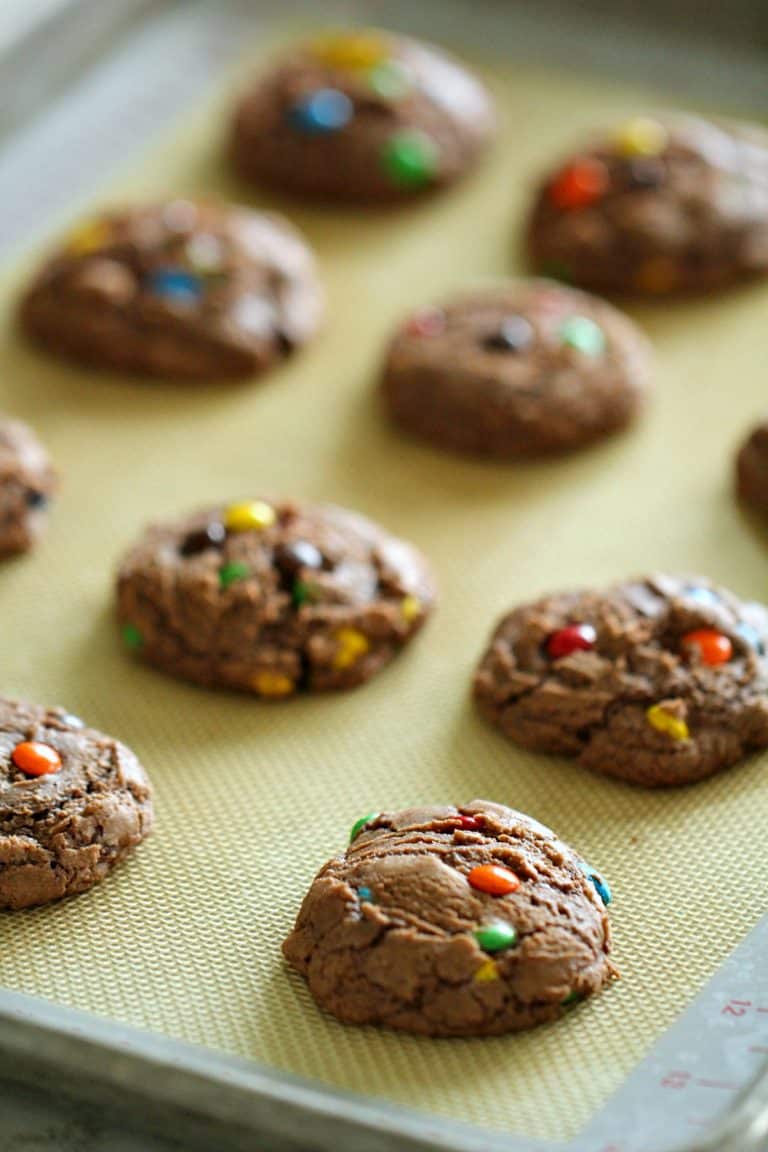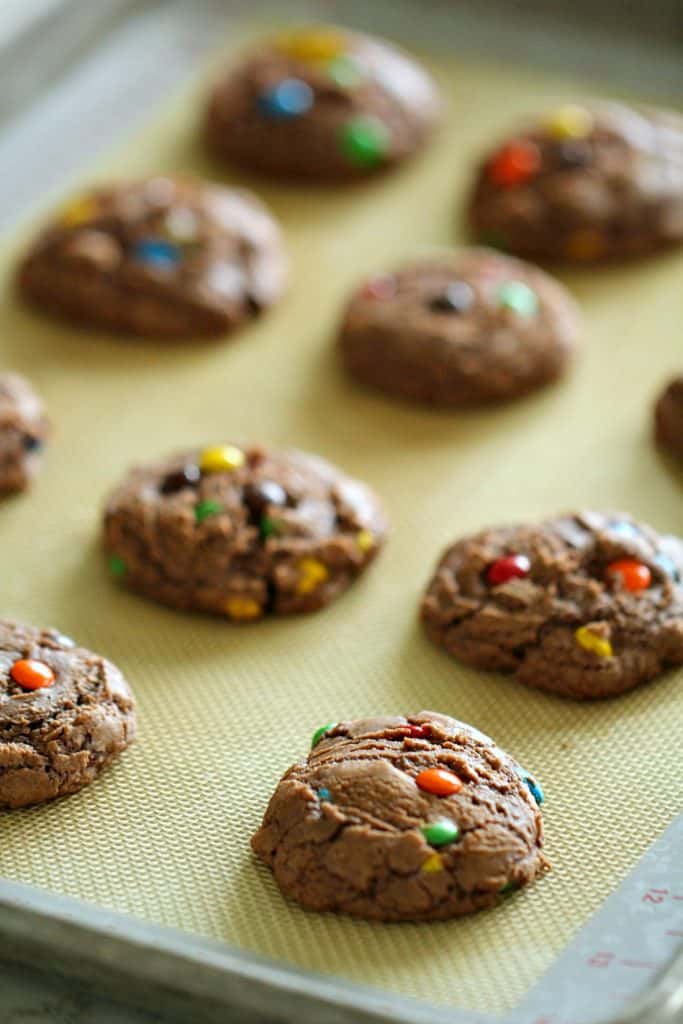 Don't forget these items too:
Baking Sheets (THESE are our favorites)
Large mixing bowl
Cookie Scoop (These come as a 3 pack)
Wire cooling rack (This one is great)
Tips for making brownie mix cookies
These cookies are fairly simple to make and are perfect for kids or beginner cooks. Here are a few tips to help you make the best cookies possible:
Every brownie mix is a different size. I used an 18.4 ounce brownie mix, but some will be more or less. Feel free to add a little more or a little less flour as needed
In order to get thick, fudgy cookies, you need to keep the balls of cookie dough stacked high (don't flatten them down). I like to use a cookie scoop to help them have that perfect round shape and to make them all the same size every time
Be sure not to overbake these cookies! If anything, underbake them just a little bit and then let them cool – they will be so fudgy and good on the inside!
Feel free to add in your favorite mix-ins: chocolate chips, butterscotch chips, peanut butter chips, white chocolate chips, any kind of nuts, sprinkles, or even roll the cookie dough in powdered sugar for a crinkle cookie.