If you are looking for a soft and chewy chocolate chip cookie recipe, this is it! No chilling needed - just thick, dense, soft and chewy cookies every time.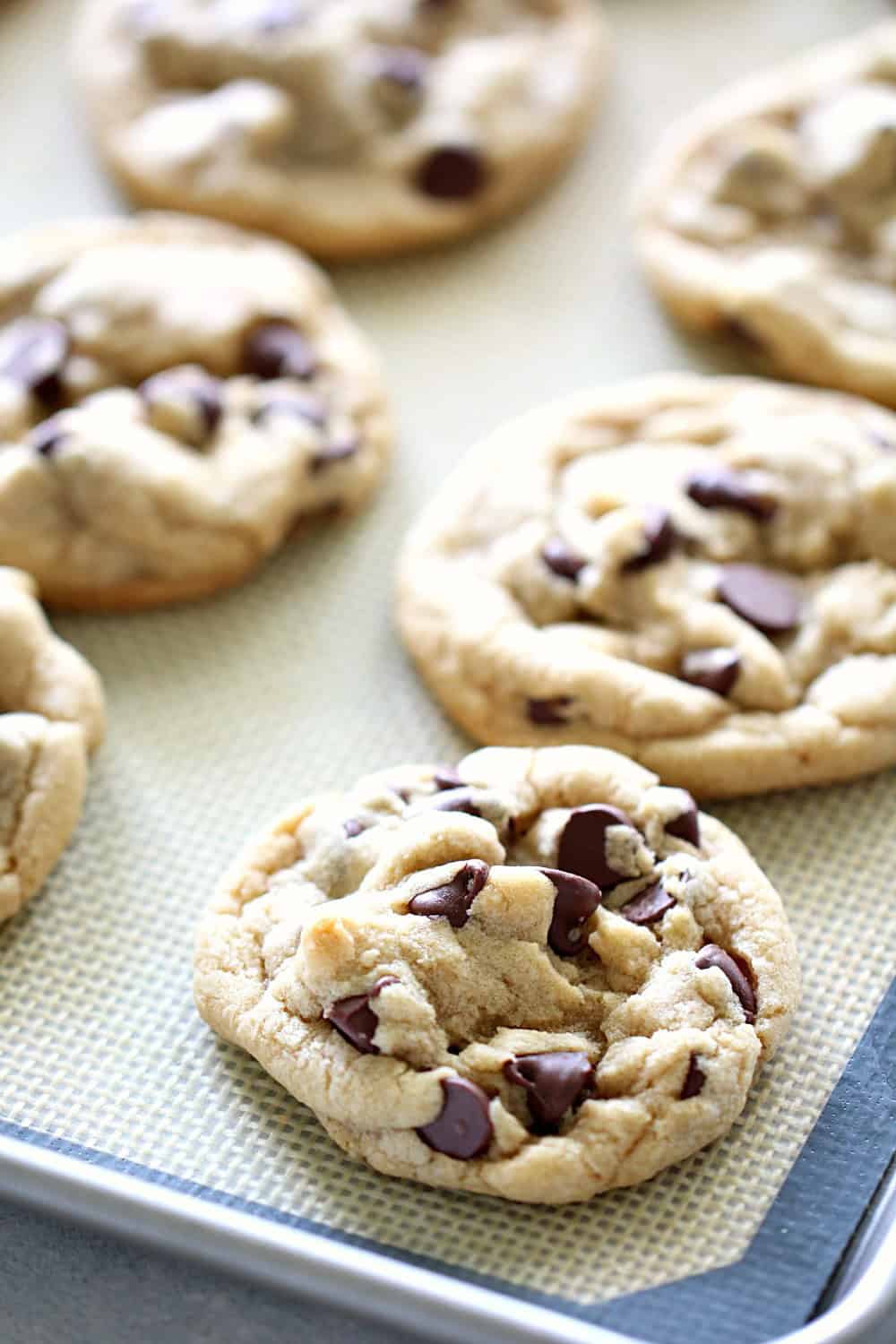 Chocolate chip cookie lovers – this recipe is for you; The Best Chewy Chocolate Chip Cookies!
I am always on the hunt for a delicious chocolate chip cookie and this really is the BEST Chewy Chocolate Chip Cookie recipe that I have found.
I prefer my chocolate chip cookies to be soft and chewy and this recipe hits the spot!
We have all kinds of versions of a chocolate chip cookie on our website (such as Oreo Filled Chocolate Chip Cookies, Almond Joy Chocolate Chip Cookies, Oatmeal Chocolate Chip Cookies), but not an actual tried-and-true chocolate chip recipe, so that is why I am sharing this recipe with you today.
What Makes These Chocolate Chip Cookies, Chewy?
I have found that having a larger, thicker mound of cookie dough helps to make the cookie chewier.
The key to a chewy cookie is to roll the ball of dough taller than they are wide. These tall, thick cookies will firm up quickly and the shape of the cookie dough helps to minimize spreading (thin cookies = crispy cookies).
The other important key to getting a soft and chewy cookie is to not overbake them – you might think that they are not quite done in the middle, but the cookies will continue to cook even after you remove them from the oven.
You will want to watch the edge of the cookies and when they start to barely turn a golden brown, it's time to remove them from the oven.
The Basic Ingredients That Every Chocolate Chip Cookies Should Have:
all-purpose flour (I have not tried this recipe with gluten-free flour)
combination of white and brown sugar (I use light brown sugar, but dark will work too)
salt
eggs
baking soda (or some type of leavening agent)
butter (or another fat like shortening)
vanilla extract
and of course chocolate chips!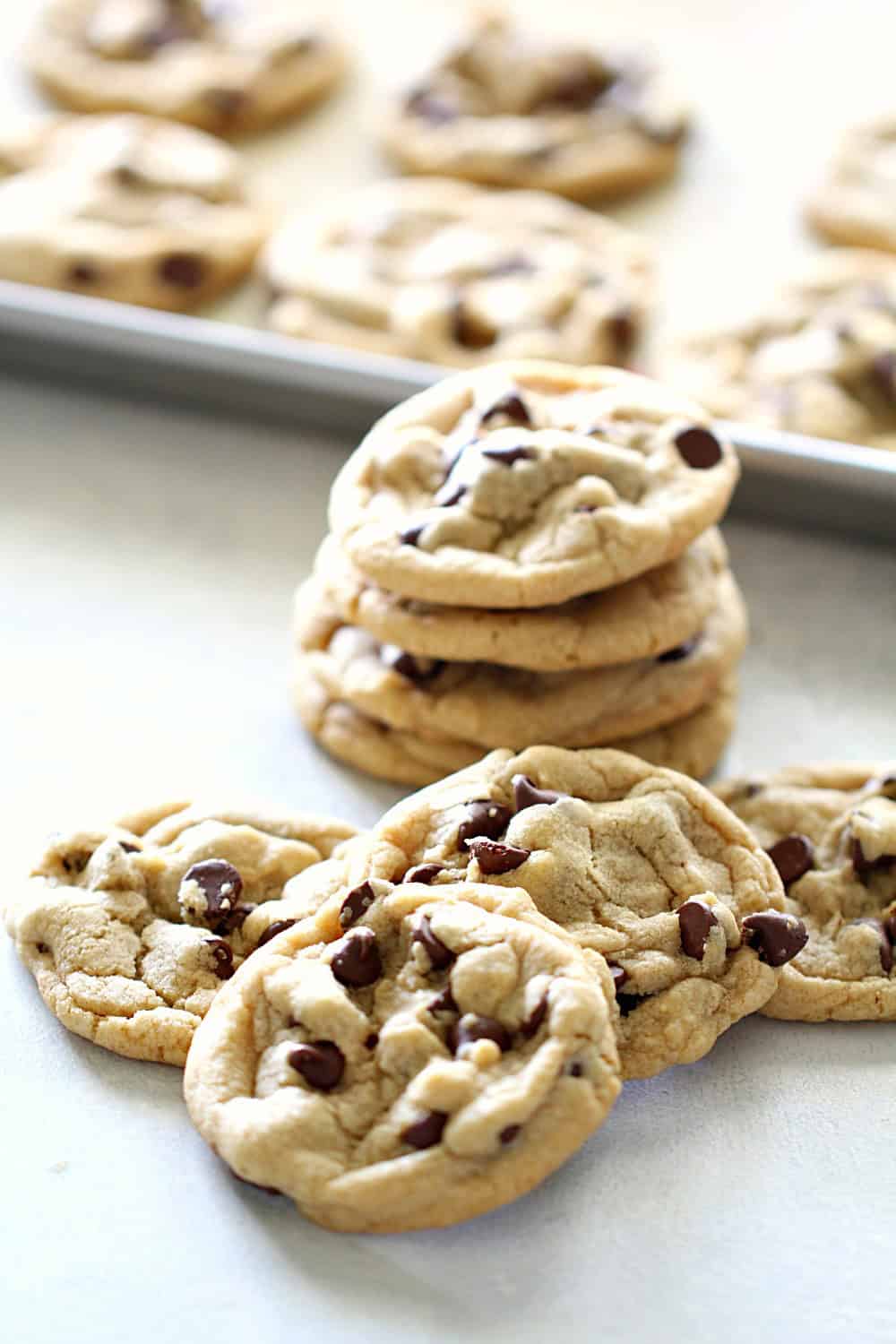 Why Add an Egg AND and Egg Yolk?
I know that it seems strange to add an egg AND and egg yolk, but eggs are a CRUCIAL part of a chocolate chip cookie!
Because we are going for a soft and chewy texture, the extra added egg yolk will make your cookies a little more dense and fudgy. The egg yolk will add more fat to the cookies, hindering both the gluten forming in the cookie and air escaping from the cookie.
The end result from adding that extra egg yolk: more dense, fudgier, softer, chewier cookies.
So yes, add a whole egg and then that extra egg yolk!
Butter vs Margarine
For this recipe, we recommend unsalted butter. DO NOT use margarine for this recipe – you will not get the soft, chewy cookies that you came here for.
Margarine has about 20% more liquid in it than butter and that extra liquid is what causes all the problems of cookies being too crispy or flattening out to thin pancakes.
When it comes to baking the perfect cookie, go for the butter. The more fat, the softer and chewier these cookies will be.