These Hershey's Hug Brownie Cookies are easy to make and taste absolutely amazing. They only require a few simple ingredients and taste similar to brownies, but even better. Our two best worlds have collided to bring you a new favorite dessert.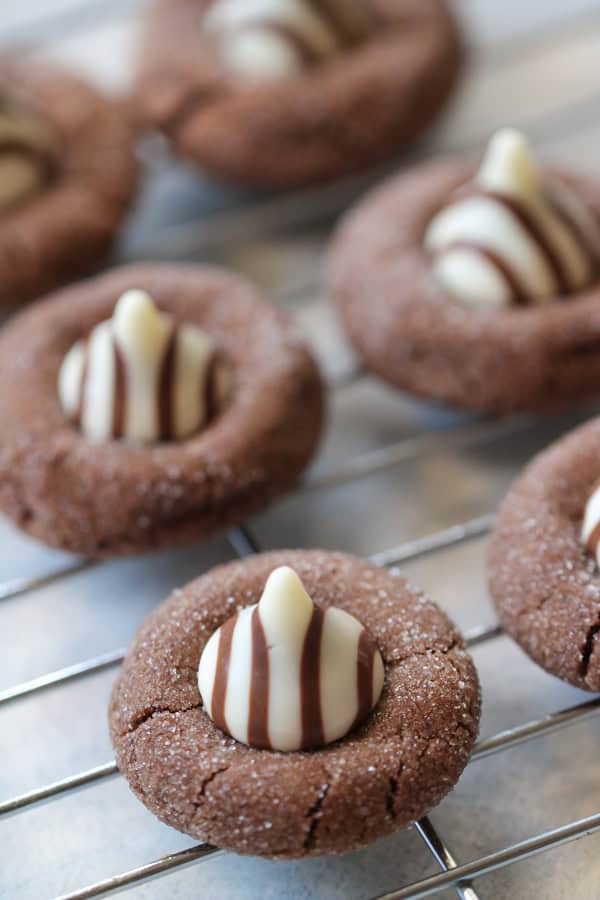 One of my all-time favorite desserts is my Mom's Chocolate Marshmallow Brownies. There's nothing like brownies made from scratch.
These cookies taste just like a brownie and the Hershey's Hug on top takes these over the top!
Do these cookies freeze well?
I have a strange obsession with frozen cookies. I usually don't have any leftover to freeze, because I love eating cookies as soon as they come out of the oven (I even take the risk of getting a burnt tongue from the melted chocolate), but frozen cookies are so yummy.
These cookies freeze well. You can eat them slightly frozen, or freeze them up to a month.
To freeze them, we recommend placing them in an airtight container or double wrapping them in both saran wrap and aluminum foil, for the best results.
Set them out on the counter to thaw for about 1-2 hours.
You could microwave them, but the Hug in the center will definitely melt.
We have found that letting them thaw in the freezer container keeps them soft and chewy.