All the flavor you love from our chocolate chip cookies - made in one single batch. No scooping or rolling required. Perfectly thick, chewy, chocolatey cookie bars made to feed a crowd.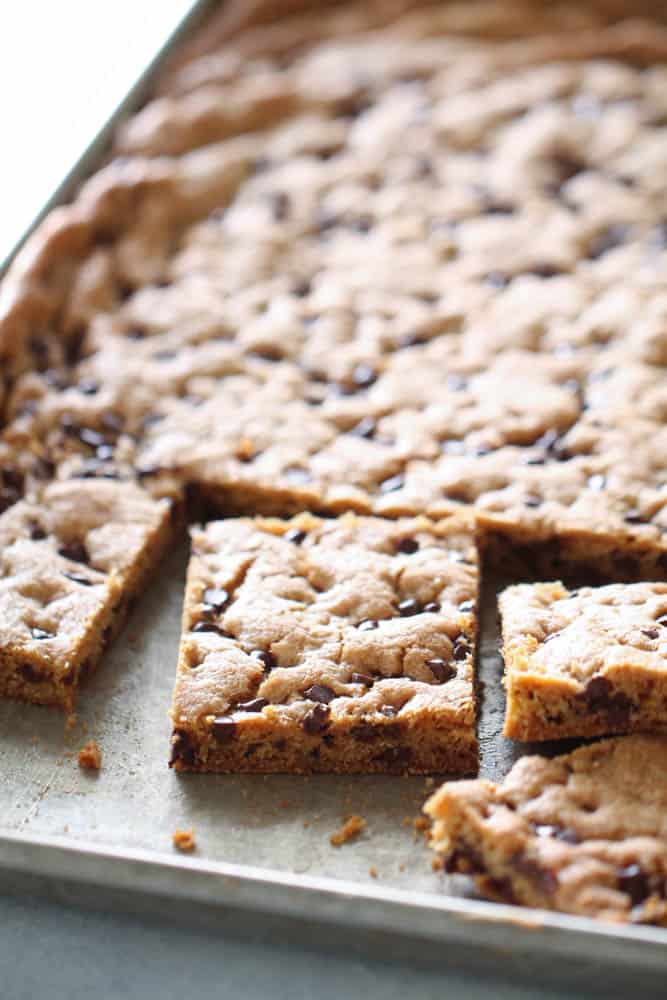 We love how easy these Sheet Pan Chocolate Chip Cookie Bars are! My family loves making chocolate chip cookies every Sunday (this recipe is our favorite), but I was just not feeling it this week.
Mostly because I was sick of doing dishes and the thought of hanging out in the kitchen half the day putting more batches of cookies in the oven did not sound fun.
Does anyone else feel like they spend half of their Sunday in the kitchen cooking and doing dishes?!
Then it hit me….why don't I make one batch of cookies, spread it out in a sheet pan and call it good? Forget waiting every 8-10 minutes for the cookies to bake and then repeat over and over again. Not today!
Looking for another delicious recipe? Try our Homemade Twix Bars!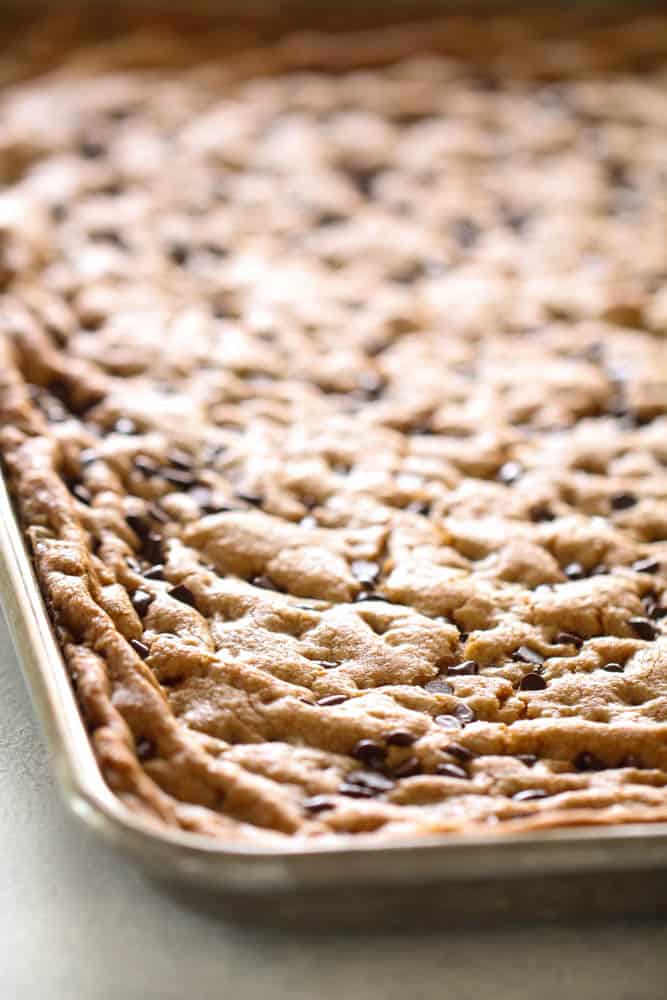 I was a little nervous about the texture of the bars because I was wanting them to be on the chewy side. I upped the brown sugar in this recipe to make them the perfect consistency. A little crispy on the outside, soft and chewy on the inside.
Another thing I loved about these bars is that they are perfect for feeding a crowd. Did I mention they are even better with a scoop of vanilla ice cream on top with a drizzle of chocolate sauce? Because they totally are.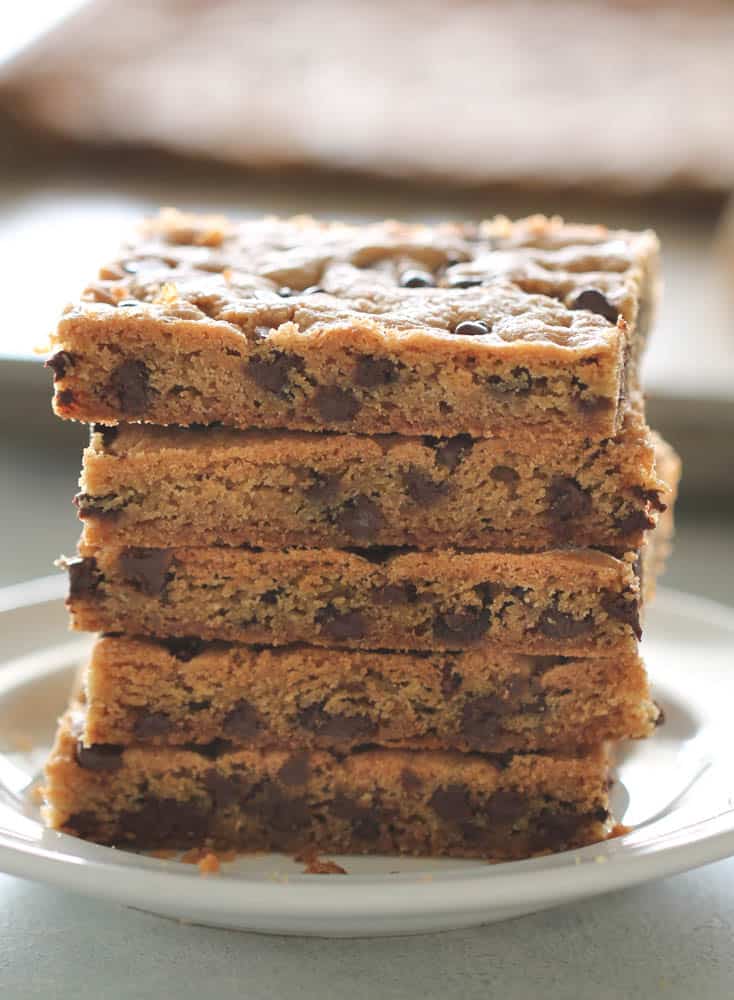 I set some of the chocolate chip cookie bars aside to eat during the week, and I will tell ya, they were even better the next day It's almost like they got even softer and more flavorful.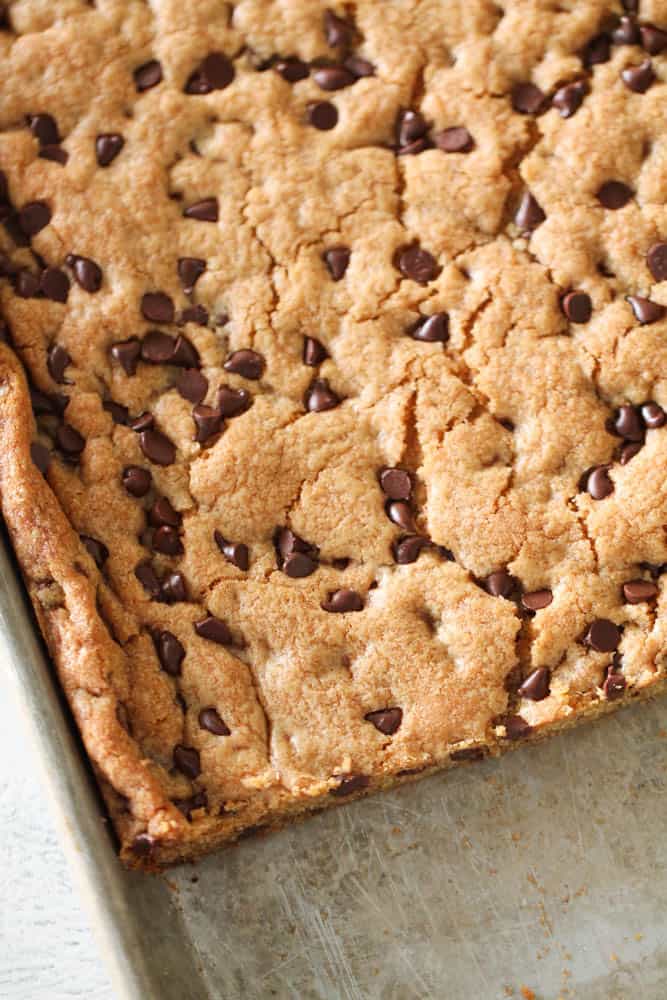 The next time your kids come begging for some chocolate chip cookies, whip these bars up in a matter of minutes and thank me later.
To all the other people spending their afternoons baking cookies instead of catching up on last week's Bachelor episode….these are for you.
Related Article: Looking for a no-hassle chocolate chip recipe? Check out these NO BAKE Chocolate Chip Cookie Truffles!