These Cherry Cheesecake Cookies are like nothing I have ever had before. My two favorite desserts come together and form a masterpiece. They are inexpensive, delicious, and so easy to make. If you need a quick cookie recipe, unlike any other cookies you've ever had before, try these.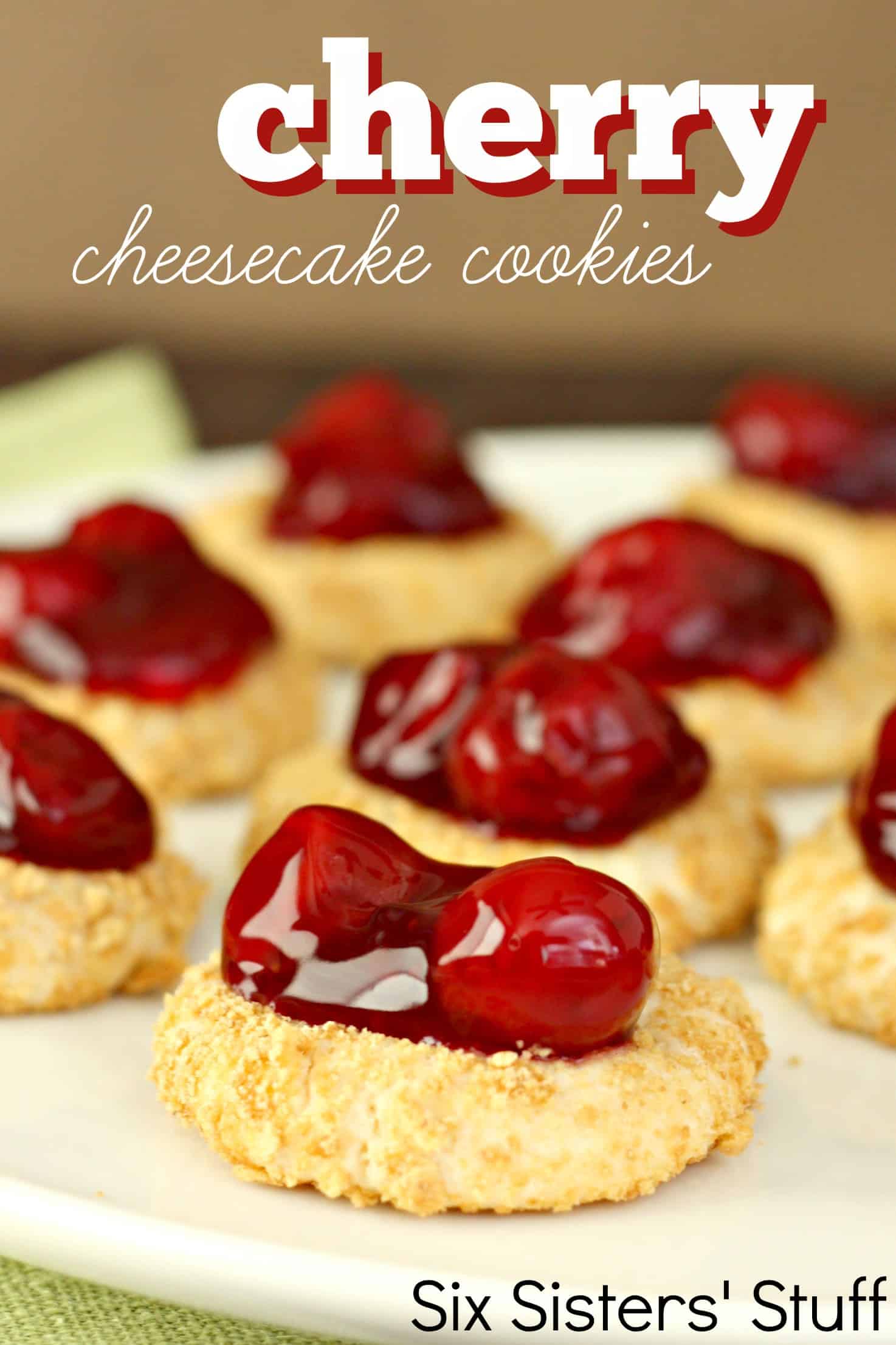 Cheesecake lovers unite
For those of you who have no control when it comes to cheesecake (like me), I give you bite-sized cheesecakes in the form of a cookie.
The cheesecake cookie dough is absolutely divine (I may or may not have eaten it by the spoonful).
Then you roll the yummy dough in crushed graham crackers and top it off with sweet cherries, basically heaven.
You are welcome.
could I make these cookies ahead of time?
This recipe can definitely be made ahead of time.
If you are planning to make them about 2-3 days in advance, I recommend rolling them into balls, rolling them in the graham cracker crumbs, and indenting them, then placing them in the fridge until ready to bake.
If you plan on making them more than 3 days in advance, we recommend freezing the cookie dough.
We don't necessarily think refrigerating or freezing the baked and topped cookie, is the best idea, because it will thaw funny, and the cherry glaze will seep into the cookie, making it soggy.
For best results, we recommend making them fresh, and only making the cookie dough, ahead of time.
what other flavors could I make, besides cherry?
I love a classic cherry pie, but you could really do any classic cheesecake combination. Here are a few of my recommendations:
-Blueberry
-Apple
-Strawberry
-Melted chocolate chip drizzle
-Cinnamon and sugar topping
-Turtle (pecan, chocolate, and caramel sauce)
You could really add any of your favorite fruit toppings, or cheesecake toppings you desire. I personally love these with a fresh raspberry on top.
how should I store these before serving?
If you have an hour or two before serving them to guests, family, or friends, we recommend refrigerating them.
The fruit and cheesecake taste best when they are cold. We do not recommend freezing them, because it will turn the texture a little funny.
If serving them the same day, place them in the fridge until you are just ready to serve them.
watch how to make another one of our favorite cookie recipes, here:
Did you know we have a Youtube Channel? We created our channel, specifically for you. We know how difficult it can be to make a recipe you have never seen or made before.
We have hundreds of simple and delicious cookie recipes, that your family is going to love. We take you through each recipe, step by step, and show you exactly how to make it.
Each recipe is tried and true, so you can trust your family is going to love it.
Watch how to make another cookie favorite, here:
looking for more Cookie recipes? Here are a few of my favorite:
Nutella Pumpkin Cookies
Rolo Cookies 
Molasses Cookies
Gingerbread Crinkle Cookies
Almond Joy Cookies
Six Sisters Stuff
Serves: 30
Cherry Cheesecake Cookies Recipe
Cheesecake in the form of a cookie?! Brilliant! These cookies have been winners in two different cookie contests - not only are they cute to look at, but taste absolutely amazing. It just wouldn?t be Christmas without them!
2 hr, 15 Prep Time
15 minCook Time
2 hr, 30 Total Time
Ingredients
1/2 cup butter (softened to room temp)
1 (3 ounce) package cream cheese (room temperature)
1 egg (separated)
1 teaspoon vanilla
1 lemon (zest)
1/4 teaspoon salt
1 cup powdered sugar
1 cup flour
1 cup graham cracker crumbs
1 (20 ounce) can cherry pie filling
Instructions
In a medium bowl, cream butter, cream cheese, egg yolk, vanilla, 1 teaspoon lemon zest, and salt until fluffy.
Gradually mix in powdered sugar and flour to make stiff dough.
Cover bowl with plastic wrap and place in the fridge to chill for about 2 hours.
Remove from fridge and preheat oven to 325 degrees.
Shape dough into small one inch balls.
Beat egg white until foamy.
Dip balls in egg white then roll in graham cracker crumbs. Arrange cookie dough balls about 2 inches apart on ungreased cookie sheet and make a depression in the middle of each cookie with your thumb.
Bake for 12-15 minutes, or until cookies begin to brown on the bottoms.
Remove cookies from baking sheet and let cool.
Fill depression with a teaspoon of pie filling (or as much as you can fit on each cookie).
7.8.1.2
22
https://www.sixsistersstuff.com/recipe/cherry-cheesecake-cookies-with-truvia/