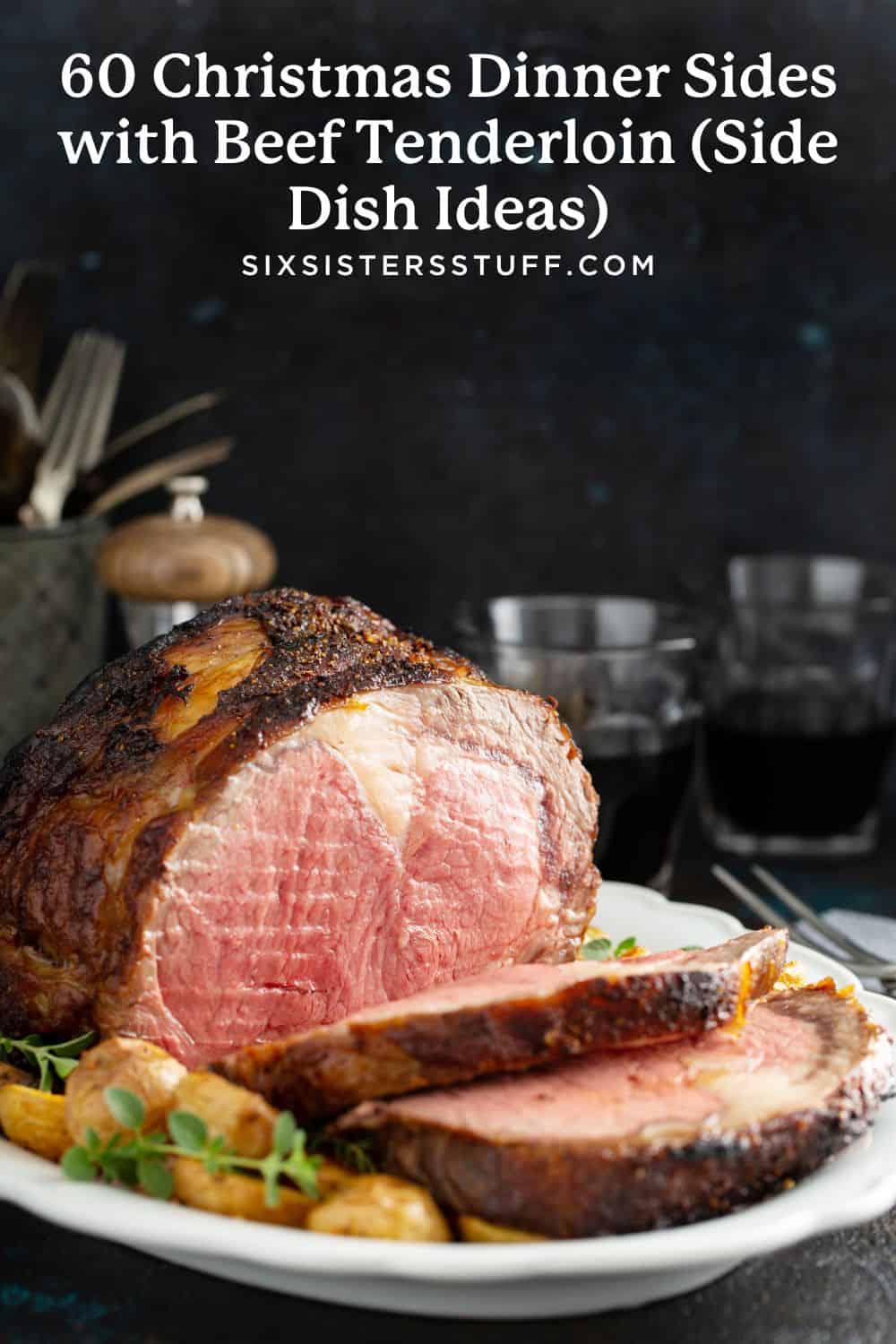 For many people, serving beef tenderloin during the holidays is a tradition and so we put together a bunch of Christmas Dinner Sides with Beef Tenderloin that will make your meal complete!
A beef tenderloin is the star of the show, but these amazing side dishes can hold their own and will be the perfect compliment to your meal.
What is the most popular side dish for Christmas dinner?
Whether you have beef tenderloin, filet mignon, prime rib, ham, or a turkey, the most popular side dish is potatoes.
Mashed, cheesy, smashed, scalloped . . . no matter what way you choose to make them, they always turn out delicious.
Check out all of our latest potato recipes.
What is a traditional Christmas dinner menu?
Most people have a menu that includes:
Of course there are many other side dishes that would be delicious – continue reading to find more side dishes we know you will love!
Love cooking as much as we do? Join our FREE private Facebook Group: Six Sisters' Dinner Club!
60 Christmas Dinner Sides with Beef Tenderloin
1. Roasted Parmesan Potatoes: Our roasted parmesan potatoes recipe is the perfect side dish addition to any meal. They are an extremely easy yet flavorful potato side dish!
2. Oven-Roasted Green Beans: Oven-Roasted Green Beans make the perfect side dish for any meal. Drizzled in olive oil and simply seasoned with salt and pepper, these beans turn out flavorful and perfect every time.
3. Slow Cooker Creamed Corn: This Slow Cooker Creamed Corn Recipe is hands down the very best. You'll never go back to canned corn again. Throw this simple creamed corn recipe together in a matter of minutes and let the slow cooker do all the work for you.
4. Homemade Sausage Stuffing: By the end of the season, you will be stuffed with stuffing, including this easy homemade sausage stuffing recipe, if you're lucky. Make sure to add this delightful Thanksgiving stuffing recipe to your menu this year!
5. Air Fryer Parmesan Broccoli: This Air Fryer Parmesan Broccoli recipe will quickly become your new favorite side dish! The flavor is amazing and they're perfectly crispy!
6. Honey Dijon Brussels Sprouts: Mix up your side dish routine with these roasted Brussels sprouts tossed in a sweet but tangy honey mustard mixture – ready in just 30 minutes.
7. Parmesan Lemon Asparagus: I am always looking for new healthy recipes, I know my entire family will like. This Parmesan Lemon Asparagus, is exactly that. Even my pickiest eaters, love this recipe.
8. Cheesy Ranch Potatoes: This cheesy ranch potatoes recipe is the best potato recipe! It has everything you could dream to be in them, like ranch, cheese, bacon, and of course creamy mashed potatoes.
9. Mom's Cheese Potatoes: Mom's Cheese Potatoes were a Sunday staple at our house. It's not hard to see why. They are so yummy, quick and easy to make, and are very inexpensive. You will love this recipe.
10. 30 Minute Dinner Rolls: You'll love these light and fluffy homemade 30 Minute Dinner Rolls – ready in just 30 minutes from start to finish. These are some of the easiest dinner rolls you'll ever make. Perfect for first-time bread makers!
11. Apple Cranberry Walnut Chopped Salad: Need a quick side dish? This Apple Cranberry Walnut Chopped Green Salad is our favorite and it explodes with flavor and a secret dressing that is SO easy to make.
12. Instant Pot Homemade Cranberry Sauce: Fresh cranberries, orange juice, cinnamon, maple syrup and a little sugar come together to make the perfect Instant Pot Cranberry Sauce!
13. Honey Carrots: These Honey Roasted Carrots are easy to make and are a delicious side dish for any meal. Baby carrots tossed in honey and olive oil and roasted to perfection and garnished with fresh parsley for lots of flavor!
14. Garlic Roasted Potatoes: Our Garlic Roasted Potatoes are an easy recipe to throw together and make the perfect side dish to any meal.
15. Sweet Cornbread: This Disneyland's Sweet Corn Bread Recipe is so simple to make and tastes amazing. You will love this recipe for the holidays, or barbecues. It tastes amazing!
16. Brown Sugar and Bacon Green Beans: These Brown Sugar and Bacon Green Beans are my favorite vegetable. They might actually be the only vegetable I like. I think I'll start adding brown sugared bacon to all my veggies.
17. Strawberry Spinach Salad: I love a good salad recipe, and this one is by far my favorite. It is so easy to make and full of flavor. The homemade poppyseed dressing is just the cherry on top. You will love this simple, light, and healthy salad.
18. Twice Baked Sweet Potatoes: These Twice Baked Sweet Potatoes are a delicious side dish to go with your Thanksgiving dinner, or any other Fall meal!
19. Classic Green Bean Casserole: Make this classic green bean casserole recipe your whole family can enjoy as an easy recipe for Thanksgiving. This dish is super quick and easy to make, it'll have you making it time and time again!
20. Apple, Onion, and Celery Stuffing: Our Grandma always made the best Thanksgiving stuffing! This recipe is the closest I've ever been to making her tasty stuffing on my own. The apples, celery and onion in this stuffing make it absolutely delicious!
21. Make Ahead Mashed Potatoes: Our make-ahead mashed potatoes can be quickly thrown together and reheated the next day. They make the perfect side dish for Thanksgiving or Christmas!
22. Corn Pudding Casserole: If you love cornbread, then you are going to like Grandma's corn pudding casserole recipe. It is a more tender cornbread that you spoon out of a casserole dish and is sweet yet savory in flavor.
23. Roasted Baby Potatoes: These Roasted Baby Potatoes are so easy to make, and come together in minutes. If you need a quick appetizer, or side dish, this recipe is for you. These are the BEST Roasted Baby Potatoes I have ever tasted.
24. Cheesy Zucchini and Squash Bake: This Cheesy Zucchini and Squash Bake is a perfect low carb side dish to any dinner. We love making this easy side dish with all of our extra garden squash in the summer and fall.
25. Instant Pot Green Beans: The best Instant Pot Green Beans perfectly steamed, crunchy but still tender, and ready to eat in less than 15 minutes.
26. Italian Roasted Vegetables: We have an easy oven roasted vegetable recipe with an Italian twist. These oven baked veggies are so easy to make and are bursting with flavor. It's the perfect roasted vegetable side dish that pairs well with any entree.
27. Slow Cooker Creamy Mashed Potatoes: Mashed potatoes are a staple for any holiday or Sunday dinner. With these slow cooker creamy mashed potatoes recipe you will get the most creamy, flavorful, buttery, and delicious mashed potatoes you've ever tasted.
28. Italian Fresh Green Salad: This Italian Fresh Green Salad is an easy tossed salad loaded with vegetables. Top with your favorite dressing.
29. Brown Sugar Glazed Carrots : These Slow Cooker Glazed Carrots are a simple, delicious side dish even my kids loved! These are perfectly glazed and make the perfect side!
30. Slow Cooker Bacon Cheese Potatoes: This is the best crock pot recipe you will find! These slow cooker bacon cheese potatoes have everything we love in every bite.
31. Air Fryer Sweet Potatoes: Take your sweet potatoes up a notch with this Air Fryer Roasted Sweet Potatoes recipe! The air fryer makes these potatoes perfectly crispy!
32. Skillet Red Potatoes: This easy Skillet Potatoes recipe is one of my favorites because it comes together so quickly! My kids love it with a little bit of cheese on top . . . but these red potatoes are delicious and flavorful without it.
33. Honey Cinnamon Butternut Squash: This simple Roasted Butternut Squash with flavors of honey and cinnamon makes the perfect healthy side dish for any meal! Also tips on how to cut and peel a butternut squash.
34. Pesto Potatoes: Such an easy and tasty side dish that goes great with almost anything! Our pesto potatoes recipe is so good with that wonderful garlicky pesto flavor.
35. Italian Peas: Frozen peas are taken to a new level in this easy Italian Peas recipe! Sauteed garlic and onion add loads of flavor to make this recipe a favorite side dish.
36. Slow Cooker Cheesy Cauliflower: Cauliflower with cheese is the perfect combo. This is the perfect veggie side dish for your dinner that is smothered in a cheesy sauce. You'll almost think you are eating mac and cheese, but it's a delicious veggie in place of the pasta. The family we be asking for seconds.
37. Parmesan Crusted Asparagus: This Parmesan Crusted Asparagus is an easy and delicious side dish that goes with any meal. Tender asparagus roasted to perfection with a parmesan and garlic crumb topping for texture and flavor.
38. Loaded Broccoli Casserole: This Loaded Broccoli Casserole is easy to make and full of flavor. It's healthy, simple, delicious, and a family favorite for sure. It's a great way to sneak veggies into your kids diets, too.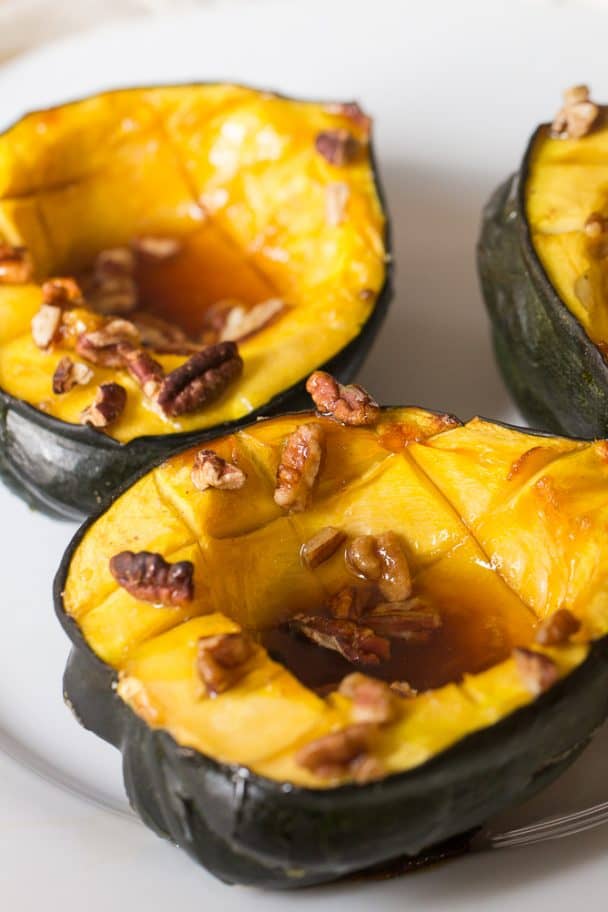 39. Maple Pecan Acorn Squash: Maple and Pecan Roasted Acorn Squash makes a perfect Thanksgiving or holiday side dish this season! Roasted in maple syrup, brown sugar, and chopped pecans.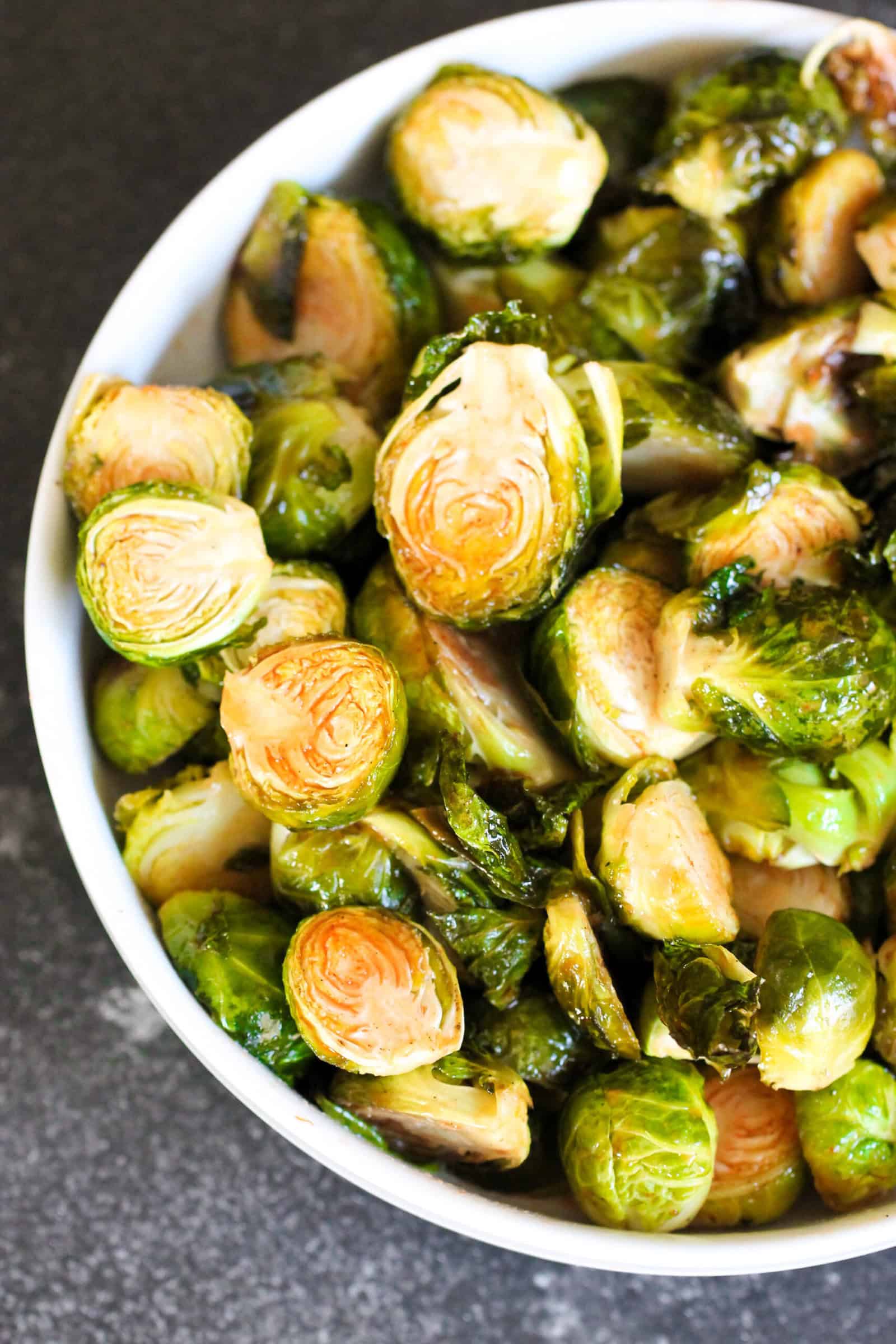 40. Honey Sriracha Brussels Sprouts: Honey Sriracha Brussels Sprouts have never made, eating healthy, taste so good. They are so easy to make and full of flavor. If brussels sprouts have treated you wrong in the past, like they have me, you need to give this recipe a try. I think it's my new favorite food.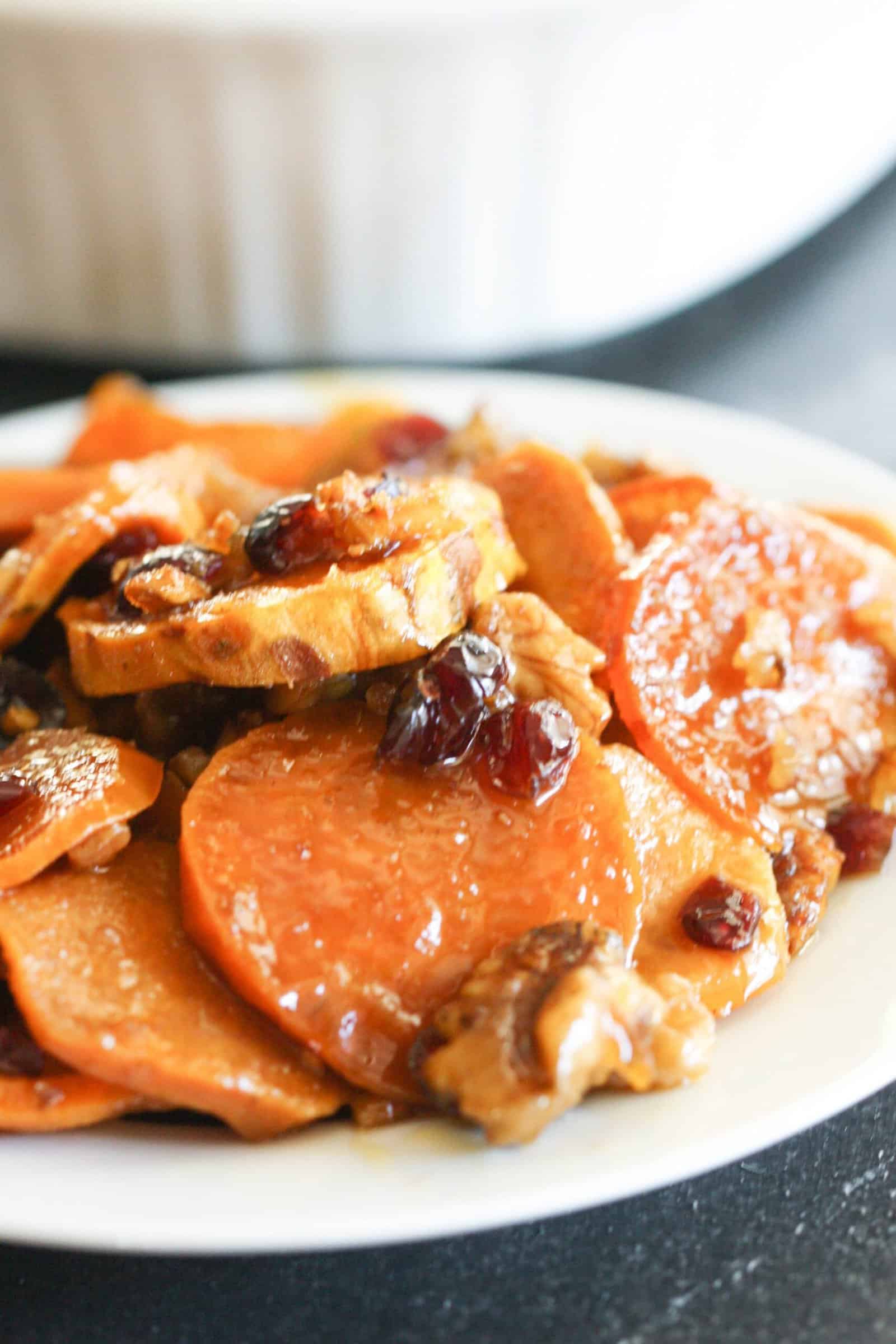 41. Cranberry Pecan Sweet Potato Bake: I love the holidays. I love all the family to gather round and enjoy a delicious meal together. One of my favorite dishes to make is sweet potatoes. Everyone loves them, and they all love them even more now, because of this easy and delicious Cranberry Pecan Sweet Potato Bake.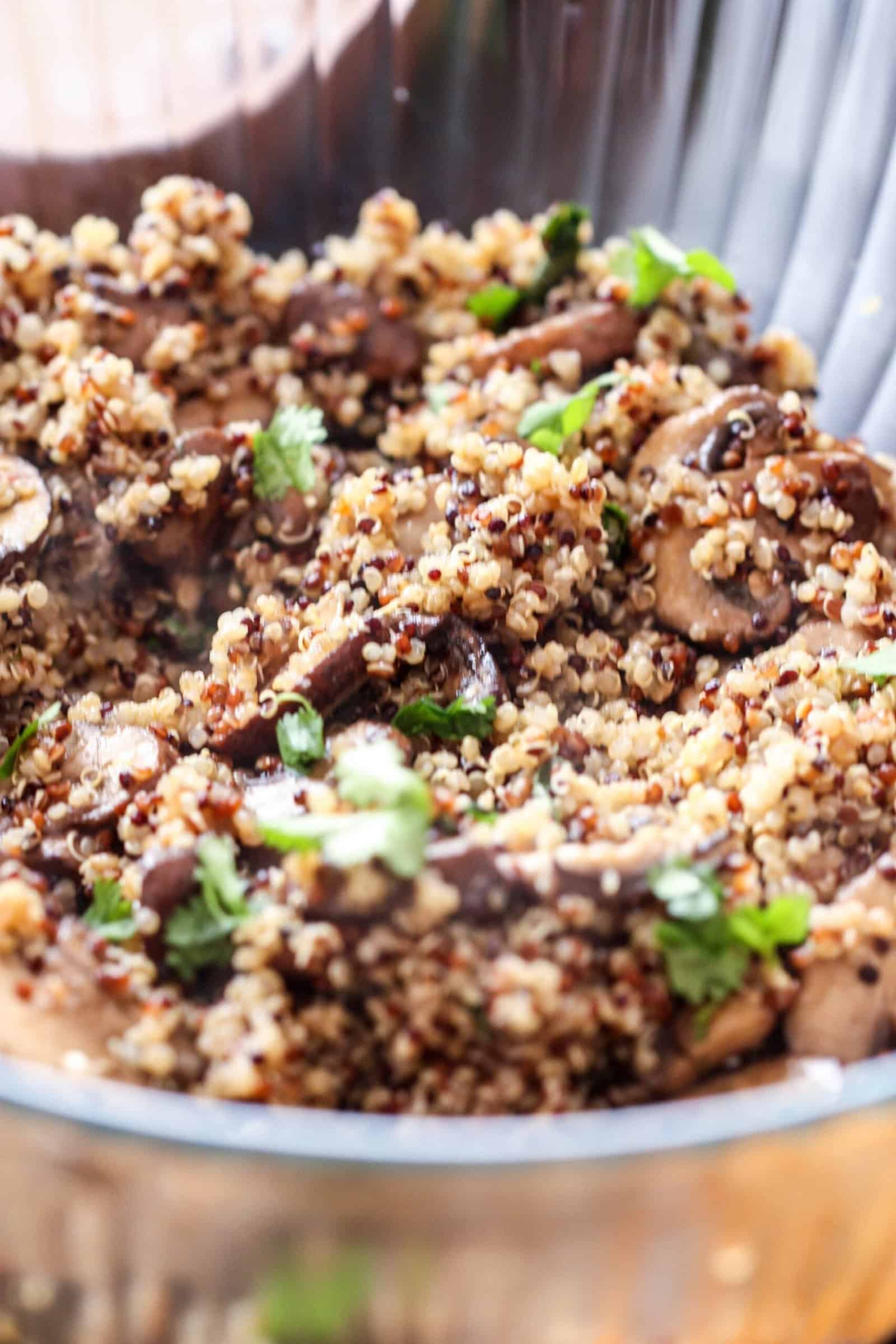 42. Mushroom and Garlic Quinoa: This Mushroom and Garlic Quinoa makes the perfect side dish or base for any dish. It's healthy, inexpensive, and easy to make. You are going to love this healthy side dish.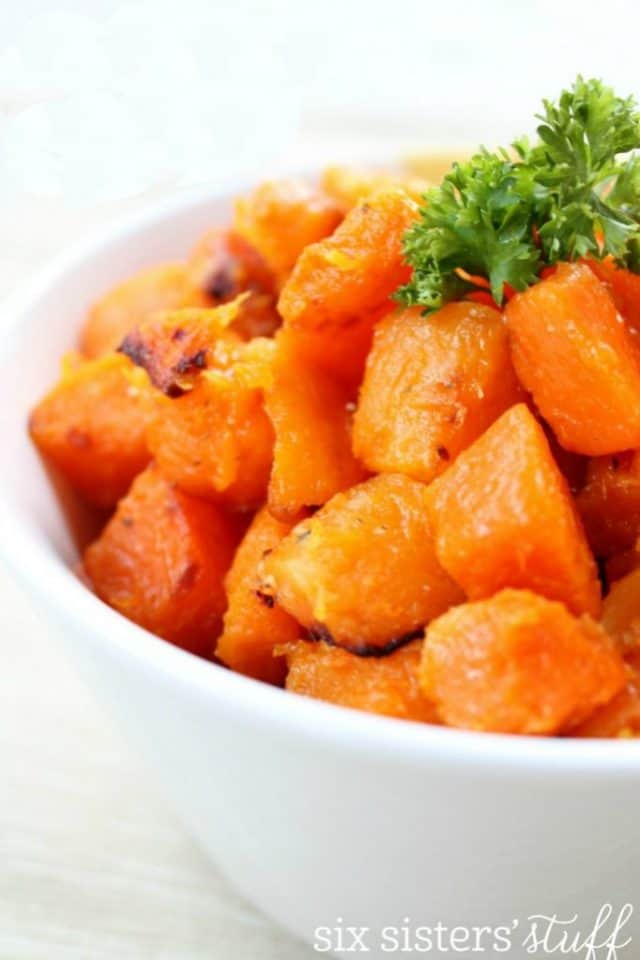 43. Baked Butternut Squash: Baked Butternut Squash that only requires a few ingredients and is so easy to make. Learn how to bake butternut squash that's perfectly crisp on the outside and tender on the inside. Makes the perfect side dish for any meal.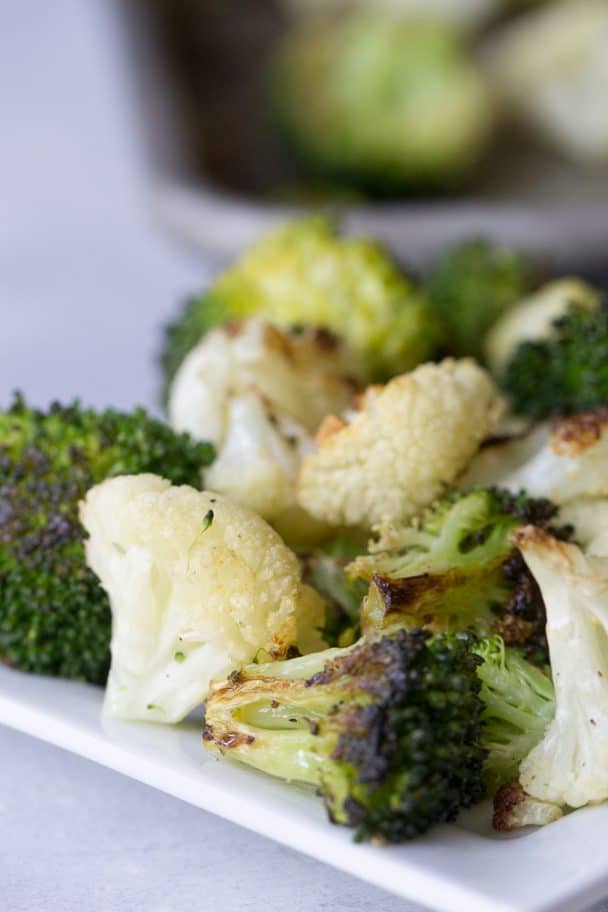 44. Oven-Roasted Broccoli and Cauliflower: Making delicious vegetables doesn't have to be hard. With just a few ingredients, Oven Roasted Broccoli and Cauliflower is as simple as it gets. Perfectly roasted each and every time!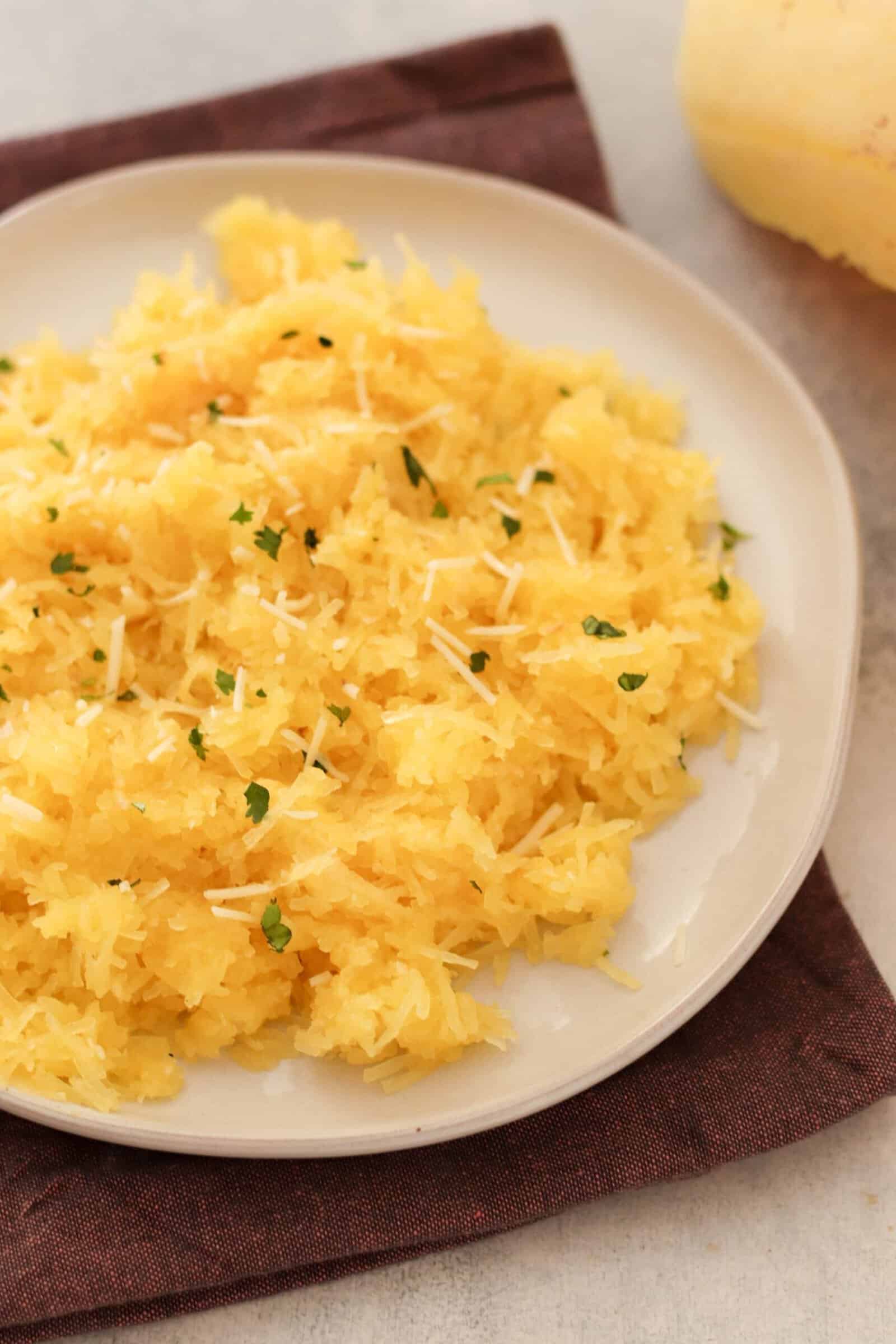 45. Garlic Parmesan Spaghetti Squash: If you love all things garlic and parmesan, then this Instant Pot Garlic Parmesan Spaghetti Squash is for you. Cooked in just 7 minutes, this easy side dish will be your new go-to.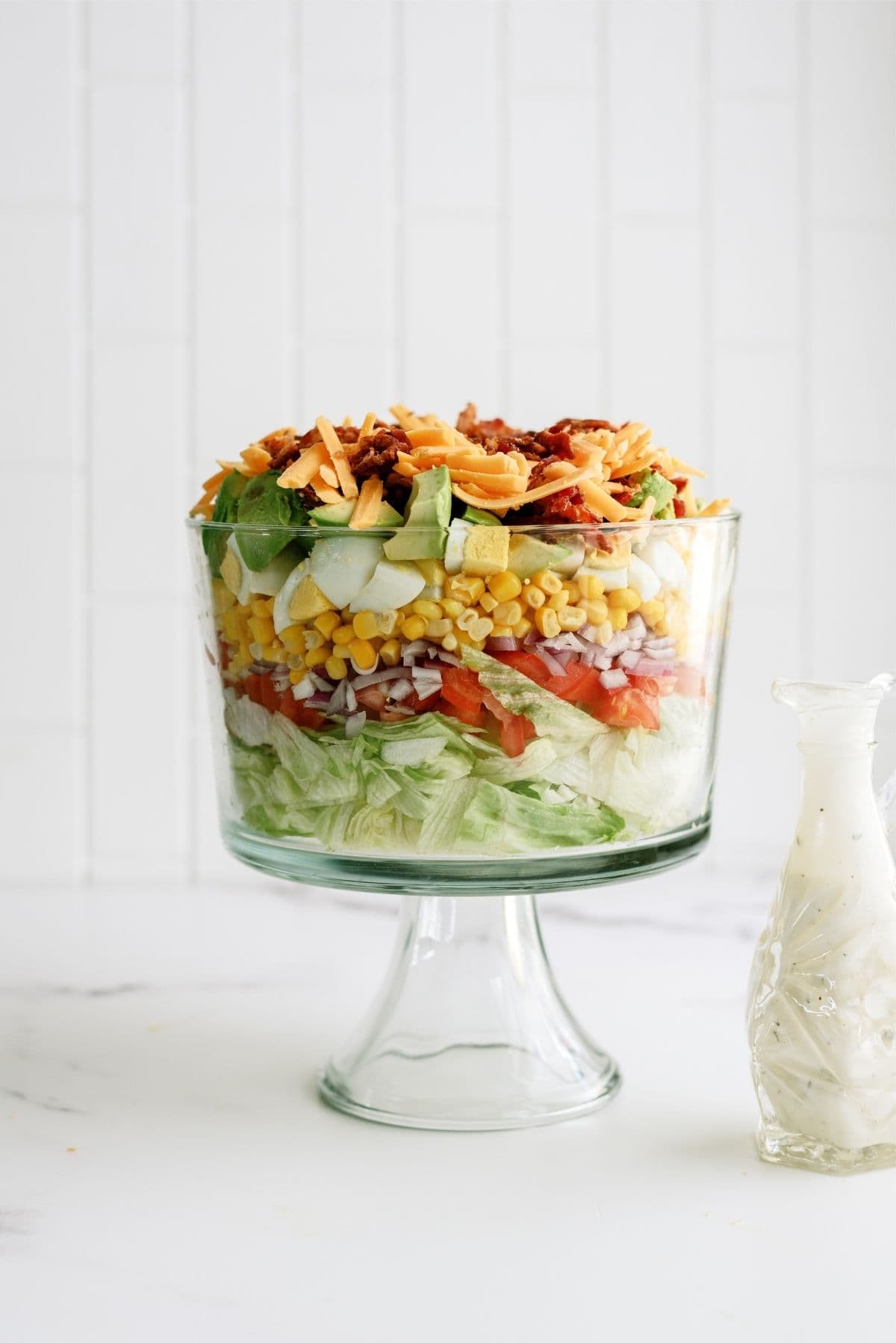 46. Layered Cobb Salad: As summer is approaching, our layered cobb salad is a perfect light meal that is easy to make and refreshing. It is a wonderful potluck side dish recipe too!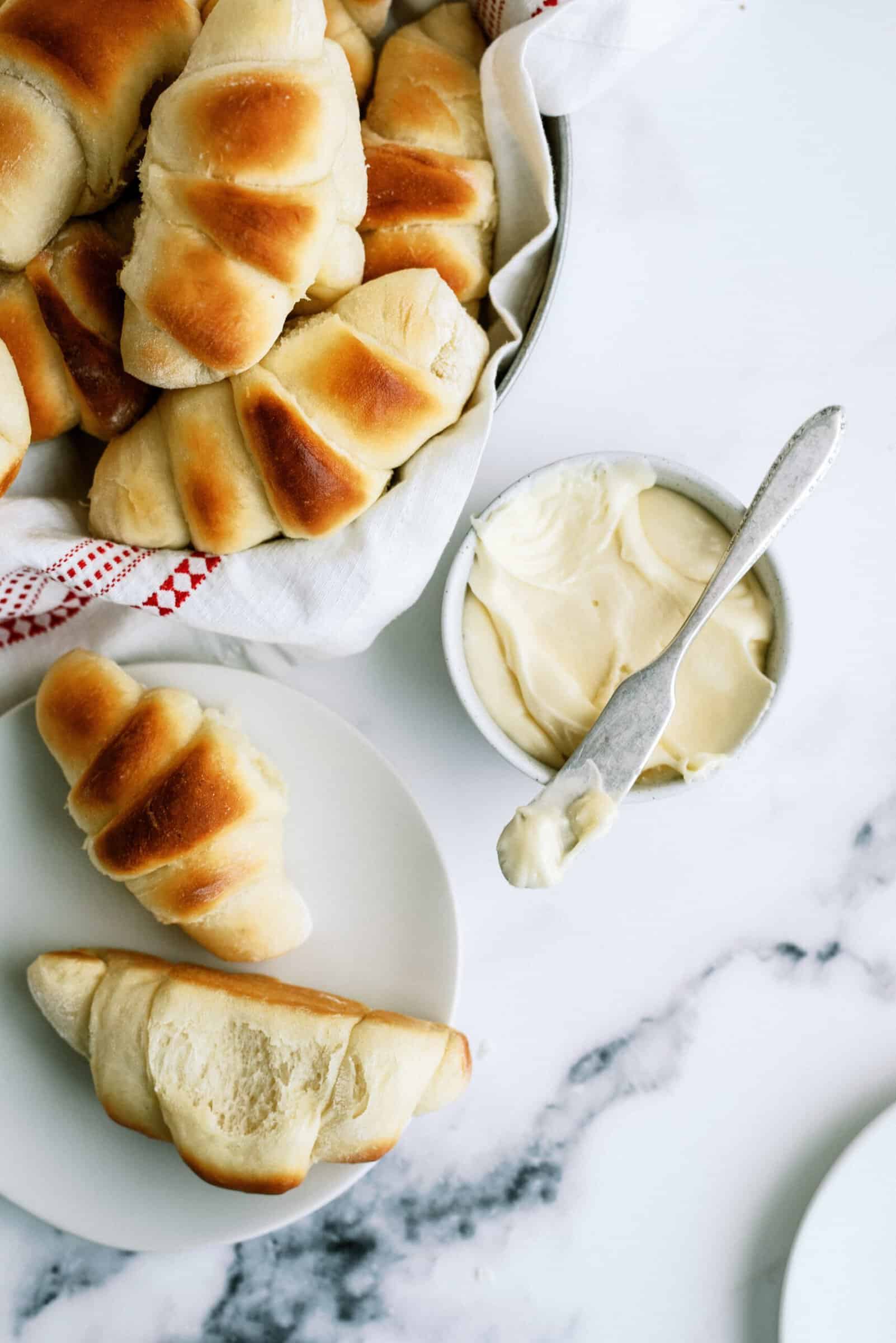 47. Homemade Lion House Rolls: Soft Lion House Rolls that will make your mouth dance with joy at their fluffiness. You can easily make these with a few ingredients like flour, yeast, dry milk, and even sweeten them up by putting Homemade Honey Butter on these rolls to enjoy once they are baked.
48. Cheesy Garlic Green Beans: Who doesn't love vegetables covered in melted cheese? These Cheesy Garlic Green Beans are made in one pan and make a delicious side dish to any of your favorite meals!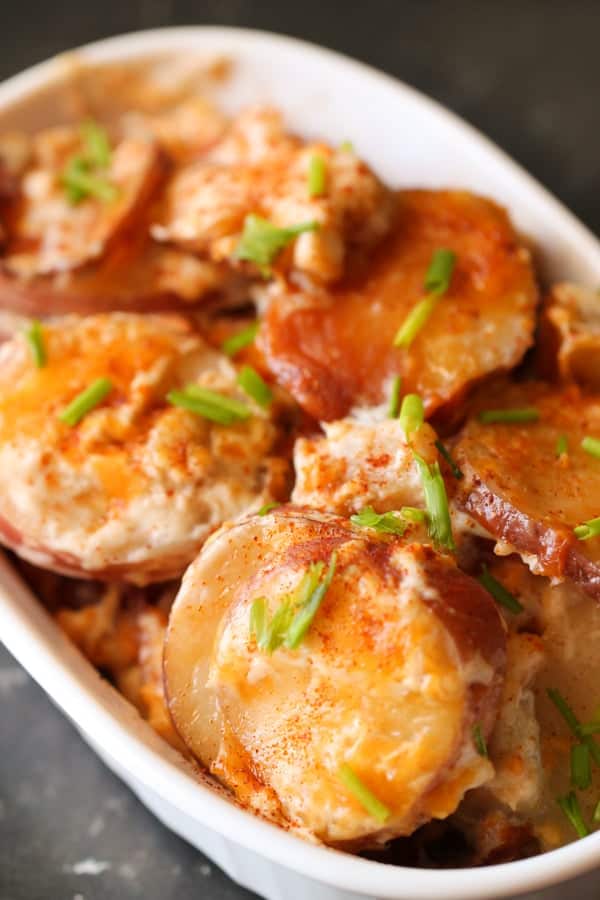 49. Slow Cooker Scalloped Potatoes: This easy side dish pairs up with any entree. They come together in a few minutes and your slow cooker does all the work. They are so tasty.
50. Rice Pilaf: This version of rice pilaf only takes a few minutes to prepare and tastes incredible – so much better than any box of rice and it's just as easy to make!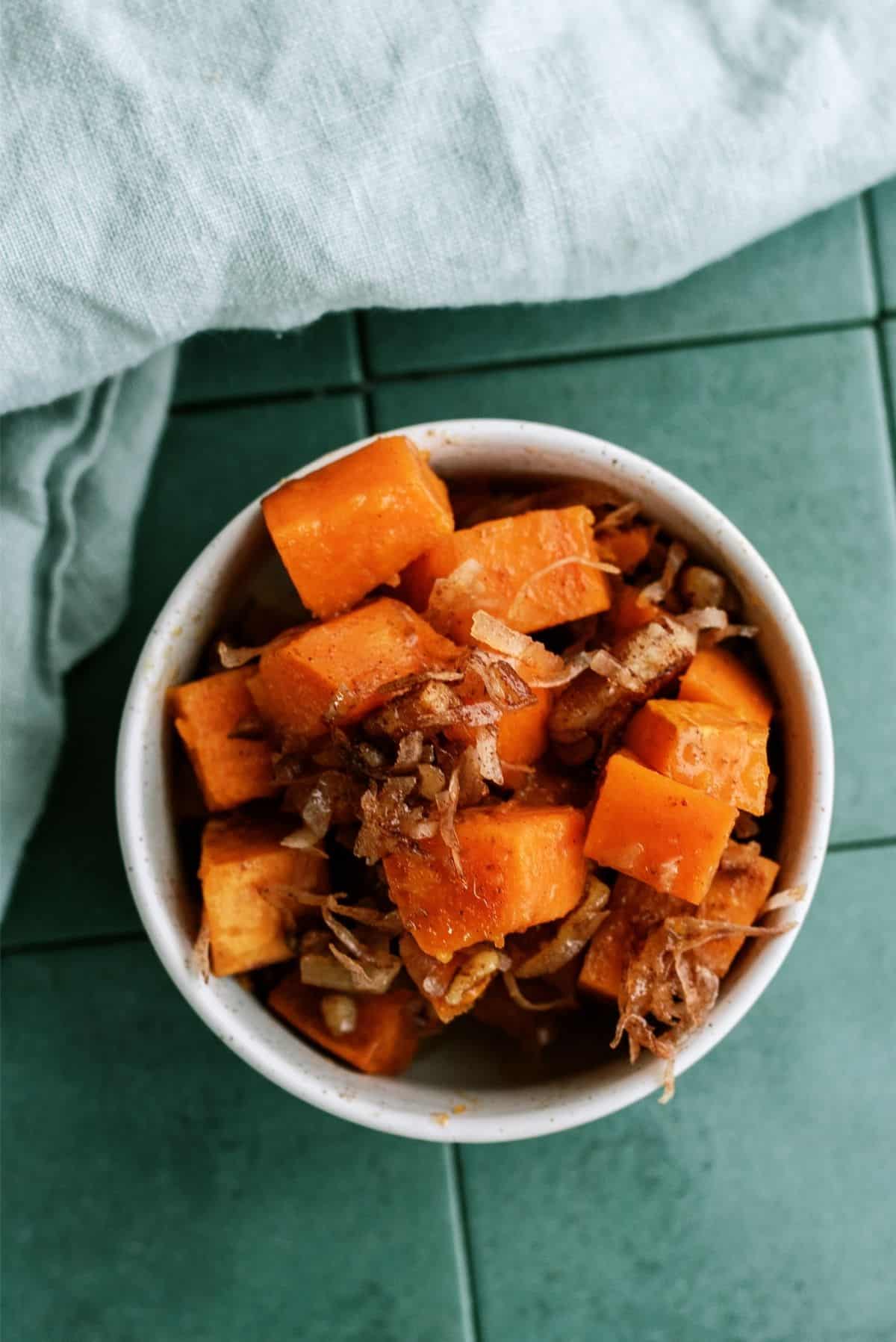 51. Coconut Pecan Sweet Potatoes: Though not as well known, our coconut pecan sweet potatoes recipe is absolutely divine! It has the tender sweet potatoes mixed with the refreshing flavors of coconut and a slight crunch from the pecans.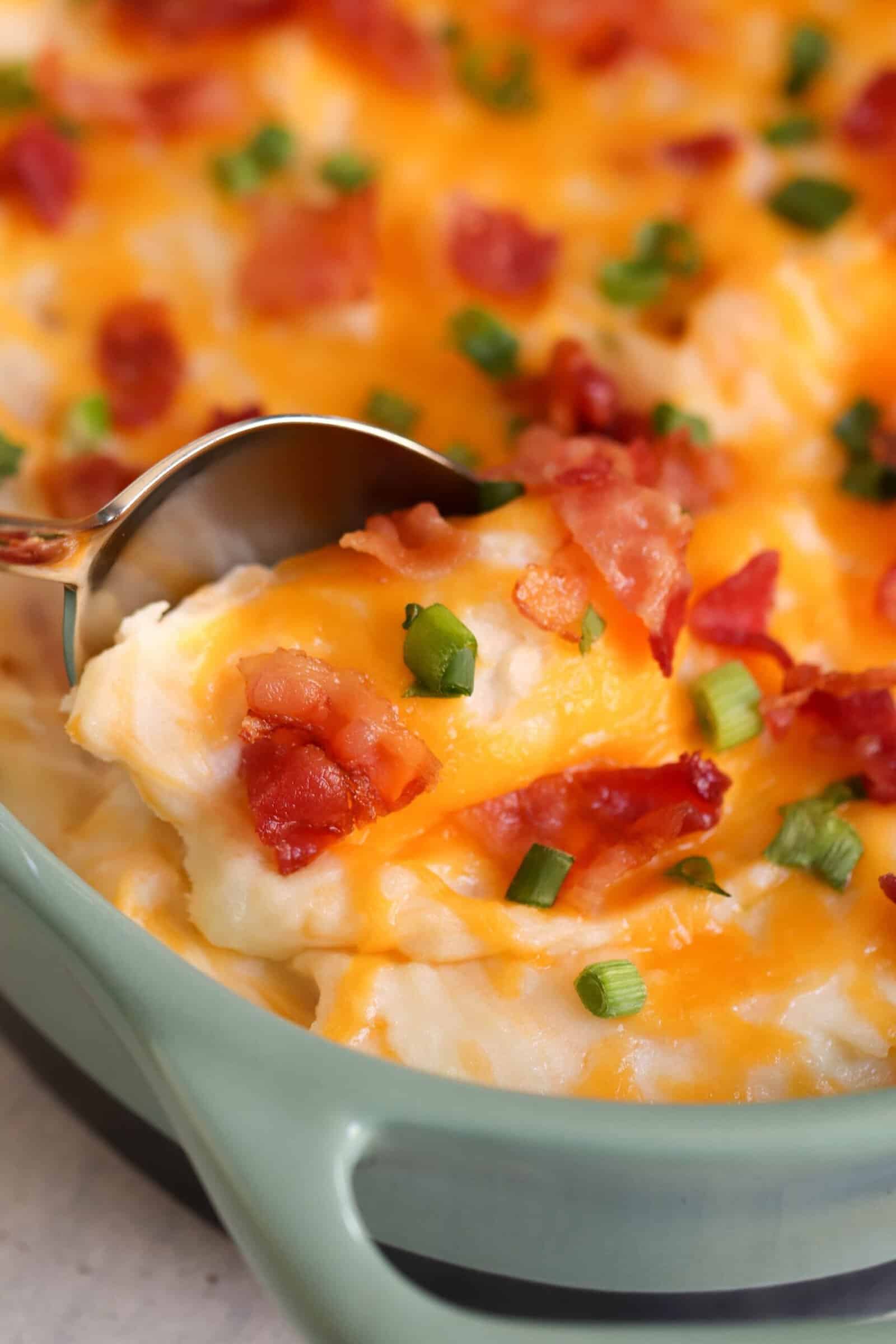 52. Twice Baked Potato Casserole: Flavorful, fluffy, cheesy potatoes are what you are going to get with downright delightful twice baked potato casserole recipe! Twice baked potatoes give all of the flavors that much more time to marry the flavors together.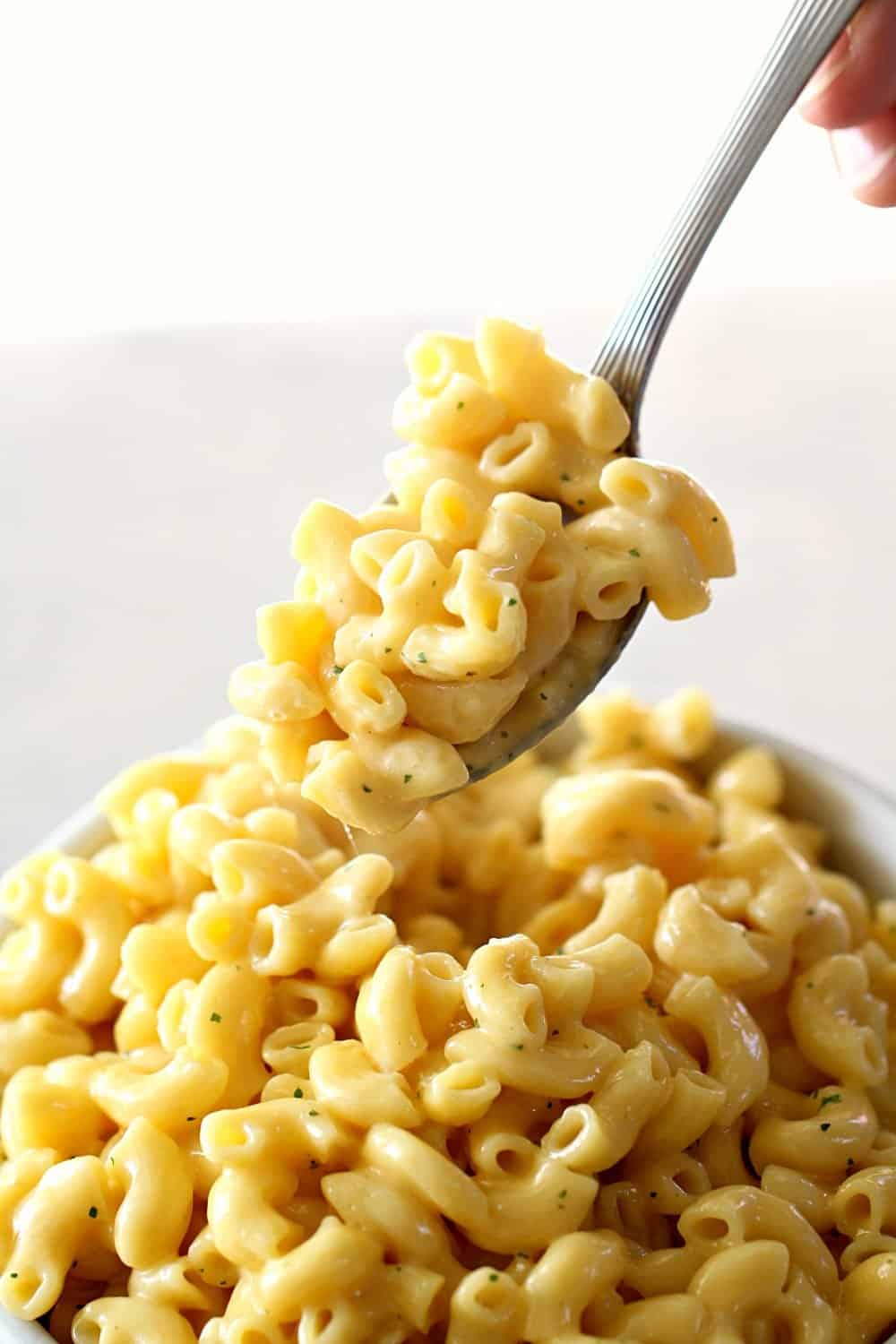 53. Homemade Macaroni and Cheese: This Instant Pot Macaroni and Cheese will be your go-to recipe for cheesy pasta. It's so easy to make – you'll never want the boxed stuff again!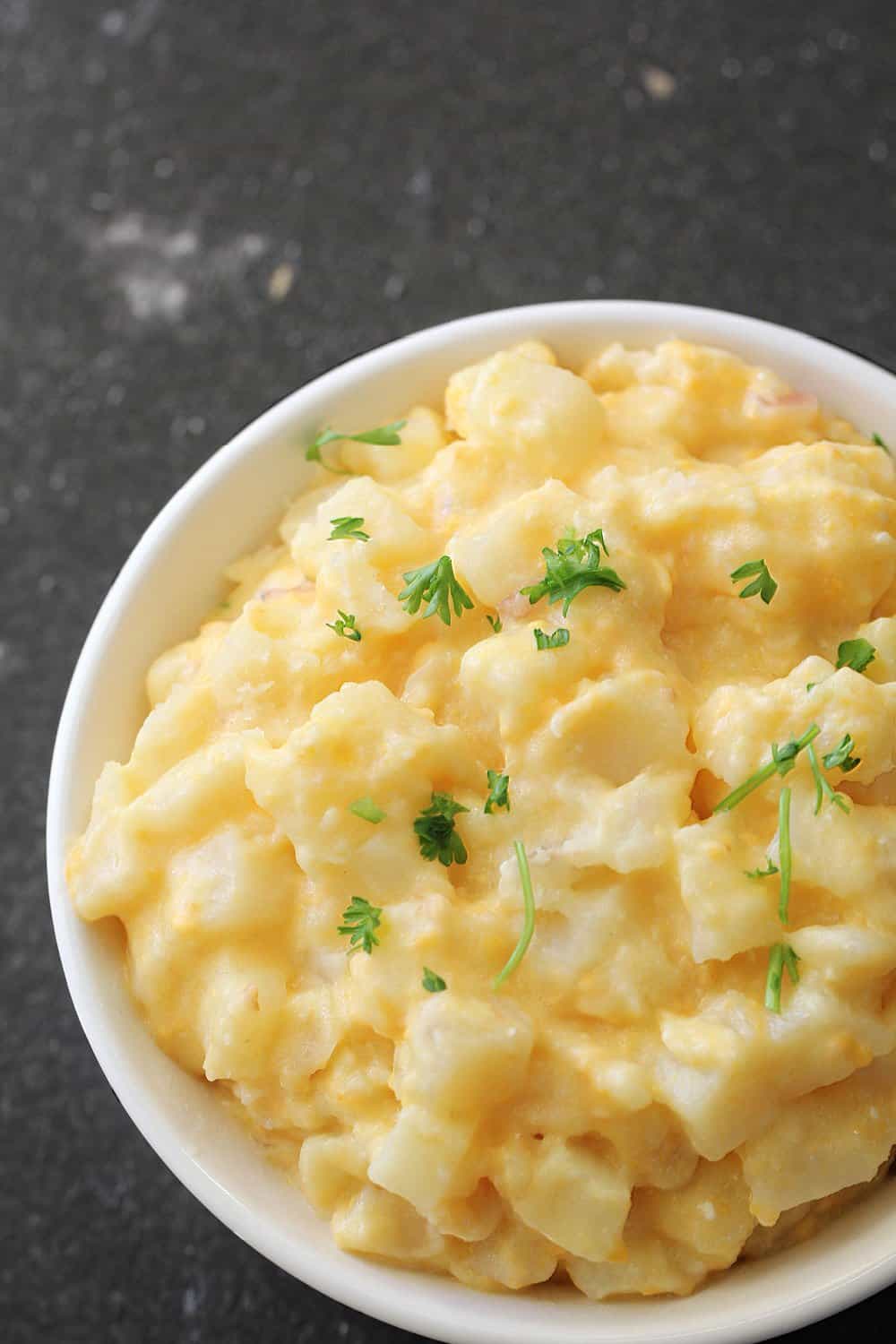 54. Slow Cooker Cheesy Potatoes: You could count on our Mom's Cheesy Potatoes to make an appearance at every Sunday dinner when we were growing up. This is her same recipe, just adapted for the slow cooker to make the best Crockpot Cheesy Potatoes!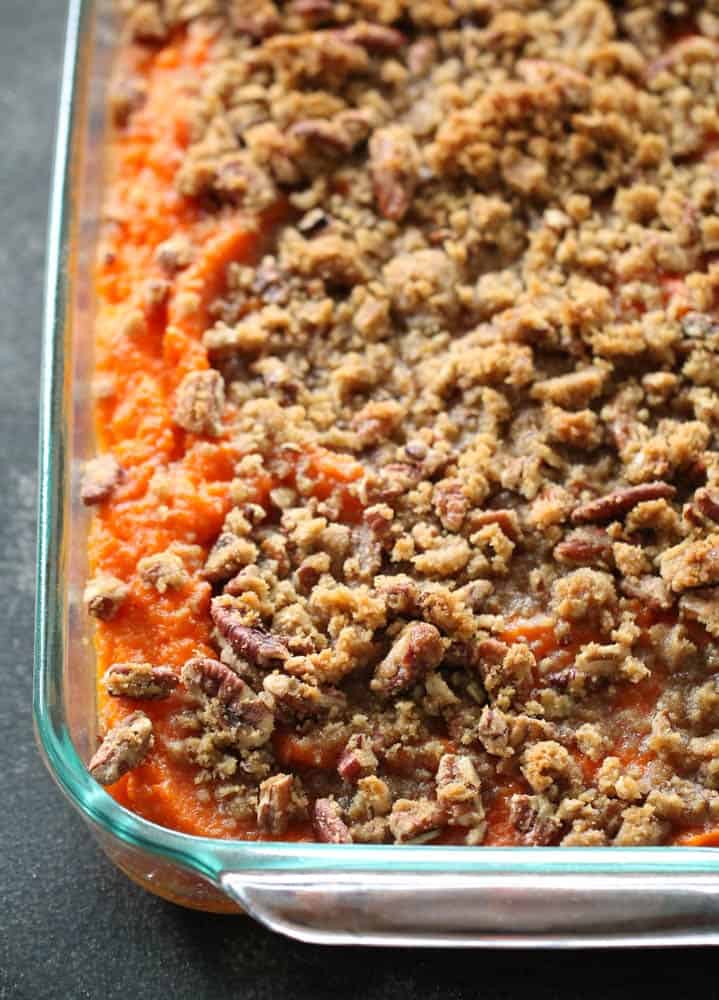 55. Sweet Potato Casserole: This Sweet Potato Casserole has a mashed sweet potato base and is topped with a buttery, brown sugar and pecan topping. The perfect Thanksgiving side dish!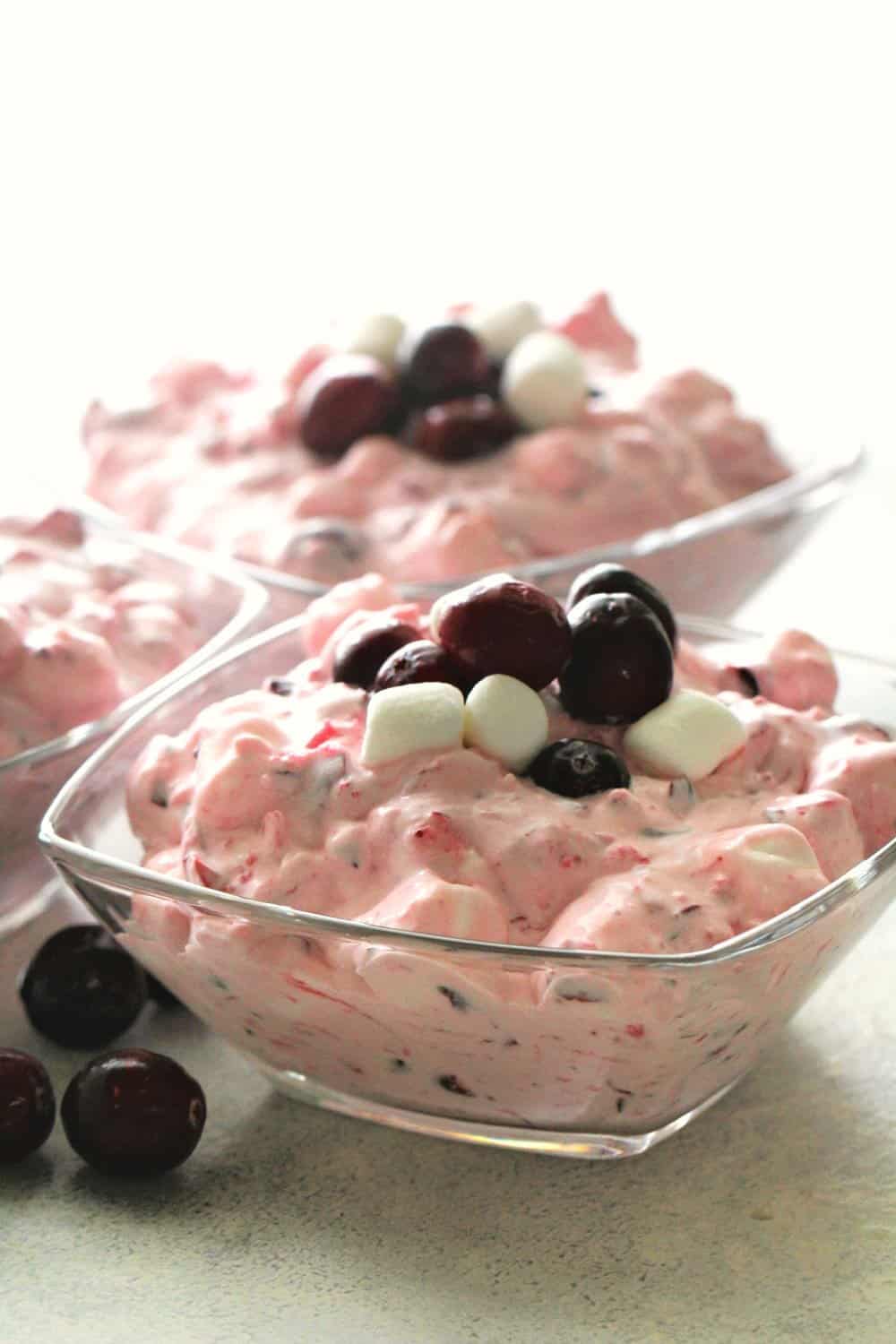 56. Fluffy Cranberry Salad: Fluffy Cranberry Salad is made with fresh cranberries, crushed pineapple, cream cheese, marshmallows, and cream. It's the perfect side dish or dessert for your holiday meal!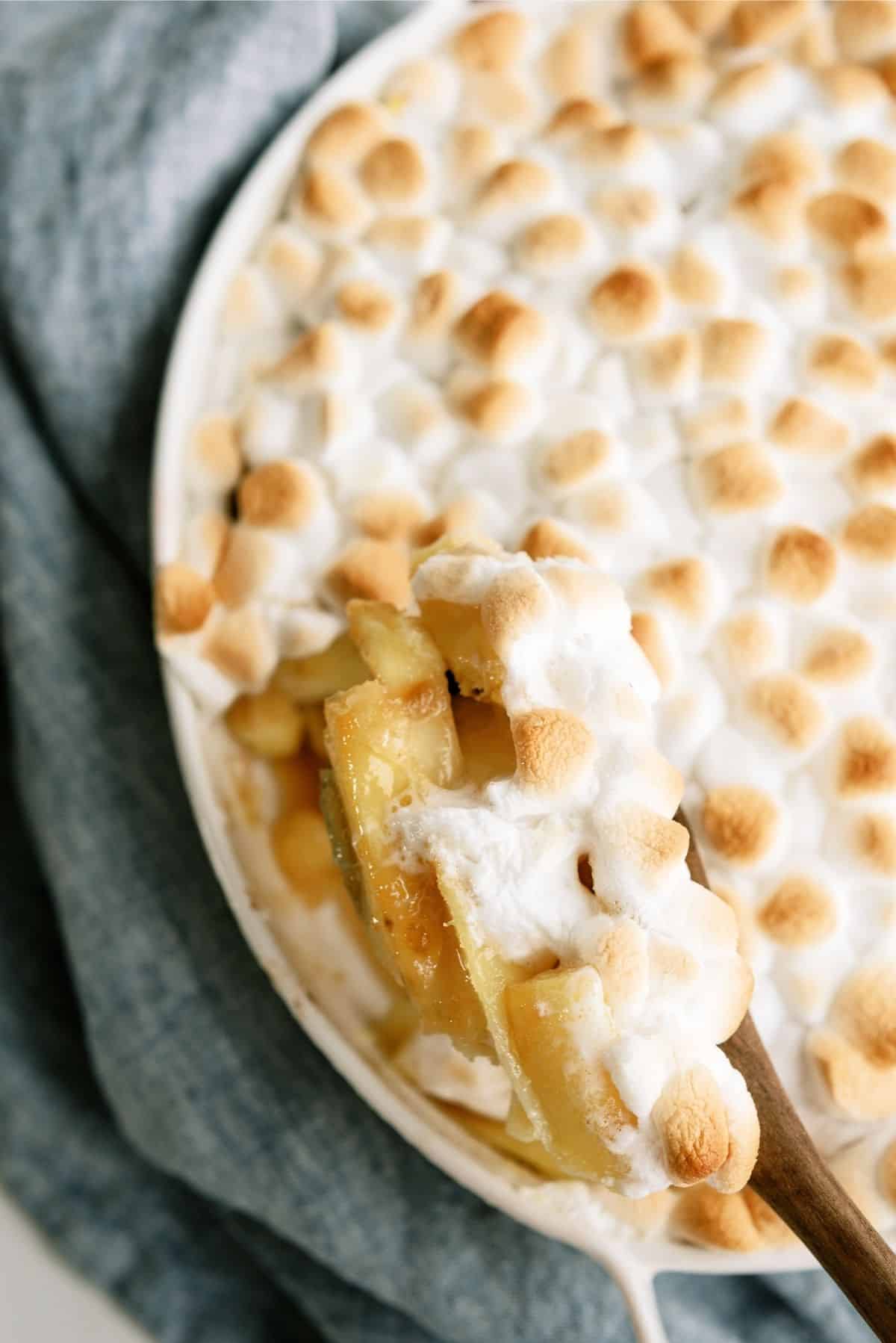 57. Mom's Sweet Potatoes: Deliciously baked sweet potatoes with a sugary glaze and perfectly crunchy marshmallows on top, make for the perfect side dish. It's so sweet and delicious, it could be a dessert. This is a special favorite of the kids. Your family will love it.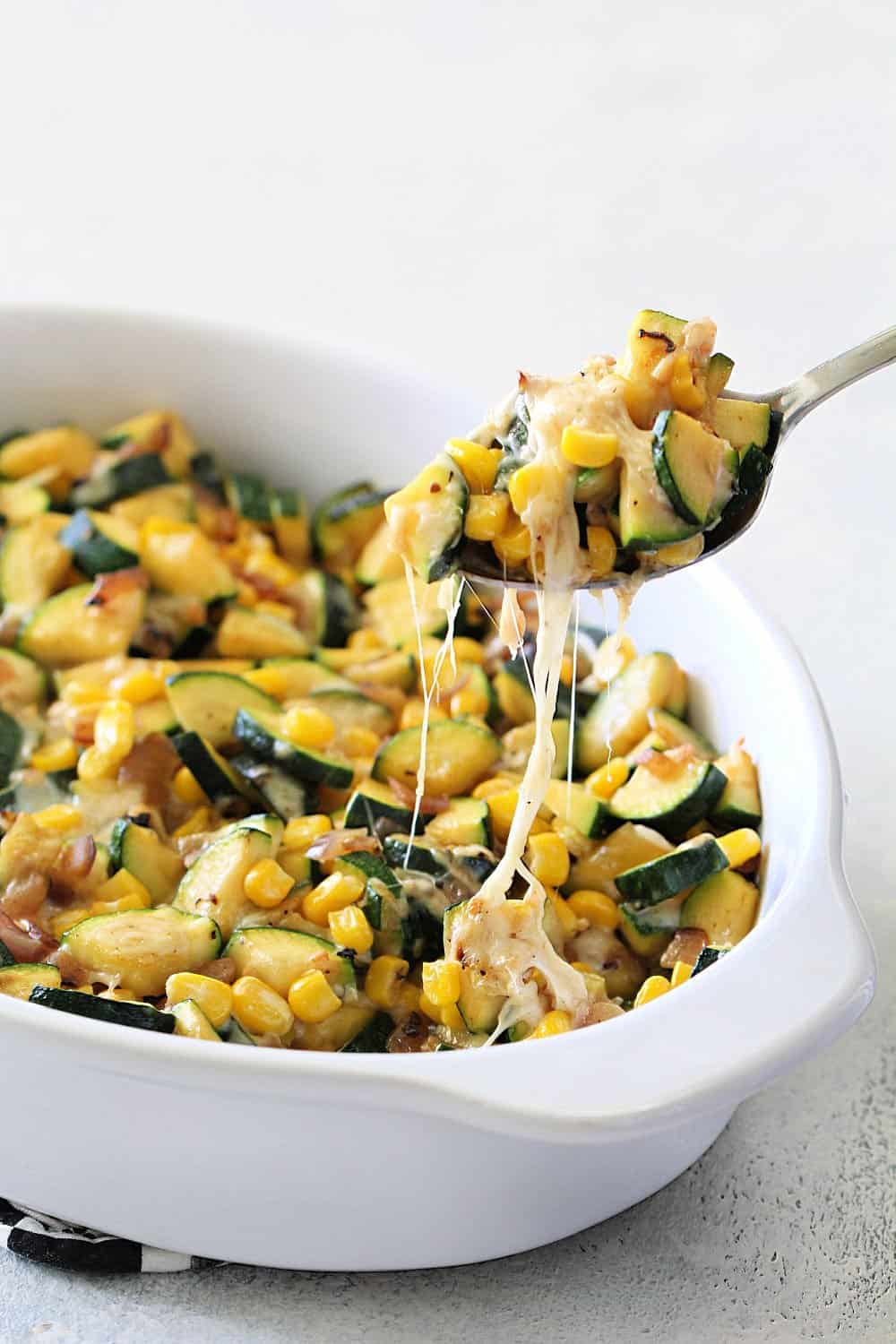 58. Zucchini Corn Parmesan Bake: This Zucchini Corn Parmesan Bake will become your new favorite way to serve zucchini. It's the perfect side dish.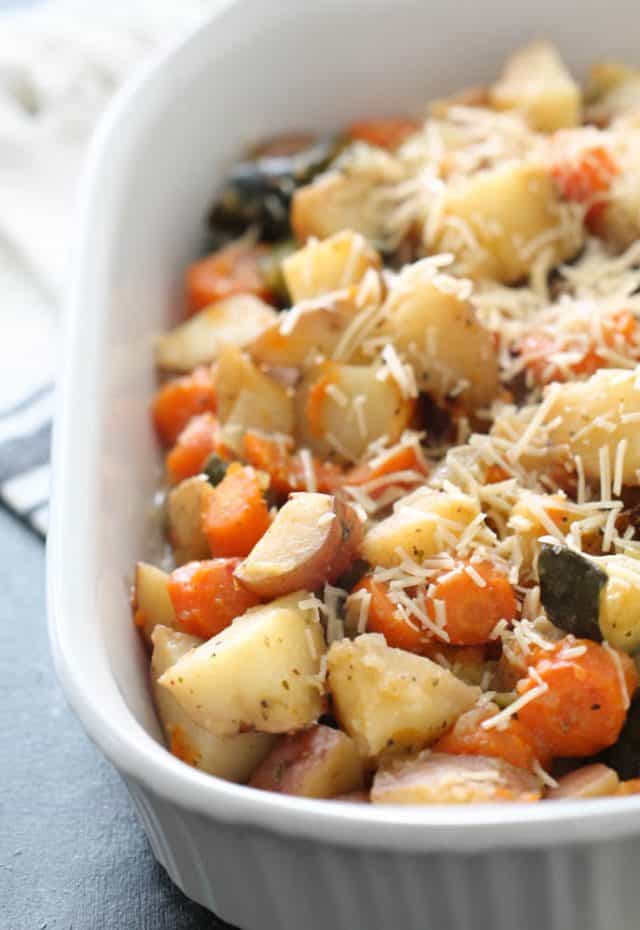 59. Slow Cooker Roasted Vegetables: These Slow Cooker Roasted Vegetables are made with red potatoes, carrots, zucchini and onion tossed in olive oil and seasoned to perfection. Let your slow cooker do the work for you and you will have the best roasted vegetables by dinnertime!
60. Roasted Balsamic Mushrooms and Vegetables: Need a quick, easy side dish? These balsamic mushrooms and veggies are always a hit. They are roasted to perfection – so tender and delicious.
Want More Easy Dinner Ideas?
Join our email list today and we will send you a FREE ebook of our favorite dinner recipes – plus we will send you recipes each week to help make your dinner planning easier!
Join today by CLICKING HERE.
Have you checked out our YouTube channel? We show you how to make our favorite recipes right in our own kitchens!
Our most popular cookbook – Dinner Made Easy – is all about quick, easy, and delicious family dinner entrees. We did all the organization, all the taste-testing with picky kids, and all the hacks to cut the prep time so that you can focus on spending more time with your family.
The complete family meal game plan in this cookbook is arranged in seven popular categories:
30 Minutes or Less
5 Ingredients or Less
Pantry Essentials
Slow Cooker
Freezer Meals
One Pan, One Pot
Casseroles
We are so excited to share these recipes with you. Order your copy today!
DINNER MADE EASY with Six Sisters' Stuff <—– Click here to order!