This Slow Cooker Maple Glazed Ham is quick, simple, delicious, and so easy to make. The ham comes out juicy and tender, and we guarantee this recipe will have your dinner guests, raving.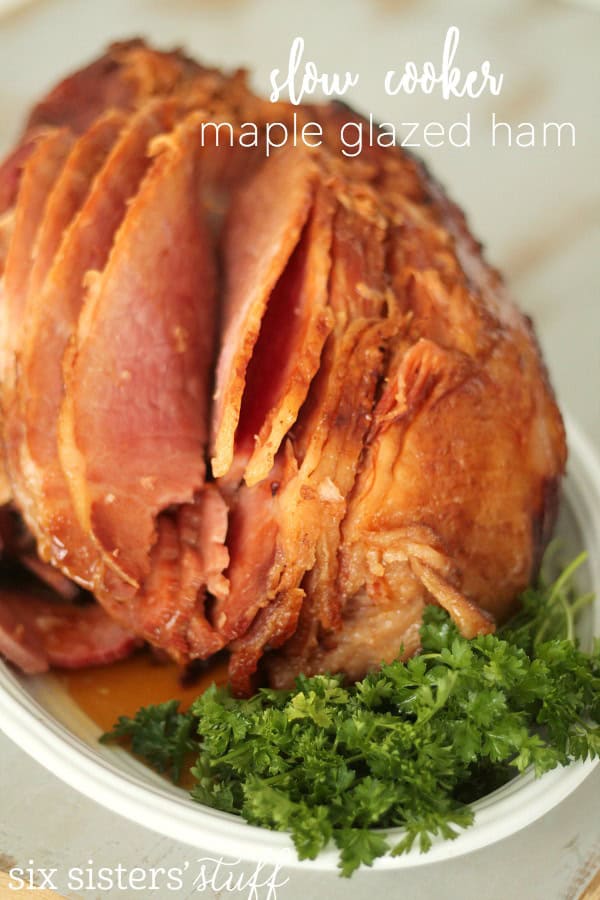 Our Slow Cooker Maple Glazed Ham is so easy to make!
It's perfect for holidays like Easter and Christmas, but also simple enough to make on a busy weekday!
It tastes amazing with eggs and hash browns in the morning. We also put our leftover ham in our Ham and Pineapple Roll Ups.
What if my ham is too big for my slow cooker?
If you have a large ham, follow these steps to still cook it in your slow cooker.
You will need two sheets of tin foil that are 12 inches long.
I tucked the ends all around the edges of the crock pot and then gathered them together in the middle and folded the ends down (The plastic around the edges is my slow cooker liner).
I did not completely wrap the ham in foil- I just tucked it down the sides of the slow cooker. You want to make a "roof" for your ham.
To keep the heat in even more, place a towel over the top of your tin foil tent.