Andes Mint Grinch Cookies are the perfect amount of mint and chocolate. Perfect for a Christmas Cookie Exchange or to make with your kids while you watch a holiday movie.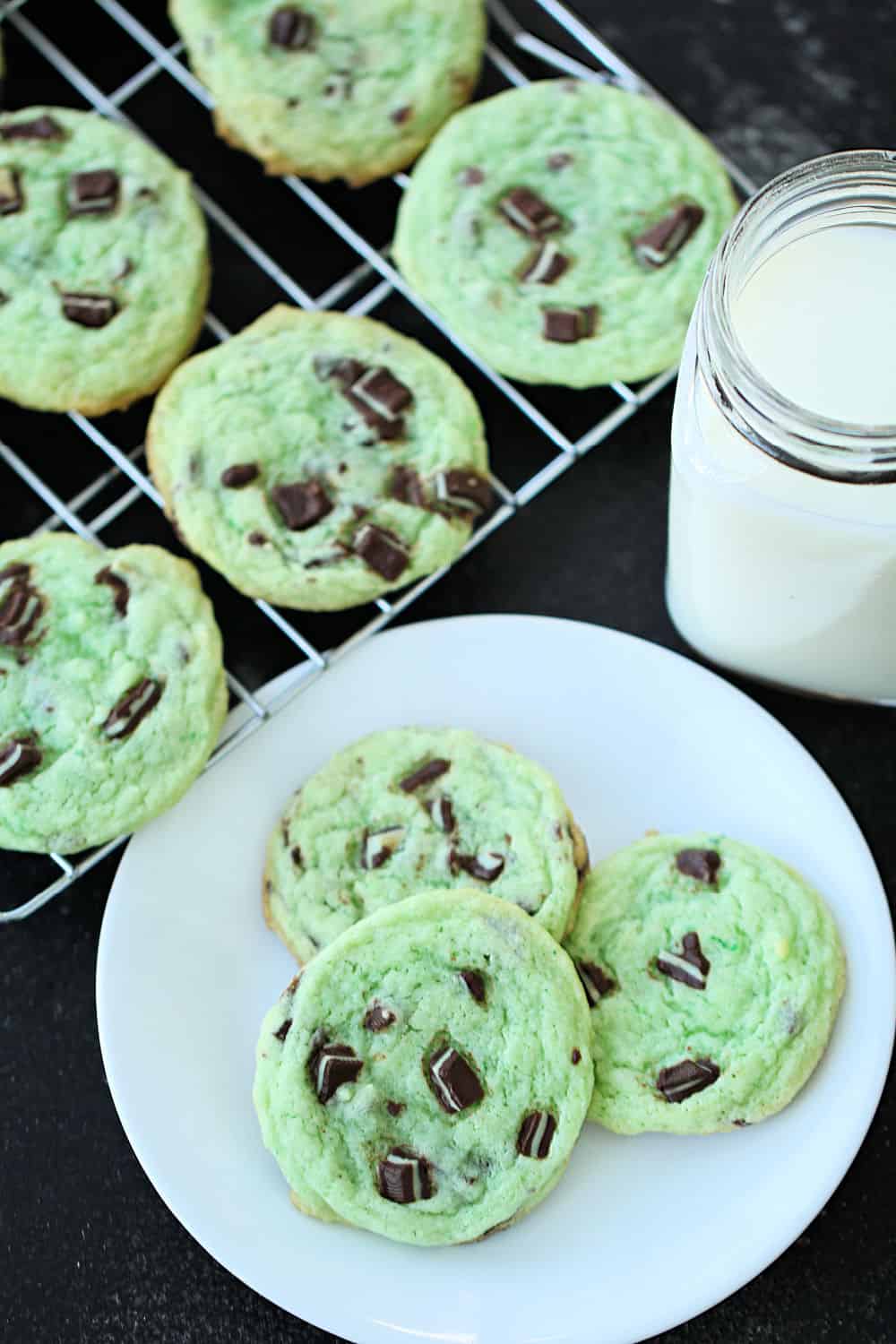 These Andes Mint Grinch Cookies are perfect for Christmas!
It's a tradition in our family to make these cookies and eat them while we watch "The Grinch" (and drink homemade hot chocolate with them as well!).
It has been so fun to have so many of you tell us over the years how these cookies have become a tradition for your family as well (be sure to check out the comments below!).
These may just seem like cookies, but they are used to make memories and happy times with your family and friends.
What are your favorite holiday traditions? Please feel free to leave a comment below!
Related Recipe: Looking for a fun Christmas cookie? Our Santa Sugar Cookies are so easy to make and no fancy cookie cutter needed! 
Ingredients in Andes Mint Grinch Cookies:
all-purpose flour
baking soda
baking powder
salt
butter (at room temperature)
sugar
egg
milk
mint extract
green food coloring
1 box Andes mints (with 28 pieces- you can also buy a bag of Andes Mint pieces)
chocolate chips (if desired – completely optional)
If you love Andes Mints, be sure to check out our Andes Mint Cookies!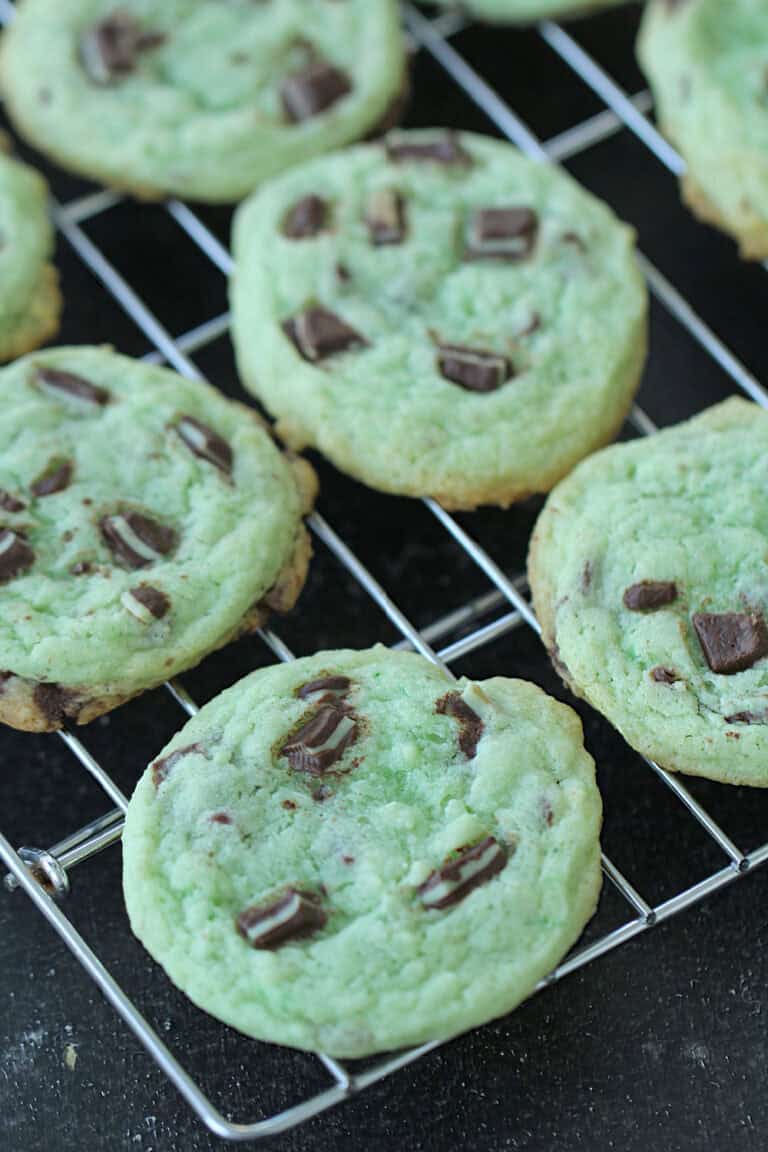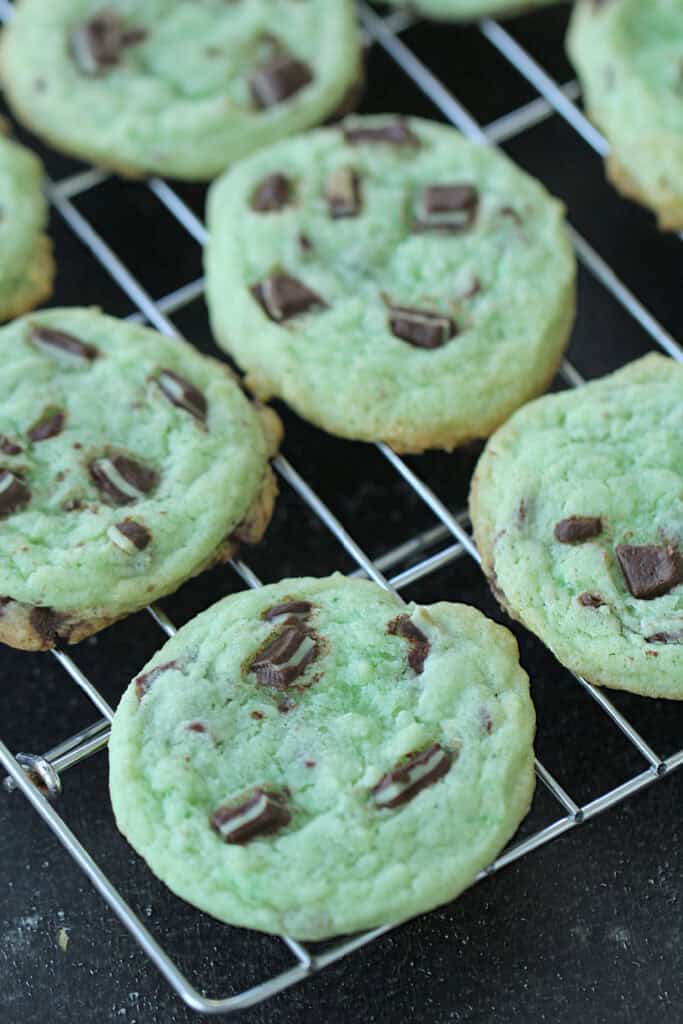 Directions for Andes Mint Grinch Cookies:
Preheat oven 375 degrees.
Sift together the flour, baking soda, baking powder and salt and set aside. Unwrap the Andes Mints and chop into small pieces.
In a large bowl, cream together the butter and sugar until smooth. Beat in egg, milk, and mint extract.
Gradually blend in the dry ingredients and add the green food coloring. Mix until even colored.
Fold in the chopped Andes mints. (I also added some chocolate chips… just because I LOVE chocolate!)
Put in the refrigerator until the dough is chilled – about 30 minutes).
Roll rounded teaspoonfuls of dough into balls.  To make them more rounded when they come out, flatten the balls as you place them onto ungreased cookie sheets.
Bake for 8-10 minutes. Let stand on cookie sheet for 2 minutes before moving them to wire racks to cool.