We'll show you how easy it is to cook a turkey in a convection oven instead of using a conventional oven or regular oven. Cooking a turkey is not an intimidating and it takes less time than you might thing. This turkey turns out so juicy and tender.
I know a lot of people that are pretty intimidated when it comes to cooking a turkey in a convection oven. Between the hot air blowing and the specific cooking times I can understand where the fear comes from. But don't worry! It really is just as easy as using a standard oven to create the perfect turkey for your holiday meal.
I am absolutely in love with our Dacor Classic Epicure Double Wall Ovens. They make any turkey I cook come out perfectly seared on the outside and juicy on the inside every time.Make sure to choose the size of your turkey based on how large your oven is so that you have no issues closing the oven door. The size of the turkey is important and should be the first thing you consider. A whole turkey can take a long time to reach the correct internal temperature, and you will want to make sure you have the correct deep roasting pan. This holiday season make sure that you have the right turkey, baking pan, and the best fresh herbs you can find.
Cooking a fresh turkey has never been so easy as it is when cooking in a convection oven.
Our entire Thanksgiving Menu:
Cooking Thanksgiving dinner takes a little planning and preparation. But we have it all planned out for you with some easy and delicious recipes.
If you are in charge of planning Thanksgiving dinner, here are our favorite go-to Thanksgiving recipes:
If you have leftover turkey, be sure to try our Turkey Cranberry Wraps and Turkey Corn Chowder!
Cooking tips and commonly asked questions about "How To Cook A Turkey"
What is the best way to thaw a frozen turkey?
FThaw your turkey in the refrigerator. Frozen turkeys may prevent bacteria from growing, but it does not kill them. Never defrost a turkey by placing it on the counter or in a warm place. It can cause foodborne illness. A thawed turkey should be out of the Temperature Danger Zone- 40° ? 140° as a good rule of thumb. This general rule is an easy way to keep your turkey thawing safely.
There are three ways to safely defrost a turkey:
1. Under refrigeration. This requires adequate refrigerator space and advanced planning and is the preferred method for defrosting a turkey. The turkey should be placed on the lowest possible shelf to prevent any juices from spilling into other foods. A high-rimmed pan ( 2-3?) is required to catch any juices. Thaw breast side up. Defrost times will depend on the size of the bird. On average, it will take one day per 4 pounds for the bird to be completely defrosted. Plan on defrosting and cooking within a two day time period.
2. Using a Large Sink and Running Water. The turkey may be defrosted by placing it in a sink of running water or in a sink of water that will be changed every half hour. Ample room is needed for loose particles and overflow. Special care must be taken in cleaning and sanitizing every tool used in preparation of the turkey. Hot water and a bleach- based cleanser should be used to sanitize the sink and utensils used.
3. Using Pure ConvectionTM. You may use Pure ConvectionTM at 150° to defrost a partially frozen turkey for same- day cooking. Partially frozen means that the skin, legs and wings are defrosted and can move freely, but there are still some ice crystals and it is still hard inside of the turkey's cavity. Place turkey on an oven roasting pan with a v-shaped rack. It will take approximately 8-11 minutes per pound to defrost the turkey. This is not recommended with frozen solid turkeys as it will remain in the Temperature Danger Zone for too long.
Do I need to baste the turkey while cooking?
No, you do not need to baste. Convection ovens will sear the turkey very quickly, locking No, you do not need to baste. Convection cooking will sear the turkey very quickly, locking in the juices. This is helpful if you are using a shallow roasting pan, as the juices will stay contained. The way the turkey cooks will come down to the cook time.
What is Carryover Cooking and do I need to do this?
Carryover Cooking is a term to describe the additional cooking a food goes through after it is pulled out of the oven. The turkey will continue to cook approximately 10° more after it is pulled out of the oven. It is best not to carve into the bird until the turkey is allowed to rest for 10-15 minutes, since this will result in a loss of juices.
Can I cover my turkey with aluminum foil?
When cooking in convection, it is best to leave the turkey uncovered so that it benefits from the convection sear. However, if the wings, legs, and top of the turkey begin to brown too much, you certainly can use foil to cover these areas. The entire turkey skin should roast evenly and prove to be a delicious meal.
What if my turkey seems to be cooking too quickly and we're not eating for a few hours?
You can lower the oven temperature by about 50 degrees and cover the turkey with foil. This will slow down the cooking process. You can lower the oven temperature by about 50 degrees and cover the turkey with foil. This will slow down the cooking process and keep the center of the stuffing warm. Once you're ready to eat you can check the whole bird with an oven-safe meat thermometer to make sure it is cooked and ready to eat.
We have hundreds of simple and delicious recipes, your family is going to love. Each recipe is tried and true, so we are confident you will love it.
Looking for more Thanksgiving side dishes? Here are some you will enjoy:
Be sure to not miss another recipe! Follow Six Sisters' Stuff on Instagram|Facebook|Pinterest|YouTube
Have you heard about our newest cookbook, Copycat Cooking? We took over 100 of our favorite restaurant recipes and simplified them so that you can make them right at home!

Every recipe has a beautiful mouth-watering photo and has been picky-eater approved. The directions are simple, easy to follow, and do not require any strange ingredients.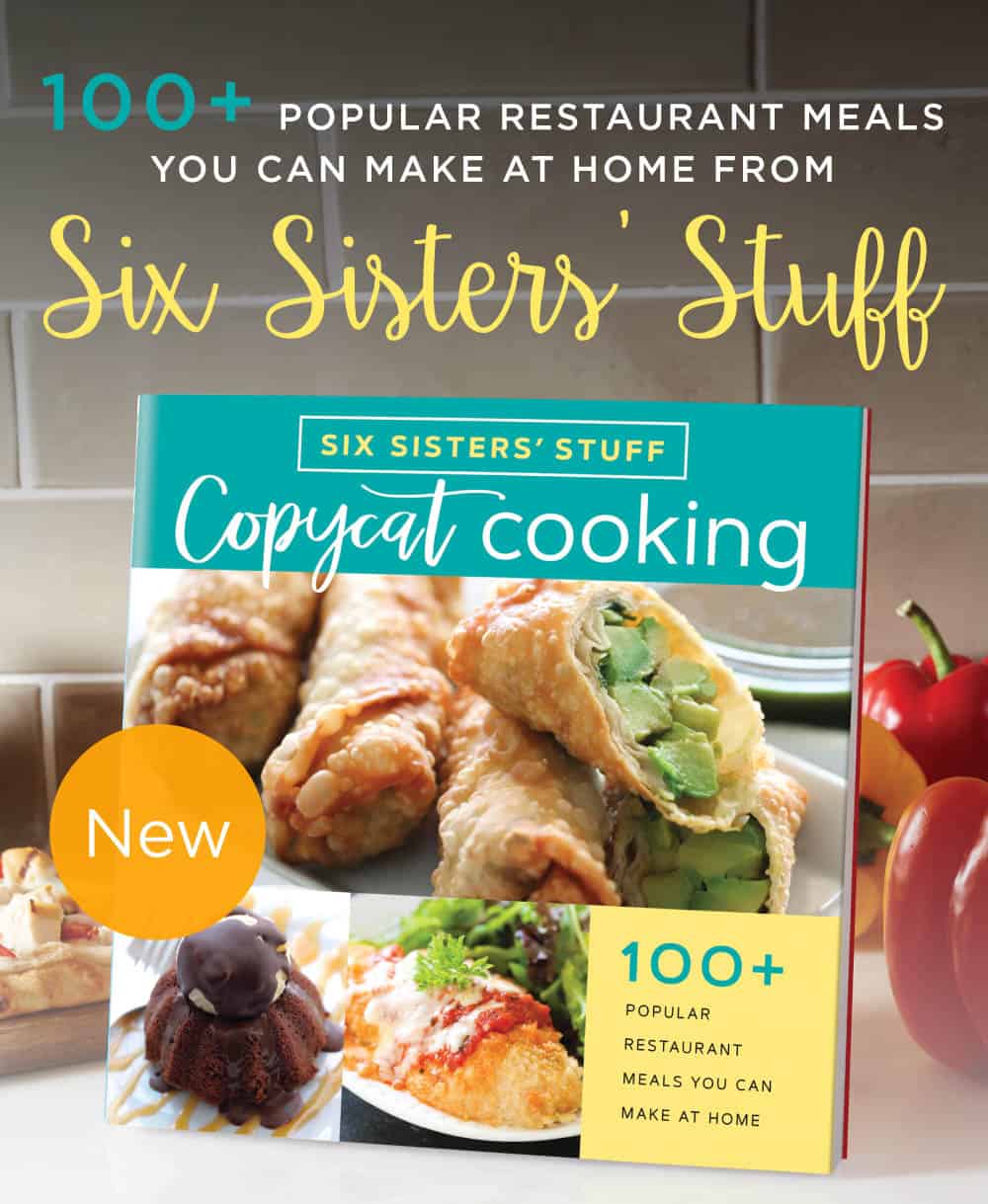 This cookbook includes copycat recipes from Wingers, Texas Roadhouse, Starbucks, Panera, Cheesecake Factory, Kneaders, and so much more. We have you covered from drinks, to dessert and everything in-between.
We are so excited to share these recipes with you. Order your copy today!
Six Sisters' Stuff COPYCAT COOKING
Love cooking as much as we do? Join our FREE private Facebook Group: Six Sisters' Dinner Club!