We have put together 28 of our most popular (and so easy!) Instant Pot Chicken recipes all in one place so that you can have dinner done in no time! Simple and affordable chicken recipe ideas that your family will love.
We have put together 28 of our most popular (and so easy!) Instant Pot Chicken recipes all in one place so you can have dinner done in no time! These are simple and affordable chicken recipe ideas that your family will love. Grab some juicy chicken breasts and check out these easy instant pot recipes!

We are always asked about our popular Instant Pot chicken recipes so we figured why not put them all in one place so you check out a bunch of affordable juicy chicken breast recipe ideas all in one spot! As long as you have boneless skinless chicken breast, chicken stock, and an Instant Pot pressure cooker on hand, you can easily make any of these. The high pressure from the Instant Pot chicken breast recipe will make for tender chicken with delicious flavor.  
​These recipes will work with a fresh or frozen chicken breast. We love using the frozen Costco chicken breasts, especially on a busy weeknight! 

These Instant Pot healthy boneless chicken breasts recipes are easy recipes to make up in no time at all! What could be better when you are already tired from a long day, right?

These easy chicken recipes are all great family dinner recipes that even your pickiest eater will love and you won't have to compromise on flavor. These are perfect for the whole family! This list might also give you new ways to enjoy your most delicious recipes!
Scroll down to find all of the best Instant Pot Chicken Breast Recipes!
How long does it take to cook chicken in the Instant Pot?
When cooking the chicken in the Instant Pot, it will take about 10-15 minutes for the Instant Pot to come to pressure before it starts the timer.
The actual cook time of the chicken will be around another 10-15 minutes depending on the thickness of the chicken.
Afterward, you can either do a quick release or add in 5 minutes of natural release as well to extend the cooking time of the chicken.
It will take about 35 minutes from start to finish to cook the chicken in the Instant Pot.
How long does it take to cook frozen chicken breasts in the Instant Pot?
The process will be the same as raw chicken, but when cooking frozen chicken you will want to add another 2-3 minutes to the cooking time, as well as do a natural release of 10 minutes.
By extending the natural release time you are giving the chicken extra time to cook before leasing the pressure from the pot.
After the 10 minutes of natural release is done then finish with a quick release.
When it's all said and done, the frozen chicken will take about 40-45 minutes to cook from start to finish.
What Instant Pot do you use?
I know there are so many different versions and sizes of the Instant Pot now that it can make it hard to choose "the right one".
Well, I have to say that you will not go wrong with any of them! But, I have the Instant Pot LUX 6 Quart 6-in-1 Programmable Pressure Cooker. It's basically 6 appliances in 1 – pressure cooker, rice cooker, saute, steamer, cake maker, and warmer. It is awesome!
Can I stack chicken breasts in Instant Pot?
You can definitely stack the chicken breast in the Instant Pot, just make sure to not overfill the Instant Pot past the MAX line on the inner pot.
Also, if you do intend to stack the chicken breasts, make sure you season them well beforehand since part of the chicken will be covered up during the cooking process.
This is actually a great way to either cook up all of your chicken you will need for the week for lunches or to make shredded chicken for other recipes.
Scroll down for our favorite shredded chicken recipe!
Related Recipe: Limited Ingredients?! Try these 24 of the Easiest 3 Ingredient Recipes!
Instant Pot tips and tricks!
If you double the recipe you do not have to double the time! Keep the time the same – the instant pot does not measure cooking time based on volume.
Be sure to save time for the Instant Pot to come to pressure. If the recipe says 10 minutes cooking time, add another 10-15 minutes onto that because that is how long it will take to come to pressure.
After you have programmed the time, the Instant Pot twill take some time to come to pressure and then it will show the timer you have set and start counting down. So, try and be patient before you think you did something wrong.
Make sure your lid is always locked into place and the knob is turned to "SEALING" when you begin cooking.
Make sure that you have enough thin liquid in your Instant Pot in order for it to come up to pressure properly. We say at least 1 cup of thin liquid (such as water or chicken broth) is a good rule of thumb.
You can put other oven-safe glass or metal bowls in the Instant Pot if you wanted to separate the food without having to cook them separately.
Unlike a microwave, you CAN you aluminum foil in the Instant Pot without causing a fire in the kitchen.
You can use multiple setting such as the saute function to cook up onions or meat beforehand then just press cancel and add the rest of the ingredients.
Avoid using dairy in the cooking process if at all possible since it can scald or curdle. You can always add it once the cooking is done. Although when you are making yogurt this does not apply.
Everything but the lid and the outer container are dishwasher safe. This makes clean up a breeze. Just throw everything in and wipe down the lid and outside of the Instant Pot and you are good to go!
Check out our Instant Pot tricks for beginners!
We share a new Instant Pot video on our YouTube channel every Monday. They have a lot of great information for beginners! Here are some of our most popular Instant Pot videos:
The Best Instant Pot Chicken Breast Recipes:
1. Instant Pot Cheesy Chicken and Rice – there is a reason why this is the most popular recipe on our blog! It's easy to make, it's flavorful and filling, and it's DELICIOUS!
2. Instant Pot Shredded Chicken Tacos – one of the easiest and most budget-friendly recipes you can make! You can also make this chicken ahead of time and stick in the freezer to use on another night.
3. Instant Pot Honey Sesame Chicken – this was actually one of the most popular recipes that we made in the slow cooker, so we just adapted the recipe to work in your Instant Pot! It's done in a quick amount of time and it makes for great leftover chicken.
4. Instant Pot Teriyaki Chicken Bowls – shredded chicken, tons of vegetables, and a sweet teriyaki sauce drizzled on top . . . this is always a family favorite and it's so simple to make. Serve it with pineapple juice for extra flavor!
5. Instant Pot Creamy Tomato Chicken – serve this dish over pasta and you will have a winner on your hands! It's so good. You can use chicken breasts or thighs for this recipe.
6. Instant Pot Cream Cheese Chicken and Pasta – this was one of the first Instant Pot recipes that we put on our website and it's been a favorite ever since! The creamy sauce is the best part.
7. Instant Pot Orange Chicken – only 6 ingredients needed for this simple dish! My family loved the flavor and we always serve it over jasmine rice. Tastes like take out!
8. Instant Pot Chicken Tikka Marsala – Indian food in the Instant Pot? You better believe it! This chicken is AMAZING!! And the Instant Pot makes it so easy to throw together.
9. Instant Pot Tuscan Chicken Pasta – if you are new to using an Instant Pot, this is a great recipe to start with! It only cooks for 3 minutes! We adapted this recipe from our other popular Tuscan Chicken Pasta Freezer Meal recipe.
10. Instant Pot Creamy Chicken Soup – this soup always gets rave reviews! We love using our Instant Pot's for soup – just dump in the ingredients and let the Instant Pot do it's magic!
11. Instant Pot Cream Cheese Chili – another dump-and-go recipe that is a family favorite! This is delicious with chicken or if you want, you can add another can of beans in place of the chicken.
12. Instant Pot Honey Garlic Chicken – another delicious take-out dish that you can make right at home. We also have a slow cooker version of this recipe!
13. Instant Pot Buffalo Chicken Wraps – the kick of the buffalo sauce added to the fresh, crispy lettuce and vegetables makes these wraps so good. Perfect for a healthy lunch or easy dinner! This would make yummy chicken sandwiches too!
14. Instant Pot Parmesan Ranch Chicken and Potatoes – it's hard to photograph some of the food that we make in the Instant Pot, but let me tell you . . . this chicken is THE BEST chicken I have ever made! It's loaded with flavor and just falls apart. I love this recipe because the potatoes cook with the chicken – main dish and side dish in one! It's a keeper!
15. Instant Pot Creamy Chicken Enchilada Soup – another comfort food favorite! I love dumping this in and having dinner ready in a matter of minutes thanks to my Instant Pot. Reduce the amount of liquid to turn it into chicken enchiladas!
16. Instant Pot Healthy Chicken Burrito Bowls – this recipe is one of my favorites because it's so versatile. You can add this shredded chicken to enchiladas, tacos, burritos, salad, nachos . . . the options are endless! I love it served just like this in burrito bowls. It's one of the easiest things to make and takes just a little effort!
17. Instant Pot Cashew Chicken – this version of cashew chicken is the BEST! It tastes like it's straight out of a restaurant.
18. Instant Pot Spicy Chicken and Rice Bowls – if you love spicy food, this is the recipe for you! I love the flavor of the spices in this easy recipe. One of my favorite chicken recipes! Store it in an airtight container for leftovers all week long.
19. Instant Pot Easy Sesame Chicken and Broccoli – this recipe was the first recipe that our sister Camille made in her Instant Pot after she got it and it's one that she makes again and again. It's easy and so good. That sauce is what dreams are made of! You can substitute your favorite stir-fry vegetables for the broccoli.
20. Instant Pot Chicken Caesar Sandwiches – In the summer time, I love quick and easy sandwich recipes that won't heat up my kitchen. I use my Instant Pot year around for recipes just like this one! This is definitely a favorite way to eat chicken!
21. Instant Pot Hawaiian Chicken – another simple dump-and-go recipe that is delicious served over rice! It's also good served over quinoa, brown rice, and even a bed of lettuce!
22. Instant Pot Chicken Pot Pie – you read that right! You can make a pot pie in your Instant Pot. It only takes about 30 minutes from start to finish . . . and it's amazing!
23. Instant Pot Pesto Stuffed Chicken – another recipe where you can cook your main dish and side dish in one pot! This chicken is simple and makes the perfect healthy meal!
24. Instant Pot Seven Can Tortilla Soup – this is one of the EASIEST recipes I have ever made! You basically dump 7 cans into your Instant Pot and let it cook! You can used canned chicken breast or even add some fresh chicken breasts to it and then shred them when they are done cooking.
25. Instant Pot Chicken Chile Verde – I love to use this chicken for enchiladas, but it's delicious any way that you enjoy it!
26. Instant Pot Chicken Noodle Soup – everyone needs a classic chicken noodle soup and this is the recipe you are going to want to bookmark for later! It's timeless!
27. How to cook a Whole Chicken in the Instant Pot – who knew you could cook a whole chicken in your Instant Pot?! It's so easy and such an inexpensive way to enjoy chicken. We also included a video that shows you how easy it is to do this!
28. Instant Pot Chicken Alfredo – anything with a white creamy sauce and pasta is a winner in my book! Our kids voted this as the best Instant Pot recipe on our website!
29. Instant Pot Creamy Chicken and Noodles with Vegetables: This is comfort food at it's finest! My kids gobbled it up and we all loved it.
Still looking for more Instant Pot chicken recipes? Check out these recipes from our friends:
And if you need a good basic shredded chicken recipe, this is one that we use for everything!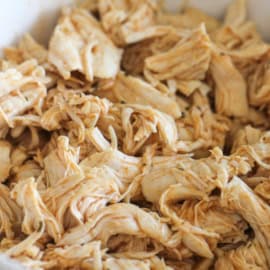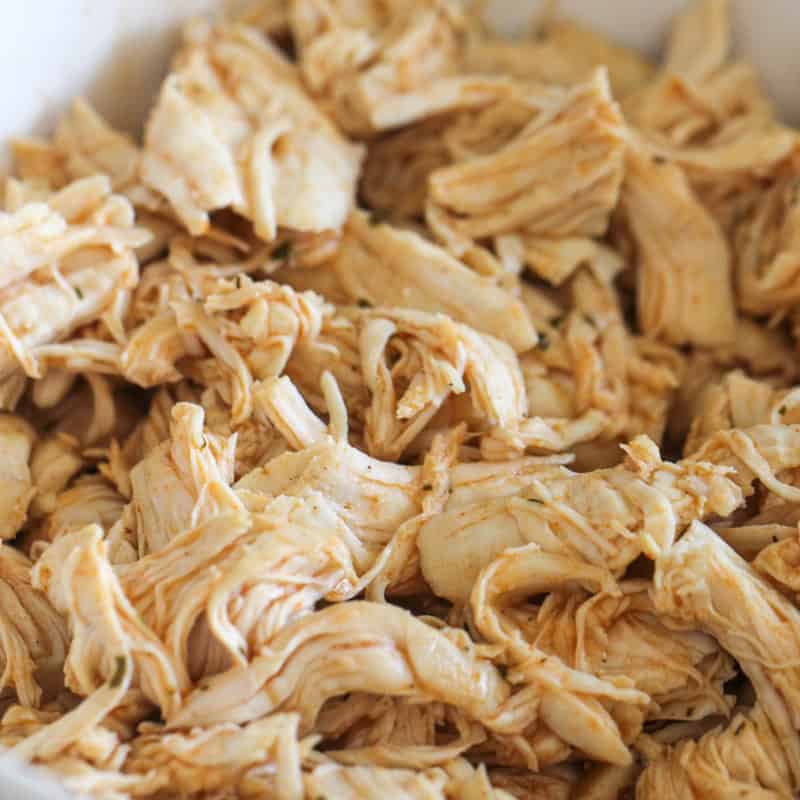 Instant Pot Basic Shredded Chicken
We use this chicken in any recipe that calls for shredded chicken or rotisserie chicken!
Ingredients
2

pounds

boneless, skinless chicken breasts

1

cup

chicken broth

Salt and pepper

to taste

½

teaspoon

garlic powder

¼

teaspoon

onion powder

¼

teaspoon

paprika
Instructions
Place chicken in Instant Pot and pour in broth. Sprinkle seasonings over chicken.

Seal lid and turn valve to SEALING. Set MANUAL and set timer to 15 minutes.

When chicken is finished cooking, move valve to VENTING and do a quick release of the pressure.

Remove chicken and transfer to a plate (leaving broth in the pot).

Shred the meat using 2 forks. If desired, add about 1/2 cup (or more if needed) of broth to the chicken for added moisture and flavor.
Notes
Use in any recipe that calls for shredded chicken or place chicken in a freezer bag and store in the freezer until needed.
Lasts in the freezer for about 3 months.
Nutrition
Calories:
176
kcal
·
Carbohydrates:
1
g
·
Protein:
32
g
·
Fat:
4
g
·
Saturated Fat:
1
g
·
Trans Fat:
1
g
·
Cholesterol:
97
mg
·
Sodium:
319
mg
·
Potassium:
595
mg
·
Fiber:
1
g
·
Sugar:
1
g
·
Vitamin A:
53
IU
·
Vitamin C:
5
mg
·
Calcium:
10
mg
·
Iron:
1
mg
Equipment
Instant Pot (or Pressure Cooker)
Recipe Details
Be sure to not miss another recipe!
Follow Six Sisters' Stuff on Instagram | Facebook | Pinterest | YouTube
If you made our recipe be sure to tag us on Instagram so we can see your hard work using #sixsistersstuff.