This Instant Pot Cheesy Chicken and Rice will be the best comfort food recipe that you make in your pressure cooker! A one-pot recipe loaded with cheese and mixed vegetables, it will become a family favorite that you make over and over again.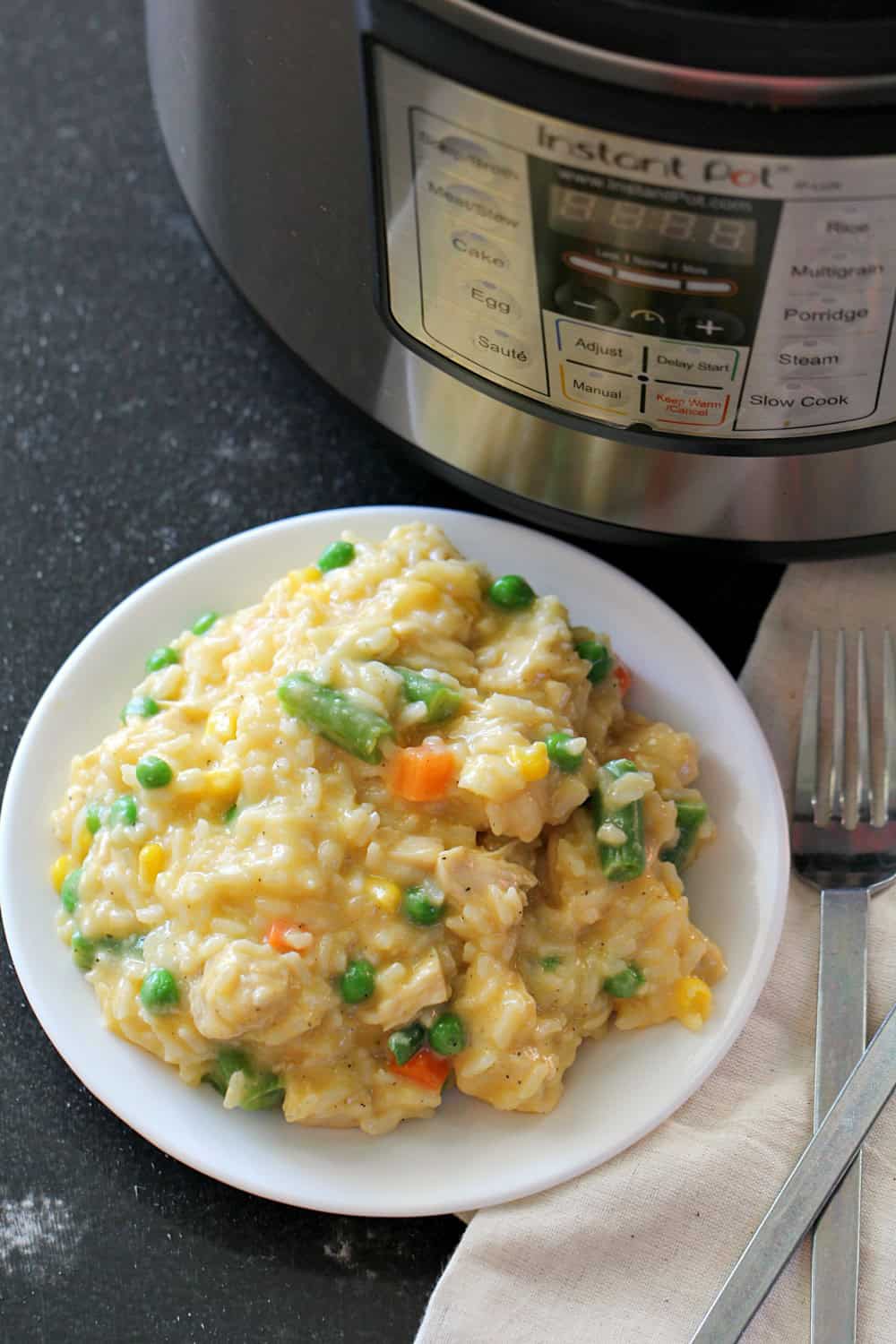 This delicious Instant Pot Cheesy Chicken and Rice comes together in less than an HOUR!
I am all about the Instant Pot these days . . . and that is coming from the sister who swore by her slow cooker!
(If you are looking for the slow cooker version of this recipe, you can find it here: Slow Cooker Cheesy Chicken and Rice).
I still use both appliances, but I LOVE my Instant Pot for busy nights and I can throw something together quick and easy.
Our sister Kristen is the QUEEN of Instant Pot – she has TONS of recipes on our YouTube channel where she shows you how to make pretty much anything in your Instant Pot (including these 5 soups that are perfect for beginners!).
Related Recipe: Try this Slow Cooker Chicken and Broccoli Over Rice!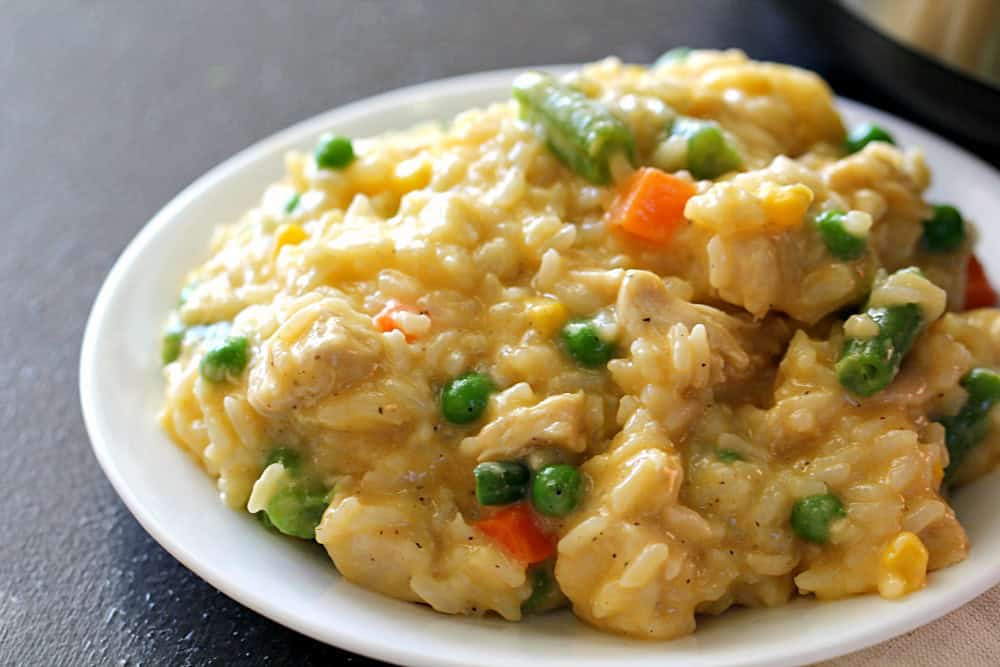 Ingredients needed to make Instant Pot Cheesy Chicken and Rice:
Boneless chicken breasts
Olive oil
Salt
Pepper
Onion
Garlic
White rice
Chicken broth
Water
Cream of chicken soup
Cheddar cheese
Mixed vegetables
The ingredient list may seem long, but they are mostly likely ingredients that you have on hand right now!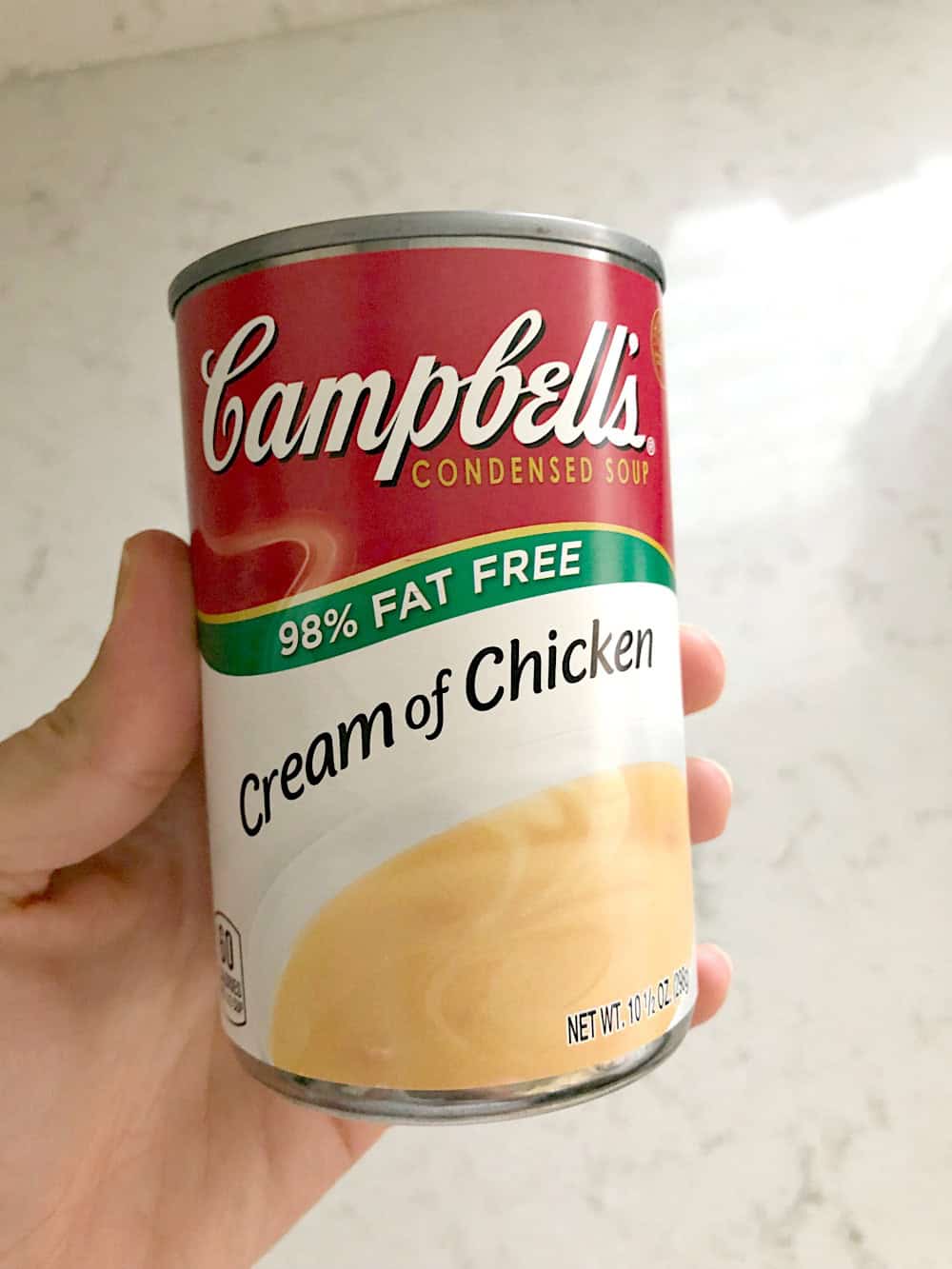 How to make Instant Pot Cheesy Chicken and Rice:
To get started, cut up the raw chicken breasts into bite-sized pieces.
Plug in your Instant Pot and press the "Saute" button to get the bowl inside the Instant Pot heated up. Once the screen on the Instant Pot reads "HOT" pour in the olive oil, and let that sit for about a minute.
Next, add in the cut-up chicken breasts, salt, pepper, diced onion, and minced garlic (fresh is always best but from the jar will work too).
Continue by sauteing everything until the onion becomes translucent and the chicken begins to brown up. It should only take about 5-6 minutes.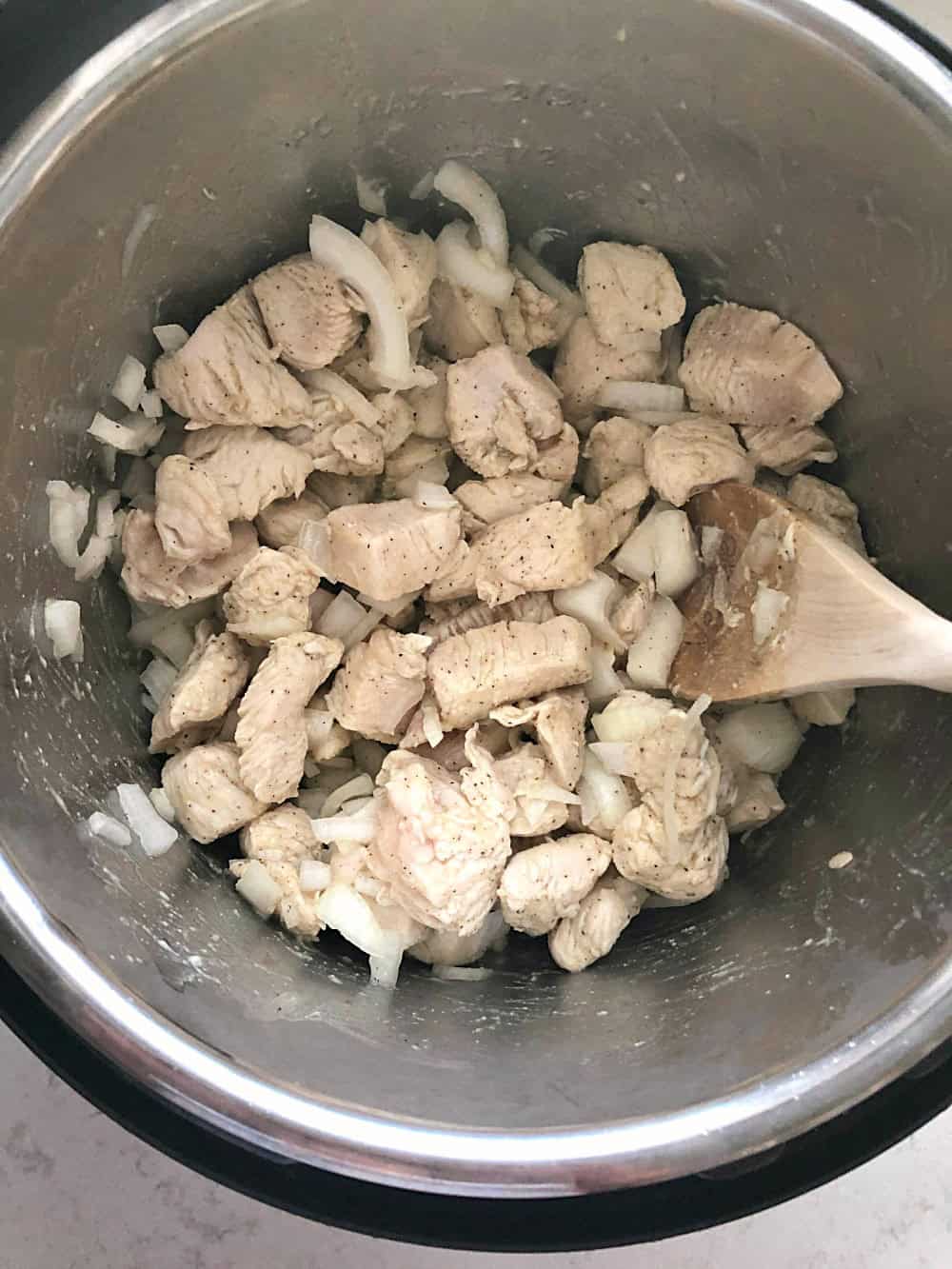 Now that the veggies and chicken have been cooking for a few minutes, add in the rice and cook for another minute or two until the rice begins to turn a golden brown.
Hit the "Cancel" button to turn the heat off.
Next, add the chicken broth and water to the browned chicken and vegetables.
If you have the burn notice on your IP, you will want to deglaze your Instant Pot at this time to prevent that from happening.
Place the lid on the Instant Pot (make sure it's locked) and set the valve to seal. Press the "Manual" button and then set the timer for 8 minutes.
It will come to pressure (this will take 10 minutes or so) and then the timer will appear with the 8 minutes.
Once the timer is done, carefully switch the valve on top of the Instant Pot to "venting" (aka a quick release).
After the pin on the top drops, you are able to open up the Instant pot and add in the cream of chicken soup, shredded cheese, and frozen vegetables.
Mix everything together with a wooden spoon until the cheese is melted and the veggies are no longer frozen.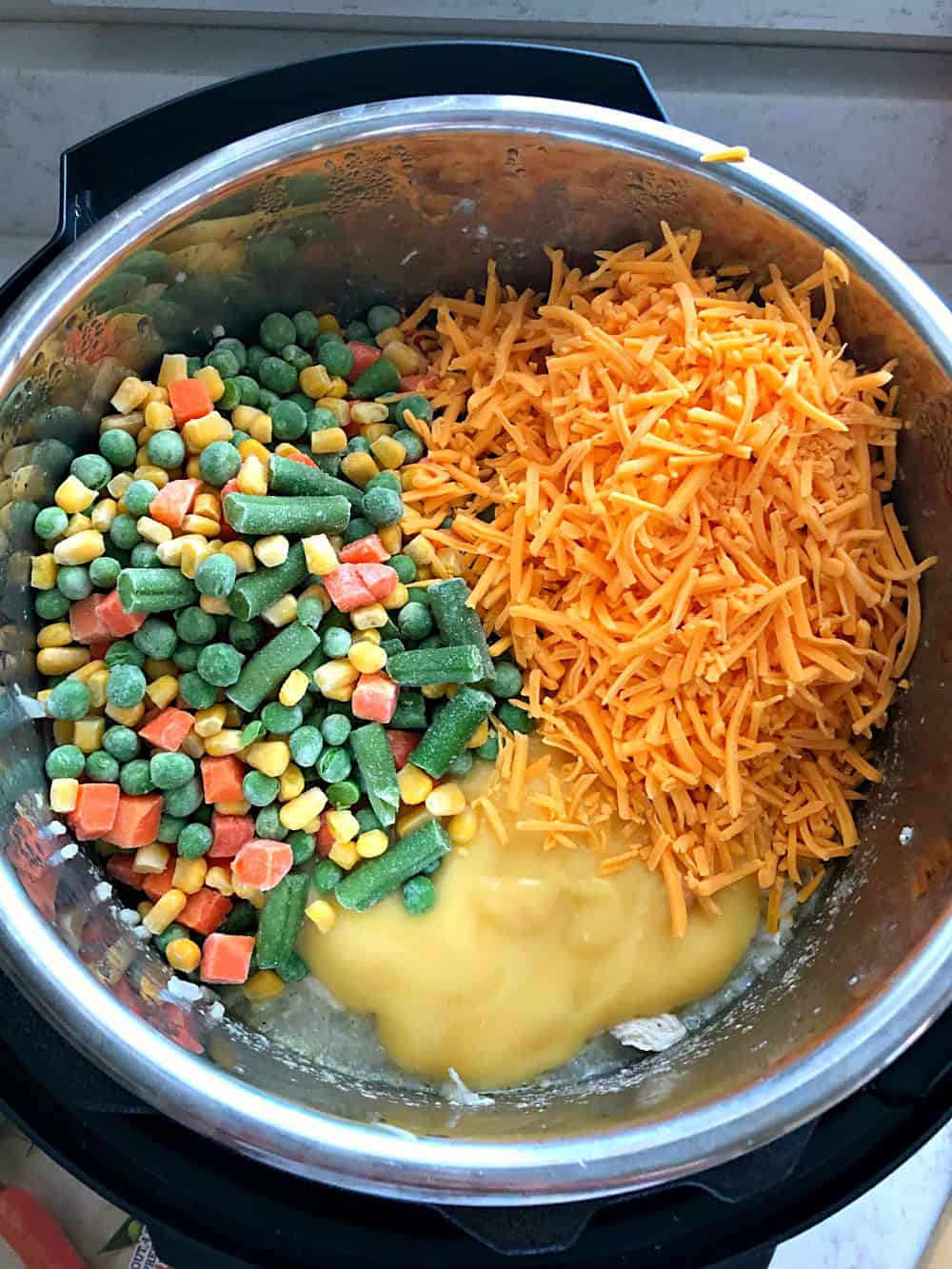 If you need to turn the "saute" function back on to help warm the vegetables up a little more, do it! Just be sure to stir constantly to void burning anything.
And PRESTO it's done!! See, super simple.