Let me tell you about our amazing slow cooker cheesy beef and potatoes recipe. It is absolutely delicious! This easy ground beef slow cooker cooker recipe is filled with all the wonderful cheese and potatoes you can ask for!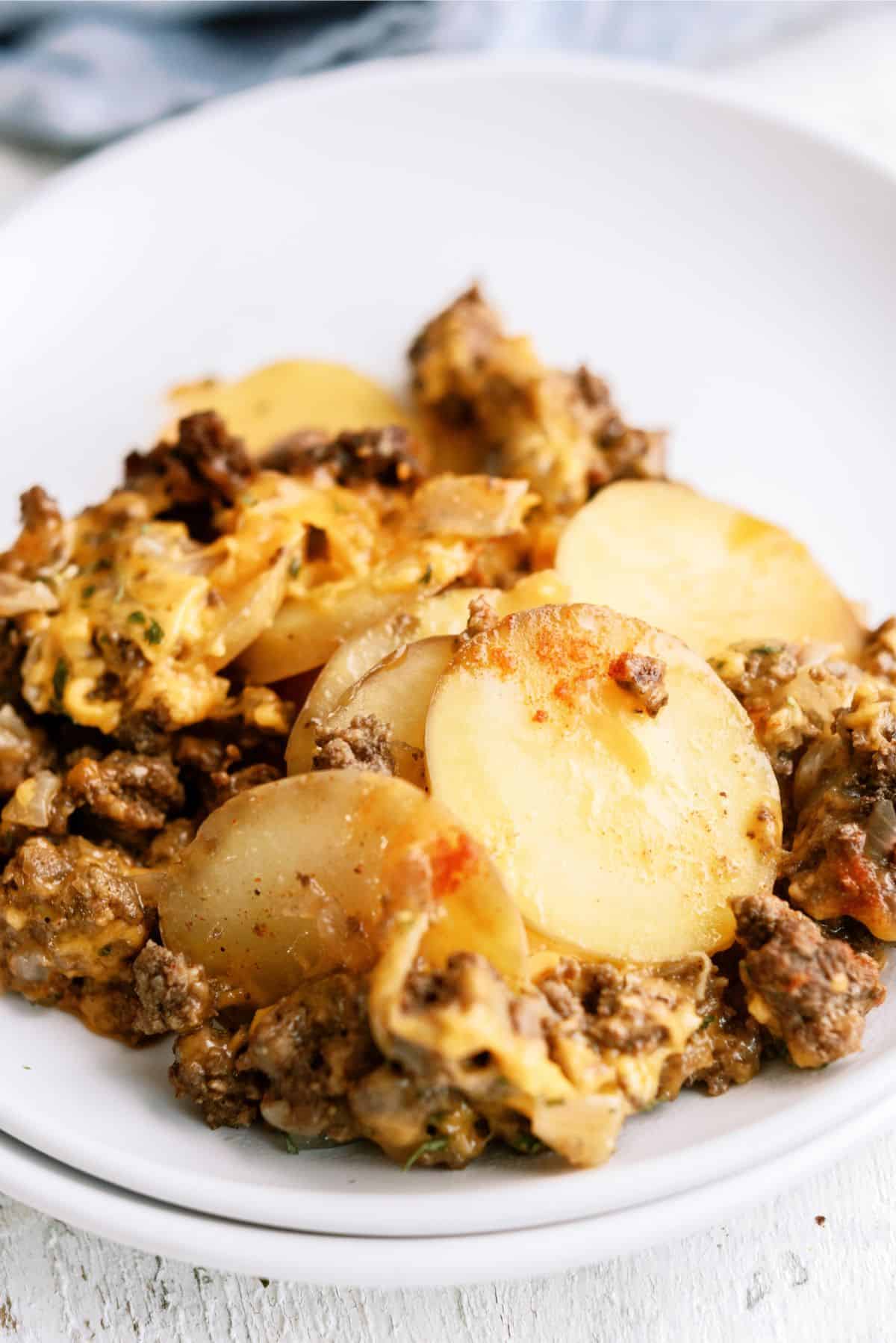 This slow cooker cheesy beef and potatoes is one of a kind! It has so many delicious spices to build the perfect flavor profile that you will be dreaming of.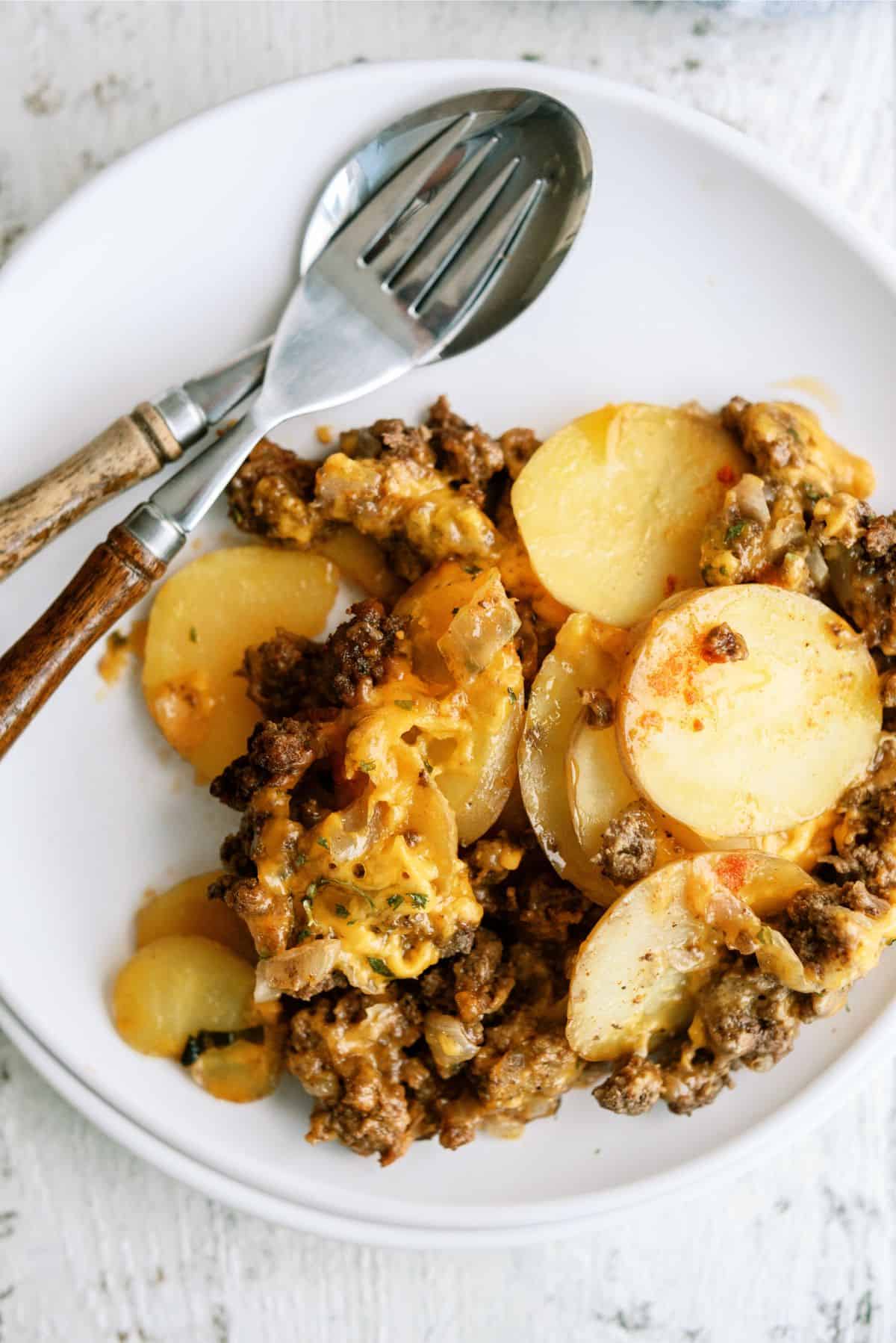 With this slow cooker beef and potatoes au gratin recipe you can enjoy a tasty dinner but still keep it a budget-friendly recipe. No need to go over the top on fancy ingredients when you can make the best ground beef recipe in the slow cooker.
What is nice is that you can build this in the slow cooker and set it and forget it until later! Talk about an easy recipe to make on those busy days or ones where you might just want a break from cooking in the kitchen.
Most people tend to make chicken in the slow cooker, but that doesn't mean there aren't some great and easy ground beef slow cooker recipes! You need to try out our slow cooker ground beef hobo dinner recipe, slow cooker mexican hamburger hashbrown casserole recipe, slow cooker tamale pie recipe, and our slow cooker beef enchilada stack recipe. You can't go wrong with any of them!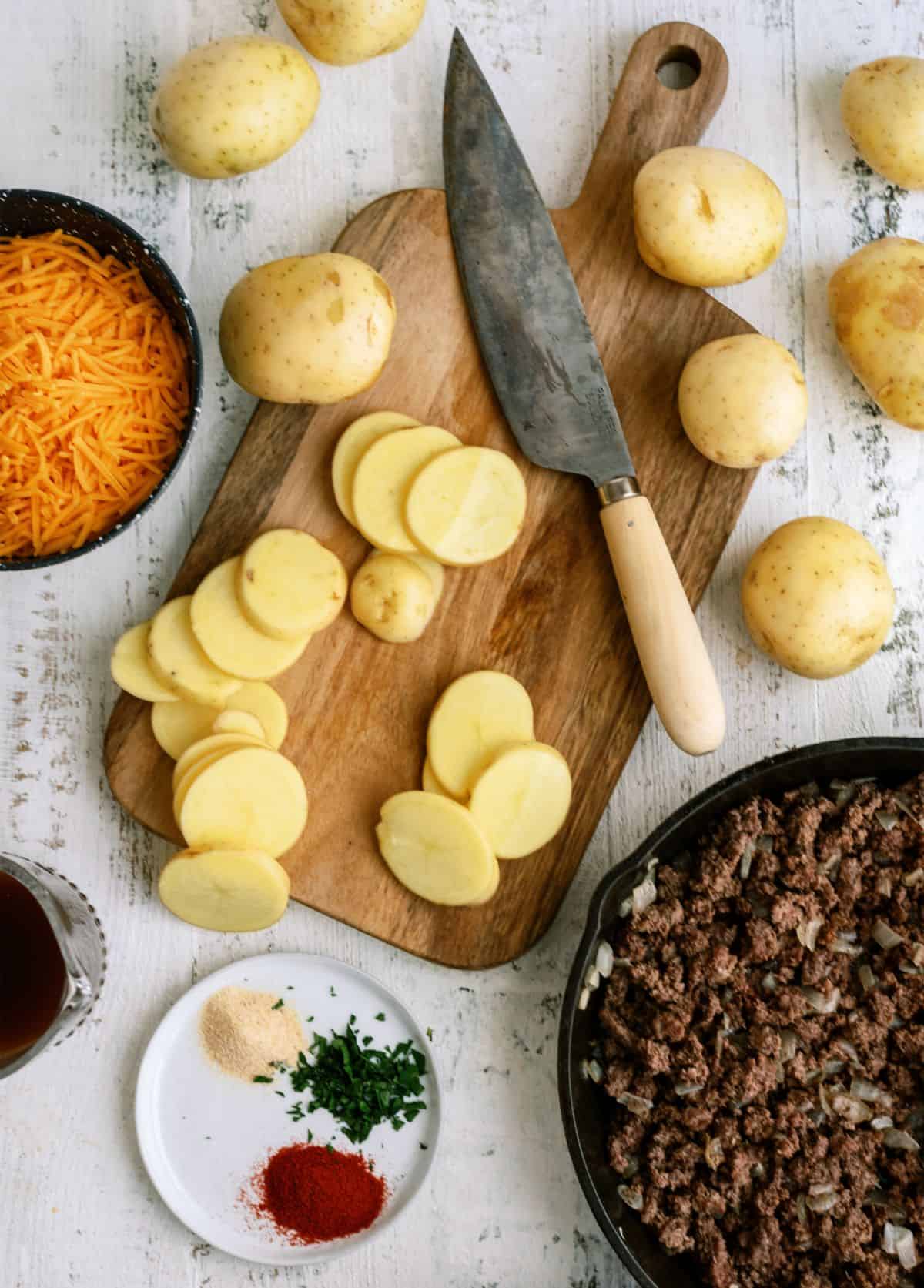 Ingredients You Need to Make Our Slow cooker Cheesy Beef and Potatoes Recipe:
Lean ground beef
Diced onion
Russet potatoes
Smoked paprika
Dried parsley
Garlic powder
Salt
Pepper
Shredded sharp cheddar cheese
Beef broth
How To Make Our Slow cooker Cheesy Beef and Potatoes Recipe:
When you are ready to make dinner, get out your skillet and the heat on medium heat.
After the pan is hot, add the ground beef to the pan along with a pinch of salt and pepper if you desire!
Once the beef is completely browned, drain the grease from the pan and then set it aside.
Now, in a small bow mix together the smoked paprika, parsley, garlic powder, salt, and pepper and then set the bowl aside.
Then, spray the inside of the slow cooker with nonstick cooking spray to make cleaning up after dinner easier!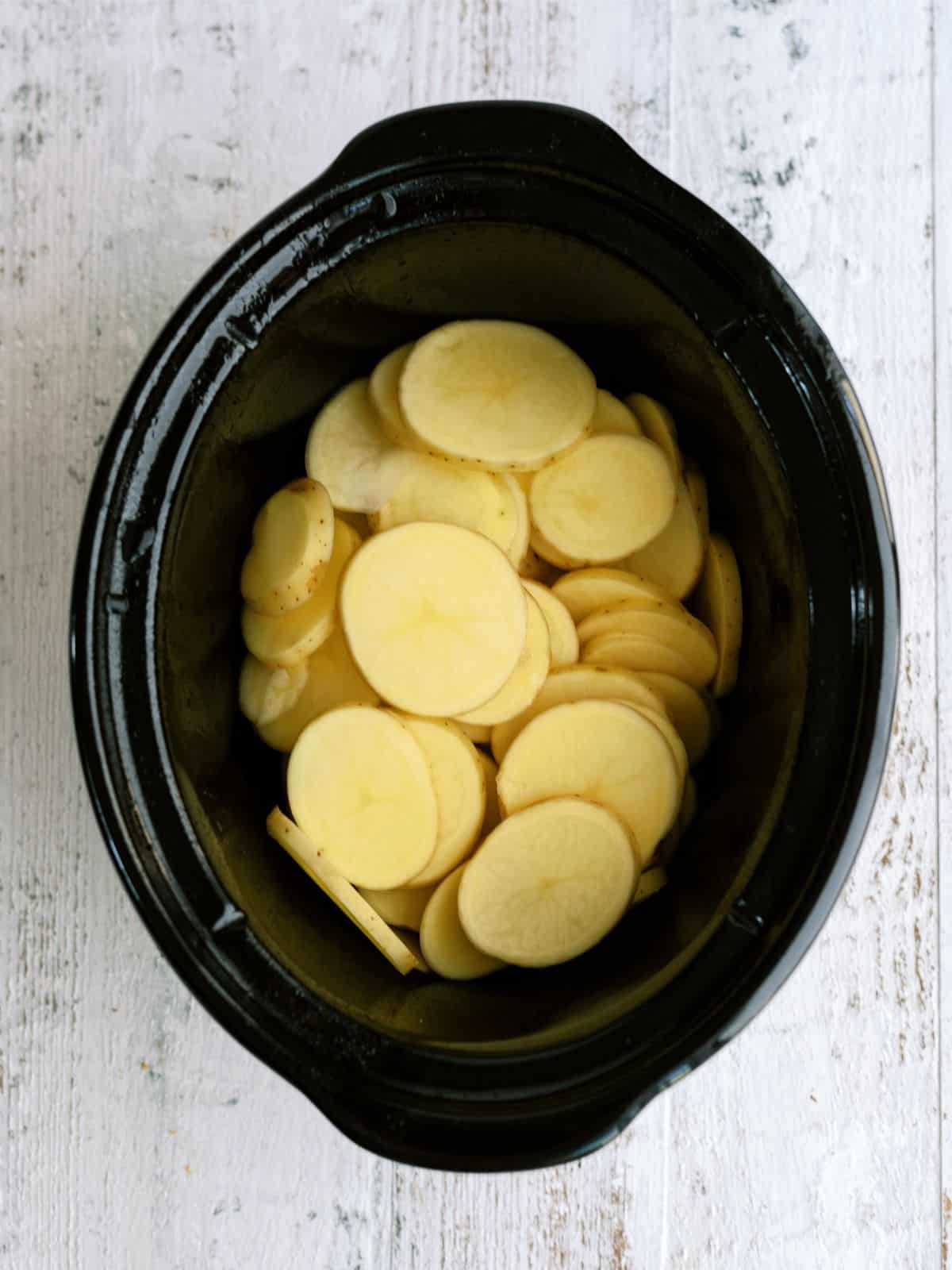 Next, slice up your russet potatoes into about ¼ inch slices and then spread out half of the potato slices into the bottom of the slow cooker.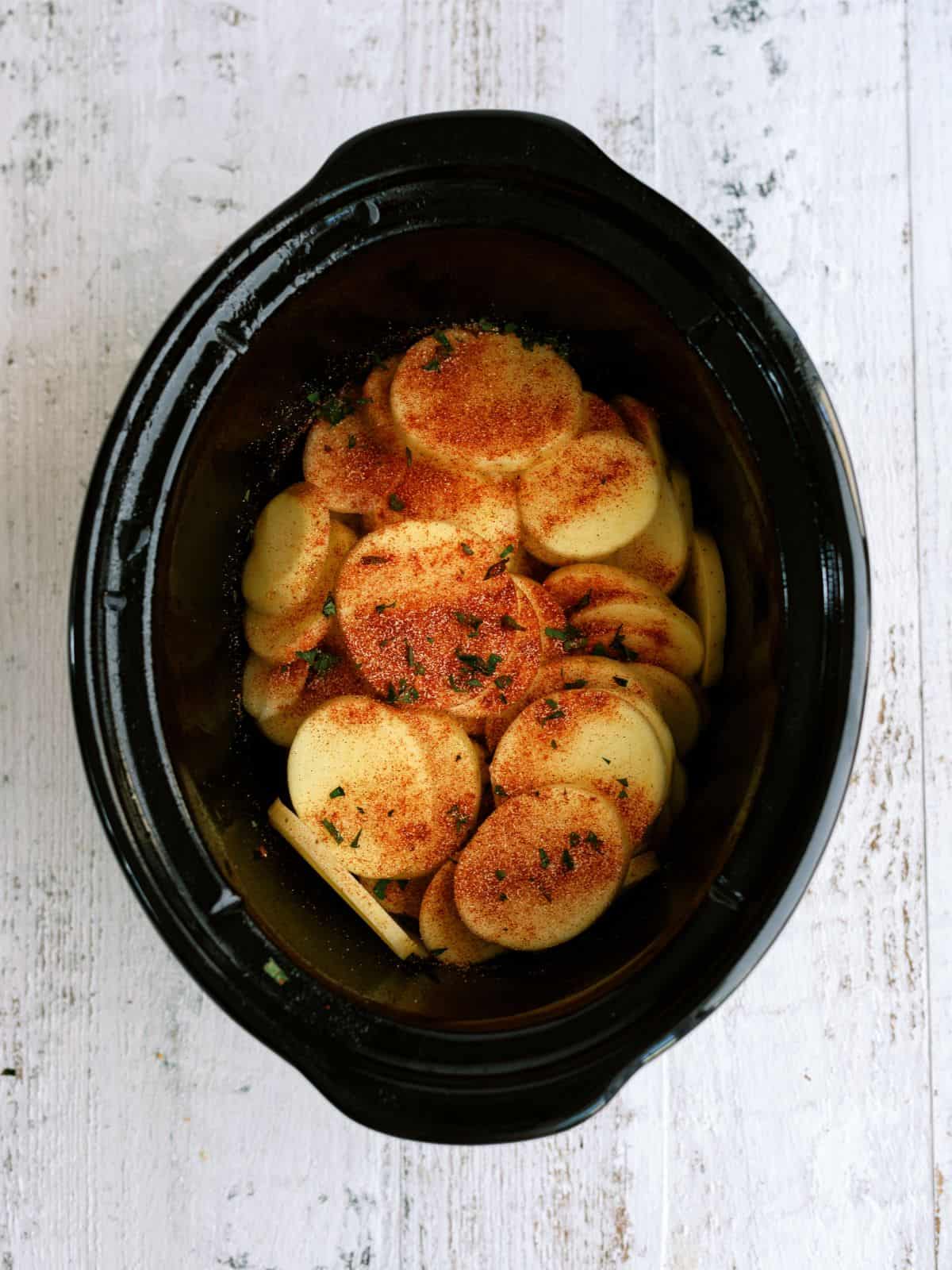 Once that is done, sprinkle on half of the spices over top of the sliced potatoes, along with half the cooked ground beef, and half of the cheese.
After the cheese, repeat the potato, seasoning, beef, and cheese layers one more time.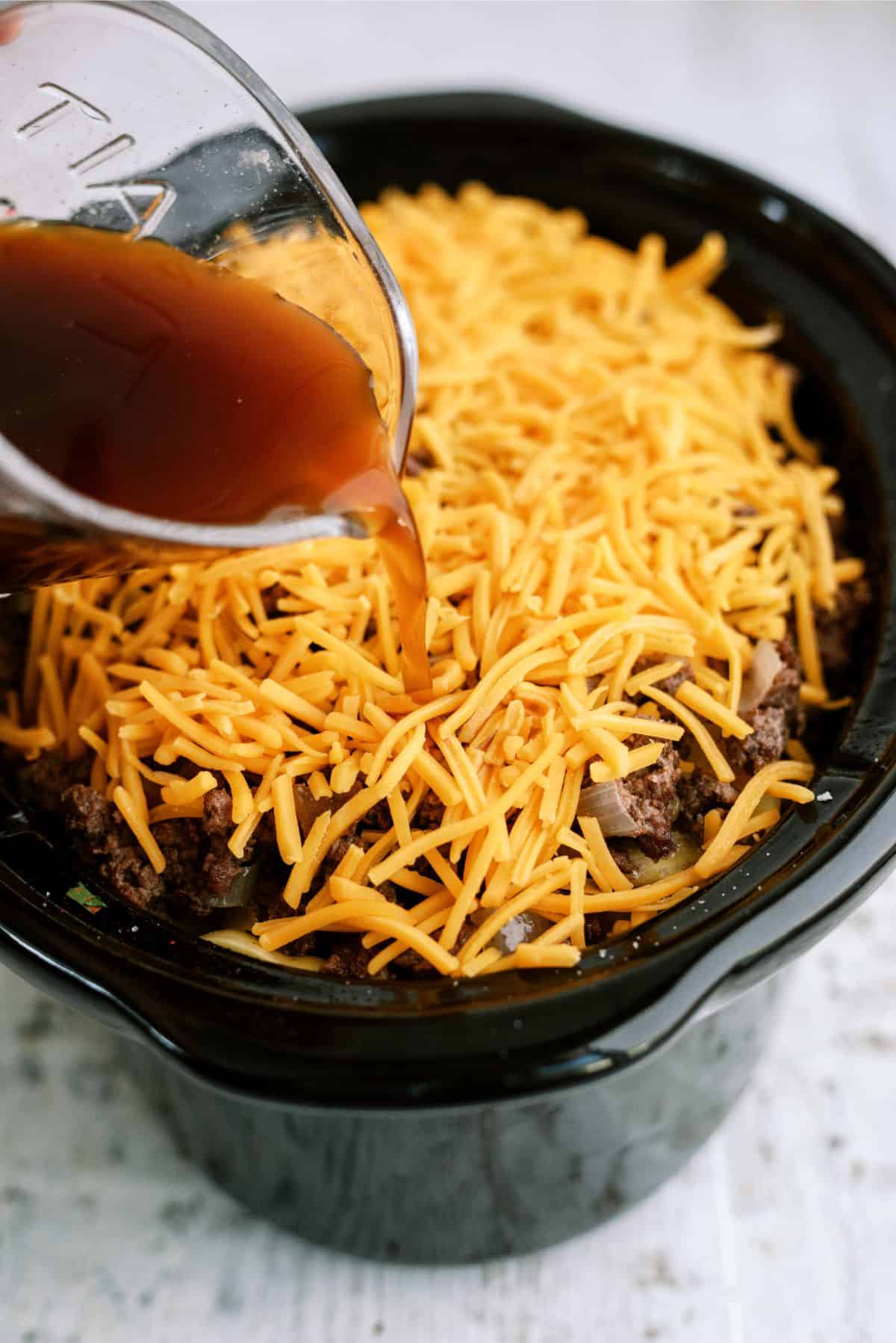 When all of the layers have been placed into the slow cooker, pour the beef broth over top and then place the lid on the slow cooker and turn it on high for 4 hours or on low for 6-8 hours.
Do your best not to open the lid as that will release heat from the slow cooker. If you do end up removing the lid, add on another 30 minutes to make sure the potatoes get cooked long enough.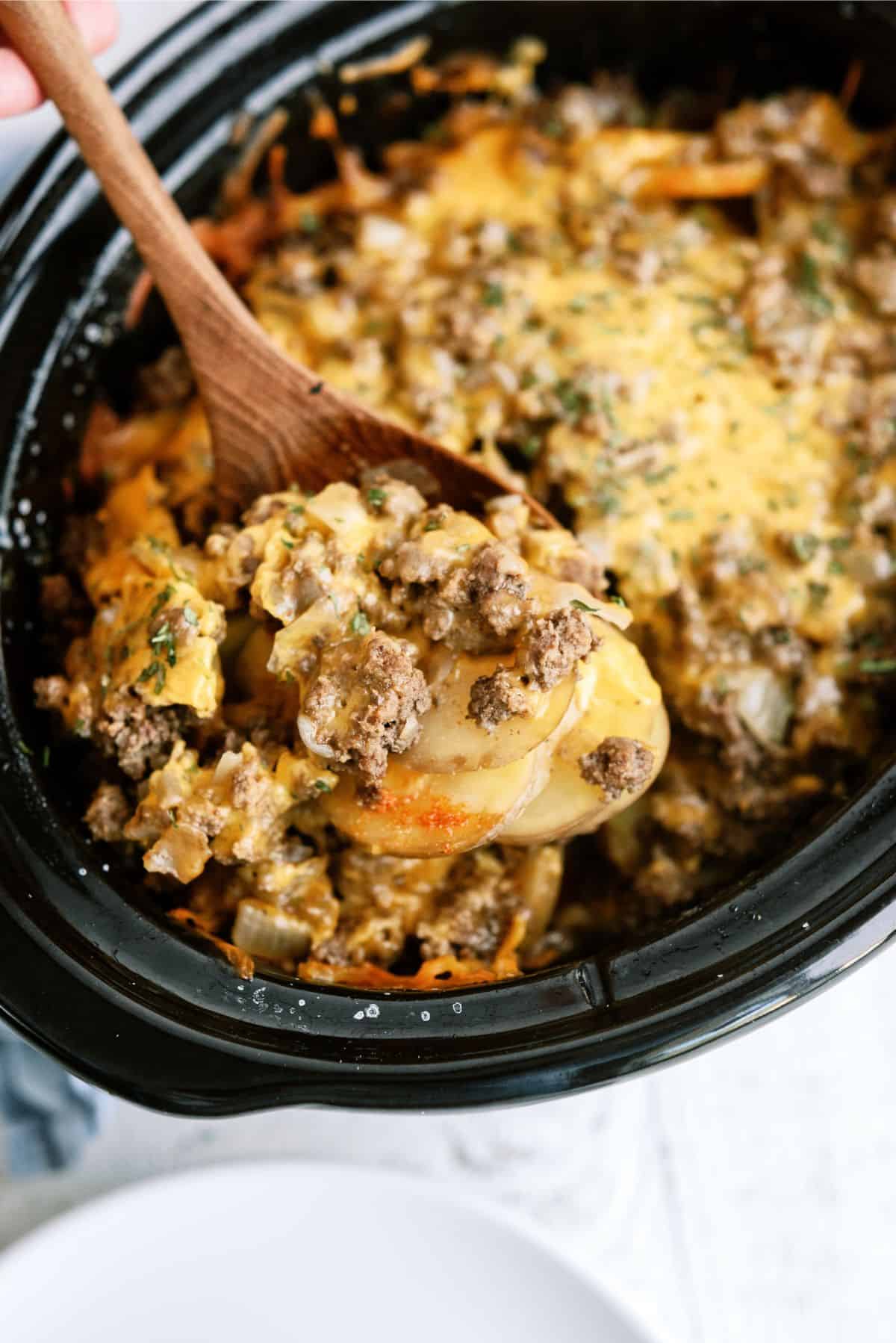 When the potatoes are tender, serve up dinner, topping it with fresh parsley and shredded cheese and enjoy!
To Make Slow Cooker Beef and Potatoes You Will Need:
Skillet
Colander
Small mixing bowl
Nonstick cooking spray
Slow cooker (THIS is a great one!)