A tried-and-true slow cooker favorite - Tamale Pie! With ground beef, canned beans, lots of vegetables, and a cornbread topping, this will quickly become a family favorite. And because the slow cooker does the work, it's the perfect meal for a busy weeknight.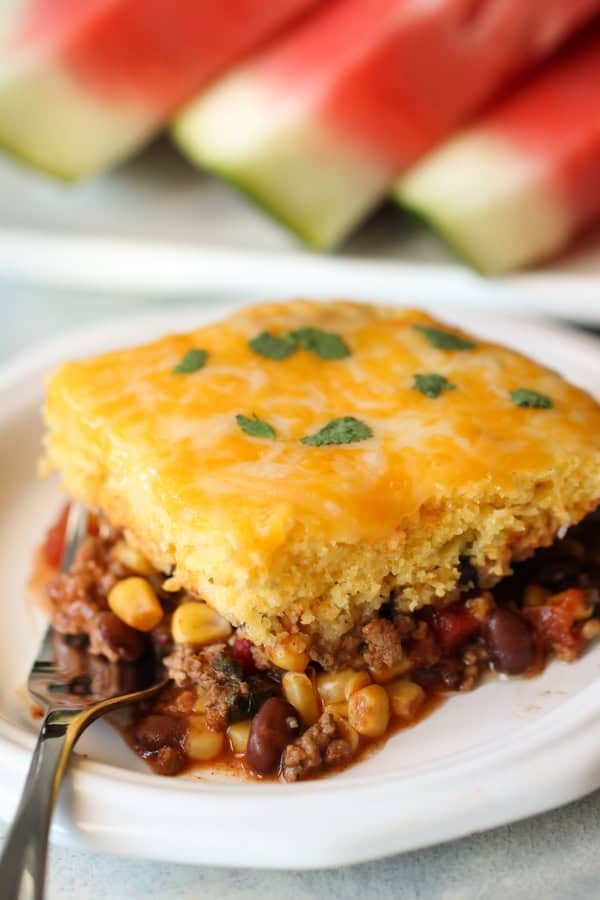 You'll be surprised at how easy this slow cooker recipe of slow cooker tamale pie comes together. Using canned beans and a cornbread muffin mix it's the perfect dinner for a busy night.
If you like tamales, this recipe has that same delicious tamale taste without any of the hard work.
We knew this recipe would be a hit because most of our family loves tacos. But when you add the cornbread topping to this tamale pie, it takes this slow cooker recipe to a whole new level.
We LOVE our slow cookers – some of our favorite slow cooker recipes include:
With the cornbread topping, all you need is a simple green salad to round out this meal. It's so yummy and has a five-star reviews from everyone who tries it.
Can you add your own homemade cornbread topping?
We use the Jiffy cornbread batter in this slow cooker tamale pie. It's inexpensive and so easy to make. It's tasty and found in most grocery stores.
You could easily use your own recipe for cornbread muffins or bread. Our Easy Homemade Cornbread Recipe or our Cornbread Muffins recipes could work as the cornbread topping for this tamale pie.
Any of these options will work. You just want to cook it for the last hour of cooking. It should be set up and start to turn golden brown. When you insert a toothpick it should come out clean.