If you have never tried Beef Stroganoff, then this is the recipe for you! It is so easy to make in your Slow Cooker or in your Instant Pot!
Beef Stroganoff is a family favorite at our house. I love throwing it into my slow cooker in the morning, then having dinner practically ready when I come home from a long day of running kids to various activities.
I firmly believe, this recipe is the best comfort food out there. It is so creamy and filling, but hearty and delicious at the same time.
You can serve it over potatoes, pasta, or rice, and everyone will rave about it. It's the perfect dish, all year round.
Ingredients in Slow Cooker Beef Stroganoff:
3 pounds stew meat
1 teaspoon salt
¼ teaspoon pepper
1 yellow onion diced
¼ teaspoon garlic salt
1 Tablespoon Worcestershire sauce
1½ cups beef broth
1 Tablespoon ketchup
⅓ cup flour
7 Tablespoons apple juice
8 ounces sliced mushrooms
½ cup fat free sour cream
6 russet potatoes baked
How to Make Beef Stroganoff in the Slow Cooker:
Place the stew meat, salt, pepper, and onion in the slow cooker. Stir to distribute the seasonings and onion.
In a small bowl, combine the garlic salt, Worcestershire sauce, beef broth and ketchup. Pour over the meat.
Cover and cook for 7-9 hours on low or 4-5 hours on high.
About 30 minutes before serving, combine the flour and apple juice in a small bowl, whisking vigorously to combine well.
Pour the flour mixture into the slow cooker, whisking quickly to mix in the roux with the stew meat and juices and to avoid lumps.
Add the mushrooms and stir.
Cook on high for 30 minutes.
Stir in 1/2 cup sour cream right before serving.
Serve over baked potatoes.
Watch how to make Beef Stroganoff in the Instant Pot (Video):
So, it is time to start this week off right with a delicious slow cooked (or Instant Pot Cooked) meal that takes only a couple of minutes to prep, but tastes like you spent lots of time in the kitchen! I made this for dinner and my husband raved about it all week- definitely a keeper!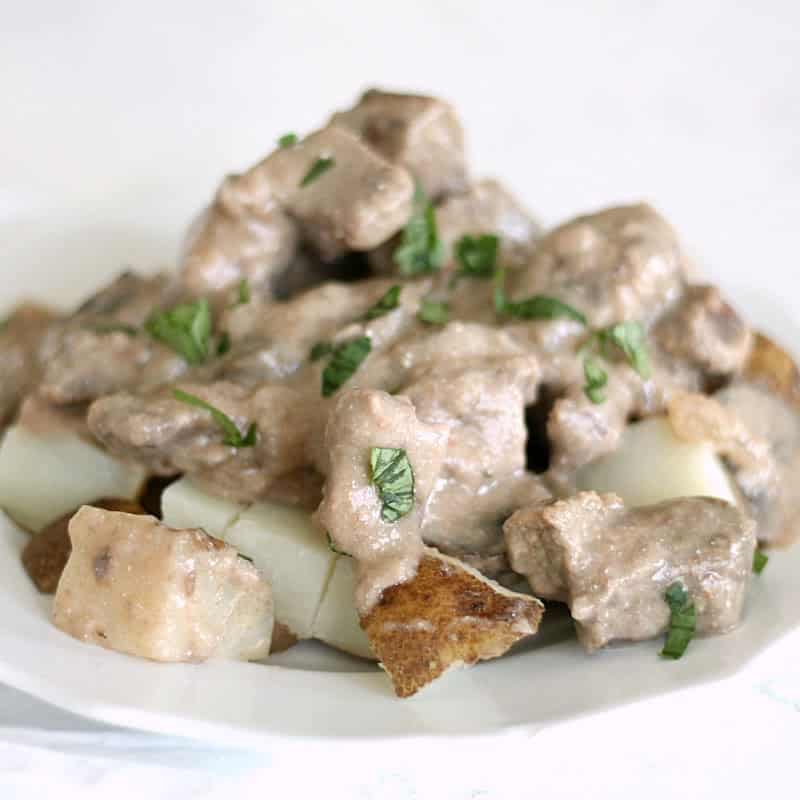 Check out our other Stroganoff Recipes: