The best part about Caprese Salad is the Balsamic Reduction. If you have never tried this salad, then you need to make it right now. I love it as a side dish, a main dish, a snack, an appetizer. I just love it. It is so light, delicious and easy to make. The color and layering presentation is also beautiful, so it's the perfect dish to impress guests.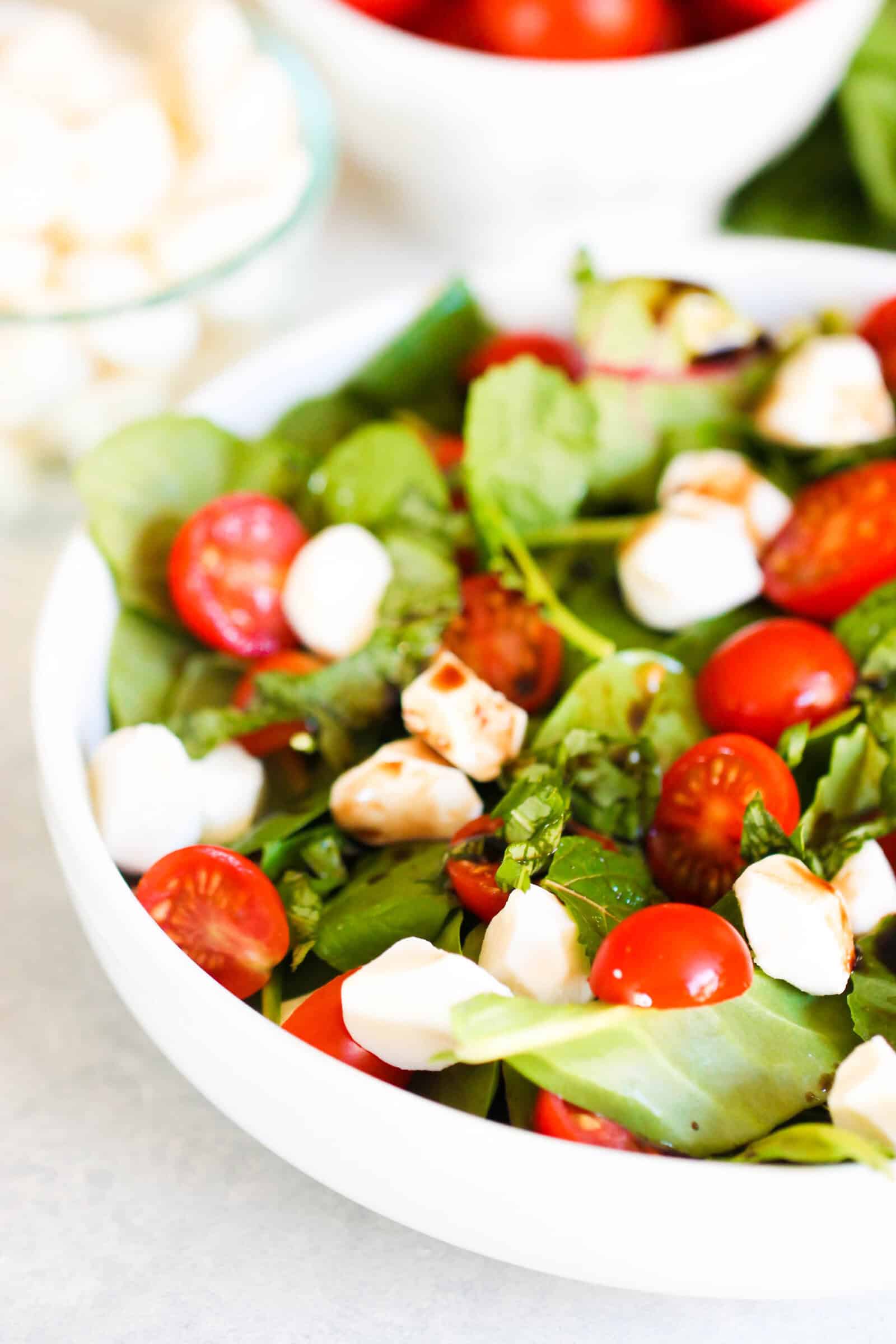 I love buying those little pre-paid salad packages from the store (and they're great in a pinch), but the price of them adds up quickly.
One of my favorites is the small batch caprese salad, so I tweaked it to make a few more servings and it was whole lot cheaper than buying individual ones.
Plus, I could add in just what I wanted because I usually pick out the arugula pieces in the store bought ones.
How to make Caprese Salad
This is a very simple recipe. You can add or take out anything you do or don't prefer in your caprese salad. Many salads call for arugula, but we personally aren't fans of the taste so we opt for spinach or butter leaves.
Step 1: In a bowl, toss together greens, tomatoes, cheese, basil, and olive oil.
Step 2: Drizzle balsamic vinegar over the top of the salad, and serve. You can also find a type of balsamic reserve at the store.
How to make a layered Caprese salad
If you are more into the mozzarella and tomatoes with sprigs of arugula, you could easily do that. All you need are:
-1 large roma tomato
-about 4 ounces of mozzarella cheese
-1/4 cup fresh arugula or basil leaves
-1 tablespoon olive oil
-4 teaspoons balsamic vinegar/glaze.
-salt and pepper to garnish if desired.
Simply slice the ingredients into thin slices, and layer the cheese and tomatoes at a slant. Place arugula or basil leaves around the slanted row. Drizzle with olive oil and balsamic vinegar.
Garnish with a dash of salt and pepper if desired.