This Slow Cooker Beijing Beef is made with juicy steak tossed in a sweet and tangy sauce with peppers and onions. This easy recipe tastes better than Chinese takeout and only takes a few minutes to throw together.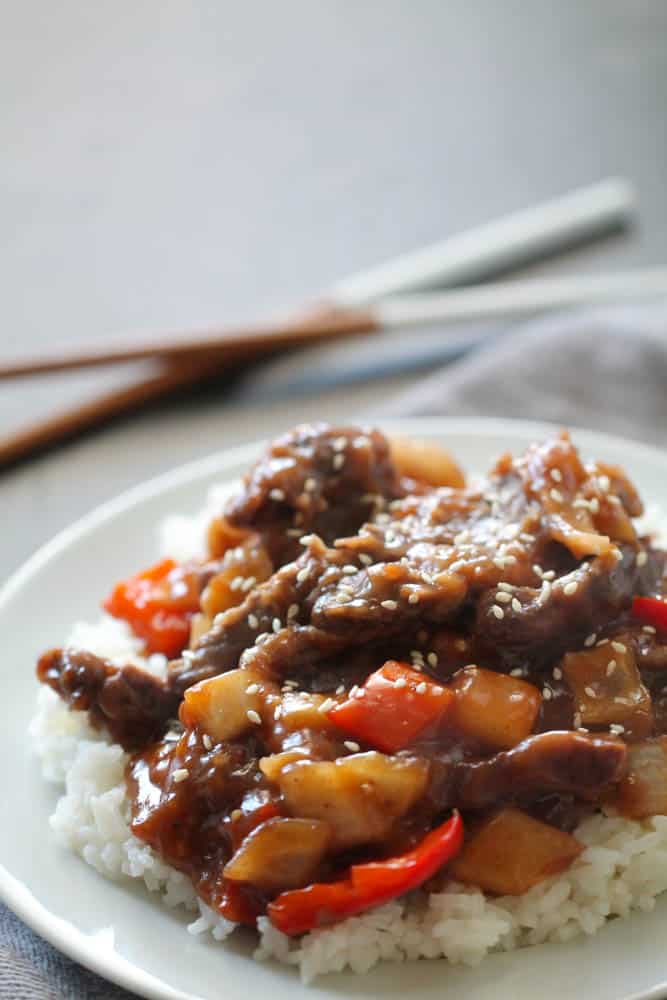 I have always loved Chinese food. But with 4 young kids, it's often times easier to eat at home and make our own homemade Chinese takeout!
My husband and I moved to an area with a Panda Express, and it was our favorite place to go for a quick, inexpensive lunch.
Man, we were living our best lives! My husband had mastered chopsticks because we were eating there or getting takeout so frequently.
Then one dark day, they started posting the calorie content for each dish. Oh. My. Goodness.
We were easily eating 1500 calories in one meal (now I think I know where that 75 pounds of baby weight came from….). It was so delicious but so, so bad.
Fast forward a few years, and we've worked off all the Panda Express weight and have started cooking more at home which includes some of our favorite Chinese takeout copycats.
One of my favorite Chinese dishes to order is Beijing Beef, so I thought I would make it myself. This Slow Cooker Beijing Beef is easy, delicious and tastes better than takeout!
How to make Slow Cooker Beijing Beef: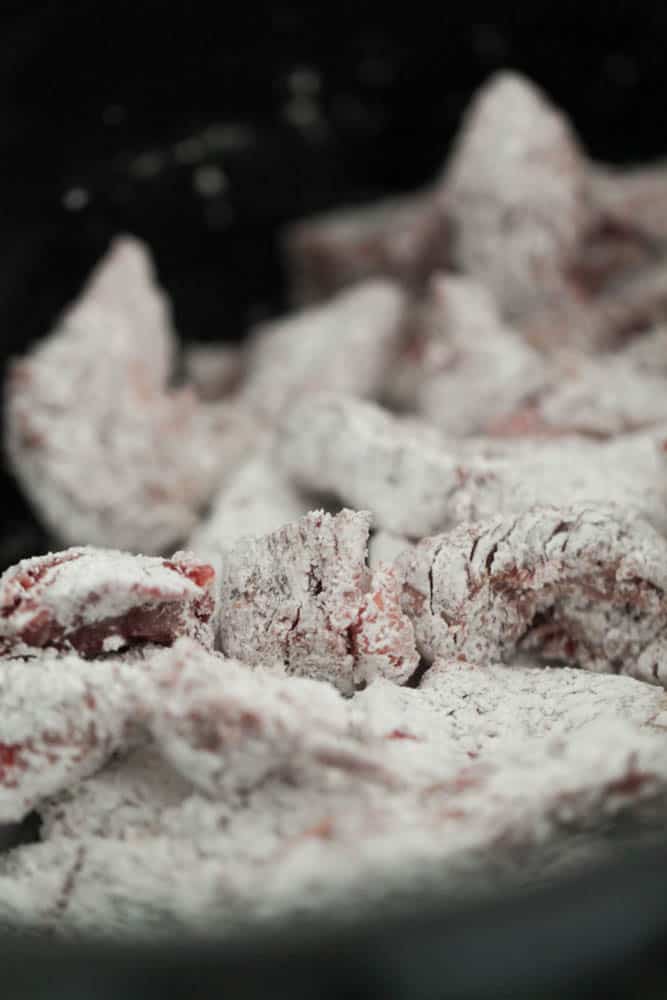 Spray slow cooker with nonstick cooking spray. Place cornstarch in a bowl. Coat each piece of steak in cornstarch and place in slow cooker. Discard any remaining cornstarch.
The cornstarch gives the steak a nice crust and also helps thicken the sauce as it cooks in the slow cooker.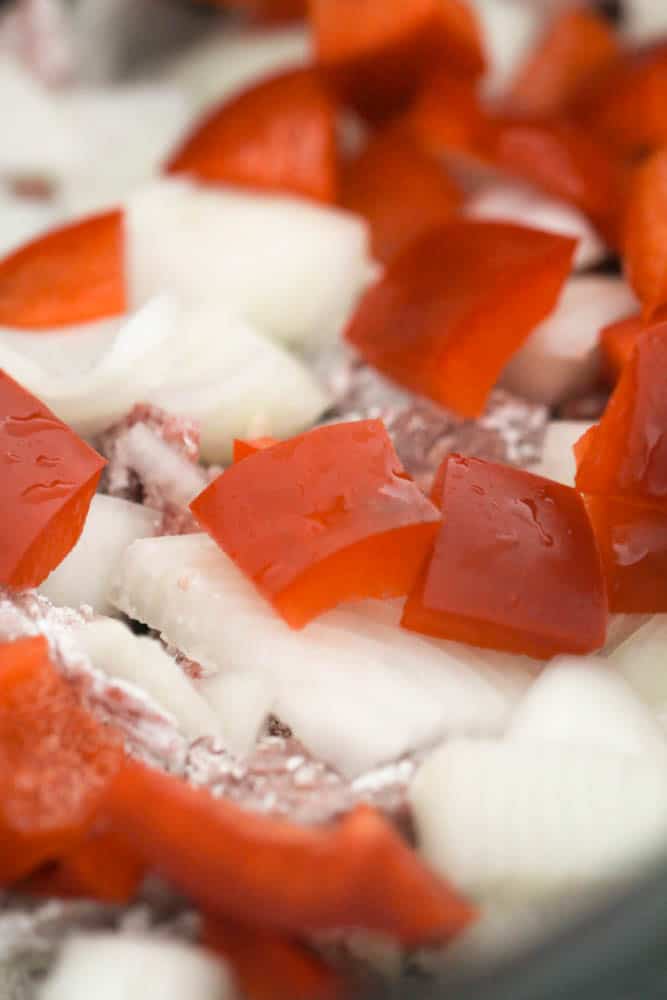 Sprinkle red bell pepper and onion over steak in slow cooker.
I cut my peppers and onions into bite-sized pieces so they wouldn't be overcooked, but if you have picky eaters, you could easily cut them into smaller pieces.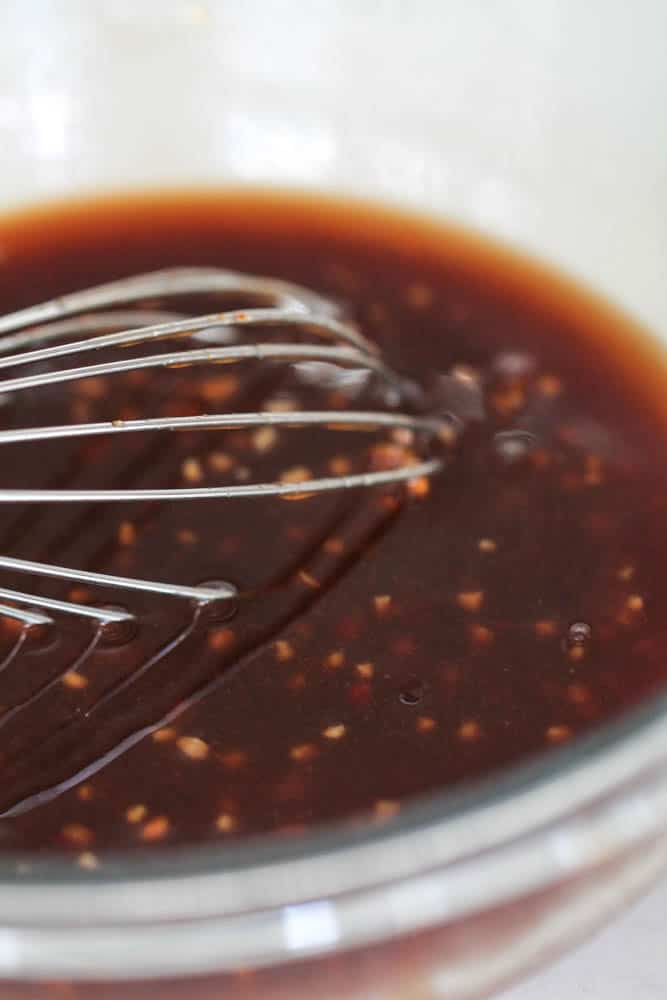 In a medium mixing bowl, whisk together water, sugar, ketchup, Hoisin sauce, soy sauce, oyster sauce, apple cider vinegar, sweet chili sauce and minced garlic.
The sauce will seem pretty thin, but it will thicken as it cooks. I like that this recipe has a lot of sauce so you can pour some over the top of the beef and vegetables when you serve it over rice.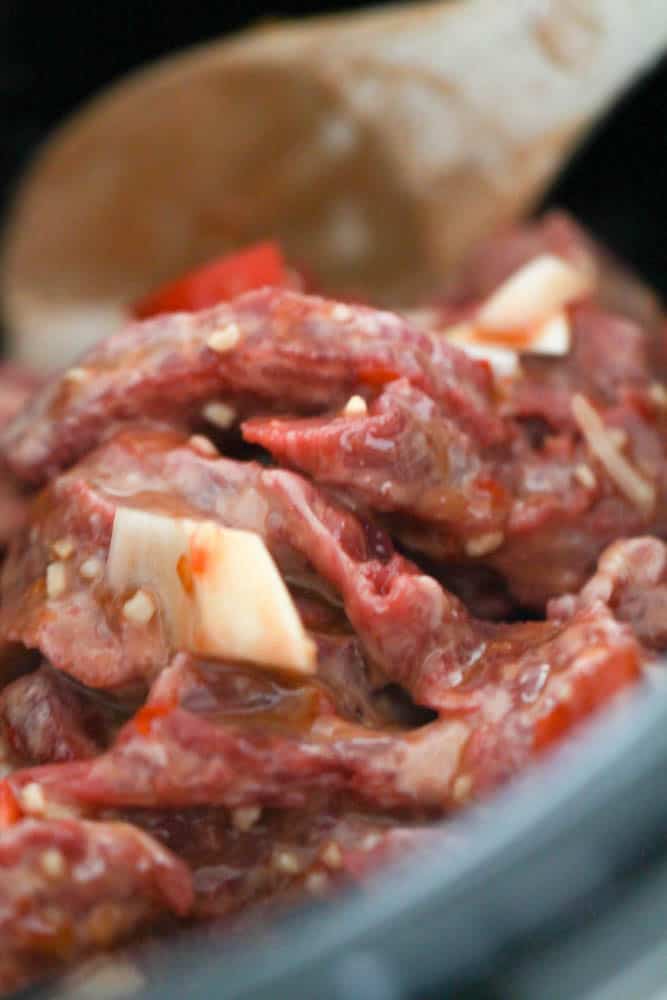 Pour sauce over steak and vegetables and gently stir to combine. Cover and cook on high for 2-3 hours or low for 4-6 hours.
Mix only until combined, so you don't end up removing all of the cornstarch on the outside of the meat.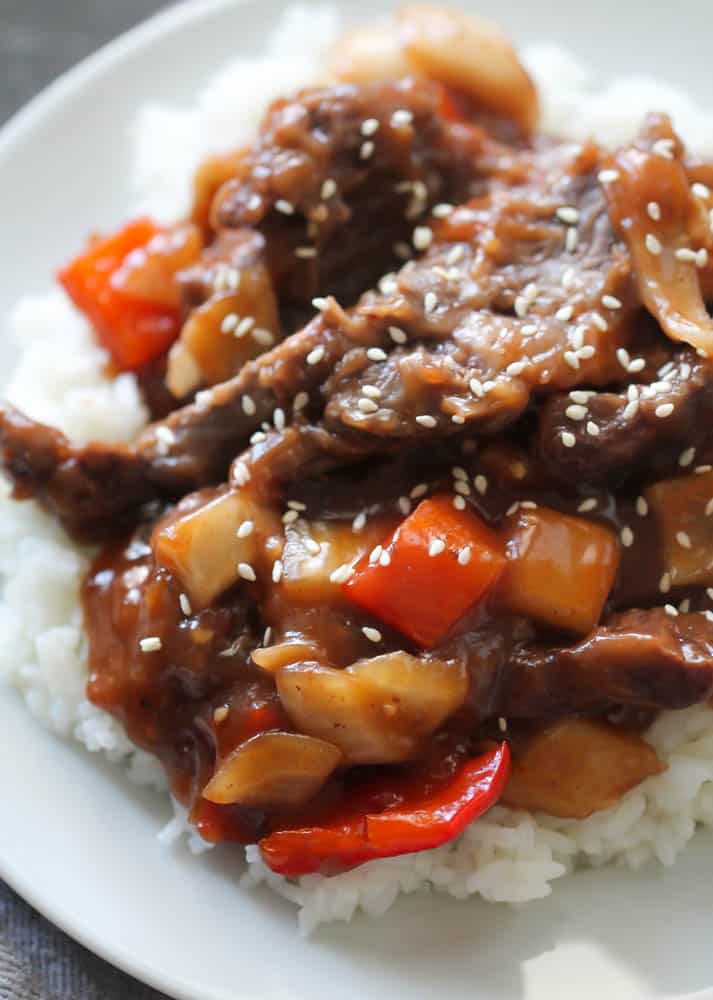 Serve over cooked rice. Garnish with sesame seeds, if desired.
We love serving this Slow Cooker Beijing Beef with Baked Crab Rangoons or Baked Veggie Egg Rolls for a complete Chinese takeout meal at home