All the deliciousness of Chinese takeout without being fried. We love this Slow Cooker Beef and Broccoli because it takes just minutes to throw together this version of Chinese Beef and Broccoli tastes just as good as (if not better than!) takeout.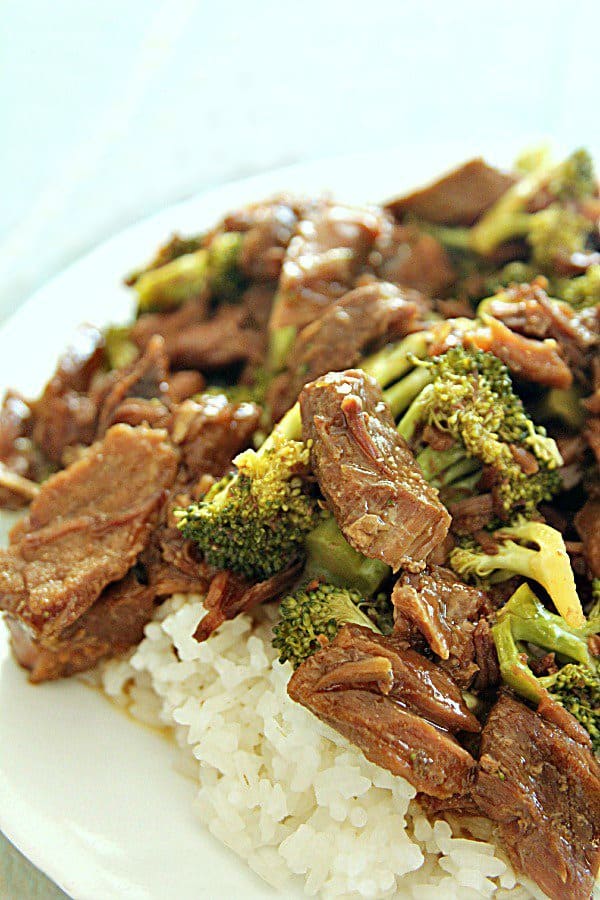 This Slow Cooker Beef and Broccoli can be thrown together in minutes. The finished beef is so tender it literally melts in your mouth.
Who needs takeout when you can have this for dinner?
We love Chinese food but hate how fried it is, so this Chinese Beef and Broccoli recipe is perfect because you get all the flavor without all the frying.
How to make Beef and Broccoli in SLOW COOKER:
After spraying your slow cooker with nonstick cooking spray (or using a slow cooker liner) place your sliced beef in the bottom.
In a medium bowl, mix beef broth, soy sauce, brown sugar, sesame oil, and garlic cloves together. 
Pour over the beef strips in the crock pot and cook on low heat for 6-8 hours (the beef will be so tender that it will fall apart when you touch it).
In a small bowl, mix together cornstarch and cold water.
Mix in with the beef and liquid that is in the slow cooker.
Add broccoli pieces to the slow cooker, put the lid back on, and cook for an additional 30 minutes on high heat.
Serve over hot, cooked rice.
Related Recipe: Try our Slow Cooker Beef Sirloin Tips and Gravy Recipe!
Beef and Broccoli Recipe Substitutions:
We get a lot of questions about substitutions for this recipe. Here's what we would recommend:
Other cuts of meat (i.e. stew meat, steak strips, etc.)
Olive or avocado oil in place of sesame oil (the taste will change slightly, but it will work in a pinch)
Coconut aminos in place of soy sauce
Hot, cooked quinoa or brown rice in place of white rice