If you love Chicken Fettuccine Alfredo recipes as much as we do, you are going to love this collection of all our favorite ways to make it. From classic ingredients to cheesy casseroles, we have your chicken alfredo needs covered in these 27 recipes!
We love Chicken Fettuccine Alfredo in all forms and we are so excited to share with you our favorite recipes.
We have put together a collection of all the different ways we love chicken alfredo and we know that your family will love these easy recipes too.
Ingredients in Chicken Fettuccine Alfredo:
chicken
fettuccine pasta (but you can also use any kind of pasta you like!)
butter
cream
cheese (usually Parmesan or a mix that includes Parmesan cheese)
garlic (some people leave this out)
salt, pepper, and other preferred seasonings
What is the difference between chicken alfredo and chicken fettuccine?
Chicken alfredo is a pasta dish with pasta, chicken and a creamy white sauce. The word alfredo refers to the type of sauce that is used in the dish. Chicken fettuccine is just the type of pasta that is paired with the chicken, but you can use any sauce with it.
What seasoning can I add to the alfredo sauce to make it taste better?
salt
pepper
Italian seasoning
garlic powder
basil
oregano
onion powder
seasoned salt
Best side dishes to serve with Chicken Fettuccine Alfredo:
27 Easy Chicken Fettuccine Alfredo Recipes:
1.One Pot Cheesy Chicken Alfredo is an easy dish that's prepared in just ONE pan. The creamy sauce mixed with warm Alfredo pasta makes this a family favorite.
2. This Healthier Chicken Alfredo made with a simple homemade alfredo sauce is so delicious that you won't even miss all the fat and calories of traditional chicken alfredo.
3. This Chicken and Broccoli Alfredo Casserole is an easy recipe that takes little time to prepare and your whole family will love it!
4. Slow Cooker Chicken Alfredo Lasagna – If you love Alfredo, then you need to try slow cooker chicken alfredo lasagna. It is wonderfully creamy, yet one of the easiest ways to make alfredo.
5. This Chicken Asparagus Fettuccini Alfredo is so simple to throw together, and is sure to be a hit with the picky eaters. If you are a pasta lover, this recipe is sure to be a new favorite.
6. Chicken Alfredo Dip Recipe – Taking our favorite pasta and turning it into a delicious dip! This is perfect for game day, as an appetizer, or even as a main dish!
7. Chicken Bacon Alfredo Casserole Recipe – All of our favorite foods come together in this Chicken Bacon Alfredo Casserole! Use any kind of pasta you have available for a quick and easy dinner.
8. Chicken Bacon Alfredo French Bread Pizza – Crunchy and creamy, this chicken bacon alfredo french bread pizza is one of a kind. With the creamy alfredo sauce and crunchy french bread you get the best of both worlds.
9. This Chicken Cordon Bleu Lasagna is quick, simple, full of flavor, and the perfect meal for those busy nights. It comes together quickly and tastes amazing. You will love this dish.
10. Chicken Bacon Alfredo Pizza Recipe – I love trying new pizza recipes at home and this is a new family favorite!
11. Instant Pot Chicken Alfredo Penne Pasta – If you are looking to add a super creamy, well seasoned, satisfyingly easy pasta meal then you have found it! This Instant Pot chicken alfredo penne pasta, has all of the cream and cheese you need to make the best and quickest chicken alfredo than you've seen before!
12. Chicken Alfredo Tortellini Casserole Recipe – A simple homemade alfredo sauce tops this cheesy Chicken Alfredo Tortellini Casserole. It comes together in only a few minutes and is perfect for a busy night.
13. Slow Cooker Easy Alfredo – With only 6 ingredients and 5 minute prep time, this Slow Cooker Easy Alfredo will quickly become your go-to dinner on a busy weeknight!
14. Easy Slow Cooker Pesto Alfredo Chicken and Pasta is one of the BEST crock pot recipes – just dump it all together and let the slow cooker do it's magic! Creamy, flavorful, and delicious – perfect for a busy weeknight.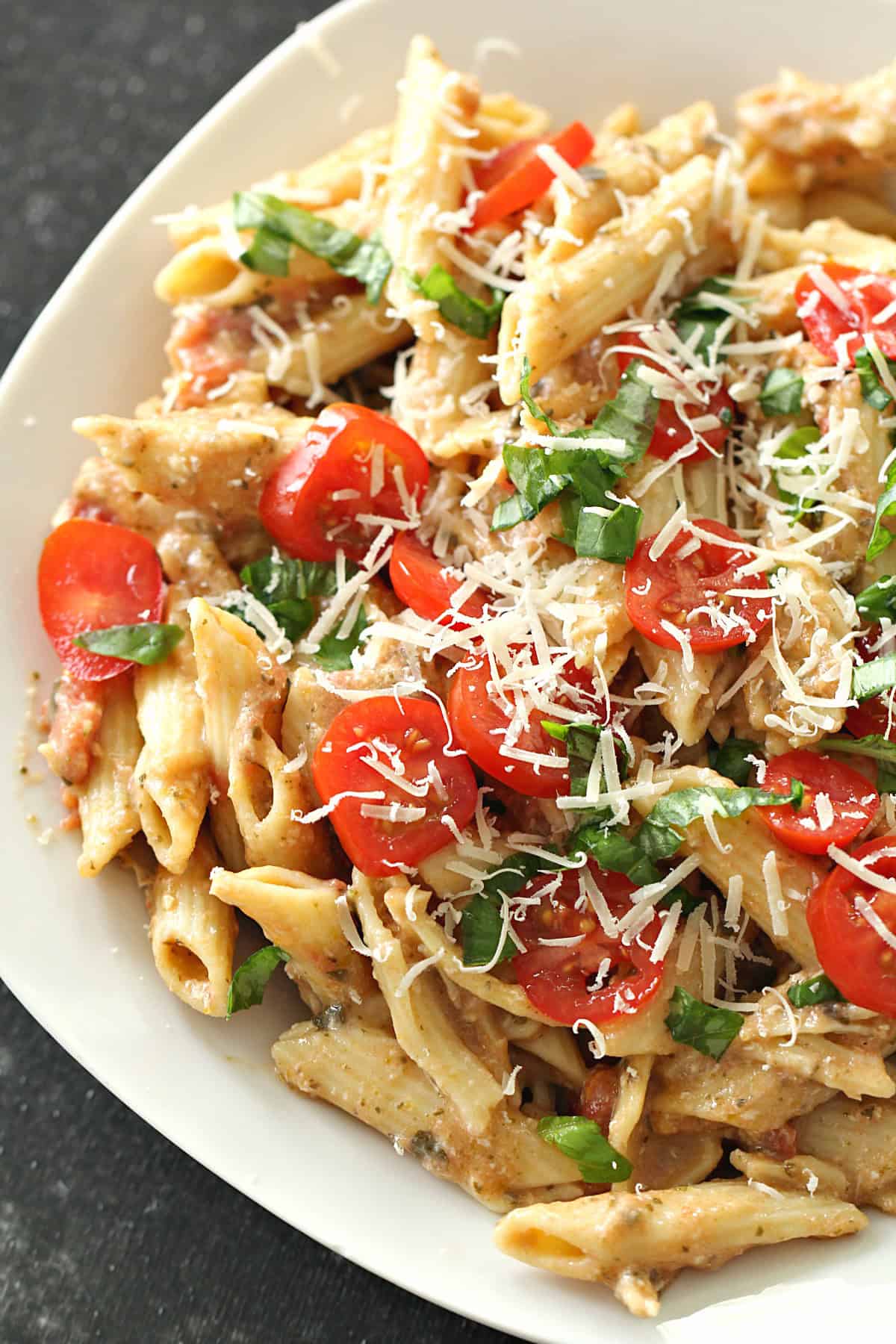 15. Alfredo Grilled Chicken Pizza Recipe – A quick and easy dinner that can be thrown together in a matter of minutes using pre-made ingredients. With white sauce, grilled chicken, and loaded with veggies, it's a hit with kids AND adults.
16. This Chicken Alfredo Gnocchi Casserole is the best! A creamy, cheesy and delicious dinner you can make in 30 minutes from start to finish!
17. This Broccoli Alfredo Spaghetti is a creamy alfredo sauce served over pasta and broccoli and topped with crushed croutons and red pepper flakes. This easy dinner recipe can be made in less than 30 minutes!
18. Mushroom Chicken Alfredo Casserole – If you are looking for a simple and delicious recipe, this is the one for you. This simple recipe, only requires a handful of ingredients that you probably already have most of.
19. These Chicken Alfredo Stuffed Shells are so simple to throw together and taste absolutely amazing. If you are looking for a simple and quick dinner or pasta recipe, we highly recommend this one.
20. Personal Chicken Bacon Alfredo Pizza Recipe – Add this Personal Chicken Bacon Alfredo Pizza Recipe to your dinner rotation! Your family will thank you!
21. Basic Chicken Fettuccine Alfredo – Homemade chicken fettuccine alfredo is a great dish to perfect at home and has the potential to be better than most restaurant versions.
22. Easy Chicken Alfredo Penne – Nothing spells comfort like Italian food. Steaming bowls of pasta, buttery, roasted garlic bread, and tureens of the most flavorful sauces: it's all right there.
23. Quick One Pot Chicken Fettuccine Alfredo – The beauty of this chicken Alfredo is that it's done in less than thirty minutes, ingredients are minimal, and there is only one pan to wash! The thinly sliced chicken breasts are what allows this to cook so much faster.
24. Bowtie Chicken Alfredo – A super-quick skillet version of chicken alfredo pasta. Delicious and oh, so easy.
25. Olive Garden Fettucine Alfredo Copycat – This restaurant copycat recipe is ready in 25 minutes and is known to taste just like the famous restaurant dish!
26. Chicken Alfredo Lasagna – Think of the rich, creamy, indulgent joy of Fettucine Alfredo. Good. Now, imagine you have layers upon layers of it and some melty mozzarella, chicken, and spinach to round things out.
27. Chicken Alfredo with Vegetables – Bright broccoli, zucchini and sweet red pepper lend fresh taste to this rich chicken and pasta entrée. Cream cheese makes the smooth sauce a snap to stir up.
Want More Easy Dinner Ideas?
Join our email list today and we will send you a FREE ebook of our favorite dinner recipes – plus we will send you recipes each week to help make your dinner planning easier!
Join today by CLICKING HERE.
Have you checked out our YouTube channel? We show you how to make our favorite recipes right in our own kitchens!
Have you heard about our newest cookbook, Copycat Cooking? We took over 100 of our favorite restaurant recipes and simplified them so that you can make them right at home!
This cookbook includes copycat recipes from Wingers, Texas Roadhouse, Starbucks, Panera, Cheesecake Factory, Kneaders, and so much more. We have you covered from drinks to dessert and everything in-between.
We are so excited to share these recipes with you. Order your copy today!
Six Sisters' Stuff COPYCAT COOKING <—– Click here to order!