One Pot Cheesy Chicken Alfredo is an easy dish that's prepared in just ONE pan. The creamy sauce mixed with warm Alfredo pasta makes this a family favorite.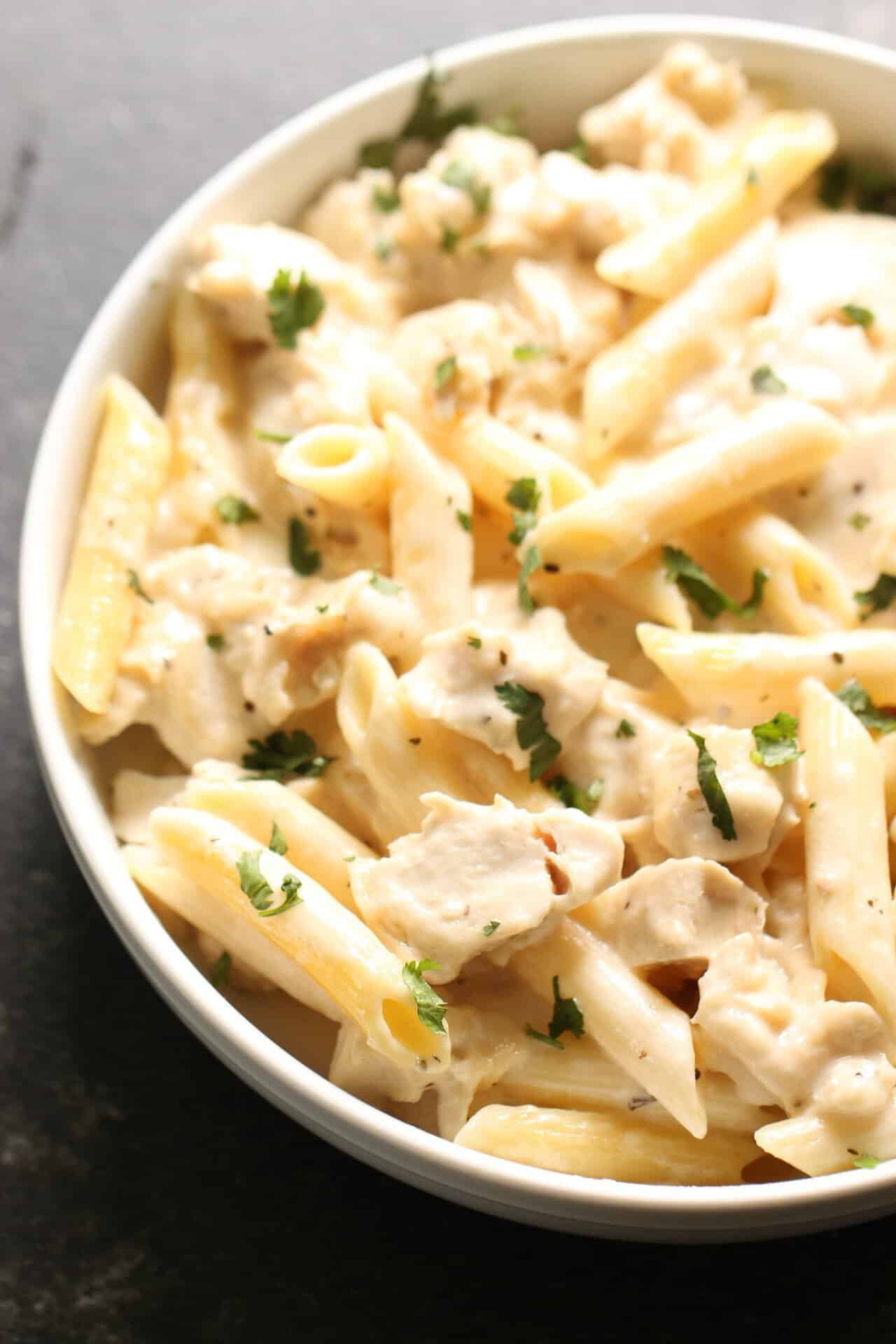 This One Pot Cheesy Chicken Alfredo dinner will have your family begging for more.
It's a delicious dinner you can throw together in a matter of minutes and BONUS – only one pan to clean after! Definitely a WIN for those busy weeknights.
If you are looking for a lightened up version of chicken alfredo, be sure to check out THIS RECIPE.
Related Recipe: Try our delicious Chicken Alfredo Tortellini Casserole
How to make Chicken Alfredo in ONE POT:
Add olive oil into a pan that will be big enough to hold the whole recipe. We like to use a 5 quart saucepan skillet.
Brown the chicken with salt, pepper, and Italian seasoning for about 2-3 minutes, just until the chicken starts to brown. Add in garlic and saute for 1 more minute.
Add in the chicken broth, heavy cream, pasta, and basil. Mix together until combined. Bring those ingredients to a boil.
Cover the pan with lid and reduce the heat to a simmer. Let this simmer for about 15 to 20 minutes or until the pasta is cooked. Check every few minutes giving it a stir.
Remove the pan from the heat and stir in the Parmesan cheese and mozzarella cheese. Stir until the cheese is melted and fully mixed in. Serve while it's still warm. The sauce will thicken up as it cools. If it is thicker than you want, add in a little more chicken broth and stir well.
Homemade Alfredo sauce vs store bought:
We like this chicken Alfredo recipe because it makes a delicious Alfredo sauce with the ingredients listed.
It's easy to make without very little fuss. But using store-bought Alfredo sauce would make it an even quicker recipe for a busy night.
There are a lot of store-bought alfredo sauces that aren't too bad. Most people buy store bought alfredo sauce for cost and convenience.
When buying alfredo sauce, look for the one with the most fat and calories because it will have the best flavor.
If you do have a homemade alfredo sauce that you love, feel free to use it for this recipe. The flavor will be amazing!
It's the fresh Parmesan cheese and good heavy whipping cream that are key to a tasty creamy alfredo sauce.
Do you have a delicious homemade alfredo recipe? We would love to have you share it in the comments below!
Does the brand of chicken broth really matter?
The price of chicken broth can vary from generic brands to name brands.
Depending on the recipe we are making, we will grab a can of the store-brand chicken broth to save some money.
Name brand broths are clearer. If it's a recipe where you have a creamy sauce, you will want to use the clearer broth.
Store brands tend to be on the cloudier side causing your sauce to be darker. We like using Swanson's chicken broth.
Grab the store brand when you can to save a little money, just be sure to take the recipe into consideration first.
Items needed for this recipe:
Skillet: We like using this non-stick skillet with a glass lid. It's nice to be able to see through the lid without removing it and letting heat escape.

Wooden Spoon/Scraper: This spoon is ideal. It won't scratch your non-stick surface in the pan, and it is made to get along the edges in the pan. We use this in so many recipes.
Related Recipe: Try our Slow Cooker Chicken Alfredo Lasagna!