These Grilled Cheese Sliders are so easy to make and can be made in one pan! We love serving these pull apart cheesy sandwich rolls with tomato soup for the ultimate comfort meal.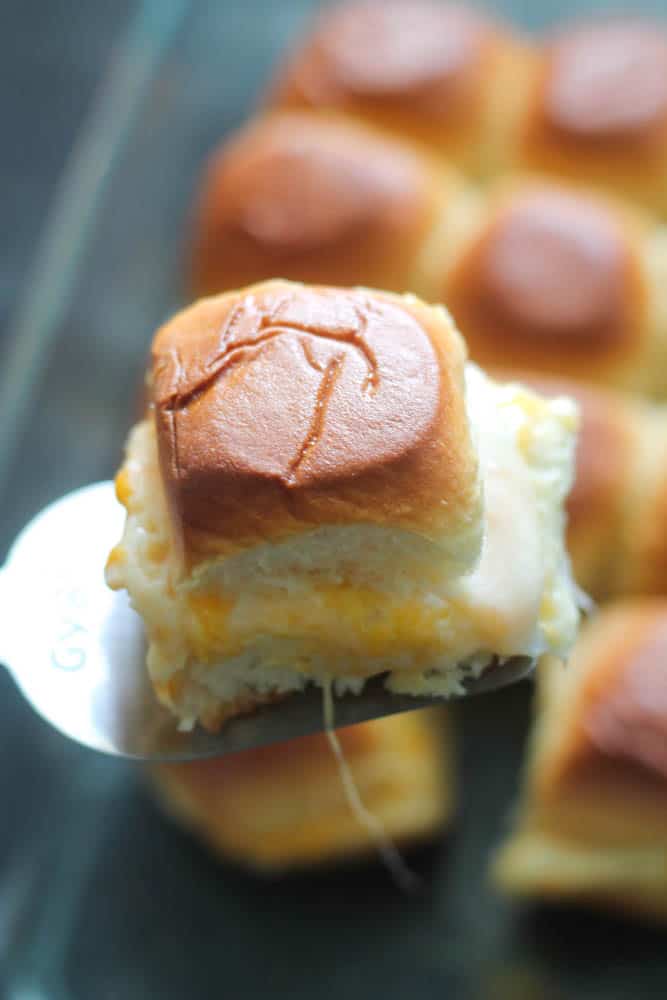 Quick, Easy Sliders Recipe
If you're looking for a quick and easy sliders recipe, these Grilled Cheese Sliders are exactly what you need!
These easy sliders only take a few minute to make and 20 minutes to cook, which means you can get them on the table in 30 minutes or less from start to finish.
Easy Sliders with Hawaiian Rolls
The reason these Grilled Cheese Sliders are so delicious and so simple to make is because we use King's Hawaiian Rolls.
My family loves these rolls because they are soft, fluffy, sweet and so tasty. They are the perfect rolls to use for any slider recipe!
We love using King's Hawaiian Rolls to make our Big Mac Sliders, Turkey and Swiss Sliders, Monte Cristo Sliders and so many more! You can find all the slider recipes on our site, HERE.
What is the best cheese for a grilled cheese sandwich?
Depending on your taste preference, there are a variety of cheeses that can make excellent grilled cheese sandwiches. The most popular types of cheese used to make grilled cheese sandwiches are:
Colby – this cheese might look identical to some cheddar cheese out there, but many argue it is the absolute best cheese to use for a grilled cheese sandwich. It is often combined with Monterrey Jack and Swiss cheeses on grilled cheese sandwiches.
Provolone – this cheese can give an Italian twist on your grilled cheese sandwich and goes especially well with pesto.
Cheddar – when you think of a grilled cheese sandwich, you are most likely thinking of cheddar cheese. This delicious cheese can range from mild to sharp in flavor so you can get the exact taste you are looking for.
Muenster – this soft cheese is perfect for spreading on a grilled sandwich.
Monterrey Jack – this flavorful cheese melts well for the gooey grilled cheese sandwich of your dreams.
Related Recipe: Try our Ham and Cheese Sliders!