These Instant Pot Beef Gyros have so much flavor when made in your pressure cooker. Melt-in-your-mouth tender meat seasoned with Greek seasonings and a homemade Tzatziki sauce on top. Perfection!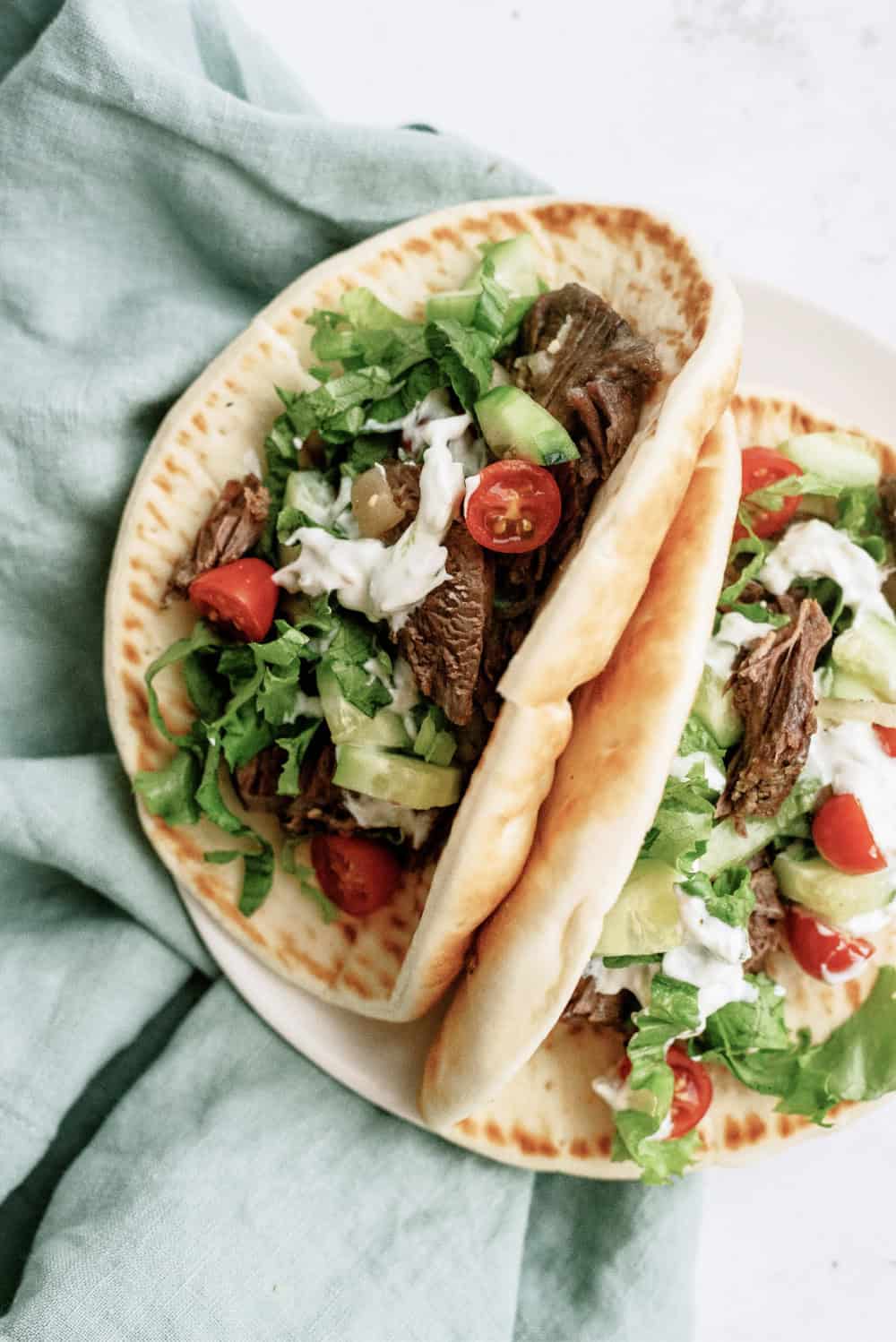 Instant Pot Beef Gyros are a great weeknight meal with the family or a fantastic recipe to bring to get-togethers.
Impress your friends with this "dump and go" Instant Pot recipe.
They will think you worked extremely hard to develop the depth of flavor you get just by using the Instant Pot!
We also give you the best recipe for homemade tzatziki sauce to pair with these delicious beef gyros (or store-bought tzatziki sauce works great too).
You can also serve these gyros with some delicious Chicken Avocado Salad, Fresh Feta Dip, Mediterranean Dip, or some Hummus Dip!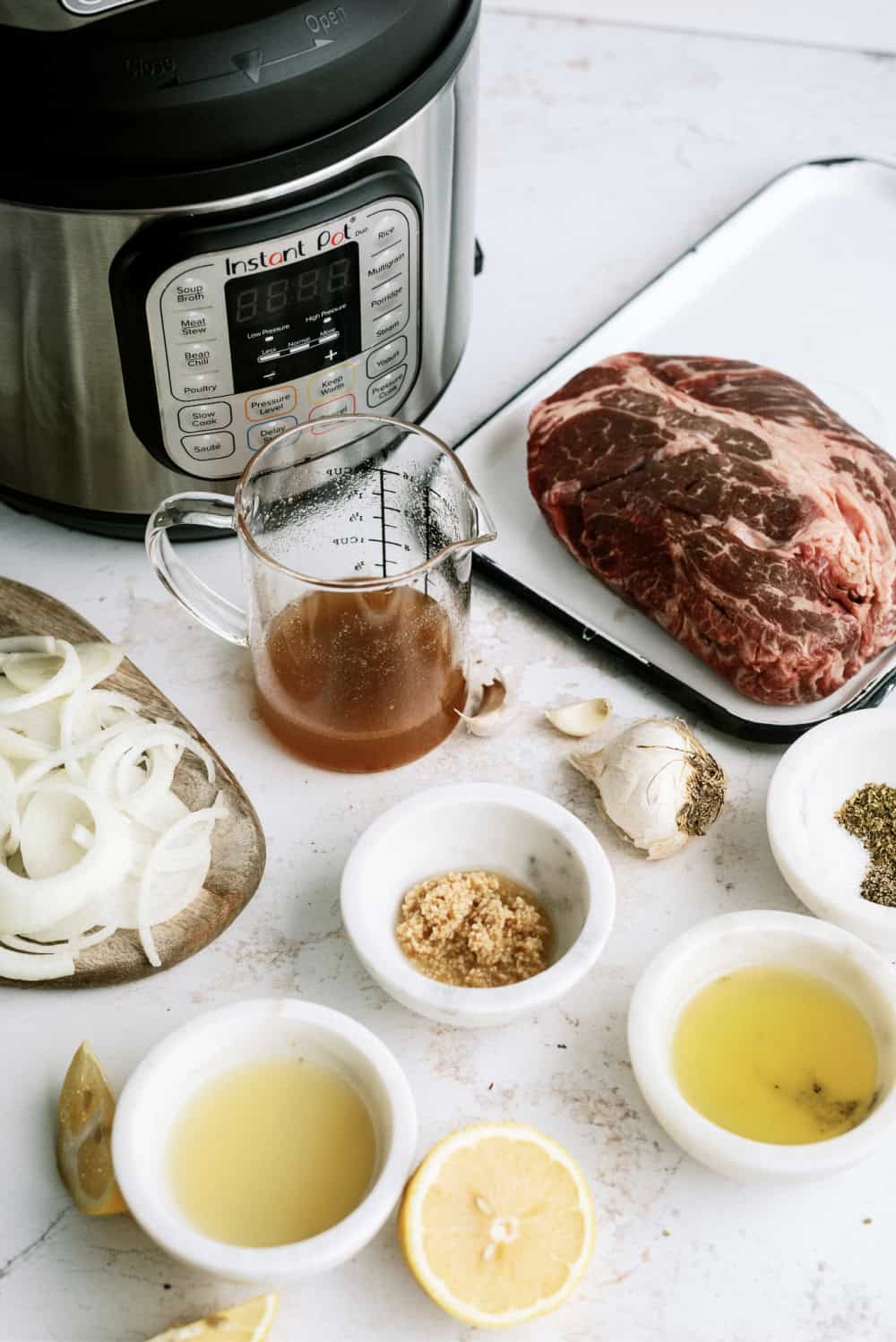 Ingredients Needed For Instant Pot Beef Gyros:
Beef Broth
Beef roast (rump roast or chuck roast work great)
Onion
Olive oil
Minced garlic
Oregano
Lemon juice
Salt
Pepper
Cucumber
Shredded lettuce
Tomatoes
Pita bread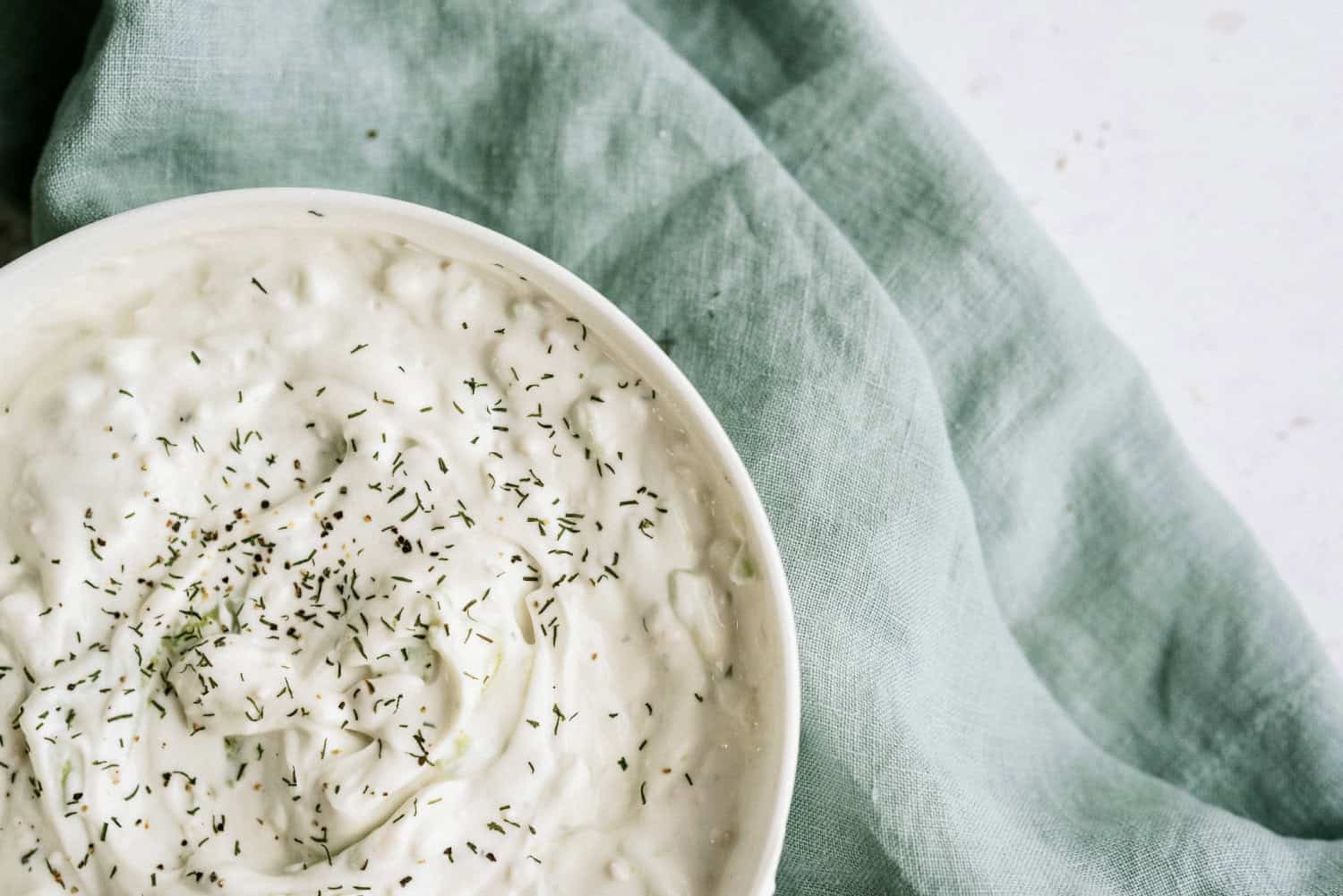 Ingredients Needed For Homemade Tzatziki Sauce:
Plain Greek yogurt
Cucumber
Minced garlic
Red wine vinegar
Lemon juice
Dried dill weed
Salt
Pepper
How To Make Our Instant Pot Beef Gyros:
To begin this family favorite recipe, pour the beef broth into the bottom of the Instant Pot.
Then, place the beef roast into the Instant Pot as well, and top it with the sliced onions.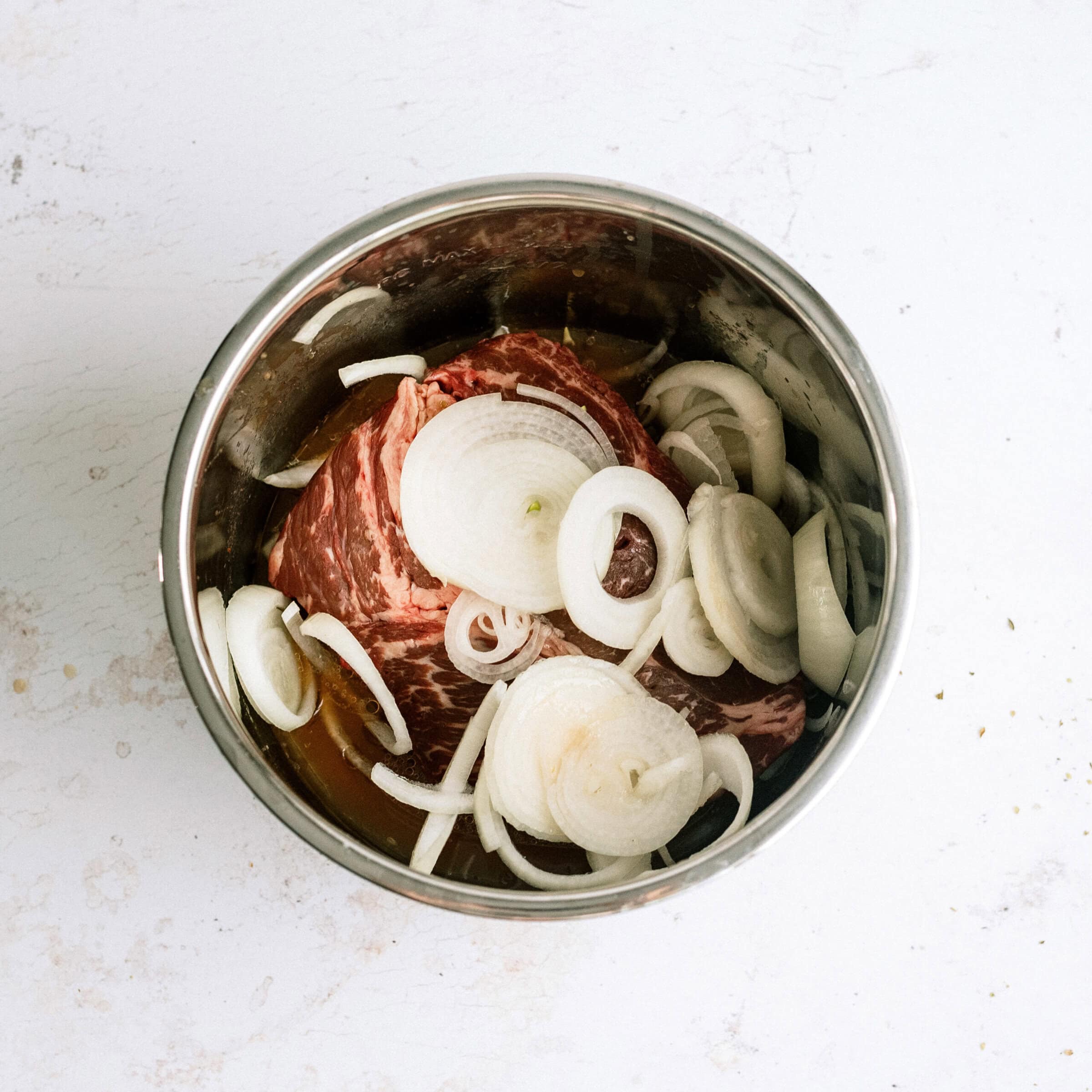 In a small bowl, mix together the olive oil, minced garlic, oregano, lemon juice, salt, and pepper.
Once that is all mixed together, pour it over top of the beef roast.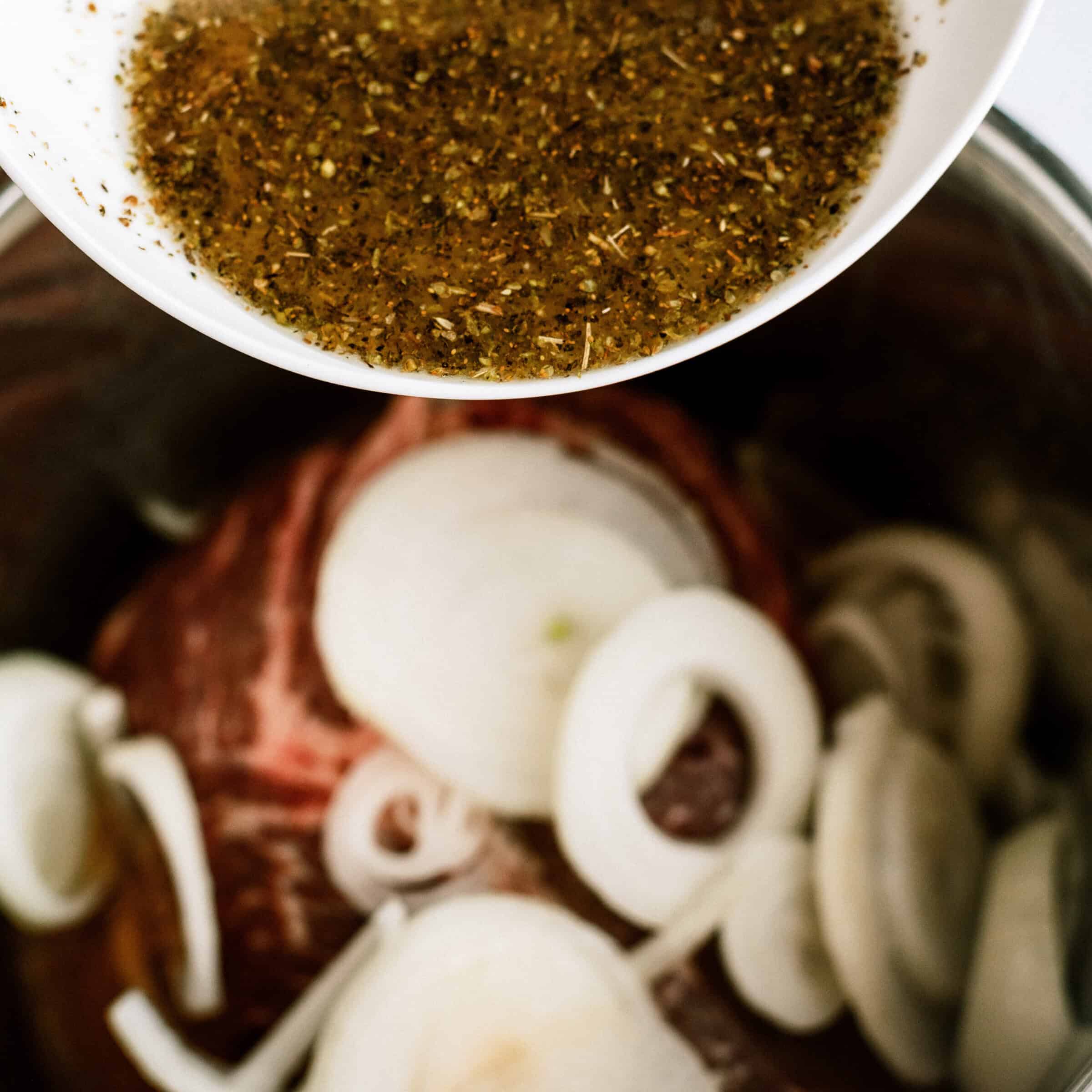 Now, just place the lid on the Instant Pot and press the MANUAL or PRESSURE COOK button, and set the timer for 60 minutes or 20 minutes per pound of roast.
When the timer is done, allow the Instant Pot to naturally release the pressure for at least 10 minutes, but 20 minutes is preferred.
Let the rest of the pressure out by turning the valve to the VENTING position and remove the lid from the Instant Pot.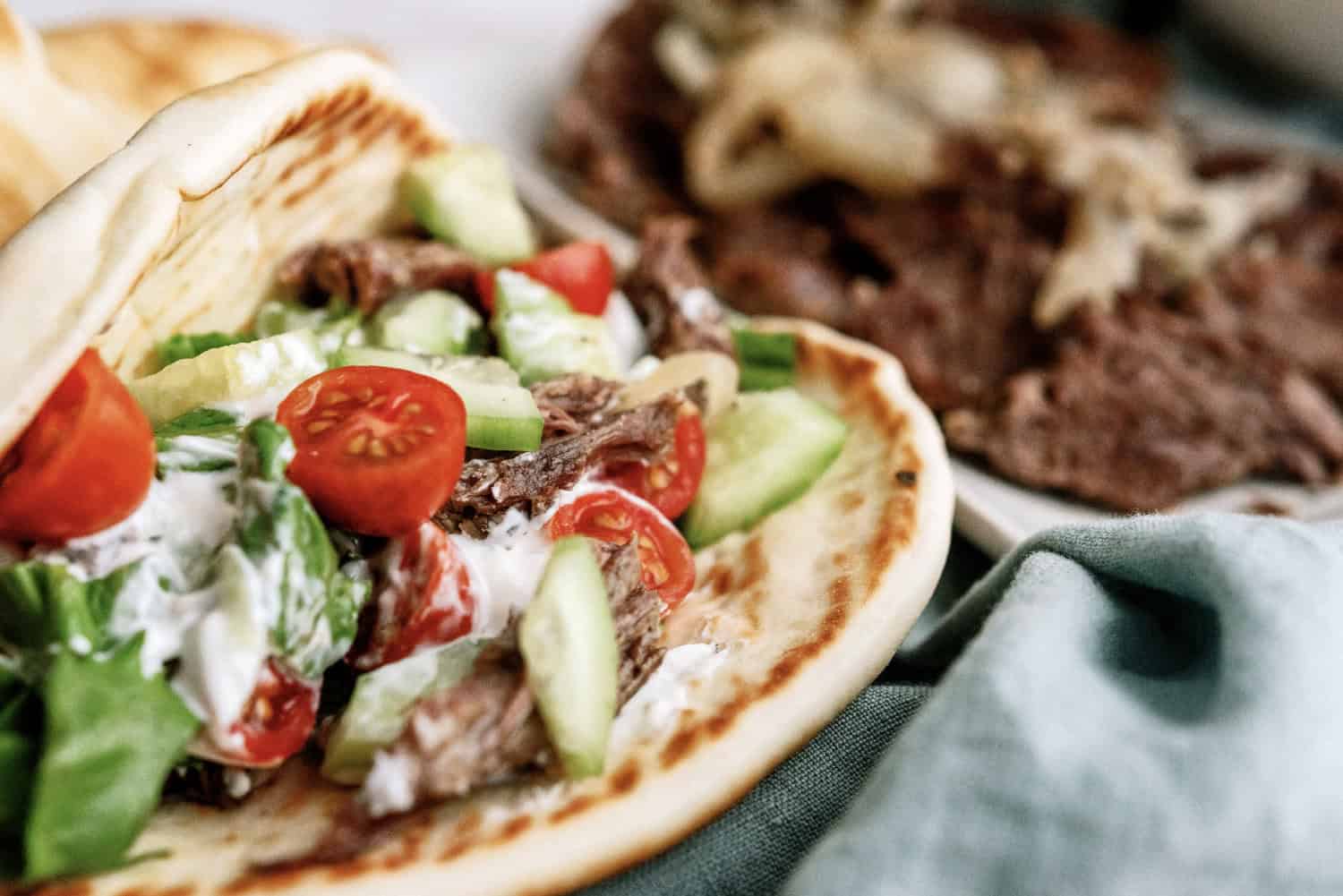 Remove the beef from the Instant Pot to a cutting board and slice or shred the beef and serve it on pitas with cucumbers, tomatoes, and your homemade tzatziki sauce.
How To Make Our Homemade Tzatziki Sauce:
Take the cucumber and shred or grate it.
Once the cucumber is shredded, use a piece of paper towel to blot it and remove as much moisture as possible.
Then, mix together the yogurt, shredded cucumber, garlic, vinegar, and lemon juice.
After those ingredients have all been mixed together, add in the dill, salt, and pepper to your preferred tastes.
Store it in the fridge for a least 30 minutes before serving it to allow the flavors to develop.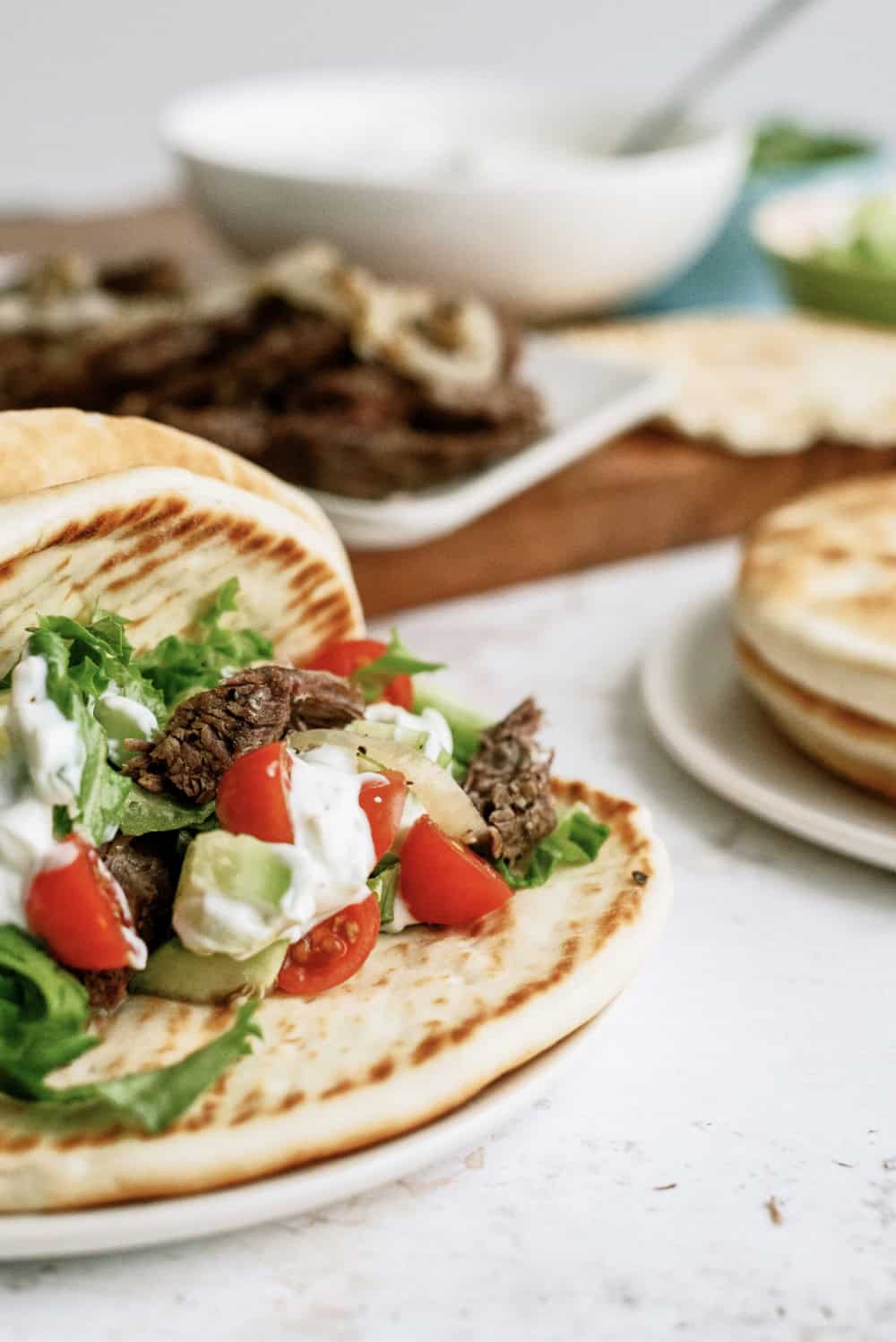 To Make Our Beef Gyros With Tzatziki Sauce You Will Need:
Instant Pot (I like THIS one!)
Knife
Small mixing bowl (2)
Grater
Cutting board
Spatula