Everything is better in the slow cooker, especially our slow cooker chicken enchilada pasta recipe. This chicken pasta slow cooker recipe is so simple to put together and super delicious that everyone will be asking for seconds.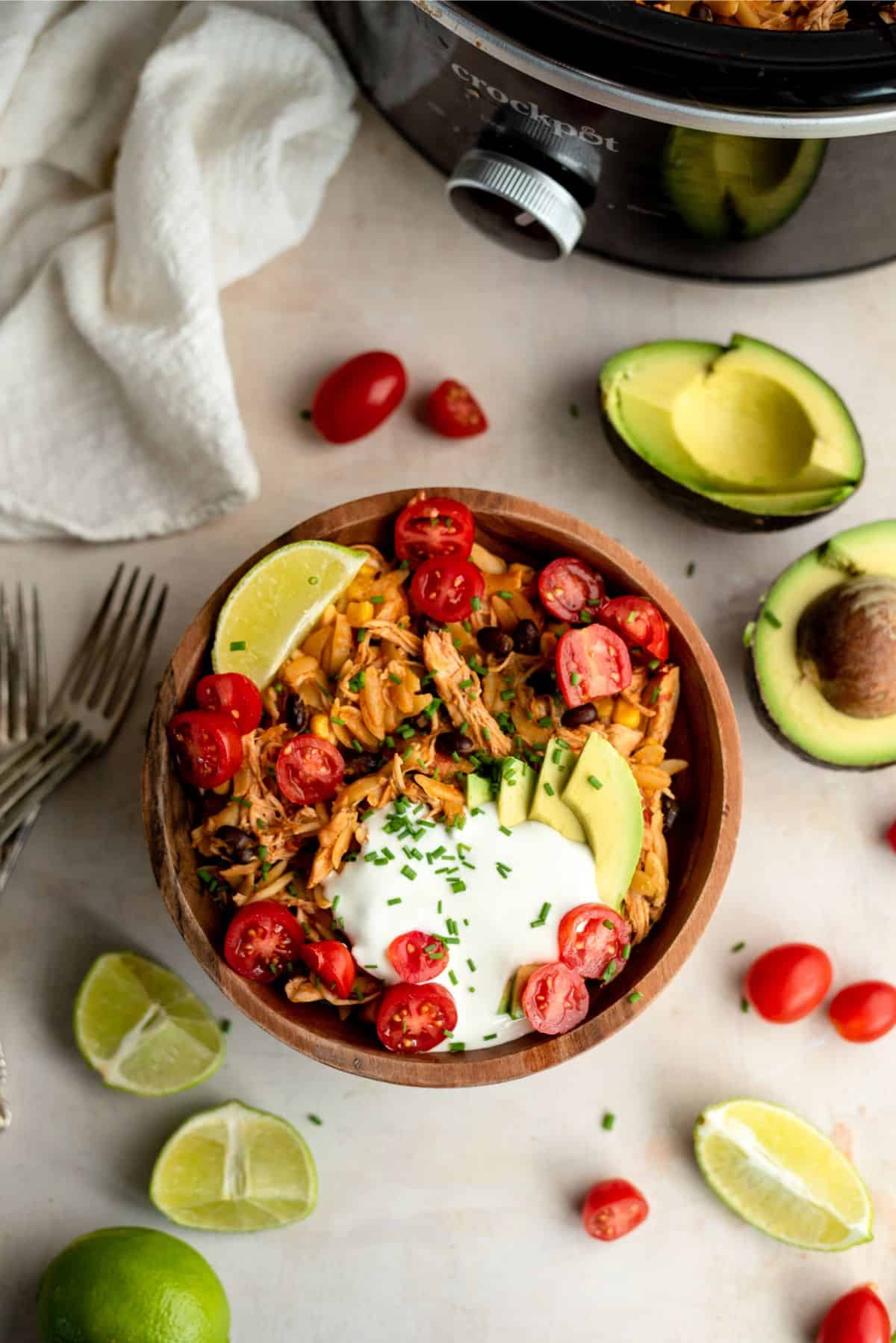 For an easy chicken breast recipe, look no further than this slow cooker chicken enchilada pasta recipe. Plus, to make things even easier you can make up our easy shredded chicken recipe, and use it right away in this orzo recipe.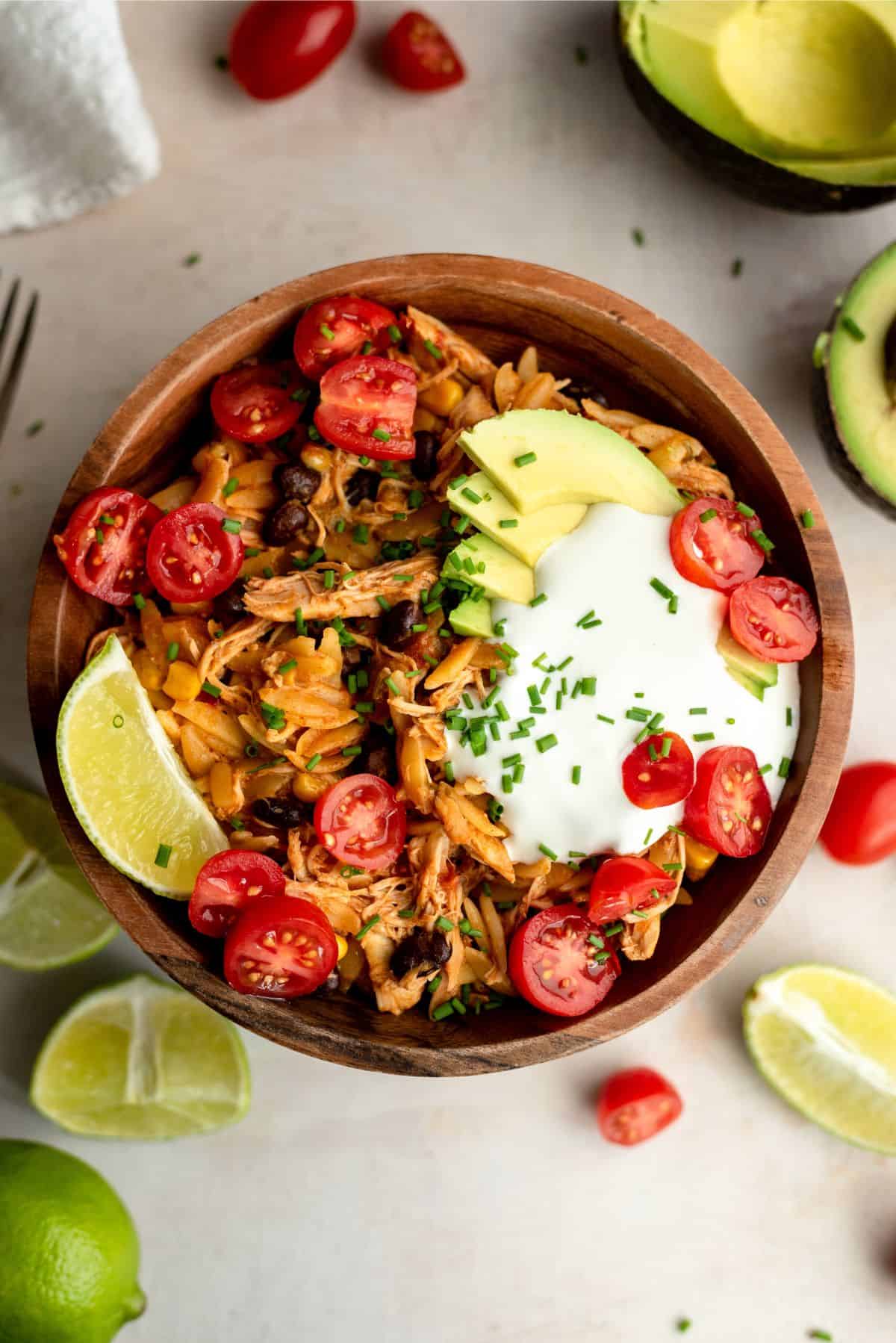 You know those days when you want to eat something that is tasty, but doesn't take a lot of energy, and is also not the same ole same ole spaghetti recipe, that is when you need this recipe. It is the best slow cooker recipe for making chicken enchilada pasta.
When you use orzo for the pasta in this enchilada recipe, you don't have to worry about cutting anything up. Simply mix everything together, scoop and serve!
Great sides to serve with our enchilada pasta recipe are our cheesy garlic texas toast, Texas Roadhouse rolls, 30 minute homemade rolls, or our homemade Lion House rolls recipe.  Basically anything you can dip will be great!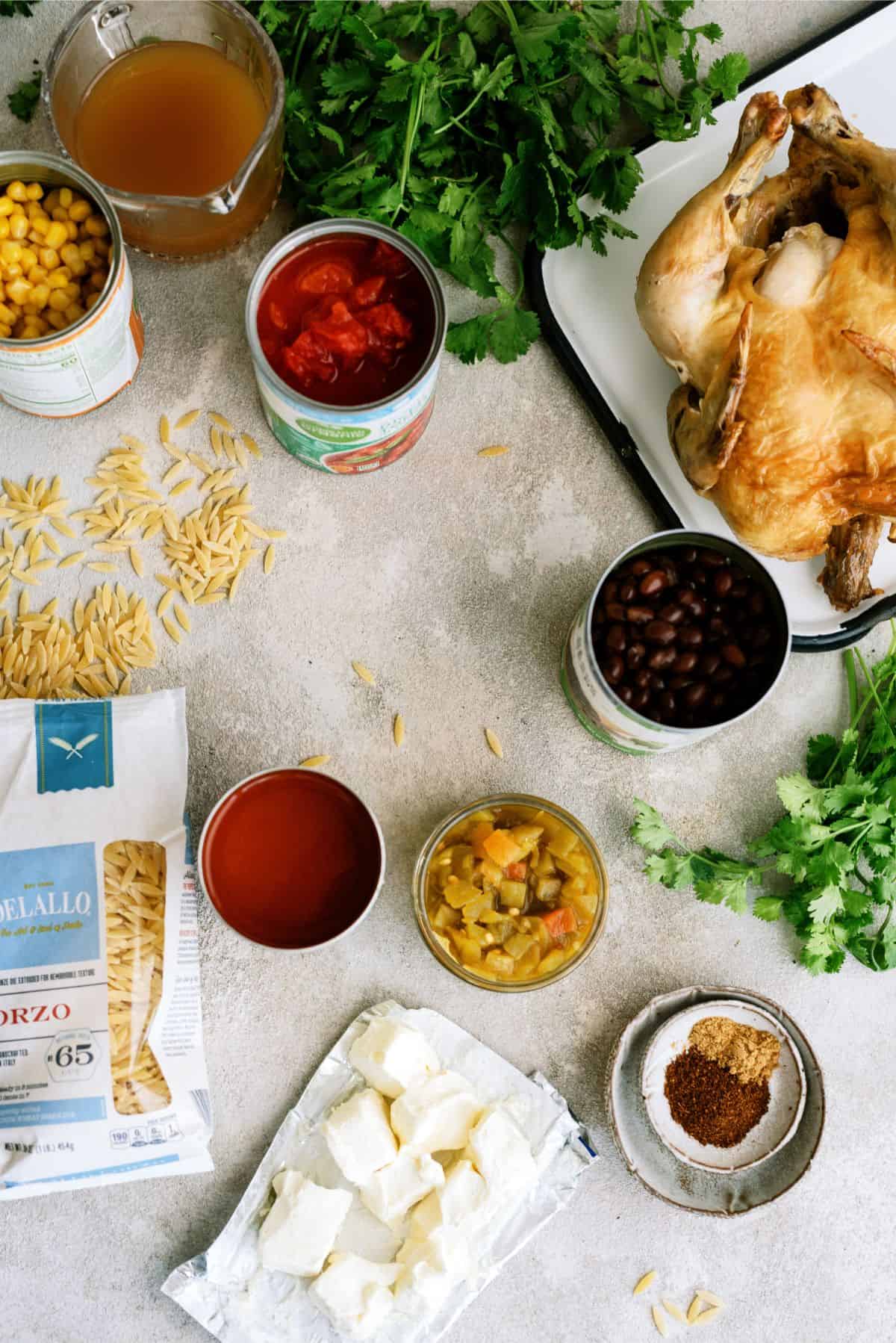 Ingredients You Need to Make This Slow Cooker Chicken Enchilada Pasta Recipe:
Diced tomatoes
Canned corn, drained
Drained and rinsed black beans
Mild enchilada sauce
Diced green chilies
Chicken broth
Cooked and shredded chicken (rotisserie chicken works great or our shredded chicken recipe)
Chili powder
Cumin
Fresh chopped cilantro
Cream cheese
Uncooked orzo pasta
Enchilada toppings
How To Make This Slow Cooker Chicken Enchilada Pasta Recipe:
When you are ready to begin this recipe, make sure that your chicken is already cooked, as the amount for this slow cooker recipe does not take into account the time to cook the chicken necessarily.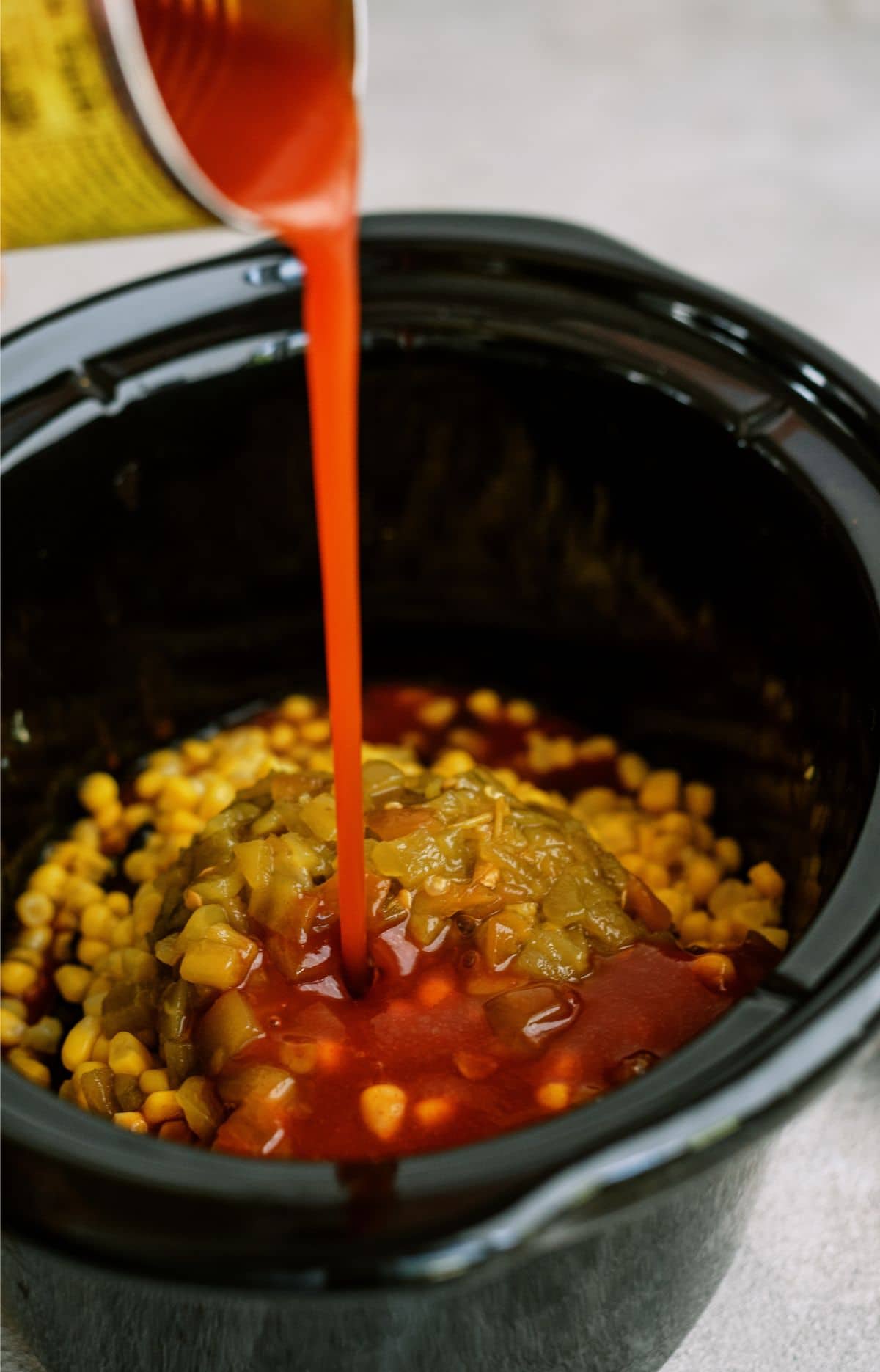 After you have all of your ingredients prepared, get out your slow cooker and place the diced tomatoes, drained can of corn, drained and rinsed black beans, mild enchilada sauce, diced green chilies, chicken broth, shredded chicken, chili powder, cumin, fresh cilantro, and cut cream cheese in the bottom.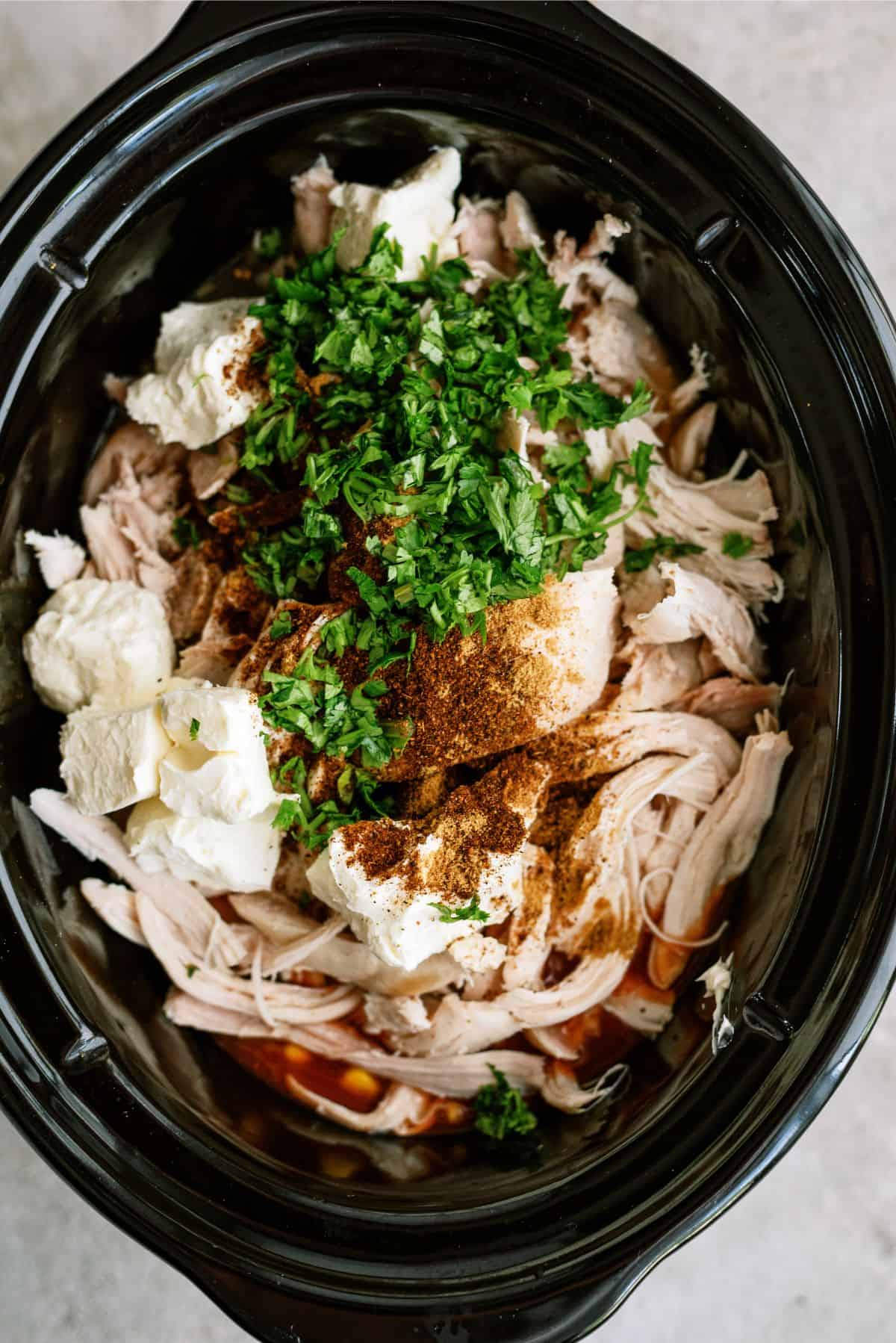 After everything (except the orzo) is in the slow cooker, turn it on either high heat for 3-4 hours or low heat for 6-8 hours. Essentially until all the ingredients are warm and the cream cheese is melted.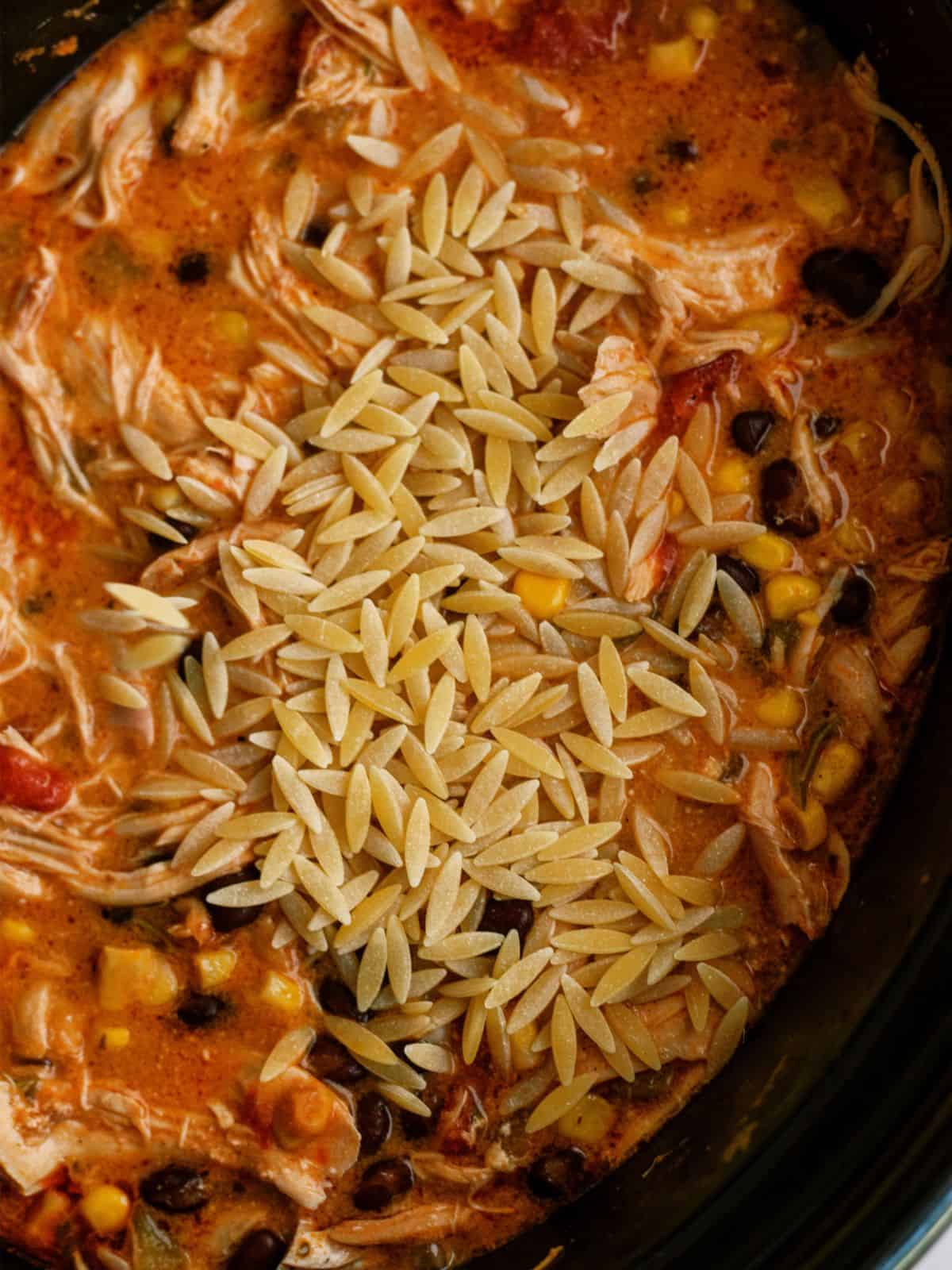 Then, remove the lid from the slow cooker and pour in the orzo pasta and mix it all together.
Now, place the lid back on the slow cooker and turn it to high heat for 15-30 minutes, or until the pasta is cooked all the way through.
If you notice there isn't much liquid in the slow cooker, add 2-3 tablespoons of chicken broth at a time to make sure there is enough liquid to cook the orzo pasta.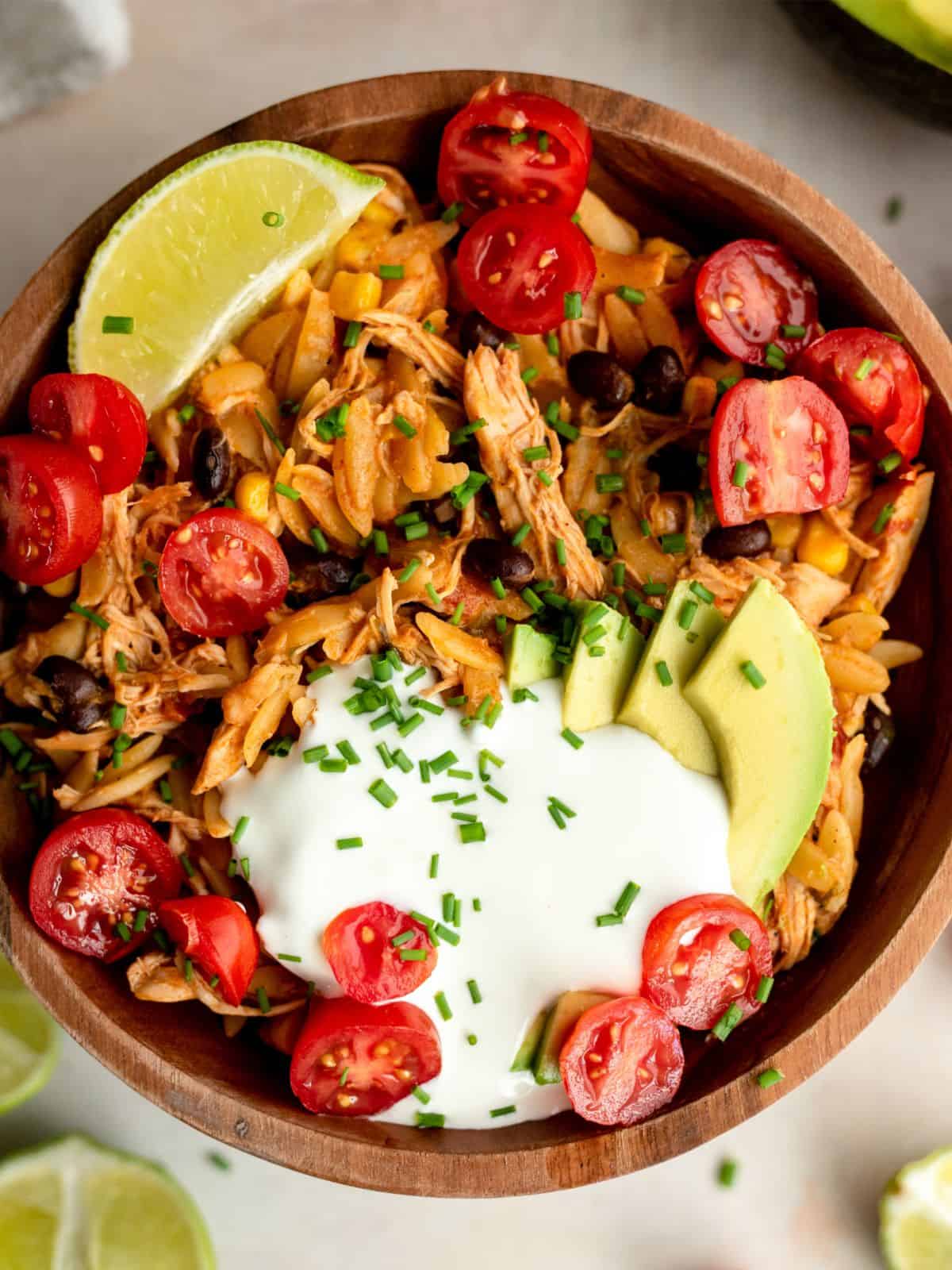 Once the pasta is cooked all the way, give everything a good stir, and then scoop the enchilada pasta into bowls and then top it with some of your favorite enchilada toppings.
To Make Chicken Pasta Slow Cooker Recipe You Will Need:
Slow cooker (we like to use THIS one)
Can opener
Knife
Cutting board