You'll love these light and fluffy homemade 30 Minute Dinner Rolls - ready in just 30 minutes from start to finish. These are some of the easiest dinner rolls you'll ever make. Perfect for first-time bread makers!
If you love homemade rolls, but don't have much time, these 30 Minute Homemade Rolls are for you!
They really only take 30 minutes from start to finish.
So throw some soup in the Instant Pot and whip these up – they will be ready to enjoy by the time your soup is done!
Love homemade bread? Try our 6 Loaves of Homemade Bread in 1 Hour recipe!
Ingredients needed for 30 Minute Homemade Rolls:
These delicious rolls are made from ingredients you may already have on hand. They are easy.
Warm Water
Vegetable Oil
Sugar
Salt
Egg
Flour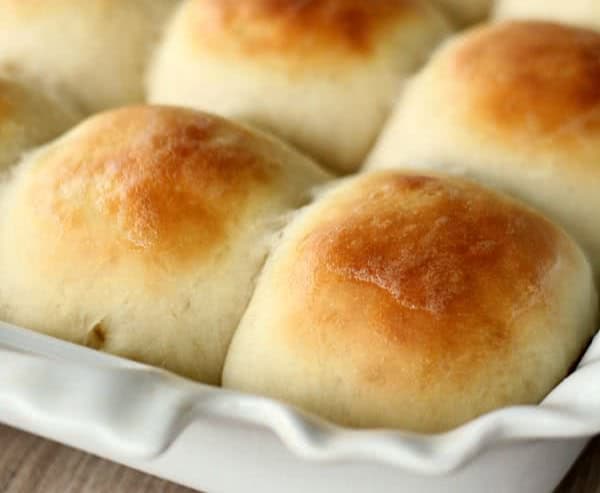 How to make homemade rolls in 30 minutes:
Preheat your oven to 400 degrees F.

In the bowl of a stand mixer, combine warm water, oil, yeast and sugar; let rest for 5-10 minutes or until frothy and bubbly. Our favorite mixer to use is the

Bosch Mixer or a Kitchen Aid mixer, but any mixer with a dough hook will work.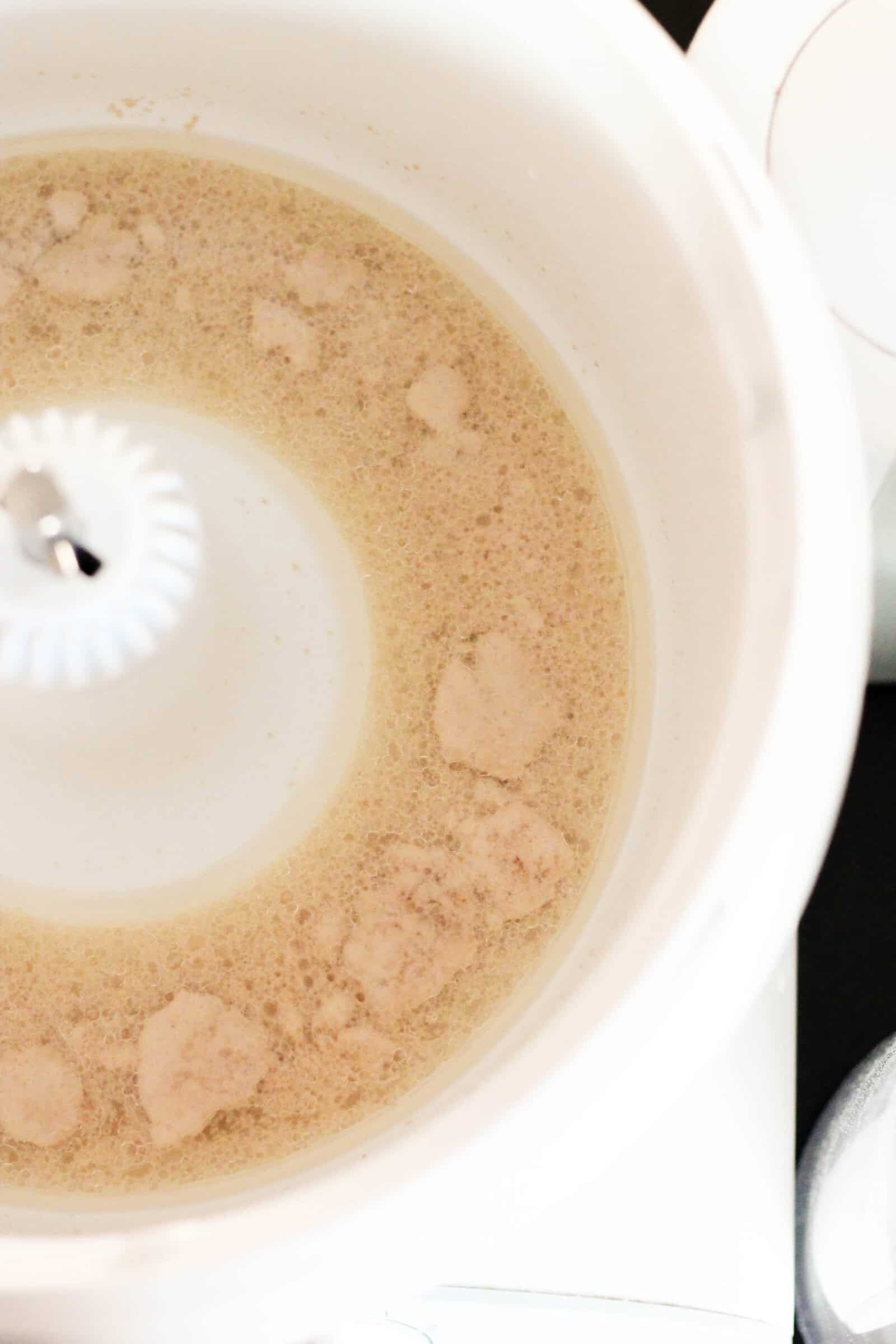 You can also make this recipe without a stand mixer – just use a big bowl, a large wooden spoon, and all your arm strength! (You'll also need to knead the dough really well for about 5-10 minutes).
With a

dough hook

, mix in salt, egg, and 2 cups of flour until combined.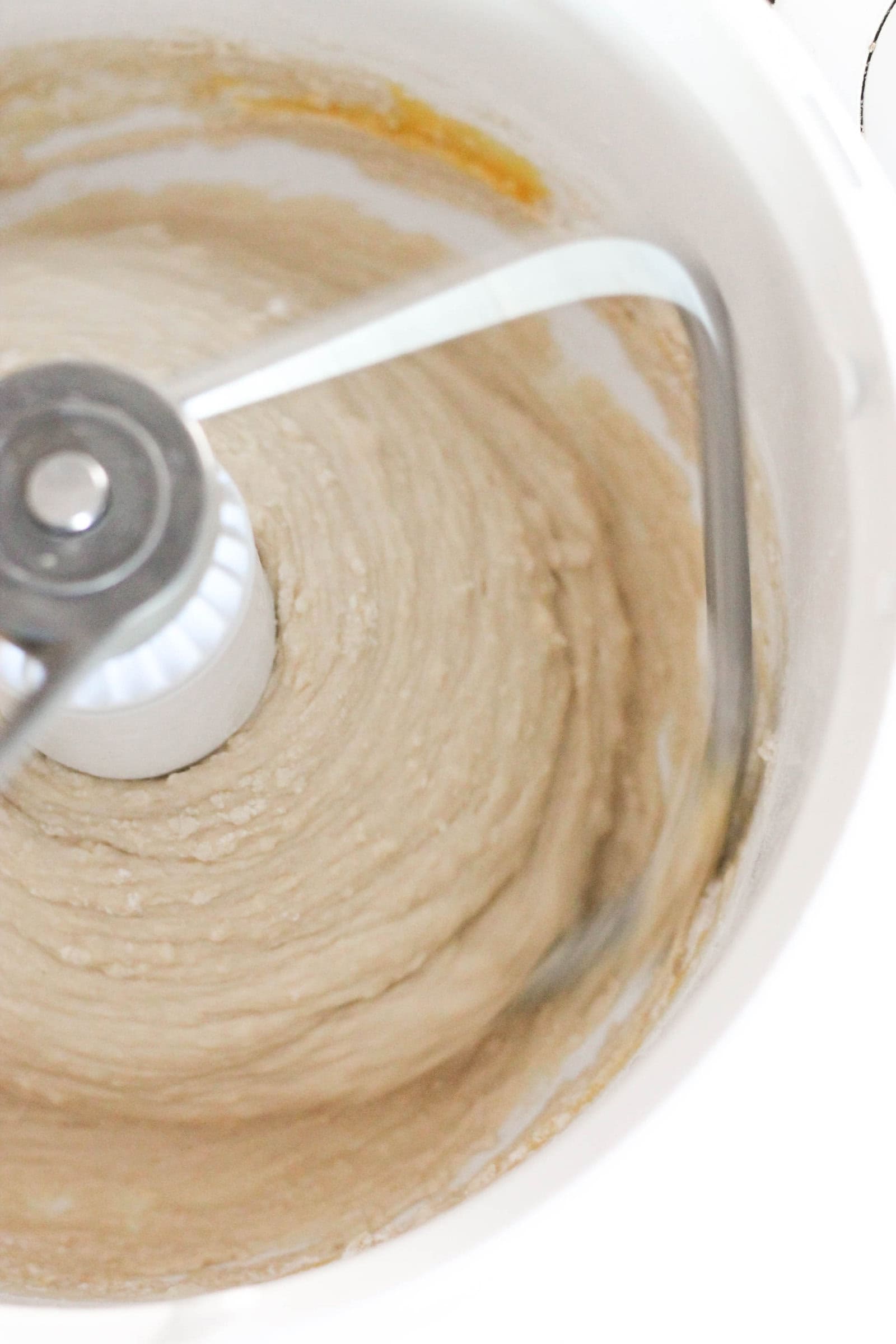 Add remaining flour 1/2 cup at a time (dough will be sticky). Spray your hands with cooking spray and shape the dough into 12 balls.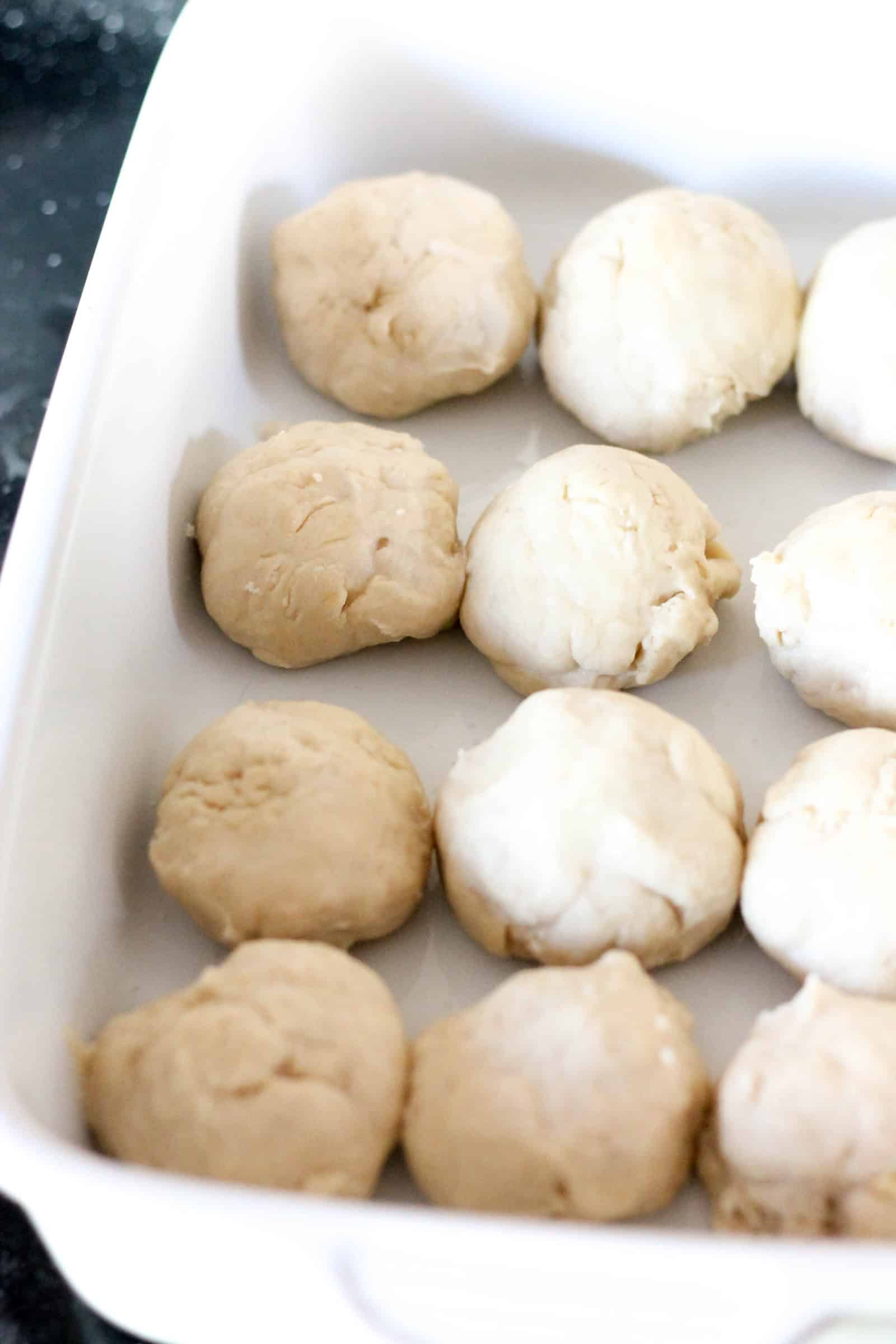 After shaped, place on lightly greased cookie sheet or

9 x 13 inch pan

and let rest for 10 minutes.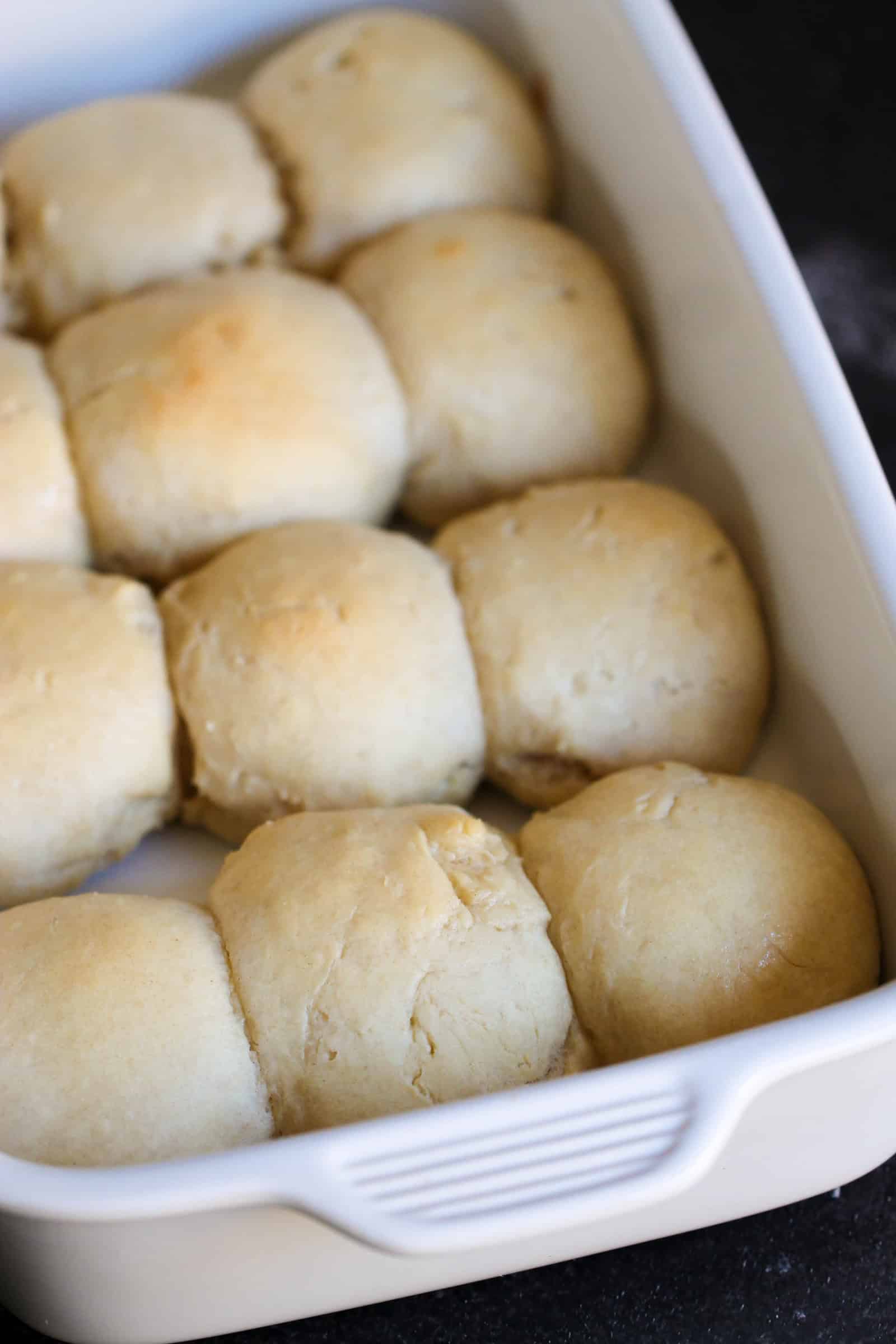 Bake for about 10 minutes or until tops are lightly golden. These are so delicious served warm with butter.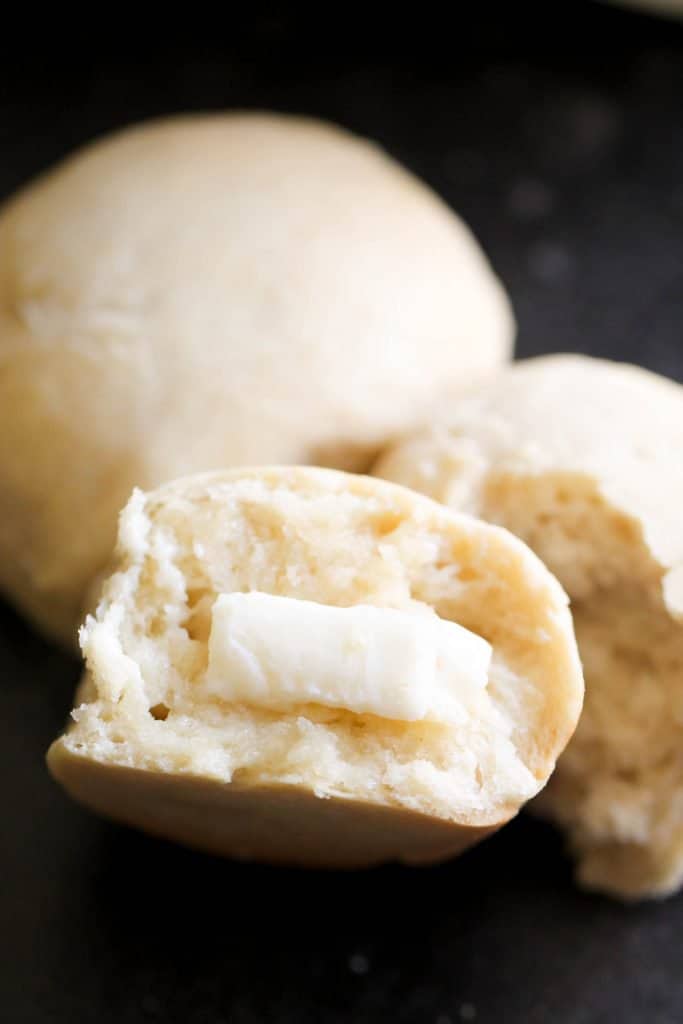 Variations and add-ins for these 30 minute rolls:
Parmesan Cheese – We love adding Parmesan cheese to these rolls. Sprinkle over top of rolls when removed from the oven, similar to our parmesan rolls.
Garlic Rolls – Simply drizzle melted butter over the baked rolls and add a sprinkle of garlic salt on top of the melted butter.
Honey Butter – We love to serve warm rolls with honey butter. You could even drizzle some over the warm cooked rolls.
Why are my rolls so dense?
Our 30-minute dinner rolls are pretty light and fluffy. If your rolls are dense, we would suggest three things.
Next time, knead them more. Unlike cookies (where you want to mix them as little as possible), bread needs to be mixed well in order for the gluten to develop for nice, fluffy rolls.
Make sure your yeast isn't expired. If your yeast doesn't start to froth (like in the picture above), it may be expired and your bread won't rise.
Don't use too much flour. Your dough should still be sticky during step 4 (that's why we suggest adding in the flour 1/2 cup at a time). If you live in a lower elevation, or somewhere with more humidity, you probably won't need as much flour. Don't feel like you need to add in all the flour the recipe suggests. Use your judgement.
Watch how to make our 30 Minute Homemade Rolls:
Did you know we have a YouTube Channel? Watch how to make these 30 Minute Rolls with step-by-step instructions you can follow.
How do I use this dough for cinnamon rolls?
Follow the recipe through step 3, and then add in the flour as mentioned in step 4. Instead of shaping them into balls, roll out the dough and brush with butter and sprinkle with cinnamon and brown sugar.
Roll up the dough into a jelly-roll shape, then slice and place in a greased 9 x 13 inch pan. Let them rise for 10 minutes, then bake at 400 degrees for 10 minutes (or until lightly browned on top).
Top the cinnamon rolls with frosting. We like to use buttercream or cream cheese frosting.
If you're feeling more confident, you need to make our favorite homemade cinnamon roll recipe.
Looking for another side dish for Thanksgiving?! Try our Green Bean Casserole!