Every year especially around the holidays, oven space can be a very big issue in our house and I'm sure yours too! This is one of the many great Instant Pot side dishes for Thanksgiving that you can make to free up that oven.
With the Instant Pot sweet potato recipe, this will no longer be a problem. Who would have ever dreamed you could make a sweet potato casserole in an Instant Pot? We did!
With all the dishes that you have to make for Thanksgiving, we wanted to share a recipe that you could make using your Instant Pot to make it even easier.
This recipe is adapted from our Sweet Potato Casserole recipe and simplified using an Instant Pot.
Before we get too far, let's look at what you will need to make this fabulous Instant Pot Thanksgiving casserole.
Sweet Potato Casserole Ingredients:
Sweet potatoes
Water
Sugar
Salt
Vanilla extract
Eggs
Butter
Brown sugar
Flour
Chopped pecans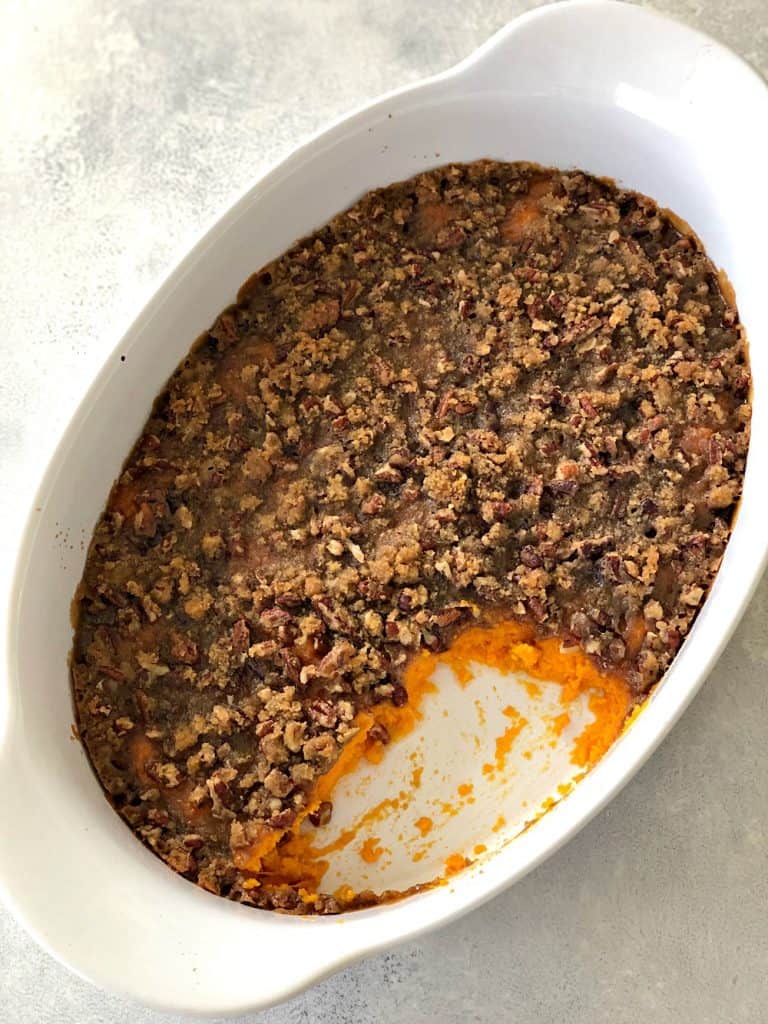 WHAT IS THE DIFFERENCE BETWEEN A SWEET POTATO AND A YAM?
Fun fact, sweet potatoes are actually sweet! Whereas yams are not.
Sweet potatoes are also moister than yams.
Not to mention the outward appearance of yam is more like tree bark and the sweet potato is more of a skin appearance.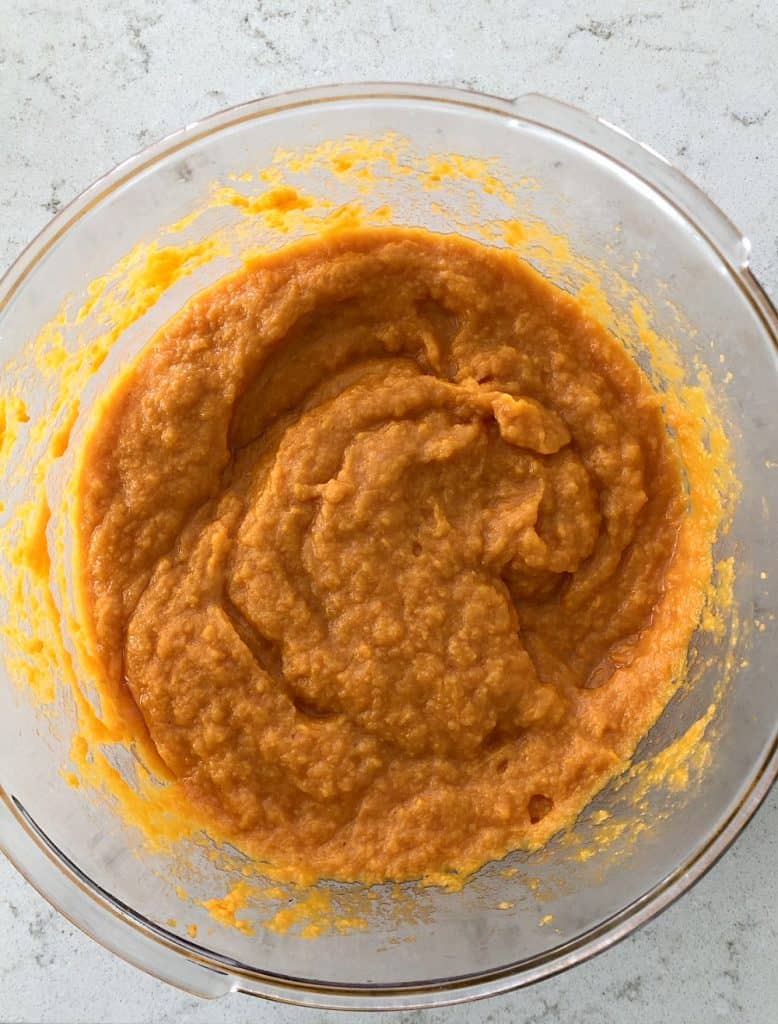 love potatoes as much as we do? Check out these other recipes:

Kitchen must-haves for this dish:
There are also a few key tools you are going to need to perfect this make ahead instant pot sweet potato casserole:
Large mixing bowl
Small bowl
9×13-inch oven safe dish
Potato masher or electric mixer (THIS is is the hand mixer that I like to use)
Trivet (this comes with the Instant Pot)
Instant Pot
What Instant Pot do I use?
I have the Instant Pot LUX 6 Quart 6-in-1 Programmable Pressure Cooker. It's basically 6 appliances in 1 – pressure cooker, rice cooker, saute, steamer, cake maker, and warmer.
How to make Instant Pot Sweet Potato Casserole
Begin by scrubbing the skin of the sweet potatoes until they are completely clean. Then, once all of the sweet potatoes are clean, get out your Instant Pot.
Put the trivet into the bottom of the Instant Pot and then pour the cup of water in the bottom. After the trivet is in place, stack the sweet potatoes on top of the trivet.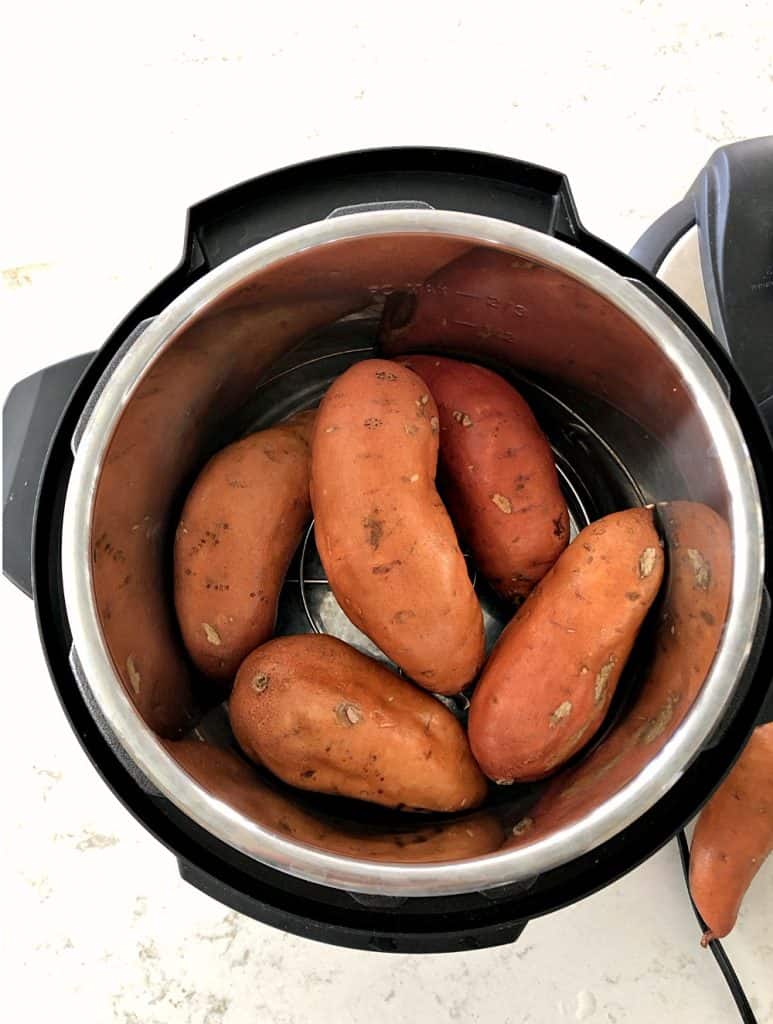 Place the lid on and make you hear it click. If it is not clicked in properly, you will not be able to start the Instant Pot.
Be sure once the lid is locked in place to turn the vale to the "seal" position. (Believe me, you don't want to forget this step!)
Then, press the "manual" button and then set the timer for about 18 minutes. Though, if you are using a medium-sized sweet potato set the timer for 22 minutes, and 27 minutes if they are large-sized sweet potatoes.
Pro Tip: If you are wondering how long to cook your sweet potatoes for, there is a great illustration of how long different sizes should cook for HERE.
Once the sweet potatoes have finished cooking in the Instant Pot, move the valve on the lid to "venting" position to do what is called a "quick release". This allows the pressure to leave the Instant Pot faster, rather than a natural slow release.
Wait for the steam to subside and the pressure valve to lower, then carefully remove the lid from the Instant Pot.
Next, while using an oven mitt (I like THESE) or tongs take the sweet potatoes out of the Instant Pot. Be sure to not touch the sides as they will still be VERY hot!
After removing the sweet potatoes, give them about 5 minutes to cool down as they will be VERY hot.
While you are waiting, preheat the oven to 350 degrees.
After the sweet potatoes have had a chance to cool down, remove the skins from the potatoes. The skins should literally fall off when you touch them. Then place the peeled potatoes into a large mixing bowl.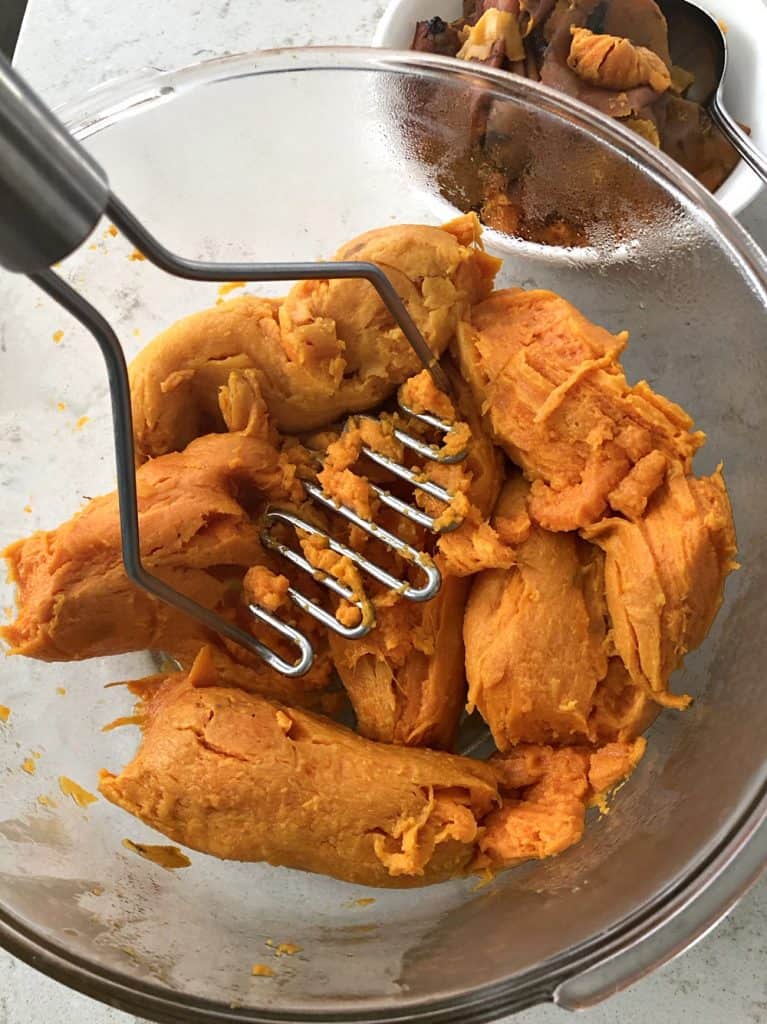 Next, get out either your electric mixer or hand masher to mash the potatoes into a smooth texture and all have been combined together.
In add in the sugar, salt, vanilla, eggs, and butter then mix them into the mashed sweet potatoes.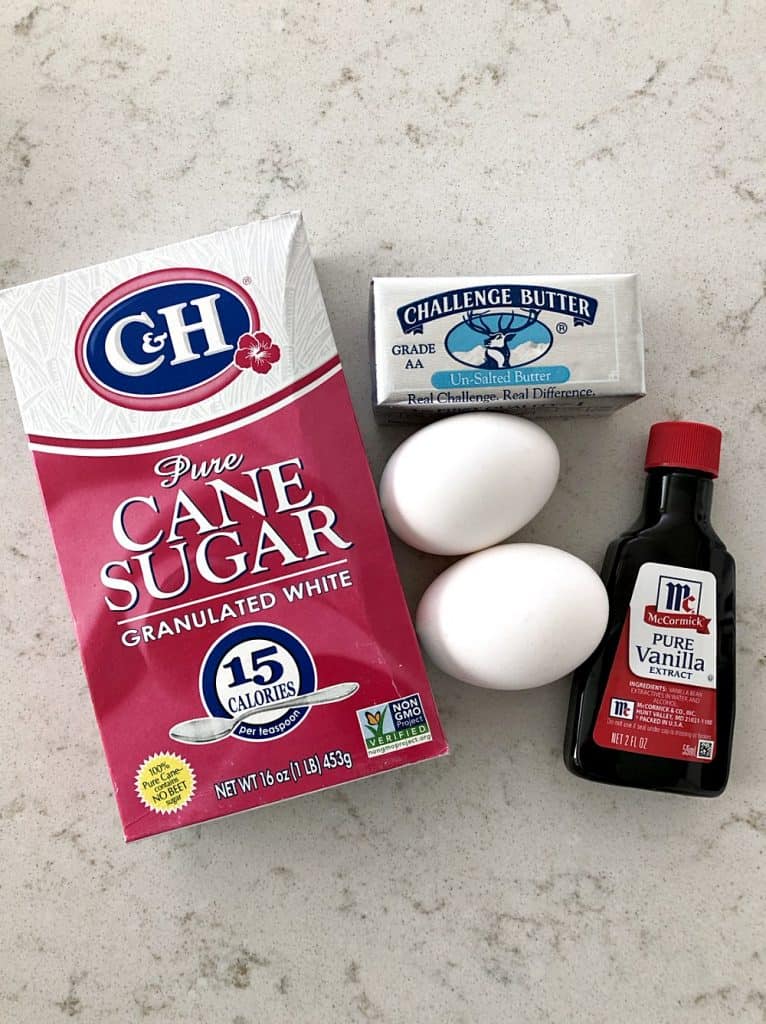 Now that the potatoes are ready, get out your 9×13 pan and spray it with non-stick cooking spray.
To make the topping of the sweet potato casserole (my favorite part) mix together the brown sugar, flour, pecans, and butter in a small bowl. Then, simply sprinkle it over the top of the sweet potatoes.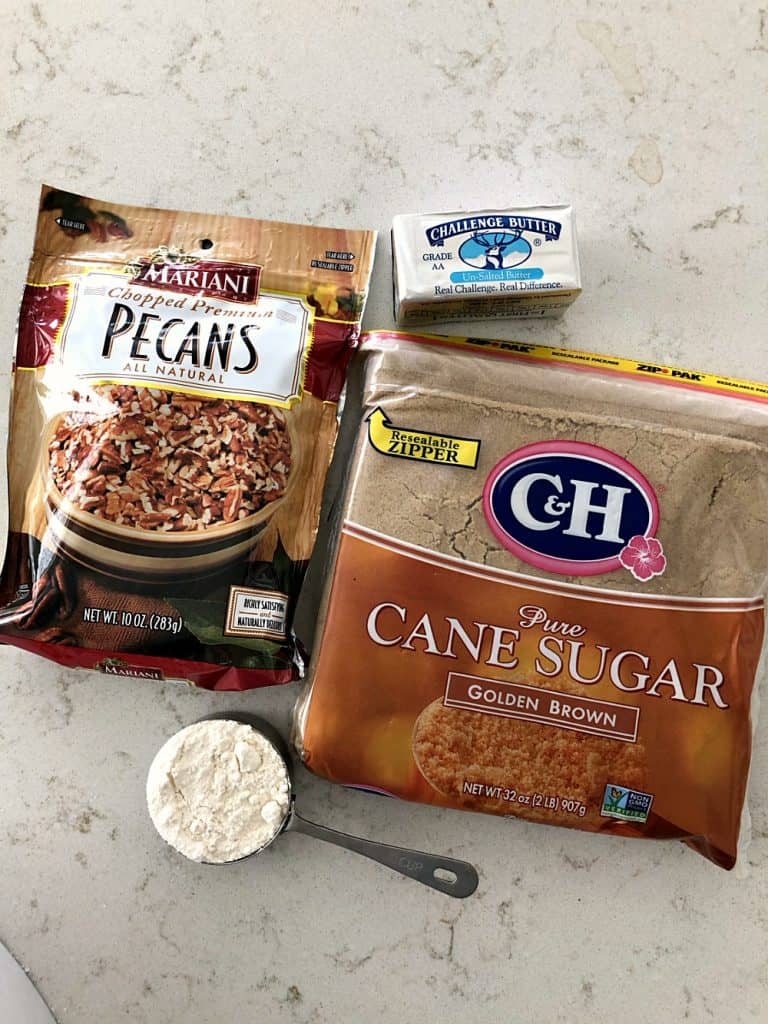 Last but not least, pop the 9×13 pan into the oven and bake it for 30 minutes, or until the topping is golden brown and the sweet potatoes are heated all the way through.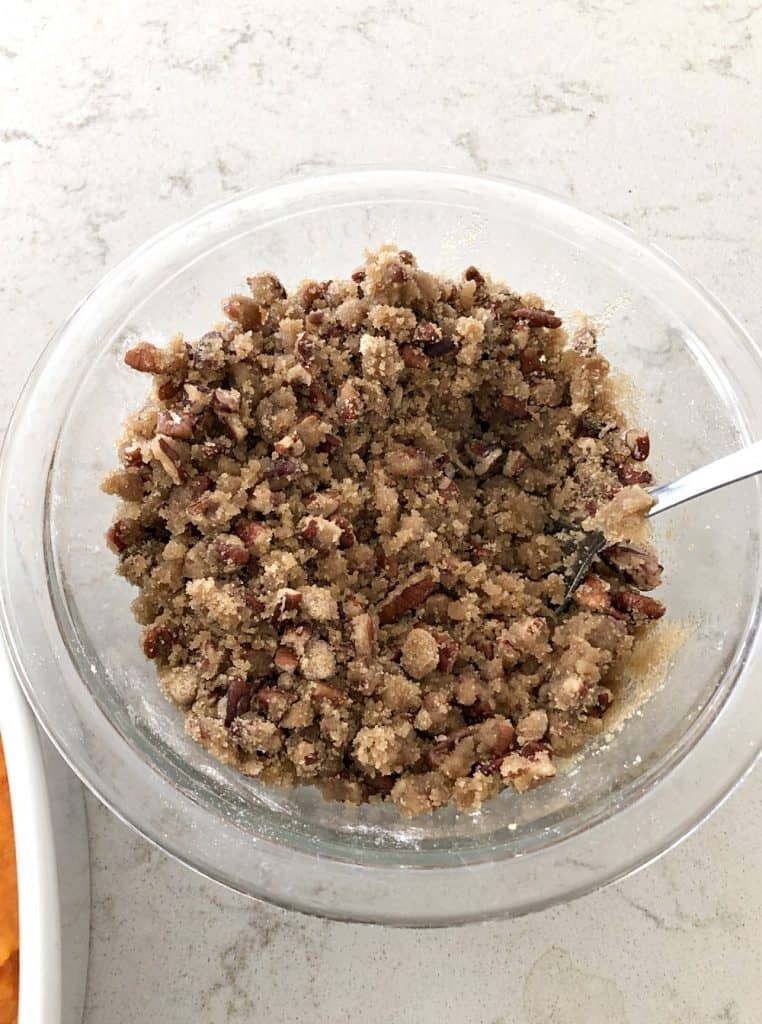 If you've made it this far, be sure to take a picture of the outcome and tag us on Instagram using #sixsistersstuff! We love to see all of your hard work!
Want some more dinner ideas? 
Join our email list today and we will send you a FREE ebook of our favorite dinner recipes – plus we will send you recipes each week to help make your dinner planning easier!
Join today by CLICKING HERE.
OTHER THANKSGIVING RECIPES TO TRY
Six Sisters' Stuff
Serves: 8
Instant Pot Sweet Potato Casserole
30 minPrep Time
30 minCook Time
1 hrTotal Time
Ingredients
6 sweet potatoes
1 cup water
3/4 cup sugar
1/2 teaspoon salt
1 teaspoon vanilla extract
2 eggs (beaten)
1/4 cup butter (melted)

Topping:

1 cup brown sugar
1/3 cup flour
1 cup chopped pecans
3 Tablespoons butter (melted)
Instructions
Scrub skin of sweet potatoes until clean. Place trivet into Instant Pot and then pour water into the bottom of the pot. Place sweet potatoes on top of trivet.
Secure the lid and turn the valve to "seal".
Press the "manual" button and then set the timer for 18 minutes (18 minutes works best for small sweet potatoes. For medium-sized potatoes, set the timer for 22 minutes. For large-sized potatoes, set the timer for 27 minutes).
Once the potatoes are finished cooking, move the valve to "venting" to do a quick release.
Wait for the pressure valve to lower, then carefully remove lid and use tongs or an oven mitt to remove potatoes from pot.
Let potatoes cool for about 5 minutes (they will be VERY hot!).
Preheat oven to 350 degrees.
Remove skins from potatoes (they should literally fall off when you touch them). Place potatoes in a bowl.
Mash potatoes by hand or use a hand mixer to beat until well combined and almost smooth. Add sugar, salt, vanilla, eggs and butter to bowl and mix together with mashed potatoes.
Pour mixture into a greased 9x13-inch baking dish.
In a small bowl, combine brown sugar, flour, pecans and butter to make topping. Sprinkle topping on top of sweet potato mixture.
Bake for 30 minutes or until topping is golden brown and sweet potatoes are heated through completely.
7.8.1.2
5765
https://www.sixsistersstuff.com/recipe/instant-pot-sweet-potato-casserole/
Be sure to not miss another recipe!
Follow Six Sisters' Stuff on Instagram | Facebook | Pinterest | YouTube
Want to make dinner EASY and healthy?! Check this out!
Looking to eat healthier?  Sign-up to receive a healthy menu plan and shopping list in your inbox every week!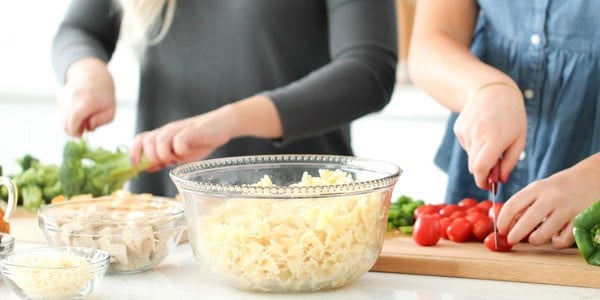 EACH HEALTHY MENU PLAN INCLUDES:
A WEEK AT A GLANCE
6 MAIN DISH RECIPES
2 SIDE DISH RECIPES
1 SNACK/TREAT RECIPE
DETAILED SHOPPING LIST
Every recipe in the menu plan is 500 calories or less per serving and includes nutrition information to help you stay on track!
Learn more, view sample menu plans and join HERE!