Instant Pot Sweet Potato Casserole is one of our favorite Thanksgiving side dishes. . It's amazingly creamy, flavorful, and buttery. Use less dishes and free up your time by using our shortcut of using your Instant Pot to make this classic dish.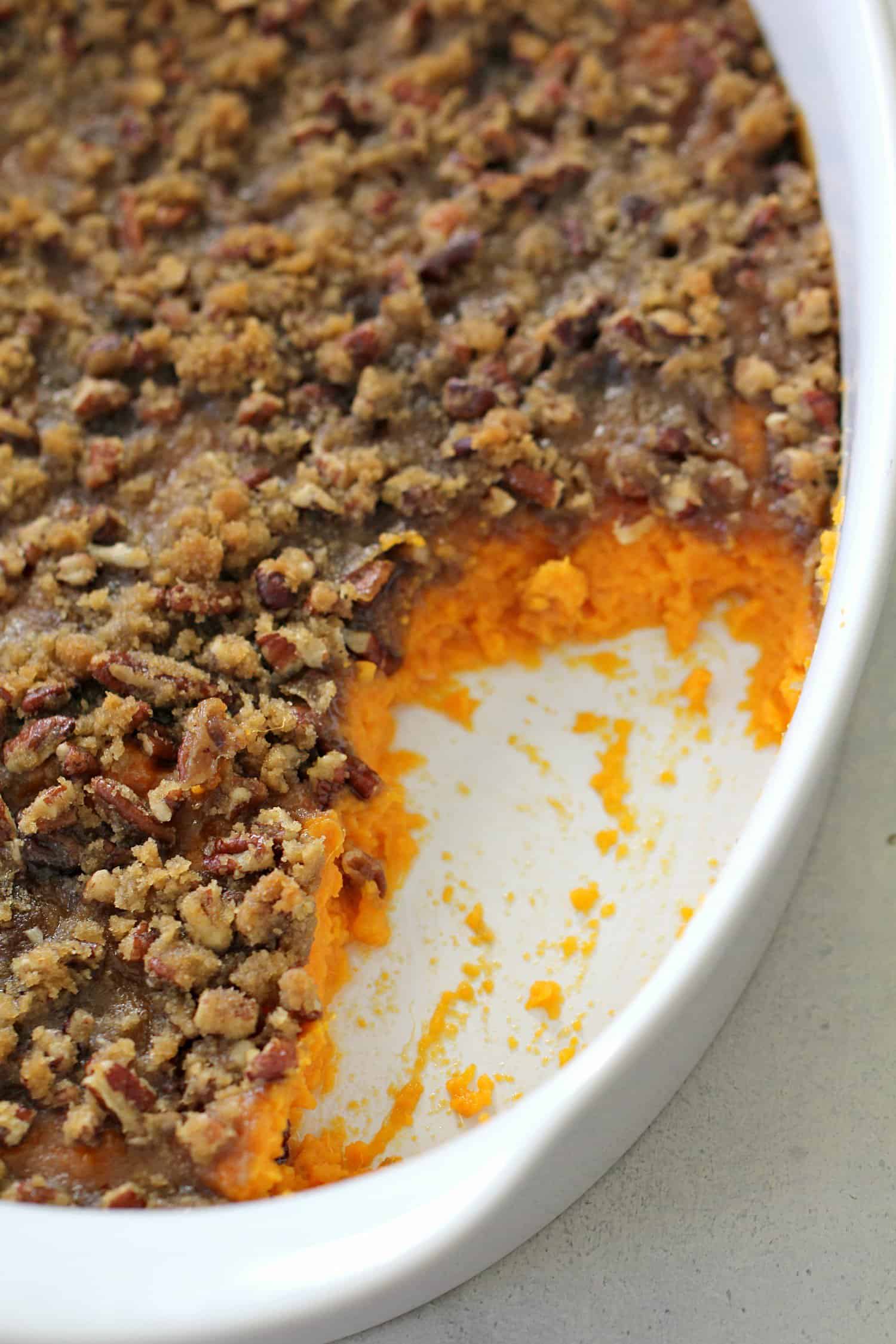 Every year especially around the holidays, oven space can be a very big issue in our house and I'm sure yours too! This Instant Pot sweet potato casserole recipe is one of the many great instant pot side dishes for Thanksgiving that you can make to free up that oven.
With this Instant Pot sweet potato casserole recipe, this will no longer be a problem. Who would have ever dreamed you could make a sweet potato casserole in an Instant Pot? We did!
With all the dishes that you have to make for Thanksgiving, we wanted to share a recipe that you could make using your Instant Pot to make it even easier.
This recipe is adapted from our Sweet Potato Casserole recipe and simplified using an Instant Pot.
FOR MORE AMAZING THANKSGIVING RECIPES BE SURE TO CHECK OUT 30 MINUTE DINNER ROLLS, GRANDMA'S THANKSGIVING STUFFING, GREEN BEAN CASSEROLE, AND OF COURSE HOW TO MAKE TURKEY GRAVY FROM SCRATCH!
Before we get too far, let's look at what you will need to make this fabulous Instant Pot Thanksgiving casserole.
Instant Pot Sweet Potato Casserole Ingredients:
Sweet potatoes
Water
Sugar
Salt
Vanilla extract
Eggs
Butter
Brown sugar
Flour
Chopped pecans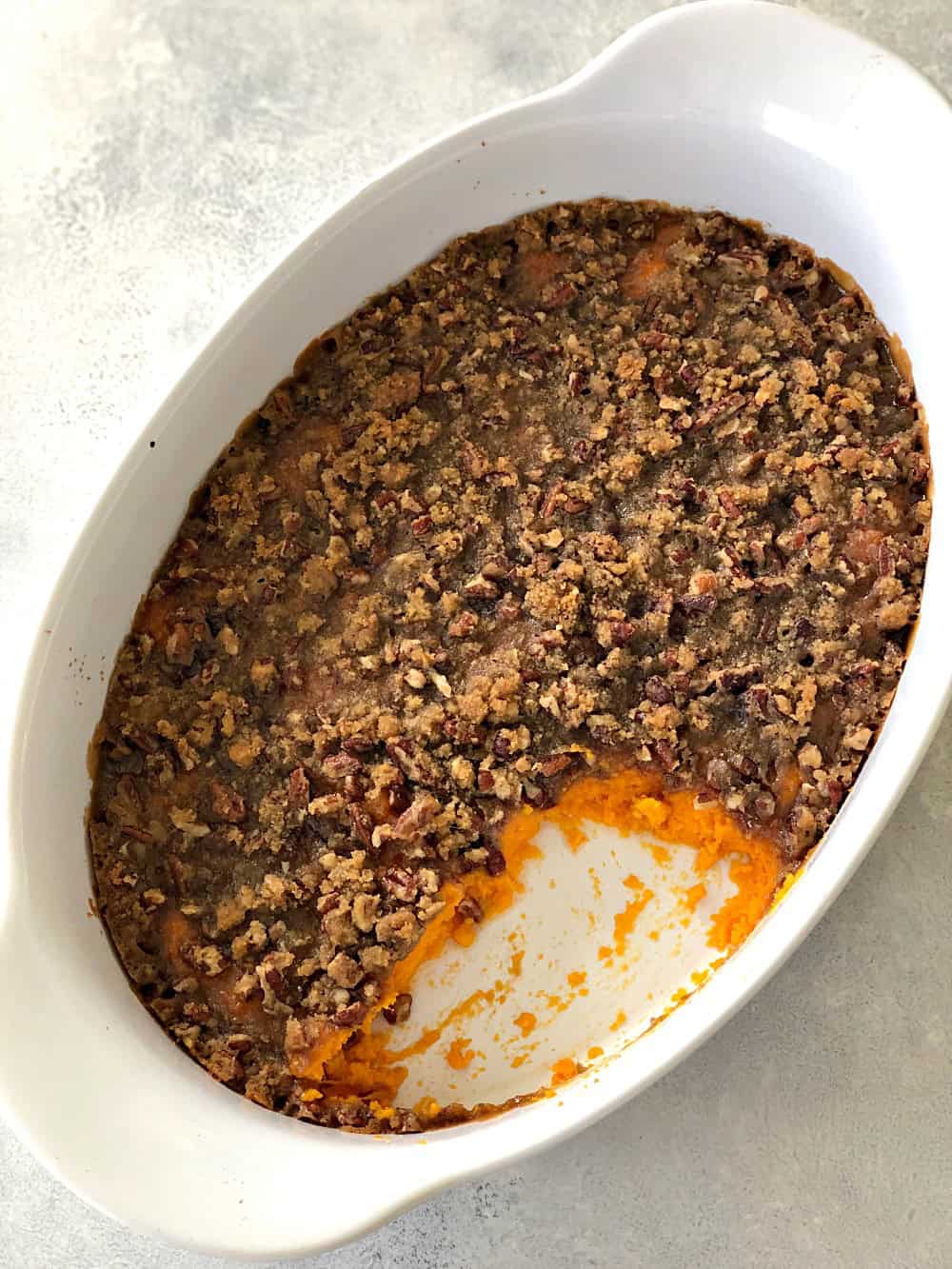 WHAT IS THE DIFFERENCE BETWEEN A SWEET POTATO AND A YAM?
Fun fact, sweet potatoes are actually sweet! Whereas yams are not.
Sweet potatoes are also moister than yams.
Not to mention the outward appearance of yam is more like tree bark and the sweet potato is more of a skin appearance.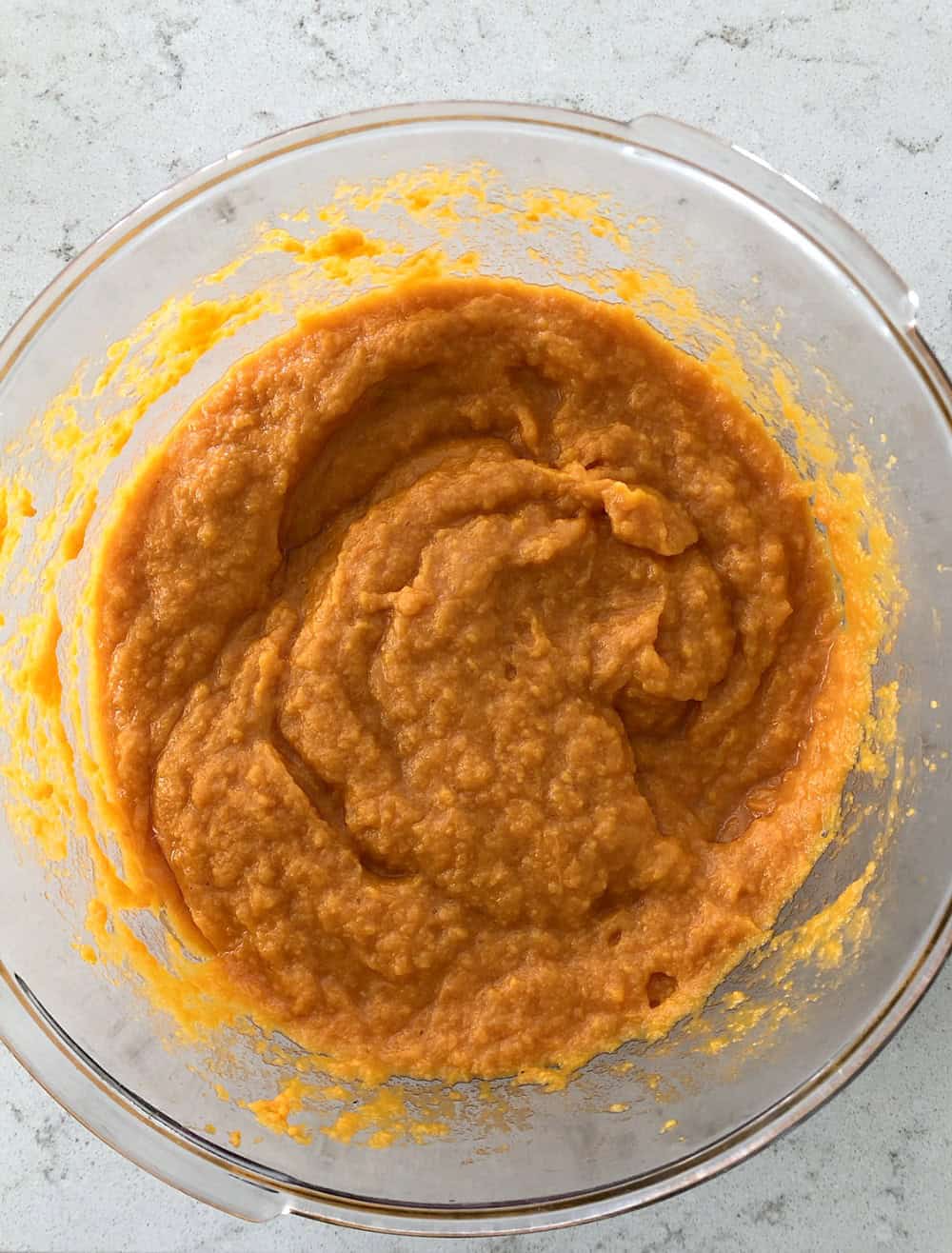 Do you love potatoes as much as we do? Check out these other recipes:
Kitchen must-haves for Instant Pot Sweet Potato Casserole:
There are also a few key tools you are going to need to perfect this make ahead instant pot sweet potato casserole:
Large mixing bowl
Small bowl
9×13-inch oven safe dish
Potato masher or electric mixer (THIS is is the hand mixer that I like to use)
Trivet (this comes with the Instant Pot)
Instant Pot
What Instant Pot do I use?
I have the Instant Pot LUX 6 Quart 6-in-1 Programmable Pressure Cooker. It's basically 6 appliances in 1 – pressure cooker, rice cooker, saute, steamer, cake maker, and warmer.