Super tasty Instant Pot cheesy broccoli chicken and rice should be on your menu this week! It is perfectly seasoned, filled with delicious cheddar cheese, and is truly the best Instant Pot chicken and broccoli recipe you can find.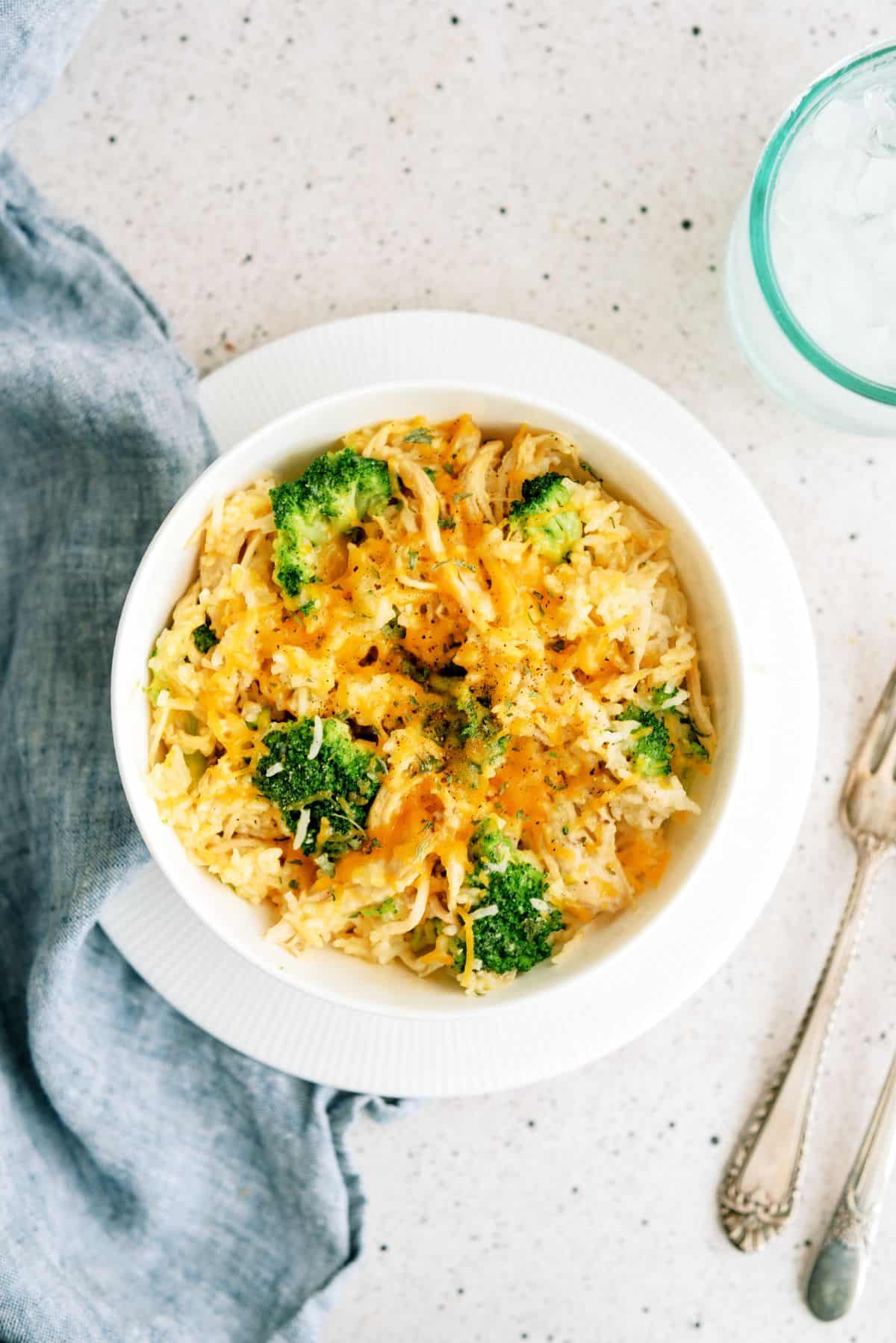 Don't snooze on this Instant Pot cheesy broccoli chicken and rice recipe. Once you finally make it, you will wonder why you waited so long to make this chicken Instant Pot recipe.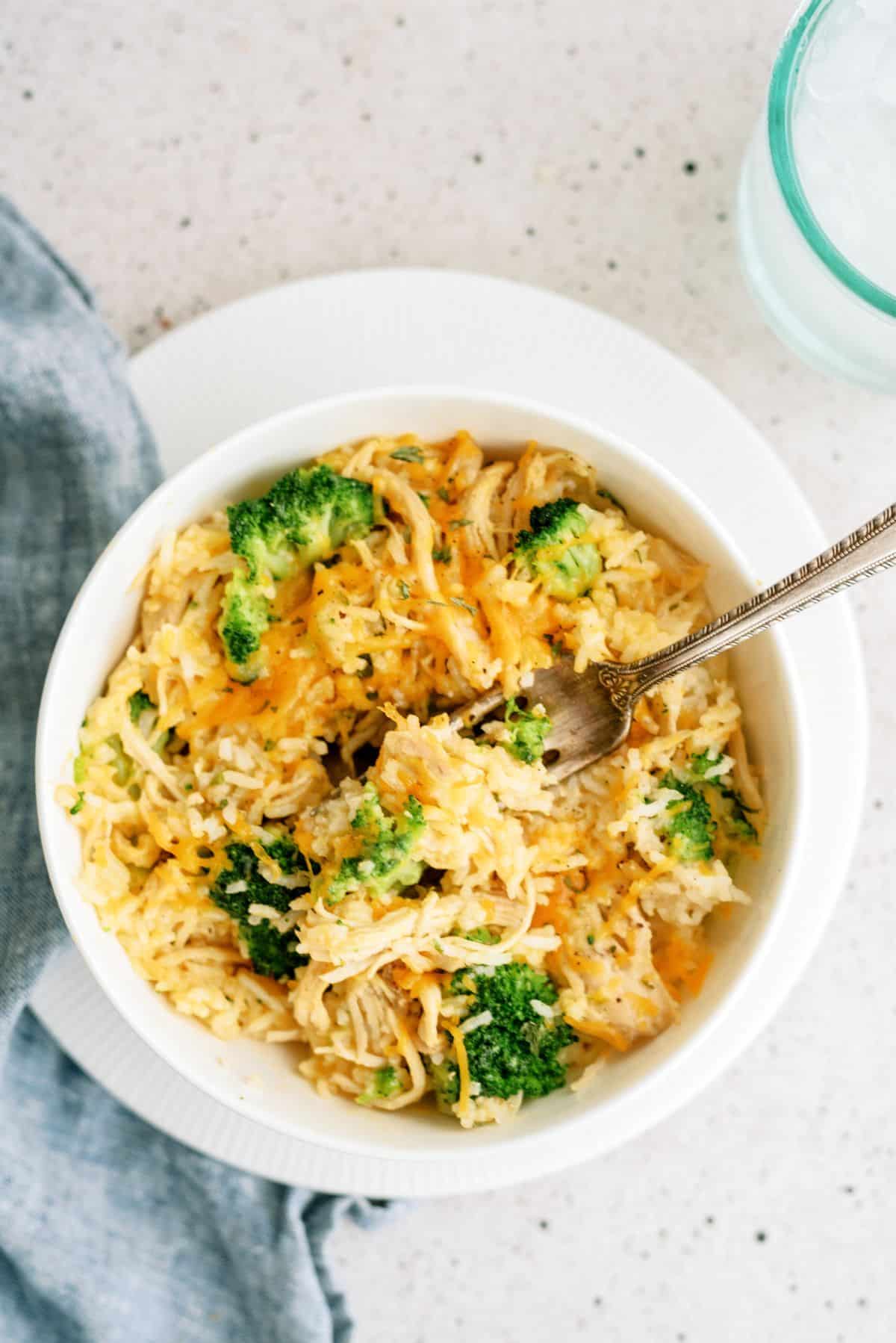 It is a delicious recipe that is filled with great flavor and can all be made right in the Instant Pot. No need to dirty any extra dishes, which is always a plus for me or anyone else doing the dishes.
You can make this Intant Pot cheesy chicken and rice recipe any night of the week, but I tend to save it for our busy nights as I know I will always get a perfect meal even in a time crunch. There is truly nothing worse than making a meal only to find you don't like it and don't have time to fix a back up meal.
If you need ideas for what to serve along with our chicken and broccoli Instant Pot recipe, give our cheesy garlic green beans recipe, Texas Roadhouse rolls copycat recipe, or slow cooker brown sugar glazed carrot recipes a try!
Ingredients You Need For Our Instant Pot Cheesy Broccoli Chicken and Rice Recipe:
Yellow or white onion, diced
Garlic cloves, minced
White rice
Chicken broth
Salt
Boneless skinless chicken breasts, cooked and shredded
Fresh or frozen broccoli florets
Grated cheddar cheese
Ground black pepper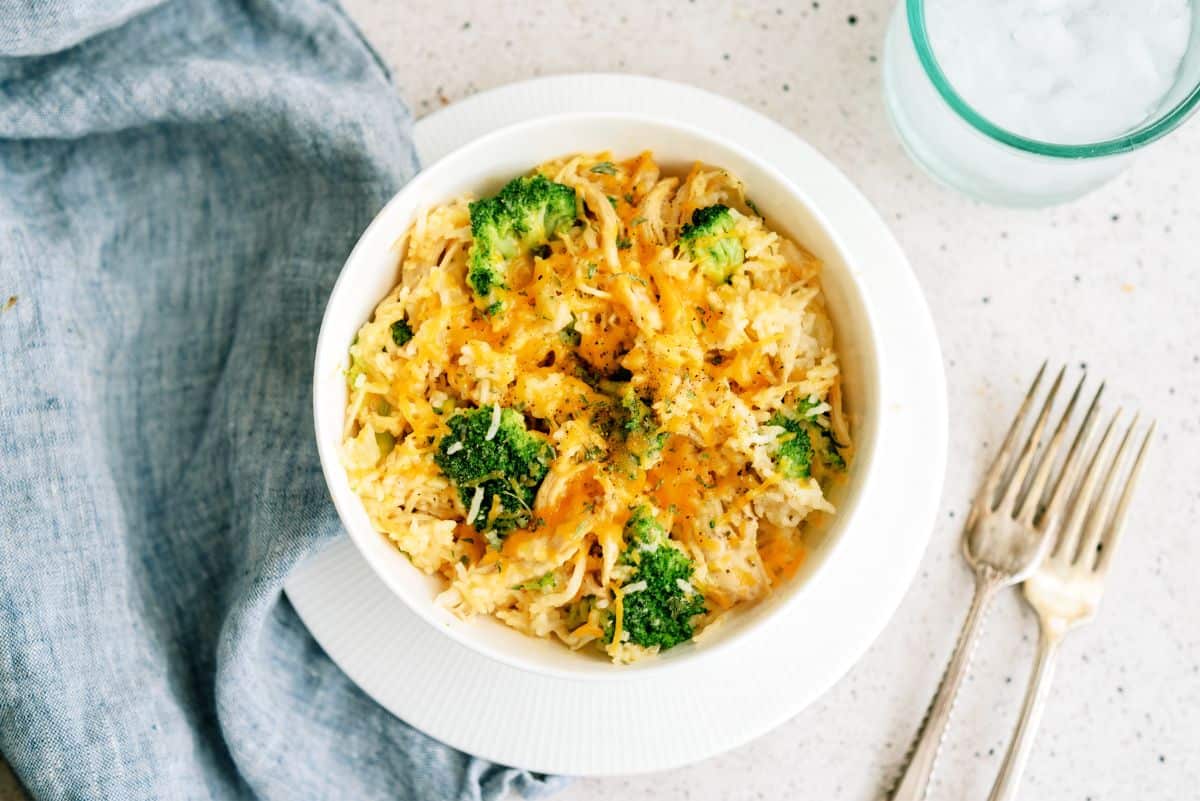 How To Make Our Instant Pot Cheesy Broccoli Chicken and Rice Recipe:
Before you start this recipe, make sure you have your chicken already cooked and shredded. Sometimes I like to grab a rotisserie chicken and use that and it works great!
Then, get out your Instant Pot and add in the diced onion, minced garlic, uncooked white rice, chicken broth, salt, and cooked chicken to the inner pot.
Once you have all of that in the Instant Pot, place the lid on and turn the valve to the SEALING position and press the MANUAL or PRESSURE COOK button and set the timer for 7 minutes.
When the time is up, turn the valve to the VENTING position and let the Instant pot do a quick release of the pressure that is built up.
While the pressure is being released, steam the broccoli in the microwave for 4-5 minutes or on the stove top.
NOTE: I personally love to grab a package of the frozen steamable bags of broccoli and use that since it is super simple to do. Or you can cook your fresh broccoli in with the other ingredients, but it will kind of disintegrate/fall apart for cooking that long in the Instant Pot. If your kids don't love broccoli, this might be a great option! But if you like broccoli and prefer the bigger pieces, follow the instructions as written.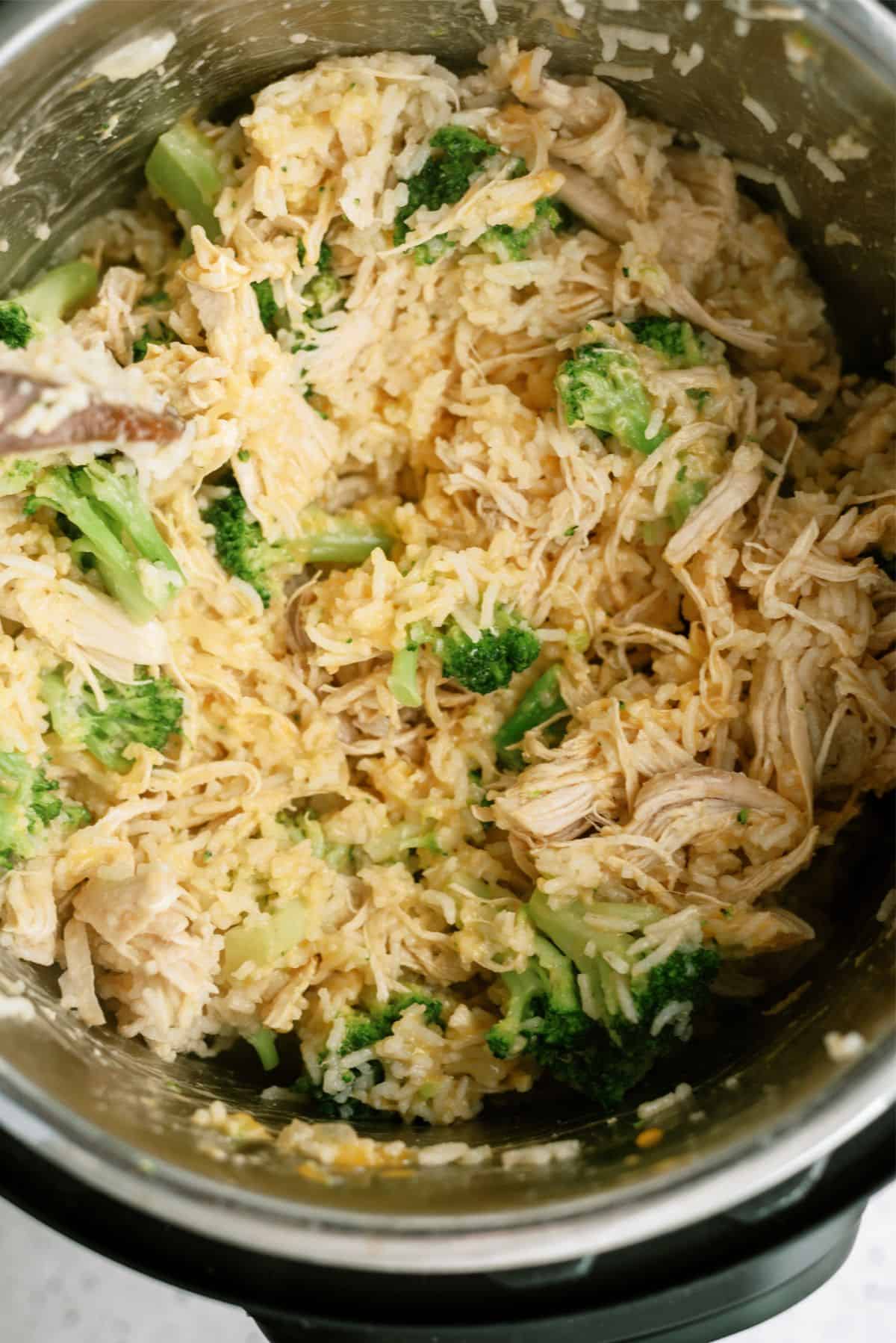 When the broccoli is done cooking, add it to the Instant Pot along with the cheddar cheese, and then stir it all together.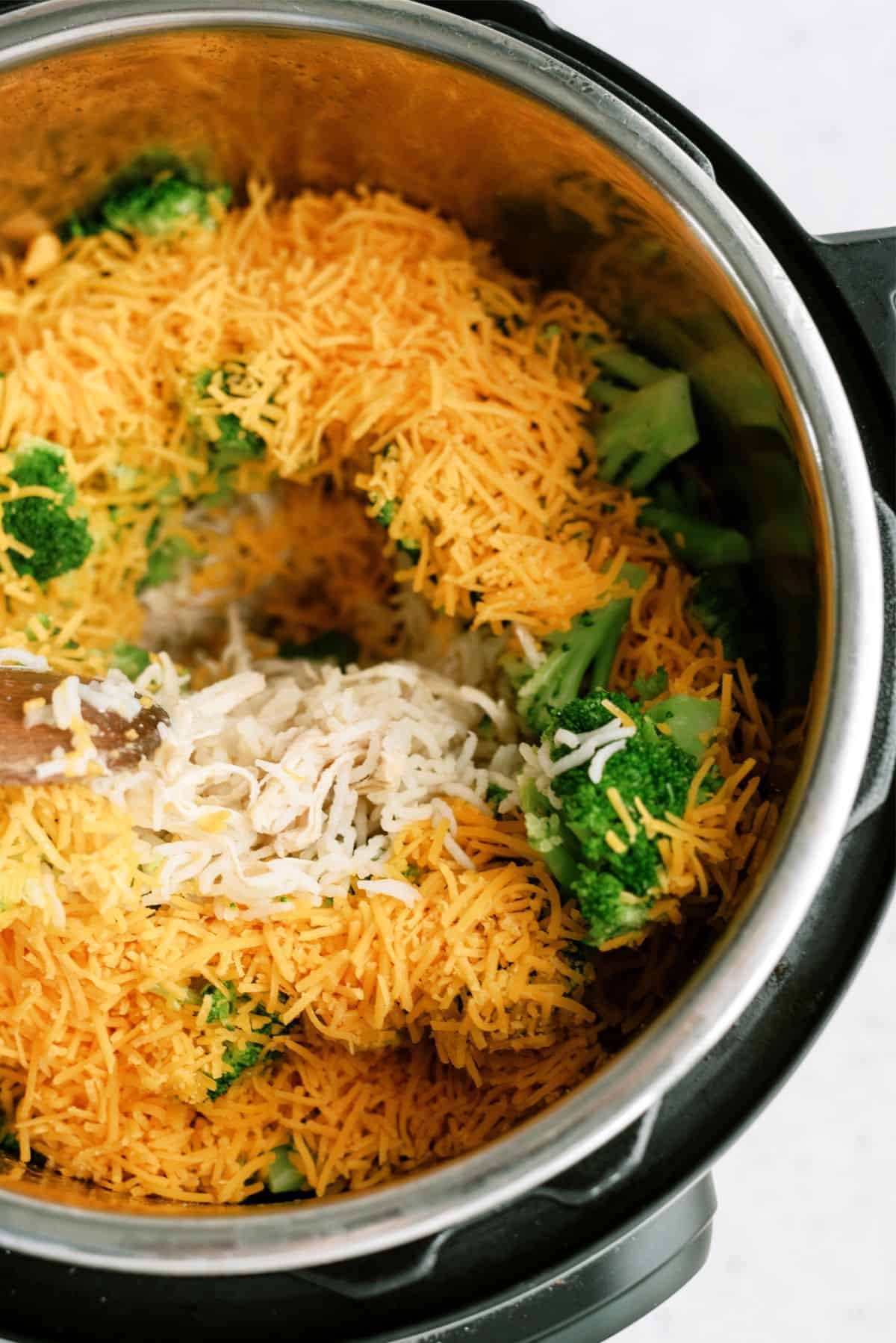 Now add salt and pepper to your liking and give it one last mix.
Once you are done seasoning the dish, scoop it onto the plates and top it off with a little more shredded cheddar cheese and enjoy!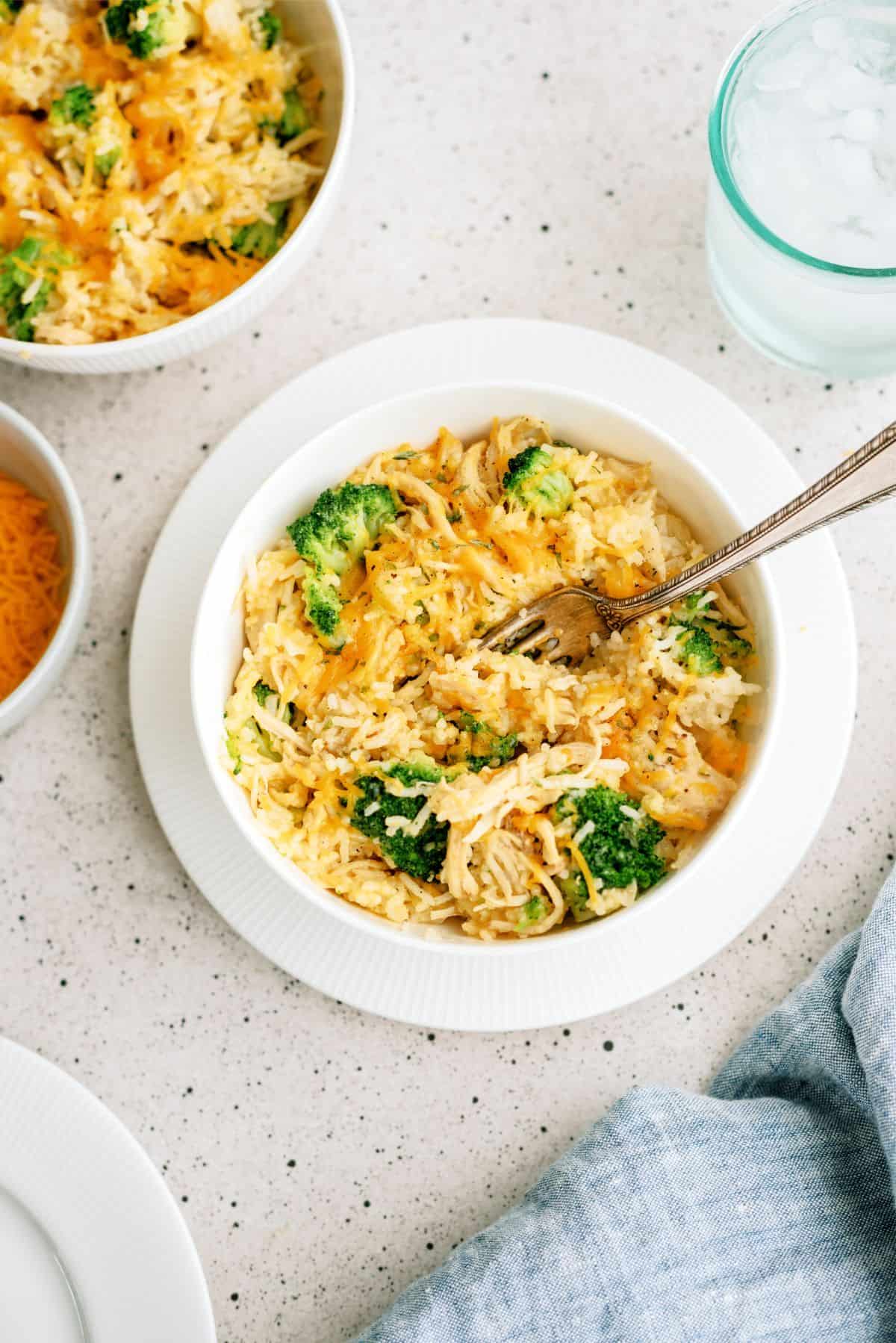 To Make This Instant Pot Cheesy Chicken and Rice Recipe You Will Need:
Instant Pot (THIS is an awesome one!)
Serving spoon
Pot (if you plan to cook the broccoli in the pot)