These Baked Chili Lime Chicken Tenders are the perfect combination of sweet and tangy. They come together in minutes and taste absolutely amazing.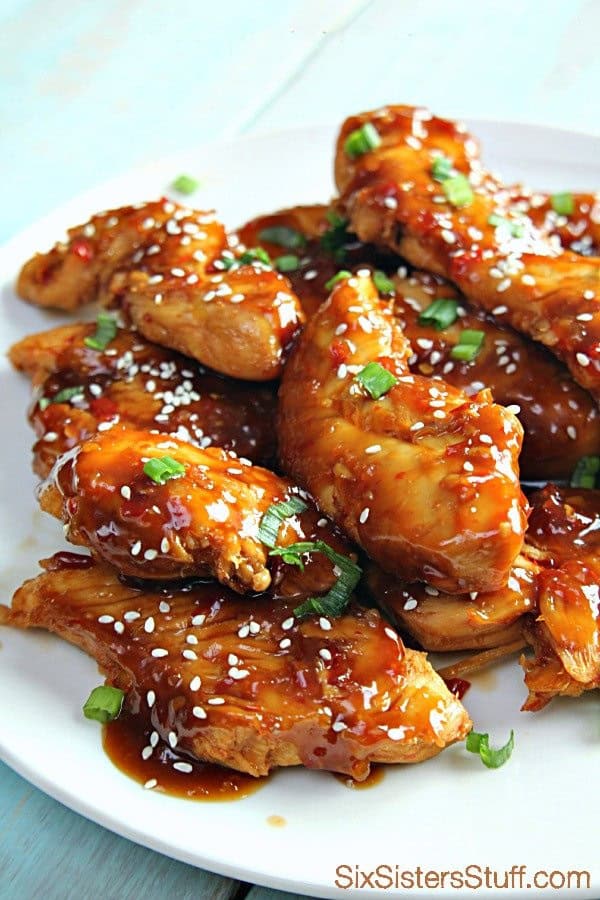 One of my favorite dinners is our Baked Honey Chicken Tenders – even my picky-eater will eat them.
I decided to take a new spin on that recipe and the results were awesome.
The sweetness from the chili sauce and the savory from soy sauce makes an awesome combo and baking them in the oven makes the glaze a little more caramelized.
It has a little Asian twist on it, which is our family's favorite.
We like to serve them with fried rice, or white rice (or for a healthier alternative, you could serve them with quinoa and brown rice).
It's a quick and easy dinner that looks like you worked on this culinary masterpiece all day.
Ingredients needed for Baked Chili Lime Chicken Tenders:
2 pounds boneless chicken tenders
½ cup chili sauce
2 Tablespoons orange marmalade
¼ cup soy sauce
2 Tablespoons lime juice
1 Tablespoon dried minced onion
1 teaspoon minced garlic
salt and pepper to taste
4 green onions sliced
1 teaspoon sesame seeds
How to get the perfect crispiness on your Chili Lime Chicken Tenders:
Your recipe should not have a lot of excess juices. That is the key to making crisp chicken, with a tender inside.
We recommend the best way to do this is to carefully follow these steps to ensure you don't have excess juice in the pan.
Pat your chicken tenders dry: A lot of the time, people won't prepare ahead of time, and have to defrost their chicken in the microwave. This can easily lead to excess chicken juices.
The juices will be in the pan, and cook out even more if you have to do this thawing method. Or they will put them in the pan with a few ice crystals left on them. This well definitely lead to extra, unwanted liquid in the pan, keeping your chicken from getting that crispy outside.
The best way to solve this problem is prepare ahead of time, and let the chicken tenders thaw in the fridge. You will also want to pat your chicken tenders dry. I usually use a paper towel to do this.
Flipping your chicken: If you aren't flipping your chicken, your tenders will only get crispy on one side, and be a little soggy on the other.
It's key to flip your chicken part way through cooking.
Broiling will always add the perfect crispness. Sometimes we like our exterior of our chicken to be a little extra crisp. To do this, we put it under the broiler for 1-2 minutes.
You'll want to be sure you carefully watch it, to ensure you don't burn it, but a little broil to both sides of the chicken tender is perfect, with or without the sauce on it (I do it with the sauce on it).
Did you know we have a Youtube Channel? We have hundreds of simple and delicious recipes, your family is going to love. We take you through each recipe, step by step, and show you exactly how to make them.