This chicken enchilada dish is so easy to make and will be a family favorite. You'll want to add this to your meal rotation.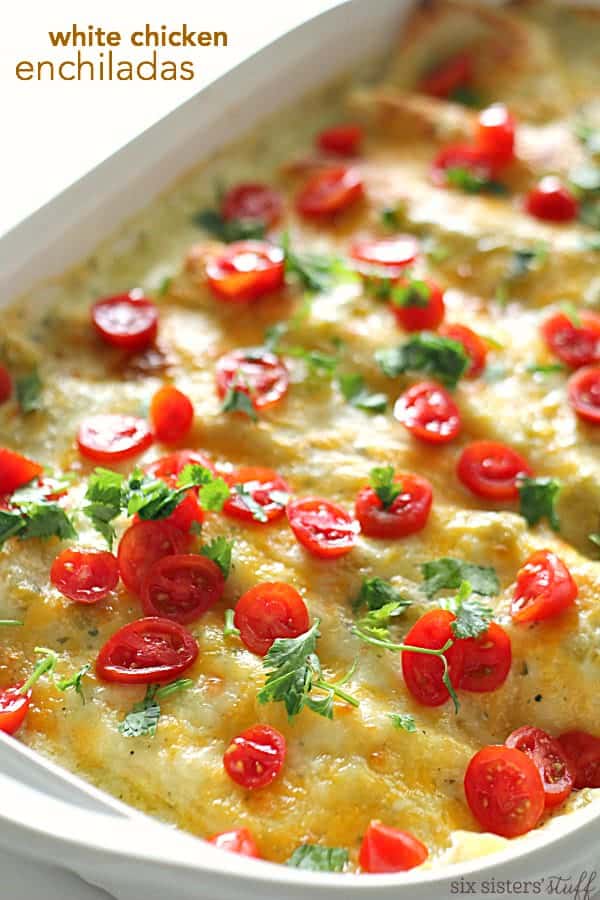 Most white chicken enchiladas that I have seen include a can of cream of chicken soup, which I still like, but when I came across this recipe that included a HOMEMADE green chili and sour cream sauce, I was sold (green chili's are seriously one of my favorite foods- hence all the Mexican recipes!)!
Simple ingredients and easy-to-follow directions make this an easy weeknight meal. My family basically INHALED them. I dare say this is now our favorite enchilada recipe.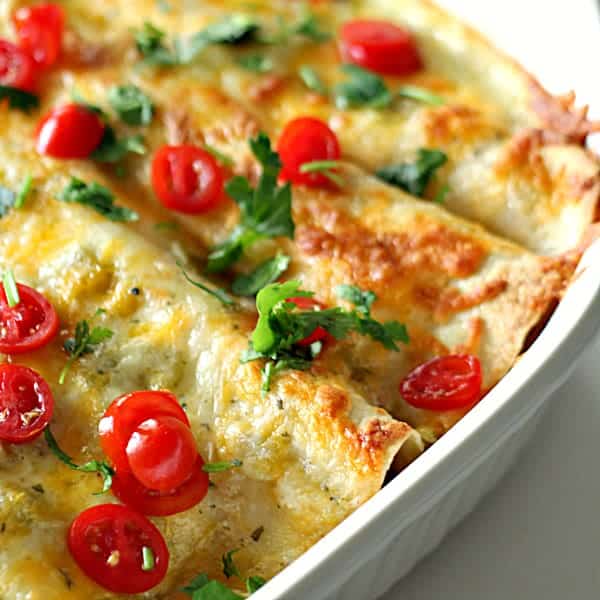 Ingredients needed for White Chicken Enchiladas with Green Chili & Sour Cream Sauce:
3 boneless skinless chicken breasts (cooked and shredded)
1/2 teaspoon chili powder
2 1/2 cups shredded Monterey Jack cheese (divided)
8 soft flour tortillas
3 Tablespoons butter
3 Tablespoons flour
2 cups chicken broth
1 cup sour cream
1 (4 ounce) can diced green chilies
1 teaspoon dried cilantro
1/2 teaspoon onion powder
1/2 teaspoon garlic powder
1/4 teaspoon black pepper
How to make this White Chicken Enchiladas with Green Chili & Sour Cream Sauce Recipe:
Preheat oven to 350 degrees. Grease a 9 x 13 inch pan using non-stick cooking spray.
Mix cooked chicken, chili powder (optional) and 1 cup of cheese together. Roll up in tortillas and place in pan.
In a medium sauce pan, melt butter, stir in flour and cook 1 minute. Add broth and whisk until smooth. Heat over medium heat until thick and bubbly.
Stir in sour cream, chilies, cilantro, onion powder, and garlic powder, and pepper. Make sure that you don't bring this to a boil- you don't want to have curdled sour cream!
Pour over enchiladas and top with remaining cheese.
Bake 20-22 minutes and then place under high broil for 3 min to brown the cheese.