We love some good enchiladas. Especially when they are an easy dinner and the kids don't turn up their nose. You will love how quick and simple this White Chicken Enchilada Casserole comes together. It's sure to be a part of your family dinner rotation.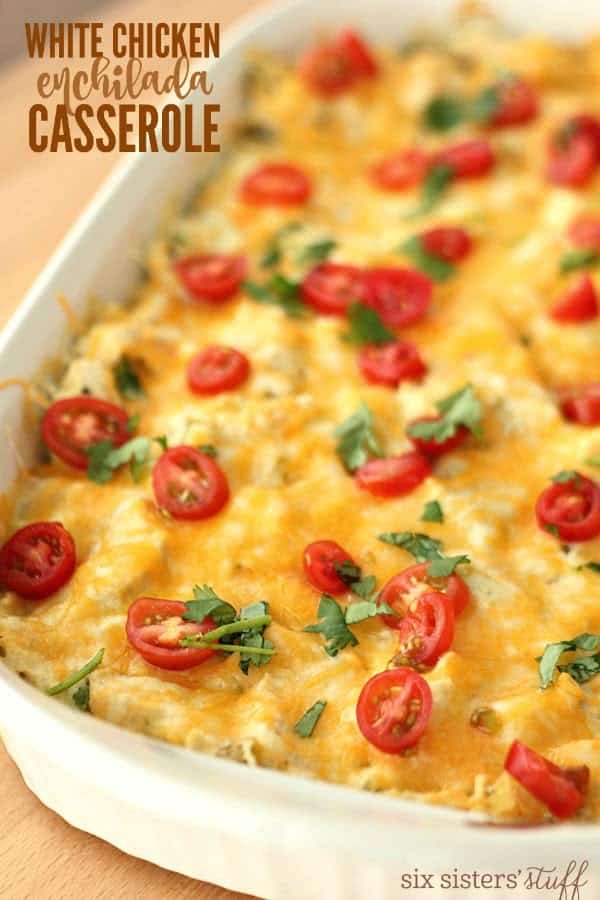 One of my family's favorite recipes is our White Chicken Enchiladas. I kind of have a love/hate relationship with enchiladas . . . I love how good they taste, but not too thrilled with how much time it takes to put them together.
A while ago I used that same idea and turned those White Chicken Enchiladas into a casserole. The outcome was a smashing success! My kids devoured their dinner and it took me a fraction of the time to prepare!
If you are looking for a great family dinner, then look no further than this white chicken enchilada casserole.
Do you love easy and delicious casseroles? Here are more of our favorites:
WE HAVE MANY MORE WONDERFUL CHICKEN RECIPES THAT ARE EASY AND YOUR FAMILY WILL LOVE. SOME OF OUR BEST REVIEWED RECIPES ARE HONEY LIME CHICKEN ENCHILADAS, MOM'S SECRET RECIPE – GRILLED 7UP CHICKEN, AND PARMESAN SESAME CHICKEN STRIPS WITH MUSTARD DIPPING SAUCE.
Ingredients for White Chicken Enchilada Casserole:
White chicken enchilada ingredients:
Chicken breasts
Cream of chicken soup
Green chilis
Sour cream
Onion
Milk
Garlic Salt
Salt and Pepper
Tortilla Chips
Monterrey Jack Cheese
Cheddar Cheese
(optional toppings)
Kitchen items needed to make white chicken enchilada casserole:
Mixing Bowls (We like THESE)
Knives for dicing