Oh my goodness, this baked apple fritter muffin recipe is like if an apple fritter donut and a cinnamon muffin had a baby! It is just so ridiculously delicious that you will find yourself craving this apple muffins recipe.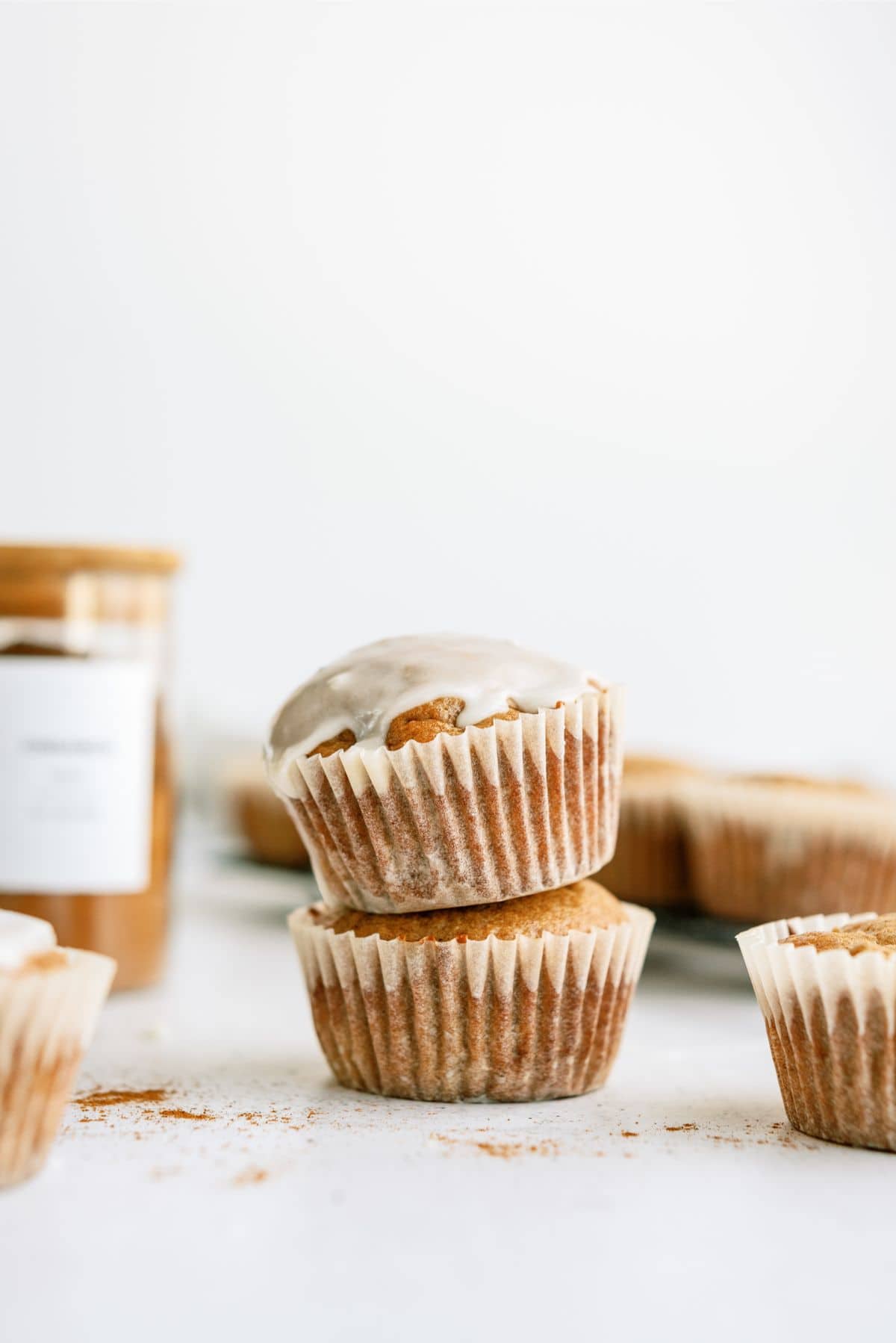 Our baked apple fritter muffin recipe is our way of making the apple fritter everyone knows and loves without having to fry anything! Not to mention it makes the best apple dessert.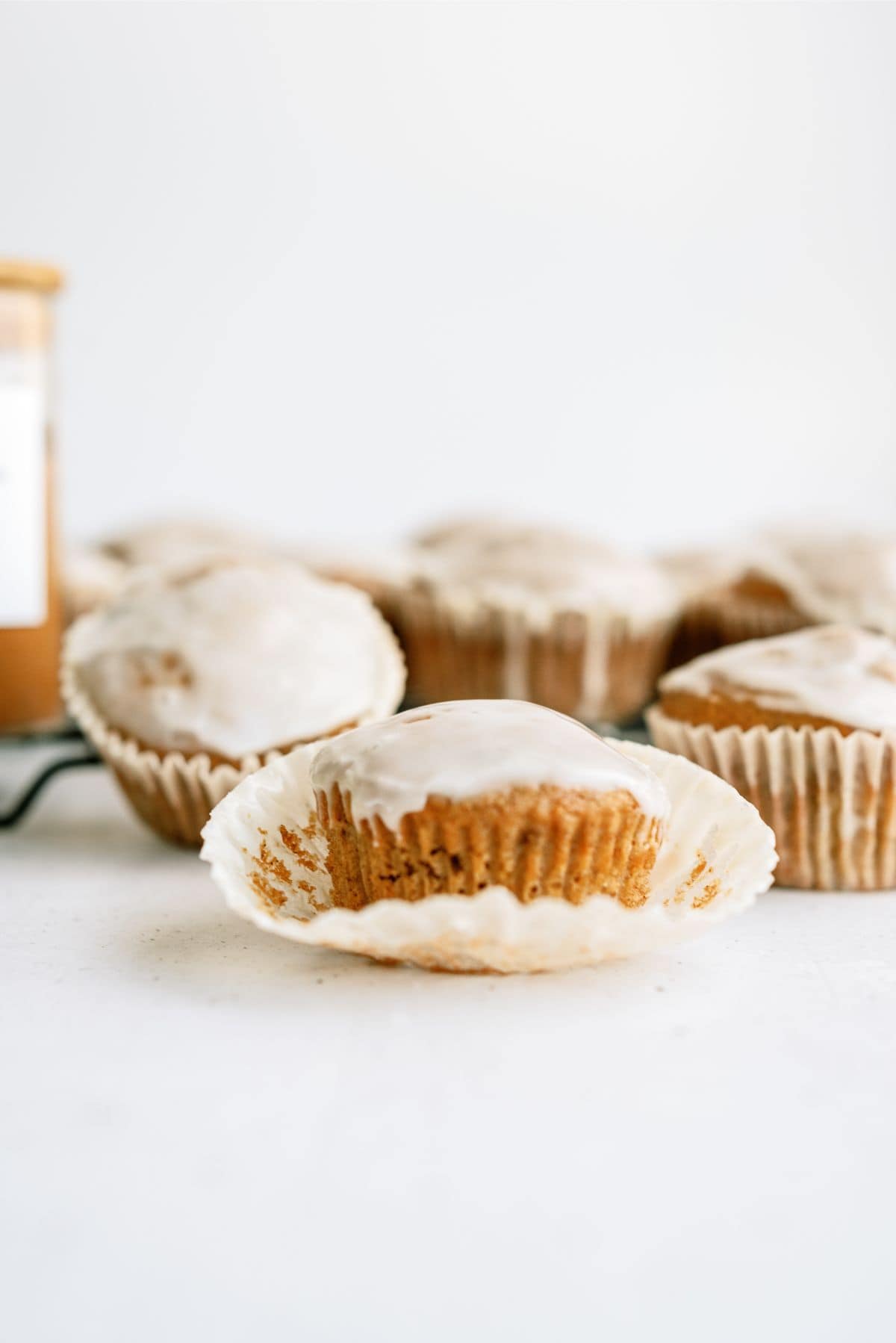 If you have never tried an apple fritter recipe, this is a great one to start with. You will get all of the tasty flavors of the apple fritter without all of the frying mess, plus it creates some super tasty and moist apple muffins.
What is also nice about these delicious muffins is that they have a delicious glaze that you put over top as an ode to the traditional apple fritter recipe. You could make the muffin without it but you'd definitely be missing out!
You can make more fun fall recipes like this with our sheet pan zucchini cake recipe with frosting, pumpkin zucchini bread, and of course some cinnamon zucchini cake with cream cheese frosting. In my honest opinion you can never go wrong with anything that has cream cheese frosting (or really anything with frosting, haha), so be sure to make those recipes!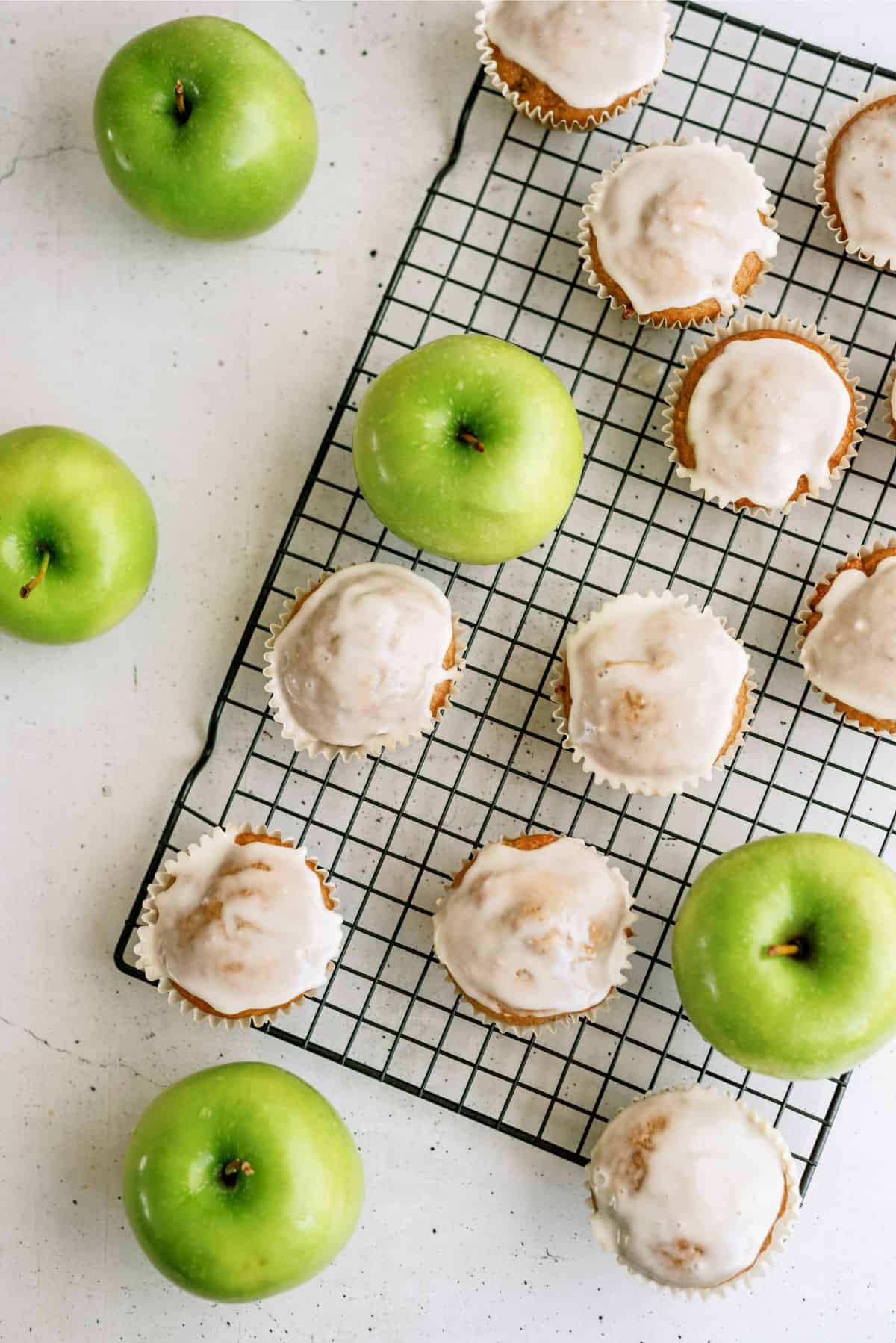 Ingredients You Need to Make Our Baked Apple Fritter Muffins Recipe:
Granny Smith apples
Butter
Sugar
Cinnamon
Water
Flour
Eggs
Applesauce
Brown sugar
Vanilla extract
Baking powder
Baking soda
Cinnamon
Salt
Milk
Powdered sugar
How To Make Our Baked Apple Fritter Muffins Recipe: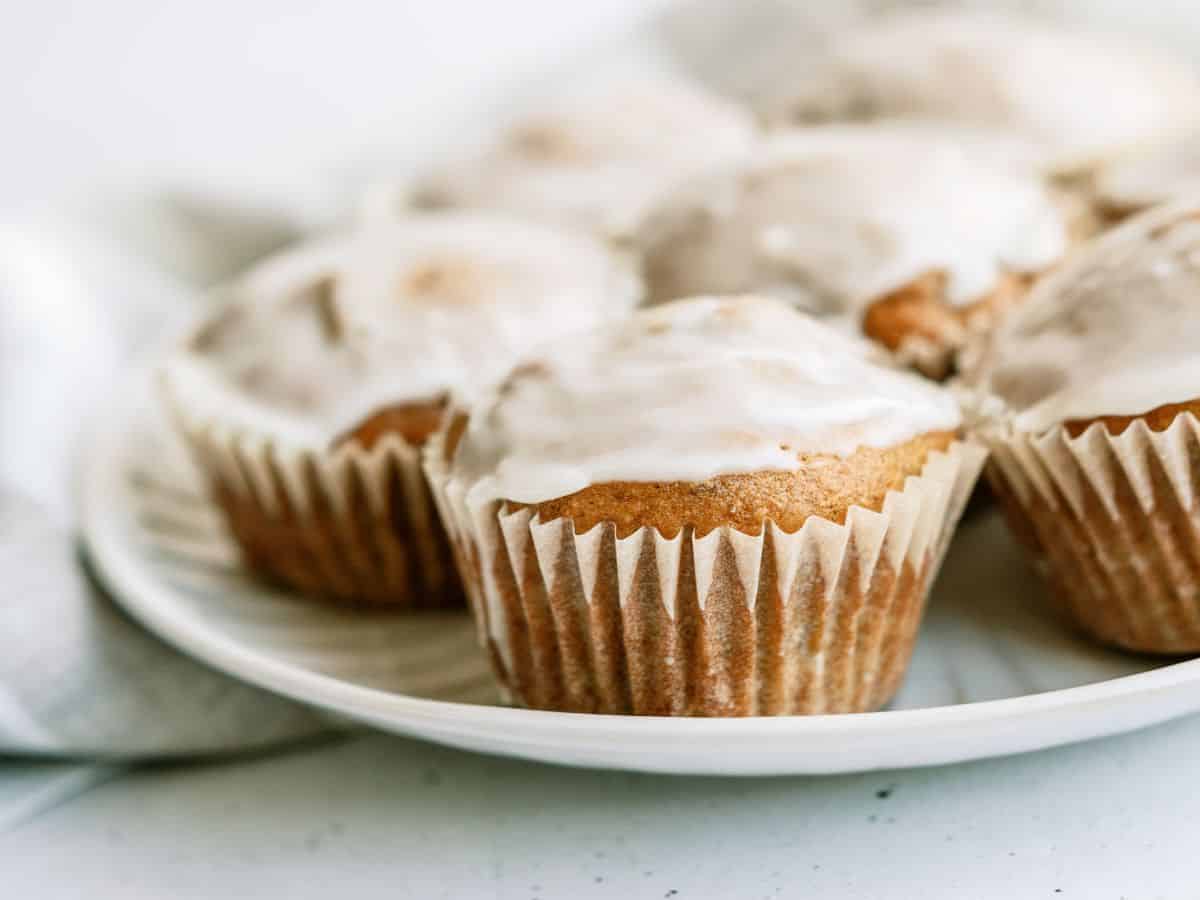 To get started, preheat your oven to 400 degrees.
Then get out your muffin pan and line it with 18 muffin cup liners or 48 if you want to make these into mini muffins, or simply spray it with nonstick cooking spray to avoid the muffins from sticking.
Now, in a large skillet over medium heat saute the finely diced apples, butter, sugar, cinnamon, and water, cooking it all together for about 7-10 minutes or until the apples are tender.
Next, add in ⅓ cup of flour and mix it into the sauted apples until they are well coated.
In another small mixing bowl combine the remaining flour, baking powder, baking soda, cinnamon, and salt and stir it all together.
Then, in a separate larger mixing bowl combine the applesauce, sugar, and brown sugar until it is nice and smooth.
Once the sugar is dissolved into the applesauce add in the eggs, mixing inbetween each one.
After both eggs are mixed in, add in the vanilla extract and give everything another stir to combine the vanilla.
When all of the wet ingredients have been combined, carefully stir in a part of the dry ingredients to the wet ingredients, and then part of the milk.
Continue to alternate adding the dry ingredient and milk to the wet ingredients until everything has been added.
Lastly, once the batter is made, slowly fold in the sauted and tender apples until they are distributed throughout the batter.
Now scoop the batter into the liners or muffin cups until they are about ⅔ full and bake the regular muffins for 15-17 minutes or the mini muffins for 10-12 minutes.
Allow the muffins to cool in the muffin pan for about 5 minutes and then take them out and place them on a wire rack to let them continue to cool.
While the muffins are cooling down, mix together the glaze ingredients (powdered sugar, milk, and vanilla extract) in a bowl until they are nice and smooth.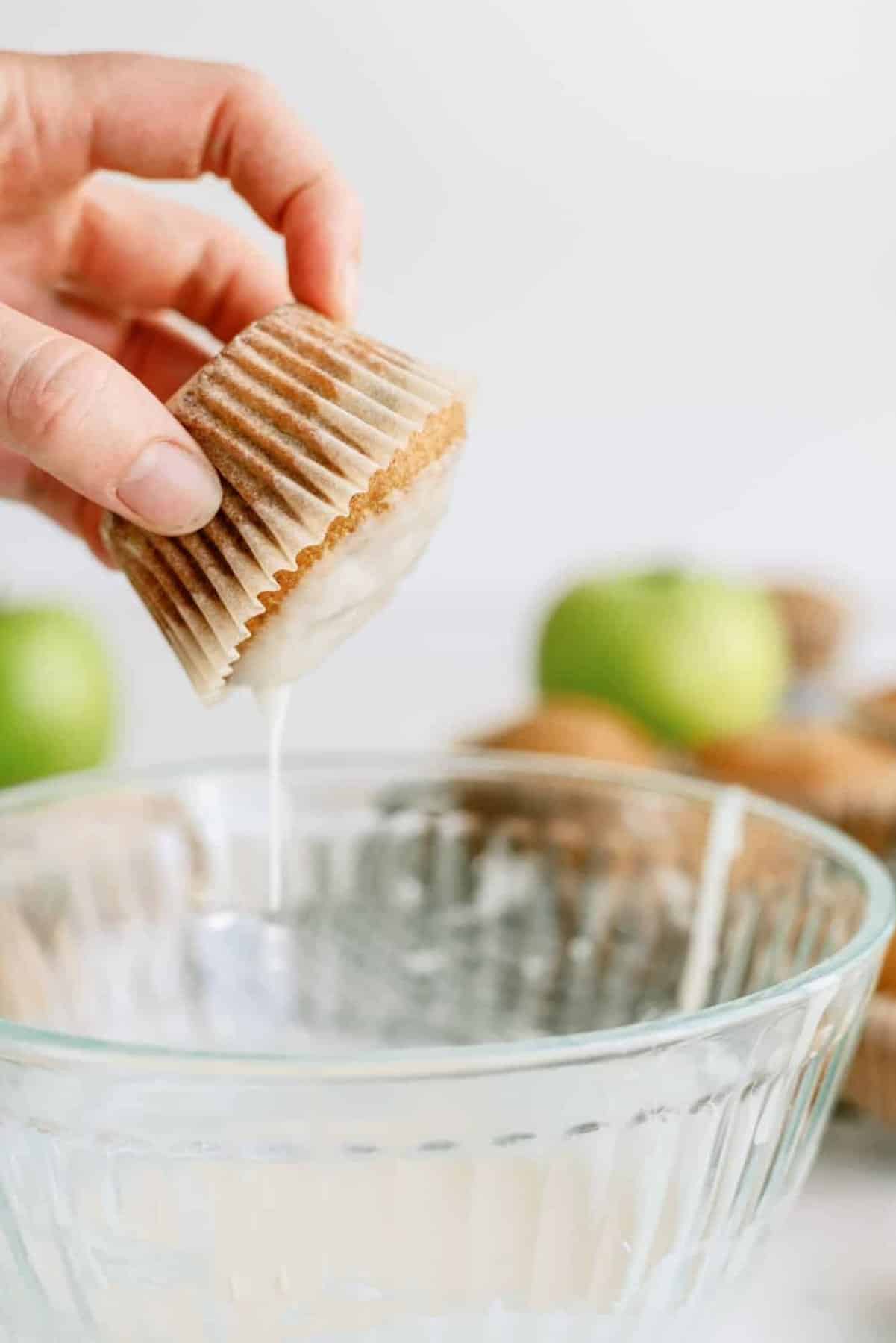 Now just carefully dip the tops of the muffins into the glaze and place them either back on the wire rack or a piece of wax paper and let the glaze run down the sides of the muffin.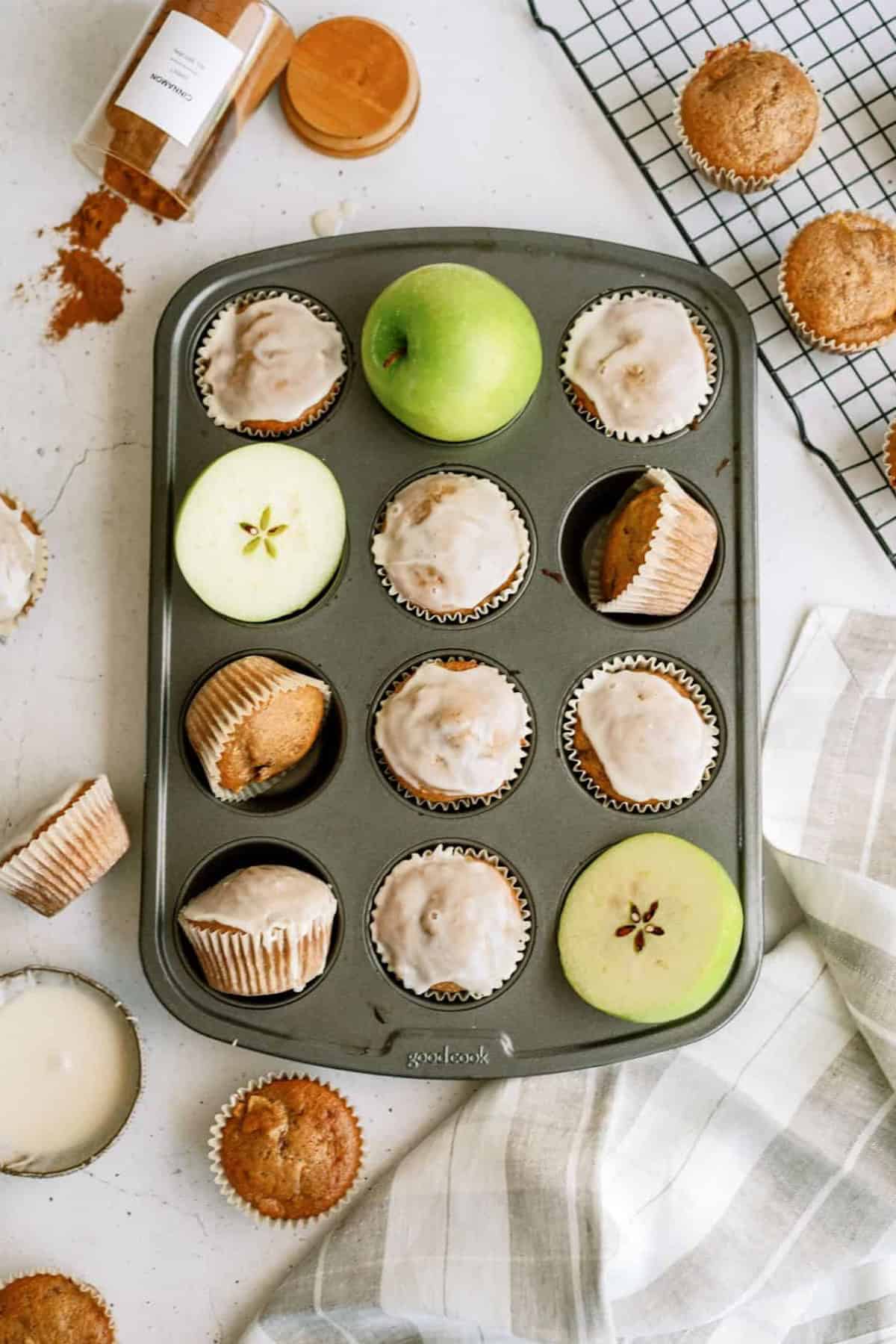 To Make Baked Apple Fritters You Will Need:
Muffin tin or pan (THIS is a great mini muffin pan to use!)
Nonstick cooking spray
Large skillet
Small mixing bowl (2)
Large mixing bowl
Liquid measuring cup
Wire rack