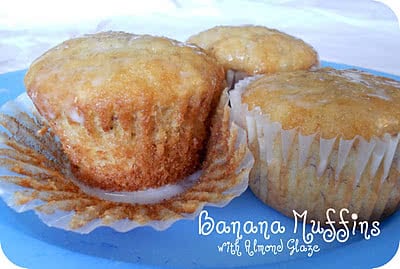 Join us on
Facebook
for our latest recipes and projects!
If you live in Utah, you have probably heard of the
Lion House
Restaurant . . . they seriously have some of the best homemade dishes I have ever tried!
I got this recipe from my mother-in-law's friend and it's pretty dang close to the Lion House's banana bread recipe, but I love to make muffins with it too. I know that there are a lot of banana bread recipes out there, but this one is my favorite because they always turn out perfectly moist!
Sometimes I top it off with a simple almond-flavored glaze- with or without it, it's still yummy.
So, if you have over-ripe bananas, this is a perfect way to use them up!
Lion House Banana Bread with Almond Glaze
1/2 cup margarine or butter
1 cup sugar
2 eggs
1 cup mashed bananas (3-4 bananas)
1/4 cup milk
1 tsp lemon juice
2 cups flour
1 1/2 tsp baking powder
1/2 tsp baking soda
1/4 tsp salt
1/2 cup chopped nuts (optional- I like walnuts the best)
Cream margarine (or butter) and sugar. Add eggs and beat. Add bananas, milk, and lemon juice. Sift dry ingredients and add. Stir in nuts (if using them).
If making bread loaves:
Bake in well-greased bread loaf pan for 1 hour at 350 degrees F. Makes 1 loaf.
If making muffins:
Bake in greased muffin tins (or use baking cups) at 350 degrees for about 20-22 minutes. (I can't remember exactly how many these made last time I made them! I am thinking that it made 12-15 . . . but don't hold me to that number!)
Glaze with mixture of milk and powdered sugar (I don't ever measure it, I just keep adding one ingredient or the other until I get the consistency I want) and 1/2 tsp almond flavoring. Glaze muffins/bread while still hot.