Enjoy a delicious and easy pork roast recipe with our Instant Pot honey BBQ pork wraps! You make the sweet BBQ pulled pork right in the Instant Pot and top it with our fantastic homemade coleslaw.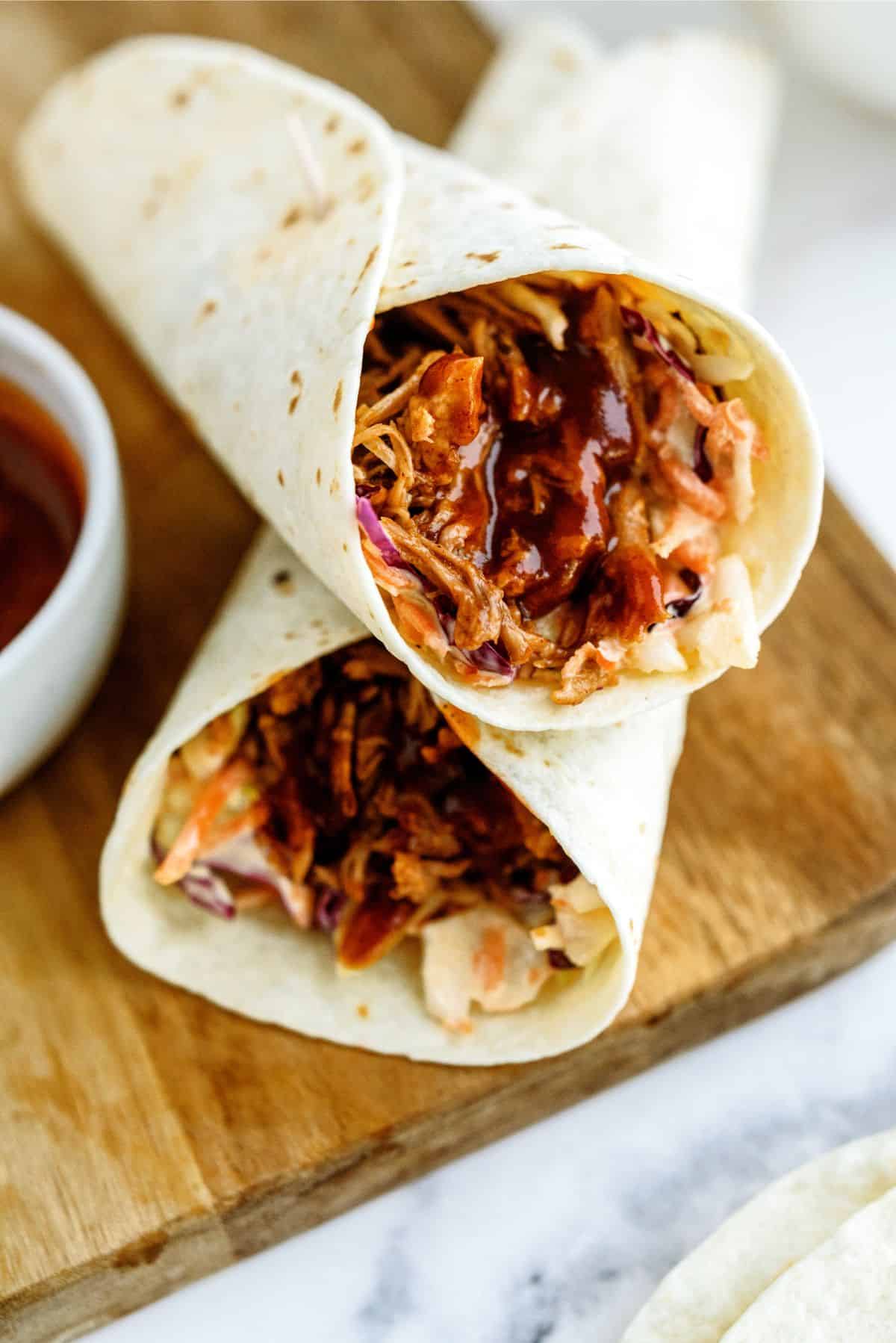 You're going to love this Instant Pot honey BBQ pork wraps that are made out of our delicious pulled roast recipe. Sometimes pork roast recipes can be a heavier meal, but when you turn them into wraps and top it with some delicious homemade coleslaw, not only is it a light meal, but super tasty.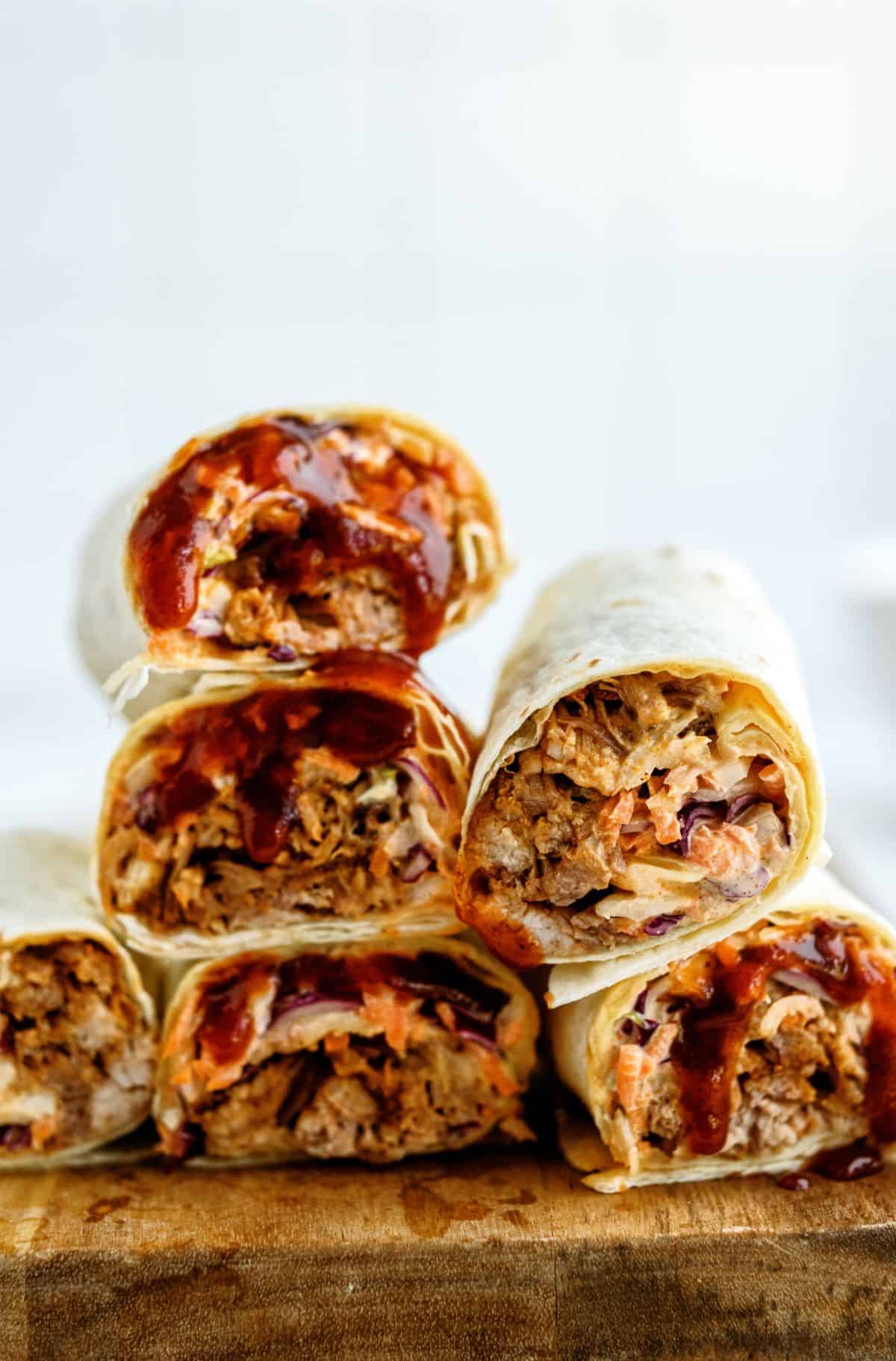 Our Instant Pot pork recipe is a great summer recipe that you can serve for lunch or dinner and have everyone enjoy their meal. Not to mention that is a wonderfully flavorful budget-friendly dinner recipe that you can make for a crowd.
Have you ever made a pulled pork Instant Pot recipe? If not, this is a great recipe to start with! It is a great recipe for beginners to get their feet wet and still produce a great meal.
To get a few ideas of what you could serve with these tasty honey BBQ pork wraps I would definitely suggest that you try our Olive Garden fresh garden salad copycat recipe, Mom's easy potato salad recipe, or some fun air fryer crispy zucchini bites! They will all taste great with the wraps and work for dinner or lunch!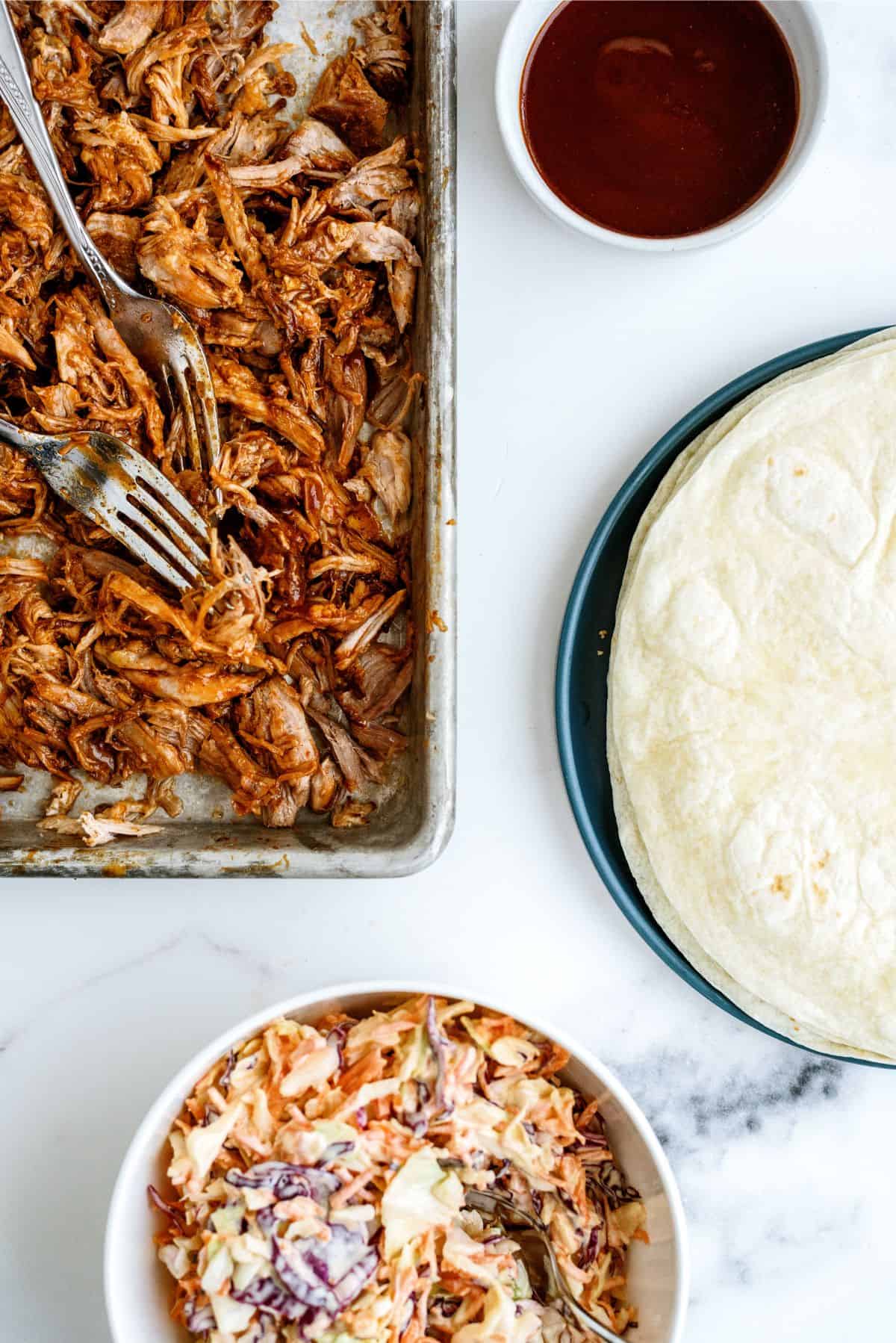 Ingredients Needed to Make Instant Pot Honey BBQ Pork Wraps:
Pork Recipe Ingredients:
Water
Boneless pork shoulder roast
Salt
Pepper
BBQ sauce (any kind)
Honey
Brown sugar
Garlic clove, minced
Coleslaw Recipe Ingredients:
Shredded coleslaw mix
Shredded purple cabbage
Shredded carrots
Mayonnaise
White vinegar
Celery seed
Sugar
Salt
Pepper
How To Make Our Instant Pot Honey BBQ Pork Wraps: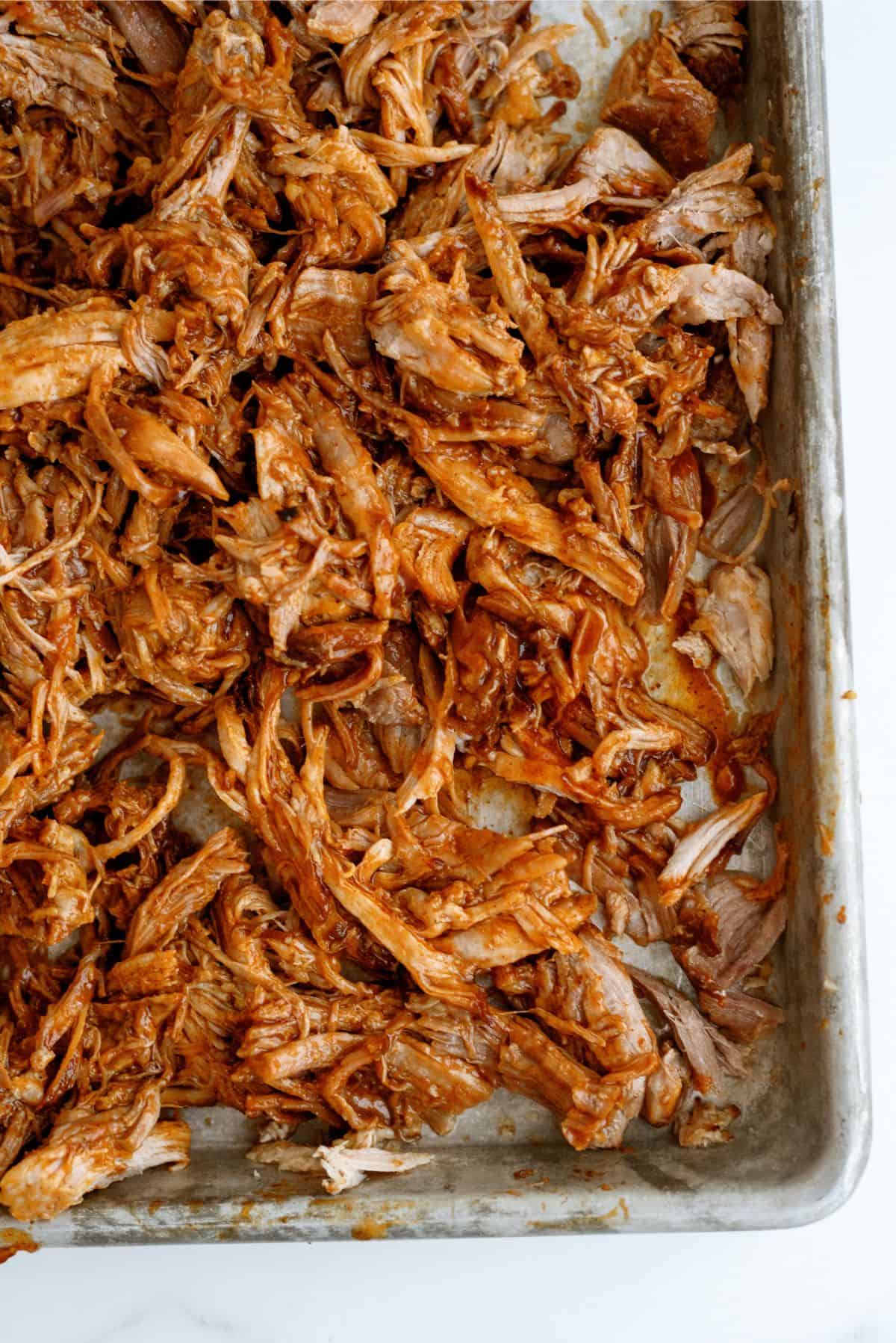 To begin these perfect BBQ pork wraps, get out your Instant Pot and pour water into the bottom of the inner pot.
Then open up your roast and sprinkle salt and pepper on all sides of the roast.
Once the roast has been seasoned, place the roast in the bottom of the Instant Pot.
Now, in a small mixing bowl, mix together the BBQ sauce, honey, brown sugar, and minced garlic until it is well combined.
After the sauce is combined pour it over top of the pork roast.
When you have the roast all set, place the lid on the Instant Pot, making sure the valve is turned to the SEALING position.
Then press the PRESSURE COOK or MANUAL button and set the timer for 45 minutes (this is going based off a 2 lb pork roast. If yours is bigger our rule of thumb is 20-25 minutes per pound of meat).
Once the timer is done, let the Instant Pot do a NATURAL RELEASE of the pressure from inside the pot. You will know it is ready when the pin drops down, which is generally at least 20-25 minutes.
For a super tender roast, let it sit in the Instant Pot on the "keep warm" setting for a few hours and then it will just be falling apart with the touch of your fork.
When the roast is done, remove it from the Instant Pot and shred or slice the roast and then place a heap of the roast on a wrap, spoon some of the roast sauce from the Instant Pot onto the meat, and then top it off with coleslaw and your favorite toppings.
To make our homemade coleslaw, in a large mixing bowl combine the coleslaw mix, shredded purple cabbage, and the shredded carrots and give it a good toss.
Then in a small mixing bowl make up the dressing by mixing together the mayonnaise, white vinegar, celery seed, sugar, salt, and pepper.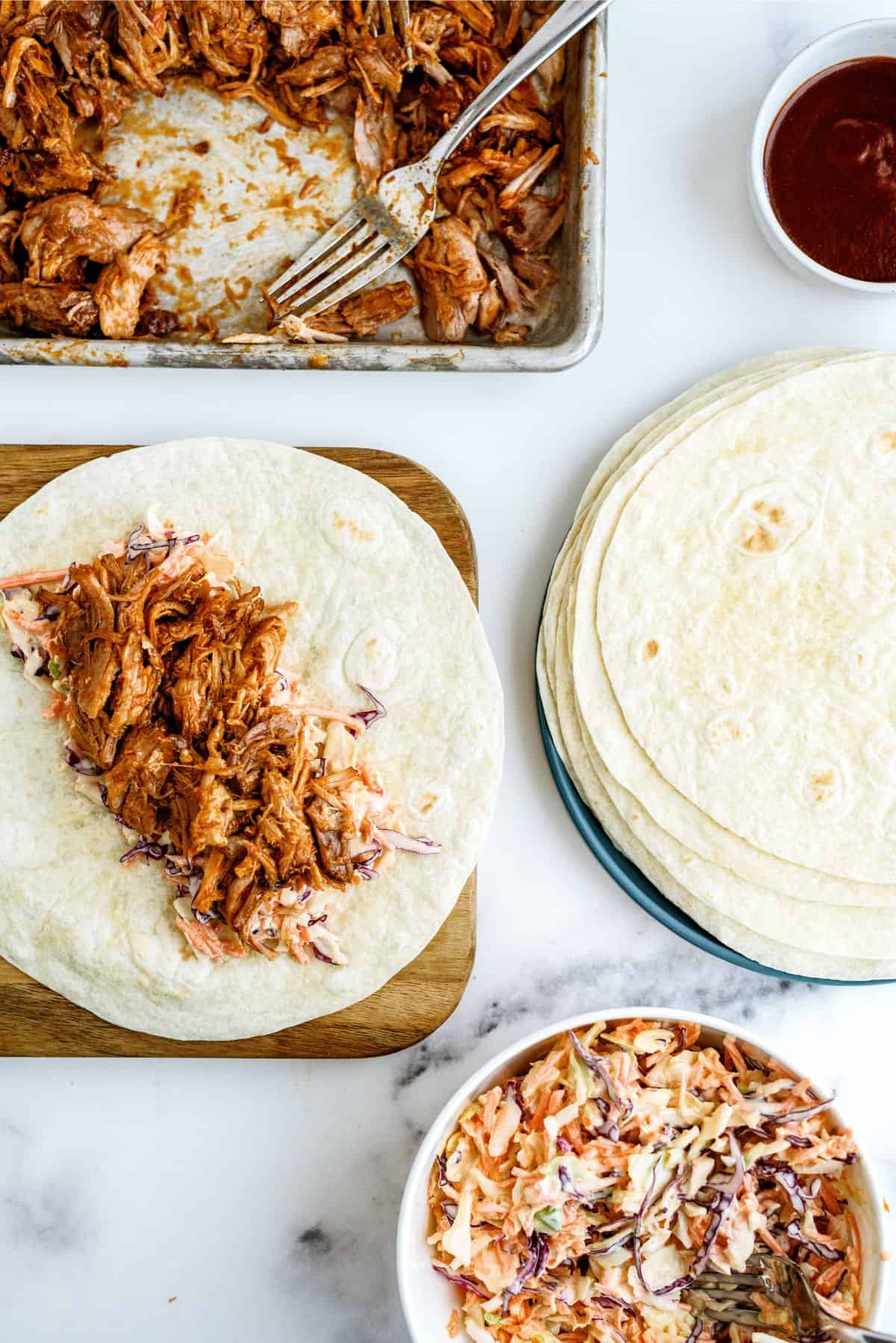 Once that is all mixed, pour the dressing over the coleslaw mix, toss it all together and then place it in the fridge to let it chill until you are ready to serve the wraps.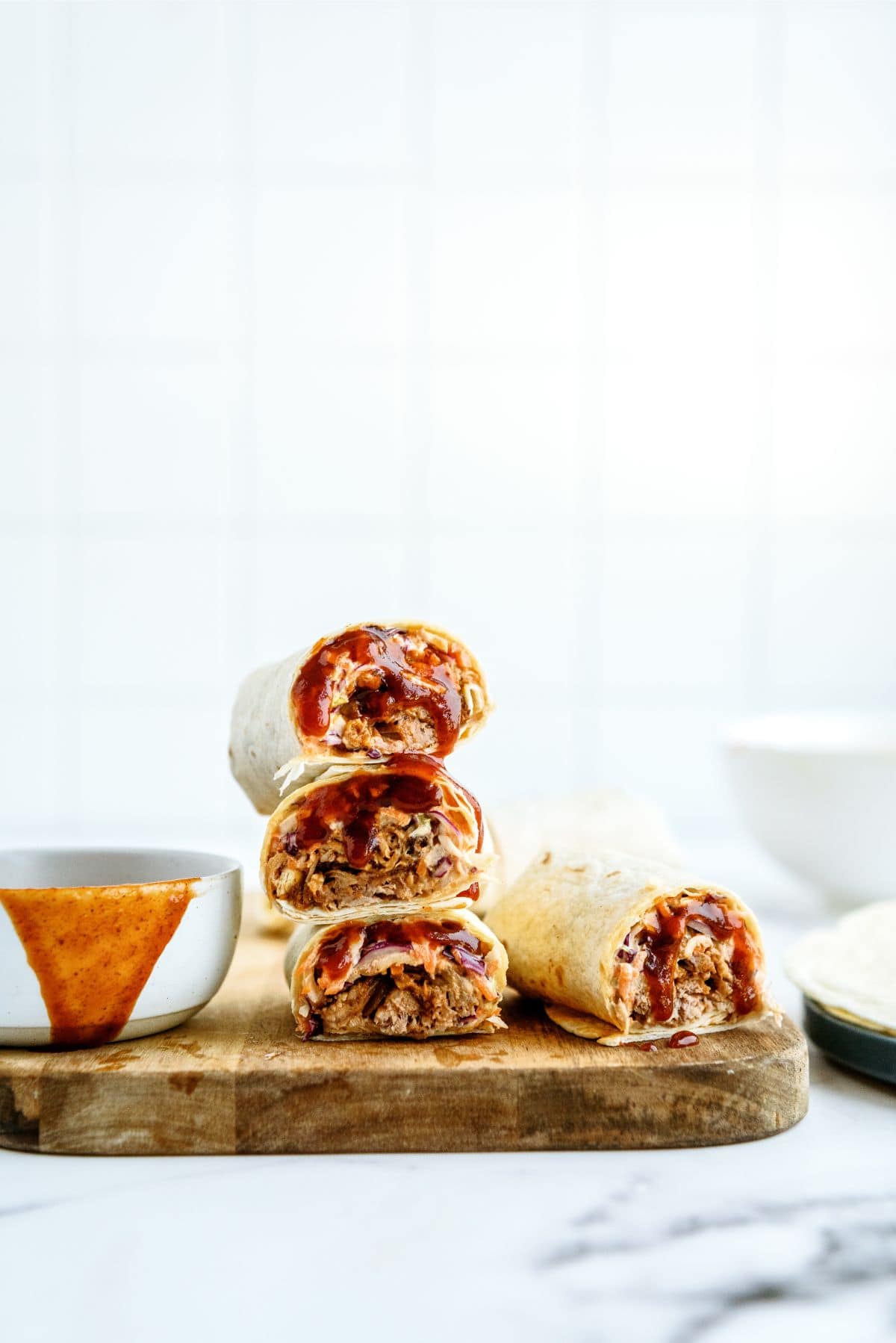 To Make Instant Pot Pork Recipe You Will Need:
Instant Pot (THIS is a wonderful Instant Pot)
Small mixing bowl (2)
Large mixing bowl
Forks for shredded or a knife for slicing the pork