Healthy Chicken Caesar Wraps that are ready in less than 10 minutes . . . perfect for busy weeknights or a quick meal on the go! Fresh and simple, these wraps will become a family favorite.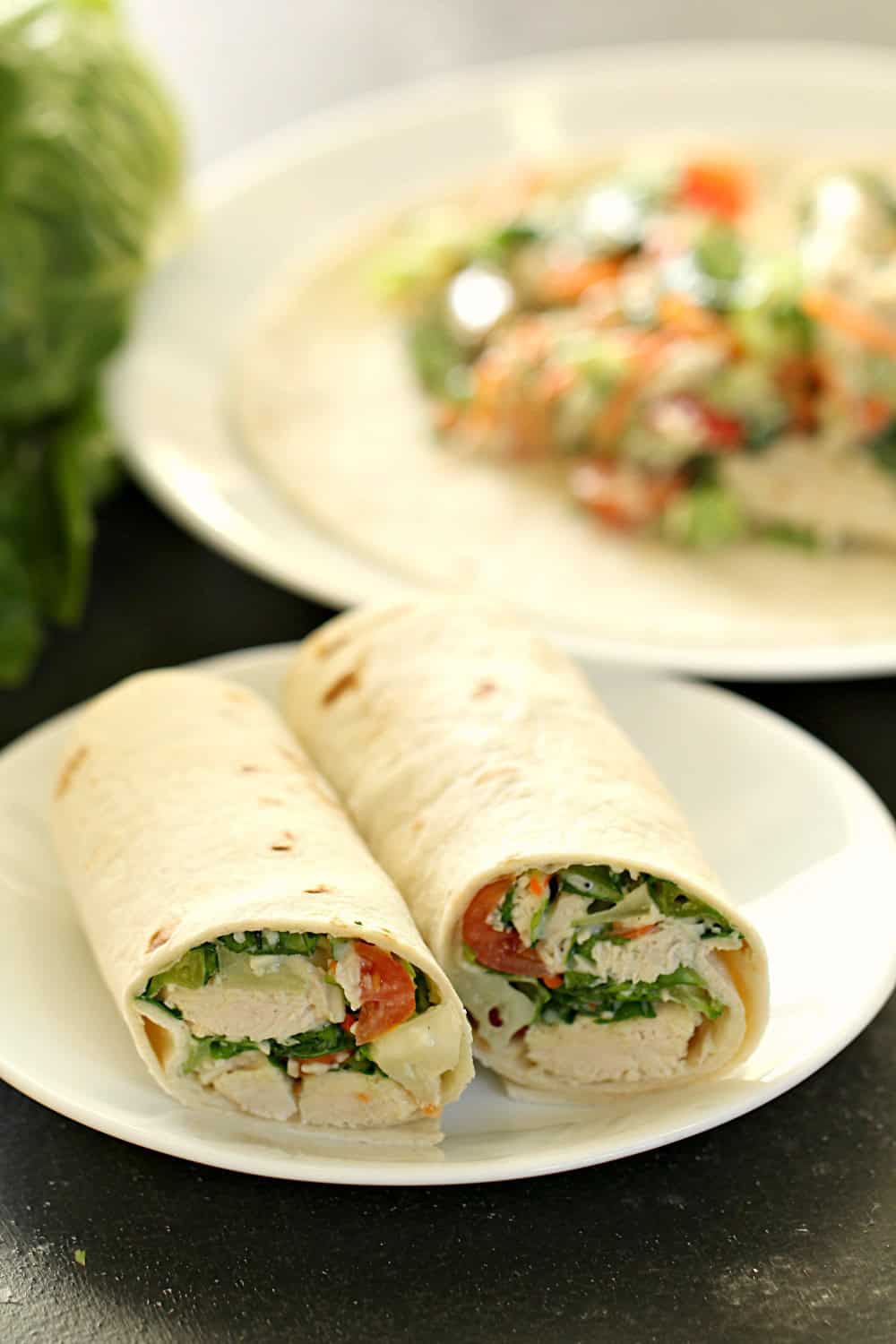 With all the comings and goings of my family, getting dinner on the table can be hard. I always try to have something that my kids can grab on the go and these Chicken Caesar Wraps have become one of my go-to recipes lately.
The spring time is always a busy time of year for my family – it seems like every child is playing 1-2 sports, graduations, recitals, end-of-year projects, and everything in between!
These wraps only take 10 minutes to throw together from start to finish and I am going to share all of my shortcuts to help make this recipe even easier!
So, let's jump right in!
Want even more recipe ideas that use already made chicken ?! Try these 45 Cold Chicken Recipes (Best Leftover Chicken Ideas)!
How to make Chicken Caesar Salad Wraps in 10 minutes:
Step 1: Pick up a rotisserie chicken from the store
A rotisserie chicken at the checkout line at the grocery store will become your new best friend! I love using them to make dinner in a hurry. If you need more recipes that use a rotisserie chicken, check out our Chinese Chicken Fried Rice, Honey Lime Chicken Enchiladas, or Chicken Parmesan Pasta Casserole.
You can also use cooked chicken breasts – many times I will cook them in the slow cooker with a can of chicken broth on low for 4-5 hours and then cut it into bite-sized pieces and it works perfectly.
Whatever kind of chicken you use, cut or shred it into bite-sized pieces and toss it into a big bowl.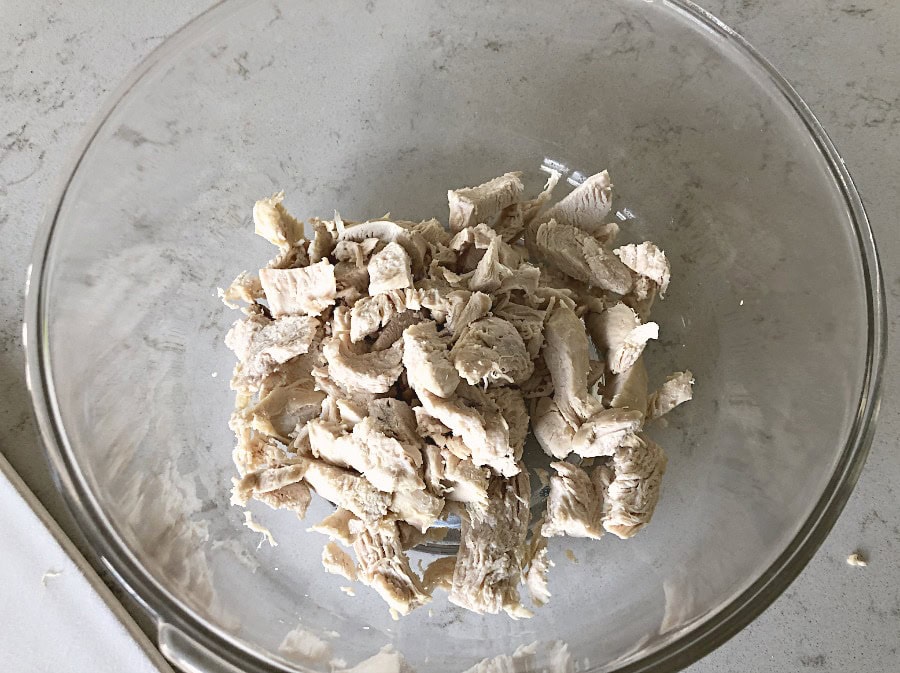 Step 2: Add some shredded lettuce
I love using romaine lettuce for this recipe – it's really crisp and crunchy, which I feel pairs well with the other ingredients.
It is also what is commonly used in Caesar salad, so might as well stick to what works.
You can buy a head of lettuce and cut it up yourself or most grocery stores sell cut up romaine lettuce – just another one of my favorite shortcuts to use to make my life easier!
Add the lettuce to the bowl.

Step 3: Add in some vegetables
I know that my kids like tomatoes and carrots in their salads, so that is what I chose to stick with for this recipe.
I used pre-shredded carrots, but feel free to shred your own if you want.
I also used cherry tomatoes and just sliced them to make them a little easier to use in these wraps. Roma tomatoes would also be a great tomato to use in this recipe.
Other vegetables that you could add to these Chicken Caesar Salad Wraps:
diced cucumbers
black olives (is that a vegetable?)
sliced or diced bell pepper (red or green would work great)
diced artichokes
broccoli florets
fresh spinach leaves
Whatever vegetables you end up using, toss them into the bowl.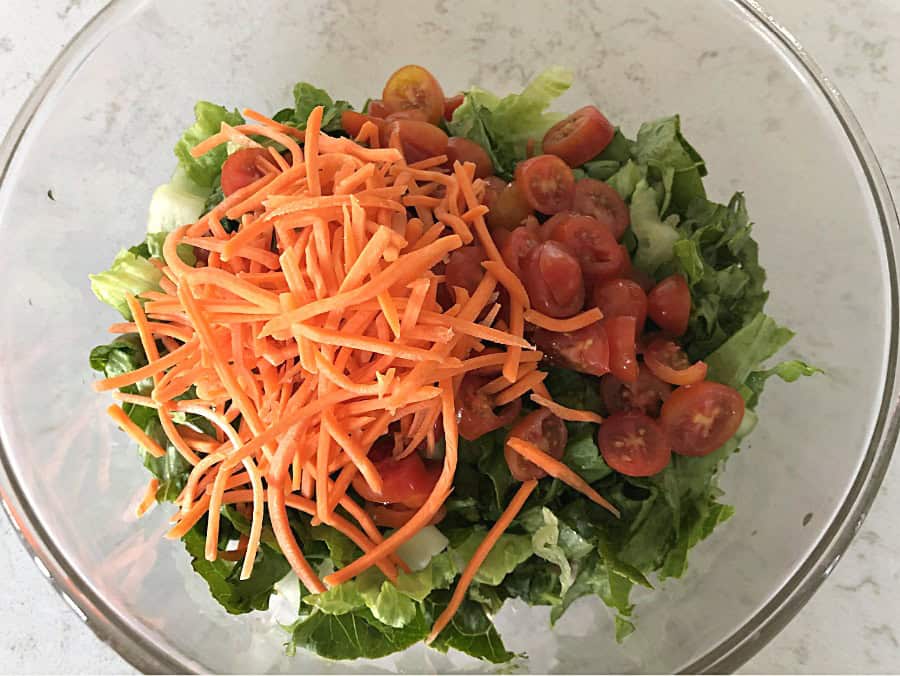 Step 4: Add in Parmesan cheese
For this recipe, fresh shredded Parmesan cheese will taste amazing. However, not everyone always has time to shred cheese . . .
Today I bought a bag of shredded Parmesan at the grocery store and tossed a handful into the bowl.
If you are in a pinch, you could also use grated Parmesan cheese (the powder cheese that comes in a container), but it might taste a little different.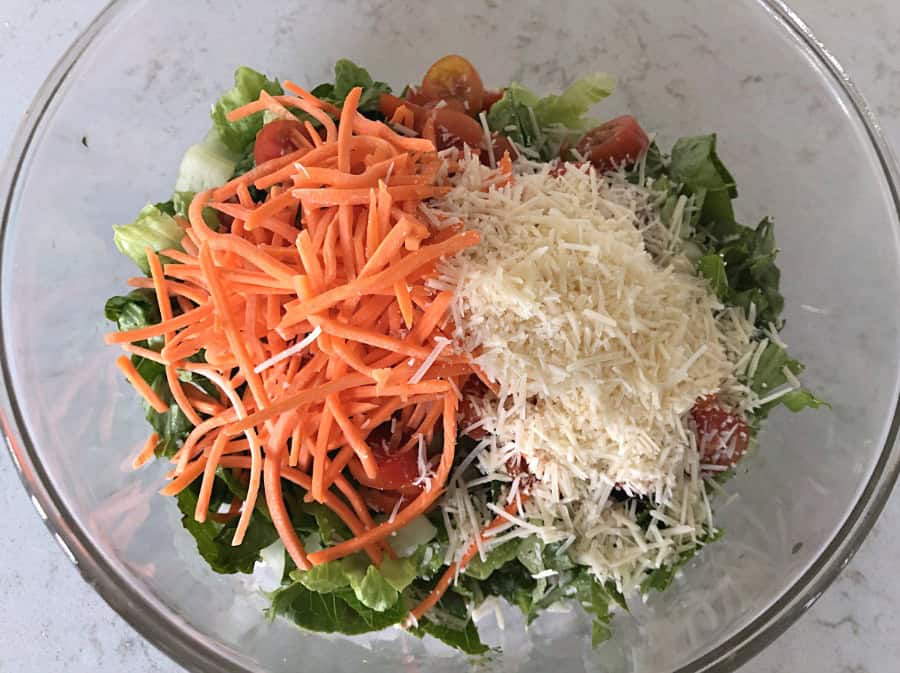 Step 5: Add in your favorite Caesar salad dressing
Creamy salad dressings like Caesar dressings sometimes are loaded with a lot of calories and are not that good for you.
I used this Bolthouse Farms Creamy Caesar dressing – it's actually made with yogurt and has 45 calories per serving . . . and it tastes AMAZING (which is the most important part . . . am I right?!). This dressing is in the refrigerated produce section at my store (it has to be refrigerated because of the yogurt in it!).
This post isn't sponsored, I am just sharing my favorite things!
Pour dressing on top of ingredients in the bowl and mix it all together!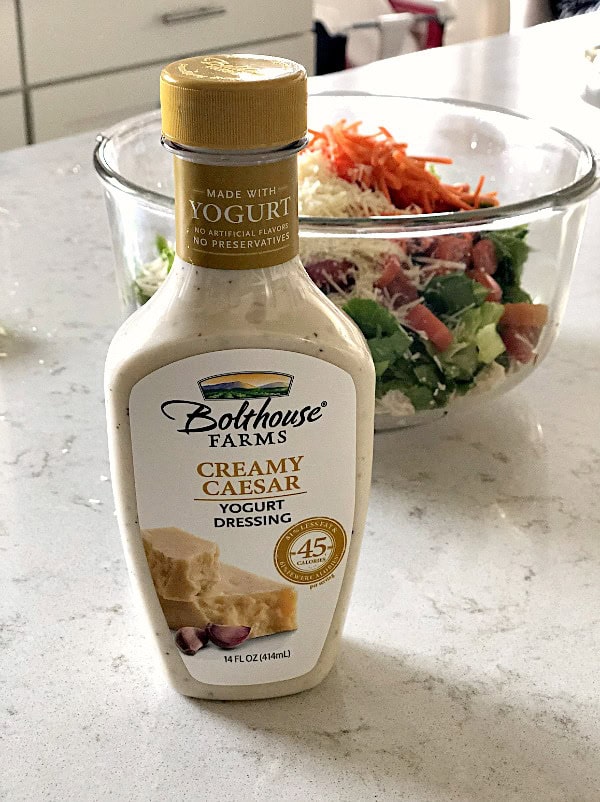 Step 6: Wrap it up!
Now just scoop some filling onto a tortilla (you can use store bought or if you are feeling really domestic, feel free to make your own tortillas!) and roll it up.
You are good to go! Dinner is done in 10 minutes flat!
Related Recipe: Try our Turkey Cranberry Wrap!