Baked crispy chicken parmesan is a healthier yet delicious version of the traditional chicken parmesan recipe. It is perfectly crispy and tender and is so so good!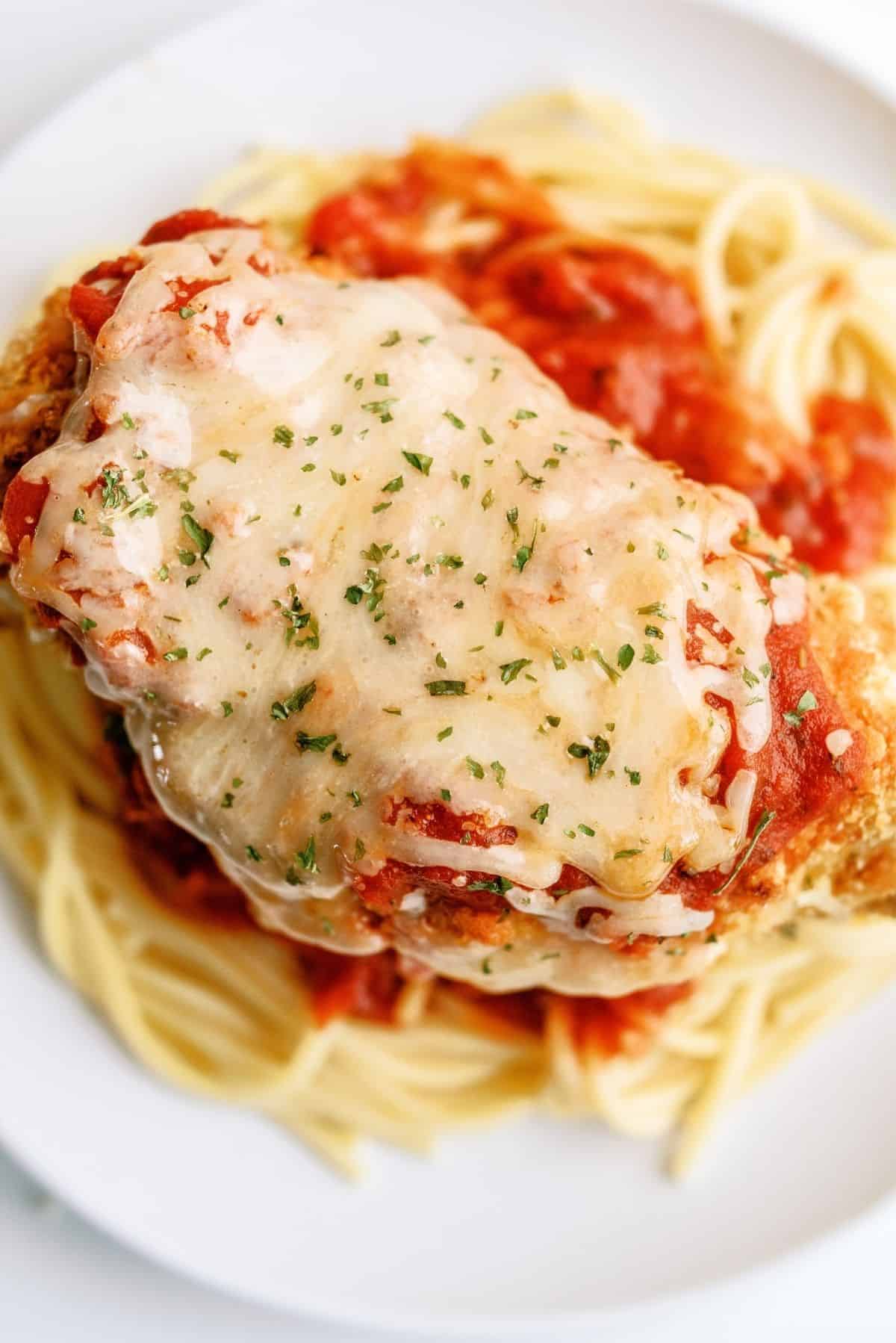 If you love chicken parm but don't want to over indulge, this baked crispy chicken parmesan recipe is a great compromise. The only person that will know it is the healthier version of chicken parmesan is the person making it.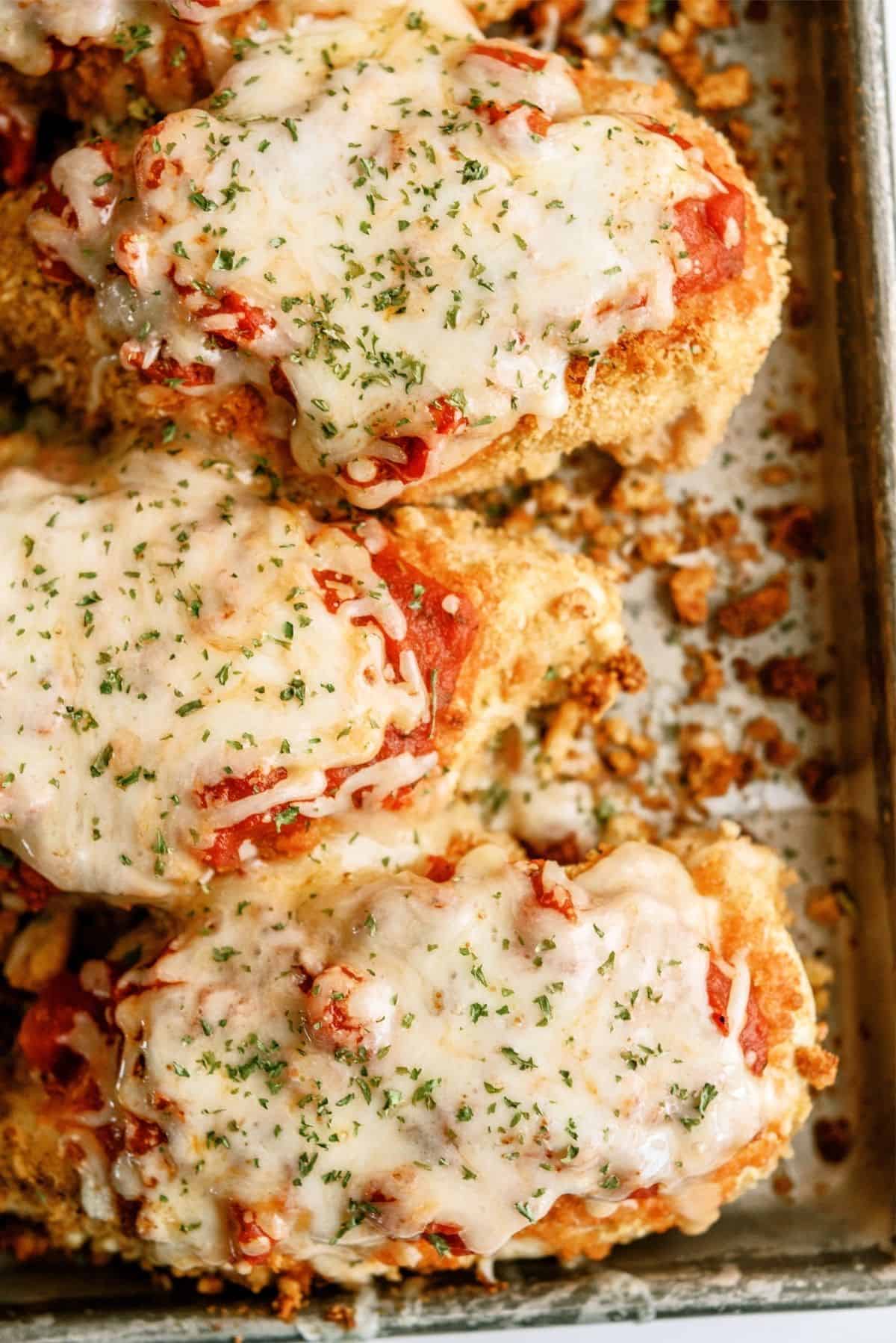 On top of being super tasty, this is a super easy chicken parmesan recipe. There are only a few steps to this oven baked parmesan chicken, making it a wonderful meal for a busy weeknight.
This healthy baked chicken parmesan recipe is also a great meal to make up and save the leftovers or even freeze part of it. The kids even love to help make the chicken with me too!
Our easy pan butter biscuits or Olive Garden breadsticks copycat recipe and a Italian fresh green salad go perfectly with this pasta dish if you want to make it feel like you are eating out for dinner.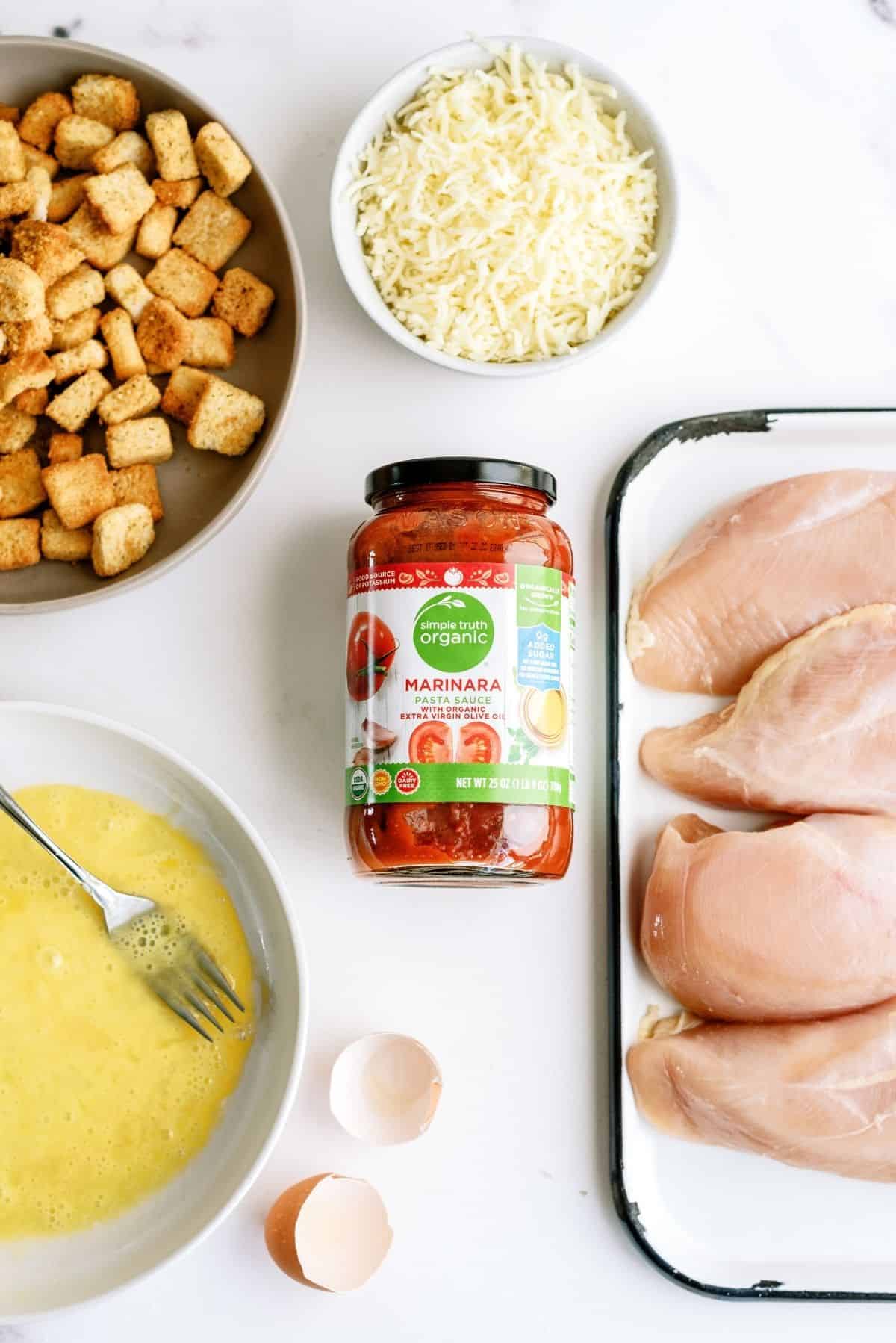 Ingredients You Need to For This Baked Crispy Chicken Parmesan Recipe:
Cooking spray
Cheese and garlic croutons
Boneless, skinless chicken breasts
Beaten egg
Marinara sauce
Shredded mozzarella cheese
Cooked pasta
How To Make This Baked Crispy Chicken Parmesan Recipe:
When you are ready for dinner, prepare your noodles according to the directions on the box for al dente.
Then preheat the oven to 375 degrees.
Now, get out a large baking sheet and spray it with vegetable cooking spray and set it aside.
Then in a large ziplock bag, place the crouton and use a rolling pin to crush up the croutons until they become crumbs.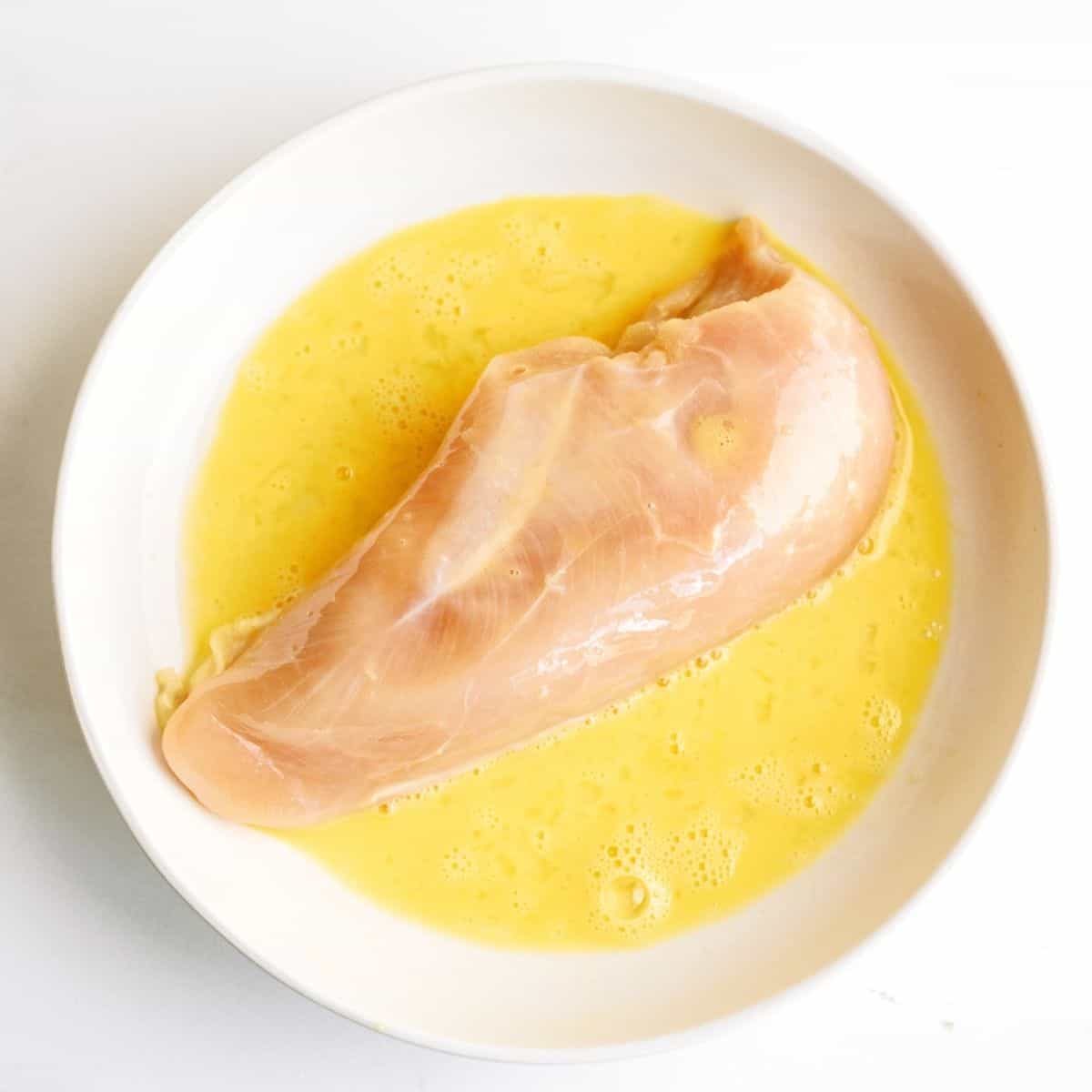 Next, take out your chicken and dip one breast in the beaten egg.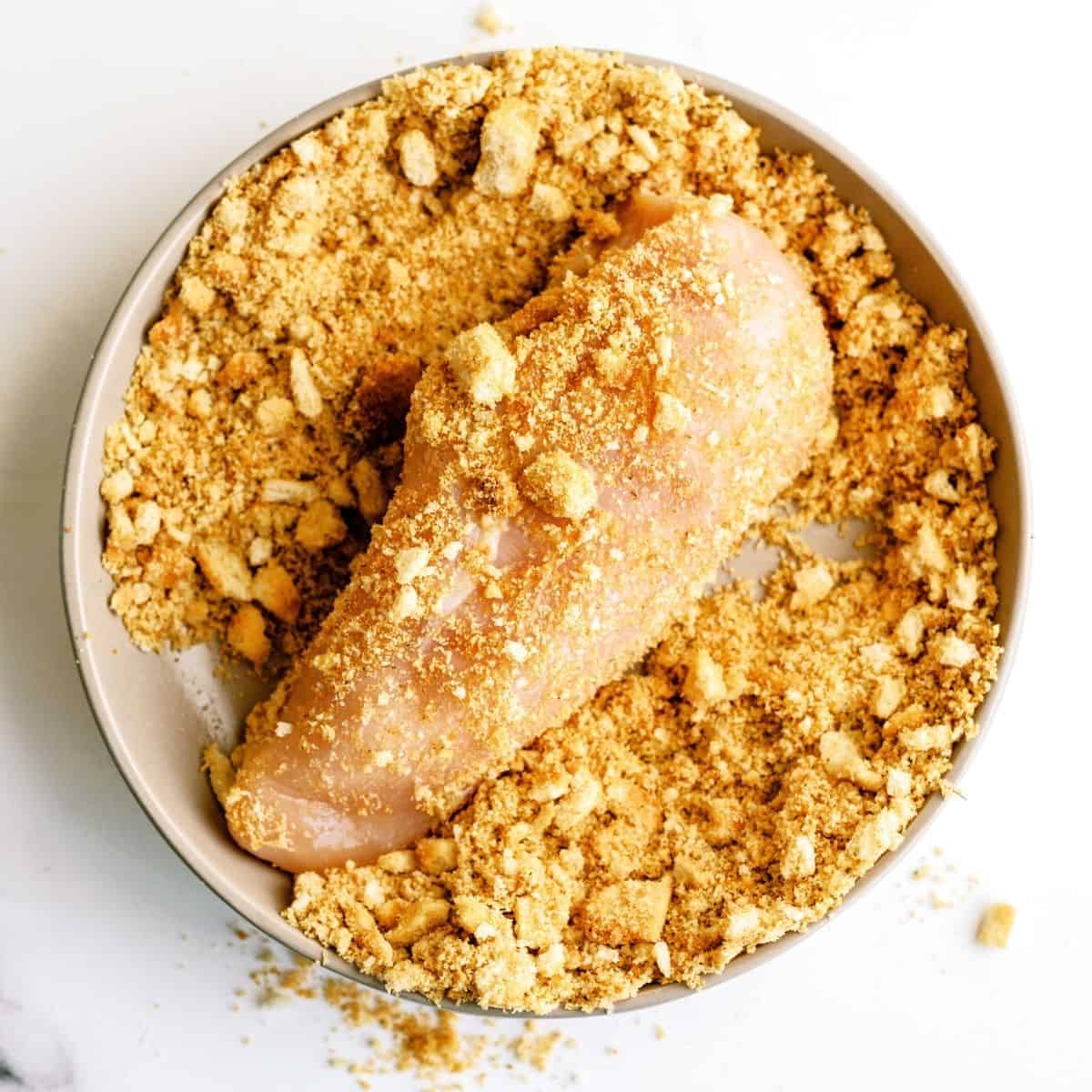 Following the egg, place the chicken in the crushed up croutons and coat both sides of the chicken.
Once the chicken is breaded, place it on the prepared baking sheet and continue the same steps with the rest of the chicken breasts.
After all of the chicken is on the sheet, spray the tops of the breaded chicken with vegetable cooking spray and then place the baking sheet in the oven.
Allow the chicken to bake for 20-30 minutes, or until the chicken is cooked all the way through.
While the chicken is cooking, heat up the pasta sauce over medium heat in a small saucepan.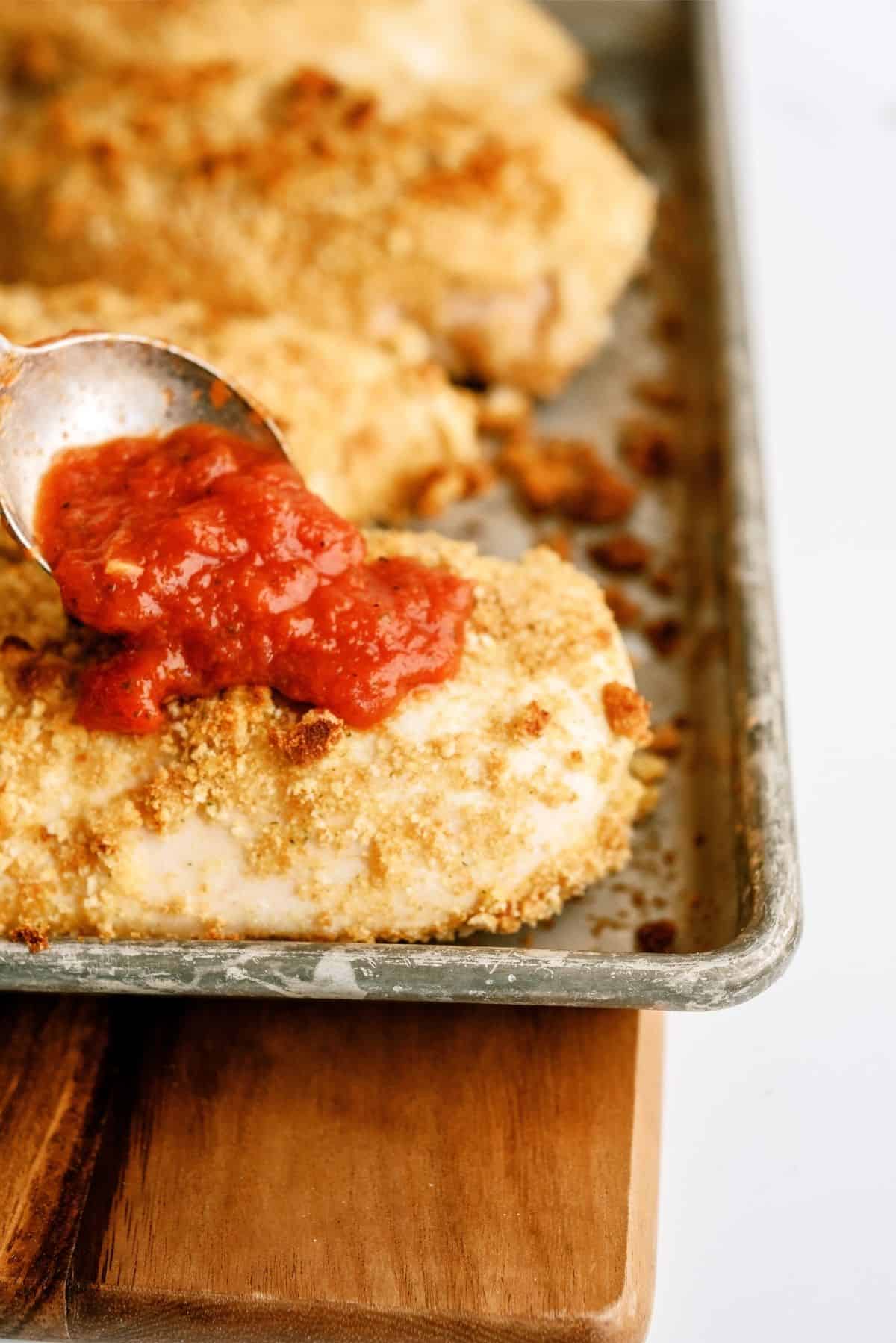 When the chicken is done, serve it over the cooked noodles and top it with the warm pasta sauce and parmesan cheese and then dig in!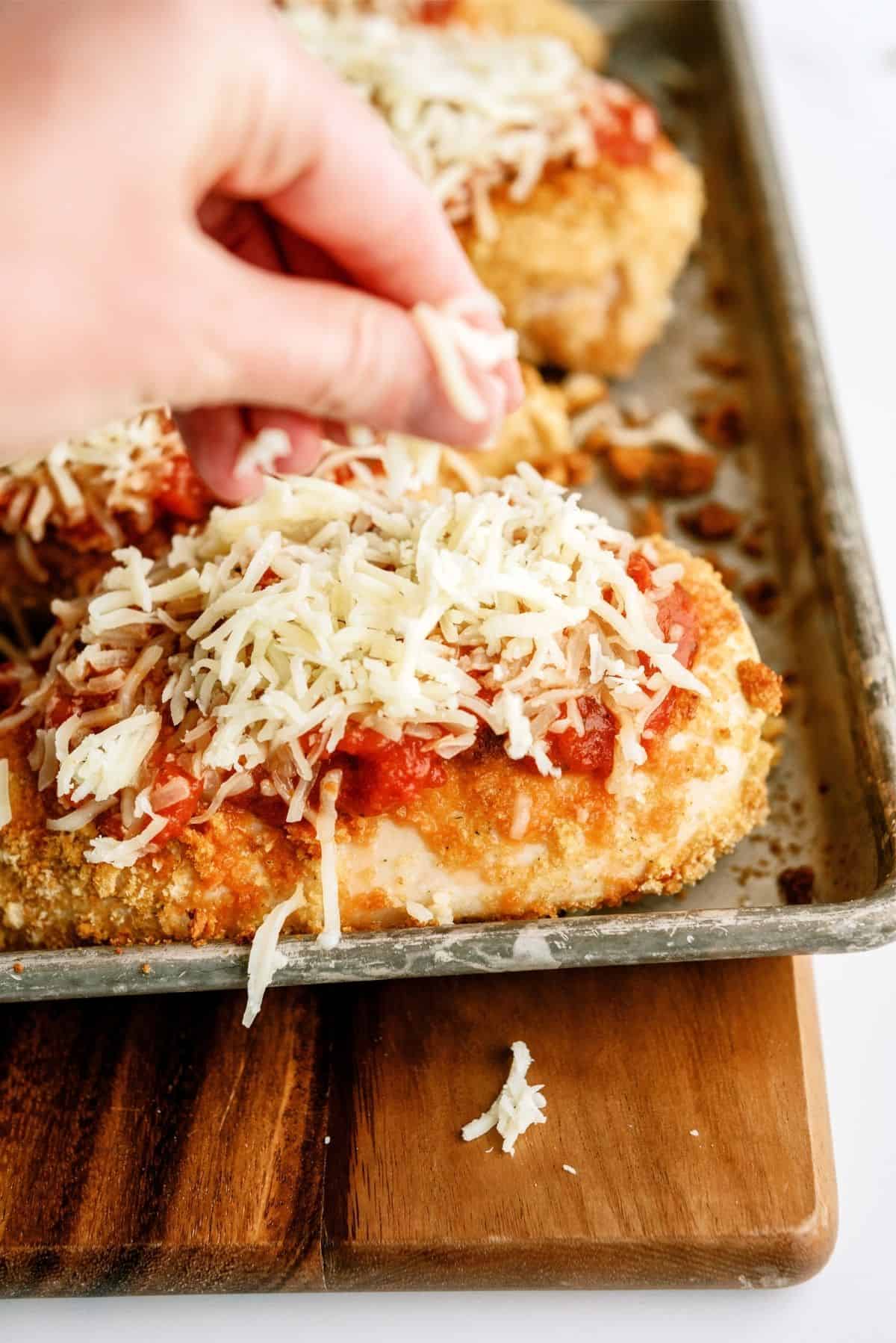 To Make Our Healthy Baked Chicken Parmesan Recipe You Will Need:
Large baking sheet (THESE are great!)
Large pot
Small saucepan
Shallow bowl (2)