With only 6 ingredients, this Cheesy Chicken Parmesan Pasta Casserole comes together in minutes and makes the perfect busy weeknight meal. It's a dish your whole family will love.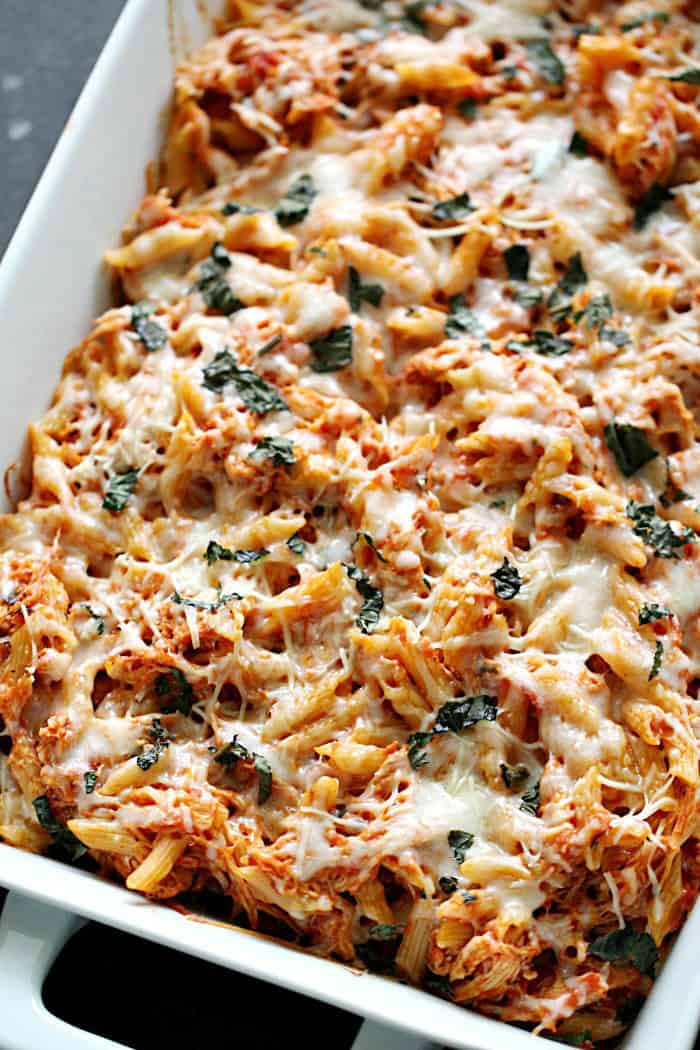 I love this Chicken Parmesan Pasta Casserole dish because I can toss it all together and let it cook – very little effort on my part, but it tastes like I have spent all day making a delicious dinner.
Chicken Parmesan is one of my favorite dishes, but it can be labor intensive and let's be honest – at the end of a busy day, I am not really in the mood to spend more than 20 minutes on dinner. 😉
This recipe uses cooked shredded chicken (a rotisserie chicken that you pick up at the grocery store on your way home from work will be perfect for this dish!) instead of breading chicken and frying it before cooking it.
Related Recipe: Want even more Chicken Parm?! Try this Baked Crispy Chicken Parmesan!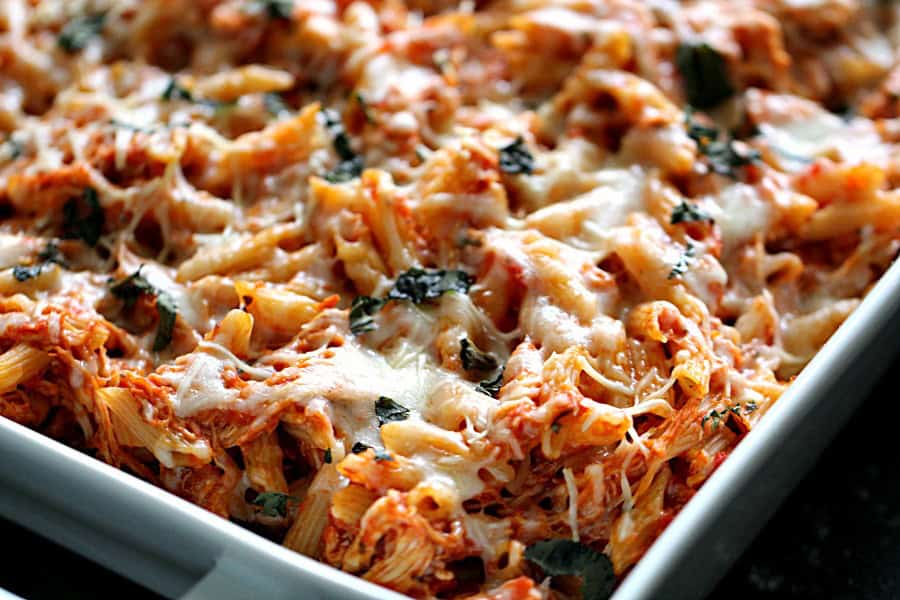 Tips for making this Chicken Parmesan Pasta Casserole:
Any type of pasta will work for this dish – I like penne pasta, but bowtie (farfalle) noodles are great, ziti noodles are delicious, and I have even used elbow macaroni! Use what you have available.
You can use any type of cooked, shredded chicken in this recipe (like a rotisserie chicken), but another option is to use breaded chicken tenders for a more authentic chicken parm taste. Just cook the frozen tenders as directed and cut up to use in the dish.
You could also use leftover grilled chicken in this dish.
Because this dish has so few ingredients, using high quality and fresh ingredients whenever possible will make a HUGE difference in the taste and quality. I would recommend using fresh basil and fresh grated Parmesan cheese for the best results! This also prefer using this bottled marinara sauce or this one.