We love tacos and most kids love them too. This Chicken Taco Casserole has all the delicious taco taste and is loaded with cheese. Definitely a favorite family recipe!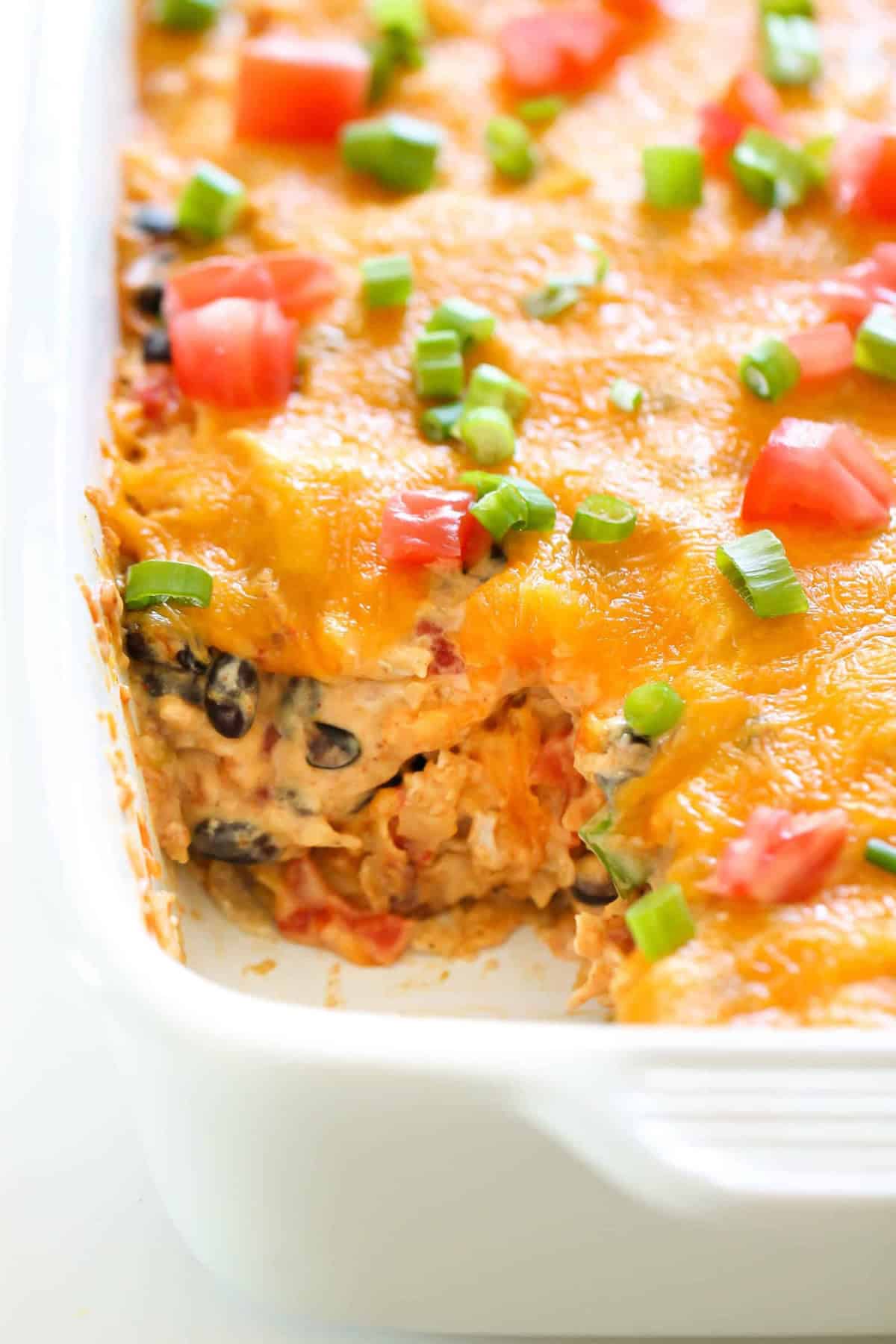 Do you ever have a super busy week, we've got you covered with this amazing Chicken Taco Casserole.
We have had that kind of week. Our sweet sister Kristen was in a terrible car accident with her family.
Here in Utah we had freezing rain, which immediately turns to ice when it hits the ground.
All the freeways turned into ice skating rinks and it makes driving so scary.
Kristen and her family were headed out to visit us when a semi-truck went out of his lane.
This caused them to swerve to miss hitting him. This sent them spinning into the side of the semi-truck.
Their car was totaled and they had to rip off the door to pull Kristen out. Her arm is in a sling from injuring her elbow. But other than that, the family is fine. We are so grateful that they are all okay.
Kristen was sitting where the windshield is broken in. An accident like this quickly puts everything into perspective on the importance of families. We held our kids a little tighter tonight and took our time with bedtime stories.
Slow down and take time for your family – including family dinner. It's a great time to catch up with each other and listen to each other and how their day went.
And this Chicken Taco Casserole is the perfect dinner as you have a great family conversation (how did you like that segway into the recipe?!).
We have more chicken casseroles that come together in very little time and are kid approved. An all time favorite is our Teriyaki Chicken Casserole. You might also like Poppy Seed Chicken Casserole and Chicken Zucchini Casserole .
To make this Chicken Taco Casserole you will need:
Cream of Chicken Soup
Sour Cream
Diced Tomatoes with Green Chilies
Black Beans
Taco Seasoning Mix
Chicken Breasts
Tortilla Chips
Shredded Cheddar Cheese
Be sure to have these items on hand for this Chicken Taco Casserole: