This Spanish Beef and Rice Bake is one of the best Mexican dishes. I love how easy it is to make, and how quickly it comes together. If you are looking for a fast and delicious meal, this needs to be on your menu. It is definitely picky eater approved.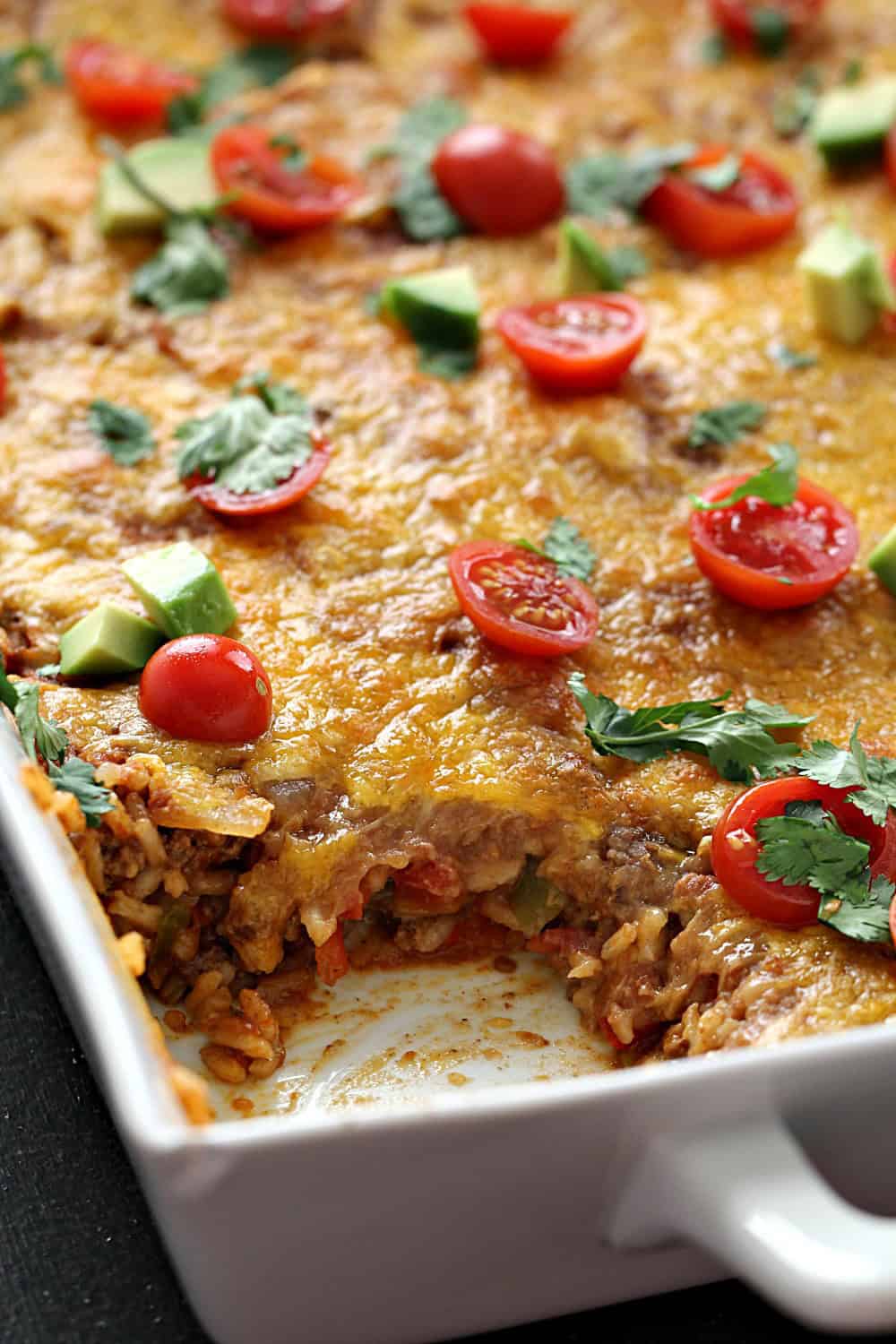 One dish dinners are my jam and this Mexican casserole is a family favorite! I love how simple our Spanish Beef and Rice Bake is to throw together for a quick and filling meal.
If you are anything like us, Mexican food is a weekly thing on our dinner menu.
If you have a busy night ahead of you, you could easily make this ahead of time. I will sometimes prepare it in the morning, then heat it up for dinner if I know I am going to be gone all day.
I can throw it together in the morning real quick, and have it all ready by the time everyone gets home. It is the perfect meal for reheating.
The flavors of this are delicious! I promise that your entire family will love it.
Ingredients in our favorite Mexican Casserole:
This Mexican Casserole is a simple and quick recipe. It doesn't require any expensive or weird ingredients. It's simple, basic, and delicious.
lean ground beef (you can also use ground turkey)
onion
green bell pepper
canned diced tomatoes
salsa
uncooked long grain rice
chili sauce (you can find this next to the ketchup at the grocery store)
salt
brown sugar
ground cumin
Worcestershire sauce
canned refried beans
shredded cheddar cheese
chopped fresh cilantro
cherry tomatoes
How to make spanish beef and rice bake:
Preheat oven to 375 degrees F.
Brown the ground beef in a large skillet over medium-high heat, lower heat to medium low heat. To brown ground beef, place it in a pan and use a spatula to cut it up and flip it. I do this until there is no pink color on the beef left and the meat is diced up into small bits.
Stir in the onion, green bell pepper, tomatoes, water, salsa, rice, chili sauce, salt, brown sugar, cumin, Worcestershire sauce and ground black pepper.
Let this simmer for about 30 minutes, stirring occasionally, then transport this to a 9×13″ casserole dish sprayed with non-stick cooking spray. Press the mixture down firmly into the pan, then spread refried beans on the top and sprinkle with the shredded Cheddar cheese.
Bake in preheated oven for 10 to 15 minutes, or until cheese is melted and bubbly. Garnish with chopped fresh cilantro and chopped tomatoes.You can also garnish with your favorite taco garnishes. I love putting a little salsa, sour cream, and guacamole on mine. You can really add any of your favorite toppings to it, and it will taste delicious.