Slow Cooker Creamy Lemon Chicken is so tender and flavorful. Serve it over pasta and top with a creamy lemon sauce made in the crock pot.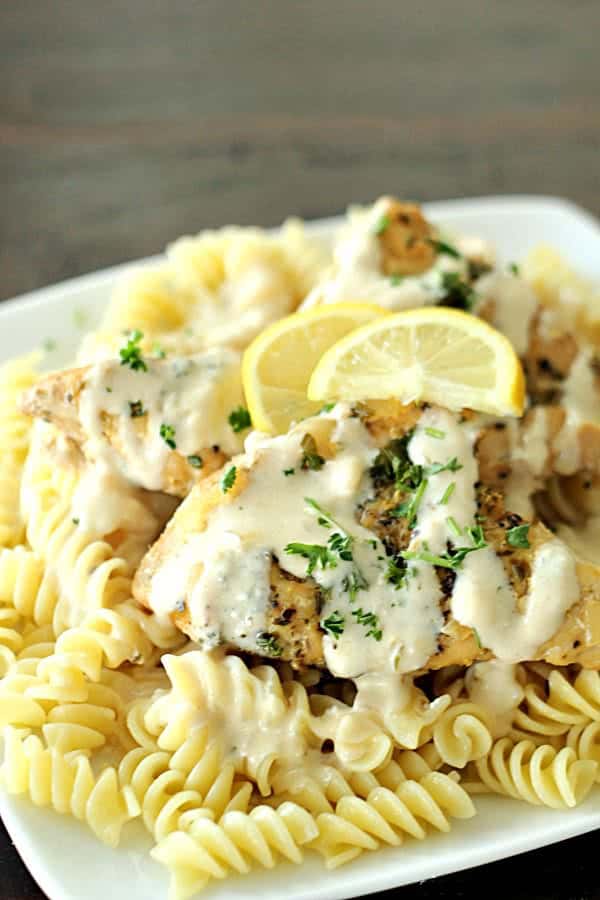 Our Slow Cooker Creamy Lemon Chicken is unlike anything I have ever made in my crock pot!
It's fresh, light, and the sauce that you drizzle on top is what makes this dish amazing.
Serve it over pasta and enjoy a delicious slow cooker recipe different than any that you have tried before.
We love easy slow cooker recipes!
Some of our favorite slow cooker recipes:
Ingredients in Slow Cooker Creamy Lemon Chicken:
dried oregano
salt and pepper
chicken breasts
butter
chicken broth (or chicken stock)
lemon juice
garlic
lemon
diced onion
fresh parsley
cream cheese
pasta
How to make Slow Cooker Creamy Lemon Chicken:
In a small bowl, mix together the oregano, salt, and pepper. Rub the mixture into chicken.
Melt the butter in a skillet over medium heat. Brown chicken in butter for 3 to 5 minutes on each side. Place chicken in a slow cooker sprayed with non-stick cooking spray.
In the same skillet (don't rinse it out – everything that is left in that pan will add flavor!), mix the chicken broth, lemon juice, and garlic. Bring the mixture to boil. Pour over the chicken in the slow cooker. Add the lemon zest and diced onion on top of the chicken.
Cover and cook on high for 2-3 hours or low for 5-6 hours. Add the parsley to the slow cooker 15 to 30 minutes before the end of the cook time.
About 15 minutes before you?re ready to serve, remove the chicken and place on a serving platter. Add the cream to cheese to the juice in the crock pot and whisk until smooth. Let cook on high heat for 15 minutes so that it can thicken up. If you want to make the sauce thicker, mix together 1 teaspoon cornstarch with 1 teaspoon cold water and whisk into sauce.
Serve over cooked pasta.