Philly Cheesesteak Wraps are tender and flavorful steak topped with cheese, onion, and green bell peppers wrapped in a tortilla. Delicious!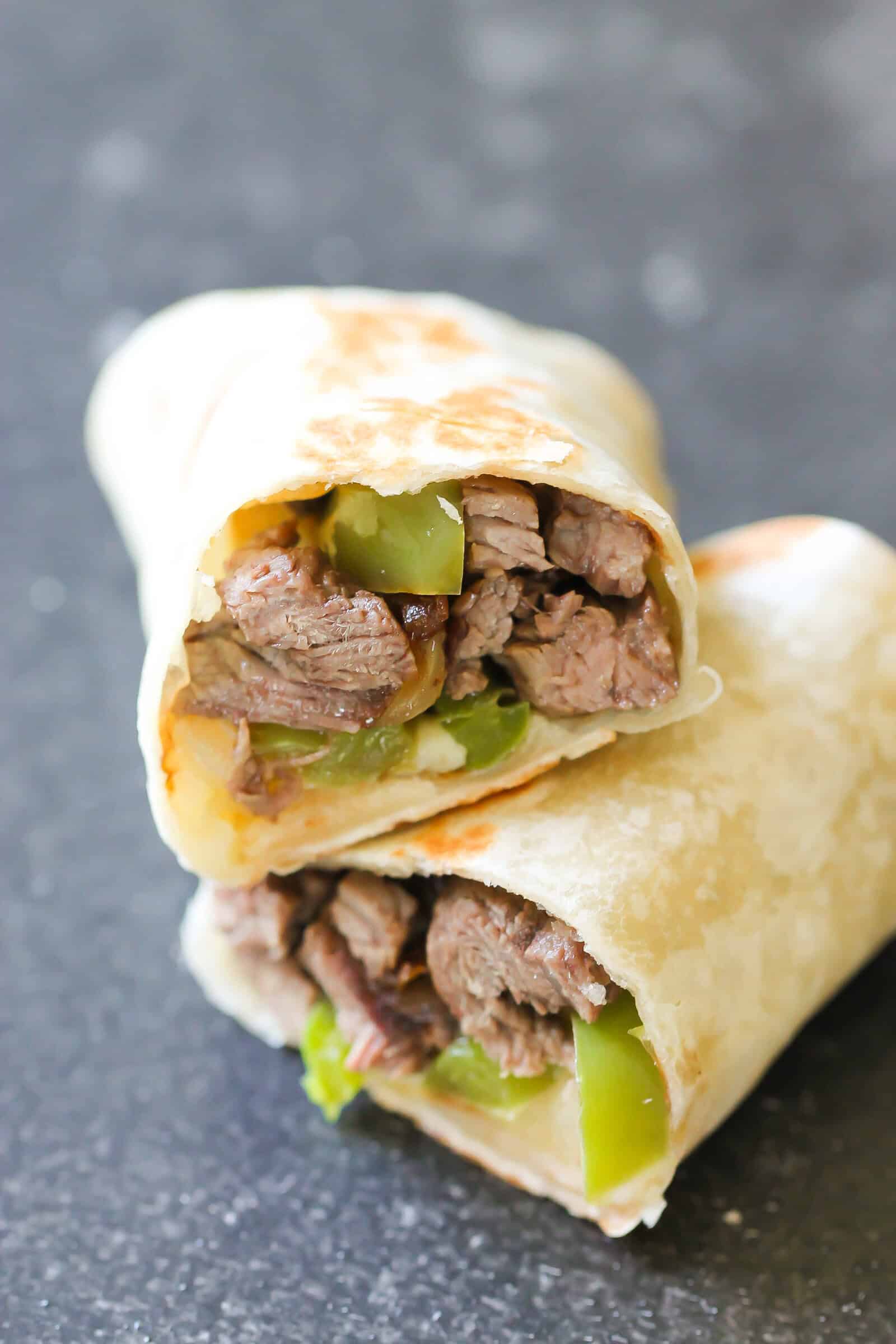 Switch up your dinner with Philly Cheesesteak Wraps!
Tender and flavorful steak wrapped up in a tortilla – these are one of our favorite ways to eat a cheesesteak.
Ingredients in Philly Cheesesteak Wraps:
onion
green bell pepper
olive oil
salt
pepper
flank steak
tortillas
provolone cheese
How to make Philly Cheesesteak Wraps:
Thinly slice onion and green pepper.
In a skillet over medium heat, cook onion, pepper, and olive oil until tender and slightly browned. Remove from heat and set aside.
Salt and pepper flank steak and thinly slice, then cook over medium heat until it reaches desired doneness.
Place an even portion of steak, onions, and peppers on each tortilla, then top each with a slice of provolone cheese. Roll up and serve while warm.
What steak works best for Philly Cheesesteak Wraps?
For this particular recipe, we recommend using a flank or skirt steak.
It is just a little thinner, has a better meat to fat ratio, and tastes amazing with this wrap.
It is also a little bit softer and easier to bite through.
You could use pretty much any steak (and cut it very thin), but for the best results, we definitely recommend using a flank/skirt steak for this recipe.
What could I dip my wrap in?
We are a sauce family. All food needs a little extra flavor to it!
We have quite a few sauce recipes on our blog- here are my recommendations:
Homemade Chick Fil A Sauce: Have you seen those shirts that say, "I dip ketchup in my ketchup?" That's how I feel about Chick Fil A Sauce. It doesn't need anything. The sauce is it's own food group.
Famous Secret Sauce: I'd tell you what's in it, but it's top secret. I promise it won't disappoint. Click here to see how to make it.
Creamy BBQ Sauce: This is out of this world. You need this in your life.
We have hundreds of simple and delicious recipes, your family is going to love.