If you are looking for the BEST Hamburger Recipe, look no further. Juicy beef, melty cheese, toasted buns, and Famous Secret Sauce take this burger over the top.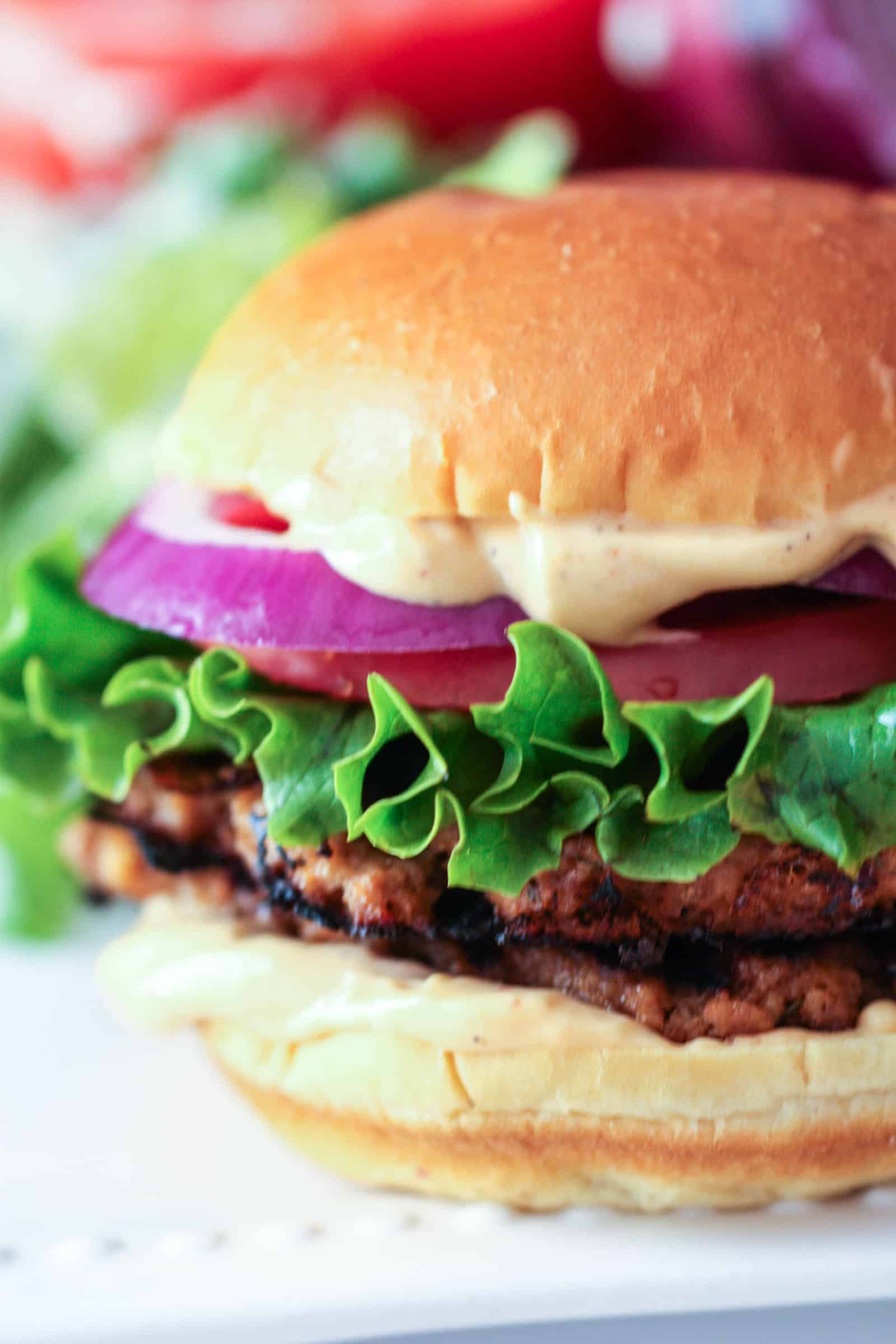 This is the Best Hamburger and Famous Secret Sauce recipe, you will always end up with a juicy, flavorful burger. I don't think that there is anything better than a perfectly grilled hamburger.
How to make The BEST Hamburgers with Secret Sauce:
When it comes to making a juicy burger, the secret is in the fat percentage of the ground beef.
For most recipes on this website, we use a super lean ground beef – it helps cut back on calories and is overall a little more healthy. However, for juicy hamburgers, you will want to do just the opposite and pick a ground beef that has a higher fat percentage.
You may have noticed at the store that ground beef will have 2 percentages on the packaging – the first percentage is lean and the second percentage is fat.
Juicy, flavorful burgers will always come from beef with a higher percentage of fat (more fat also means more flavor in your burger!). We recommend using a 80/20 beef for a happy balance between a juicy and not overly greasy hamburger.
Many chefs will even say to go with a 70/30, but we find that sometimes that can be a little too greasy for our tastes.
If you go higher than an 80/20 beef (such as an 85/15), keep in mind that the beef will dry out faster when cooking – so keep an eye on it while it cooks.
How to shape the perfect Hamburger:
To make your hamburger the perfect shape, we highly recommend using a hamburger press (they are definitely worth the investment). We love that they give you a perfectly even and consistently-shaped burger every time (they also make the best stuffed burgers!).
If you don't have a hamburger press, I usually just grab a fistful or about a 1/4 – 1/5 of the pound of beef, shape it into a ball, then press it out with my palms until my desired thickness. You will want to be sure that you make your hamburger just a little wider than the bun and then they will be the perfect size when they are finished cooking.
How to keep your Hamburger Patties from falling apart:
Some of our readers have made comments that their hamburger patties have fallen apart on the grill. Here are some tips to keep them held together:
1. Keep your meat cold – the colder your meat is, the more likely that it will stay together. Shape the hamburger into patties and stick them back in the fridge until you are ready to cook. When you shape your patty, your hands actually transfer a lot of heat into the meat and they need to cool down. They will stay together much better after this.
2. Handle your patties as little as possible – if you over-handle your hamburger patties, they are much more likely to fall apart. Add your seasonings, give it a quick stir, then let it be.
3. Do not over-flip your patties – when cooking your hamburger patties, you are only going to want to flip your burgers one time – NO MORE. When your patties are still a little cold, they will hold together well. When they are finished cooking, they are solid and firm. However, when they are in-between these stages, they are flimsy and will fall apart. Flip them as little as possible – once is enough! By only flipping them once, you are allowing them to completely cook on one side, giving you a good base to flip from and keep them from falling apart.
4. Add an egg – if you have tried all these things and still struggle with a hamburger that falls apart, add an egg! It will work as a binding agent to hold the ground beef together. You won't be able to taste it in the meat and hey – it's some added protein!
5. Don't add liquid – a lot of people will add Worcestershire sauce or BBQ sauce to their beef, but this will only make the beef fall apart while cooking. If you want the flavors of the sauce, brush it on the hamburger while it's grilling instead of mixing it in. You can also freeze the patties for about 1 hour after you make them. Then place on grill.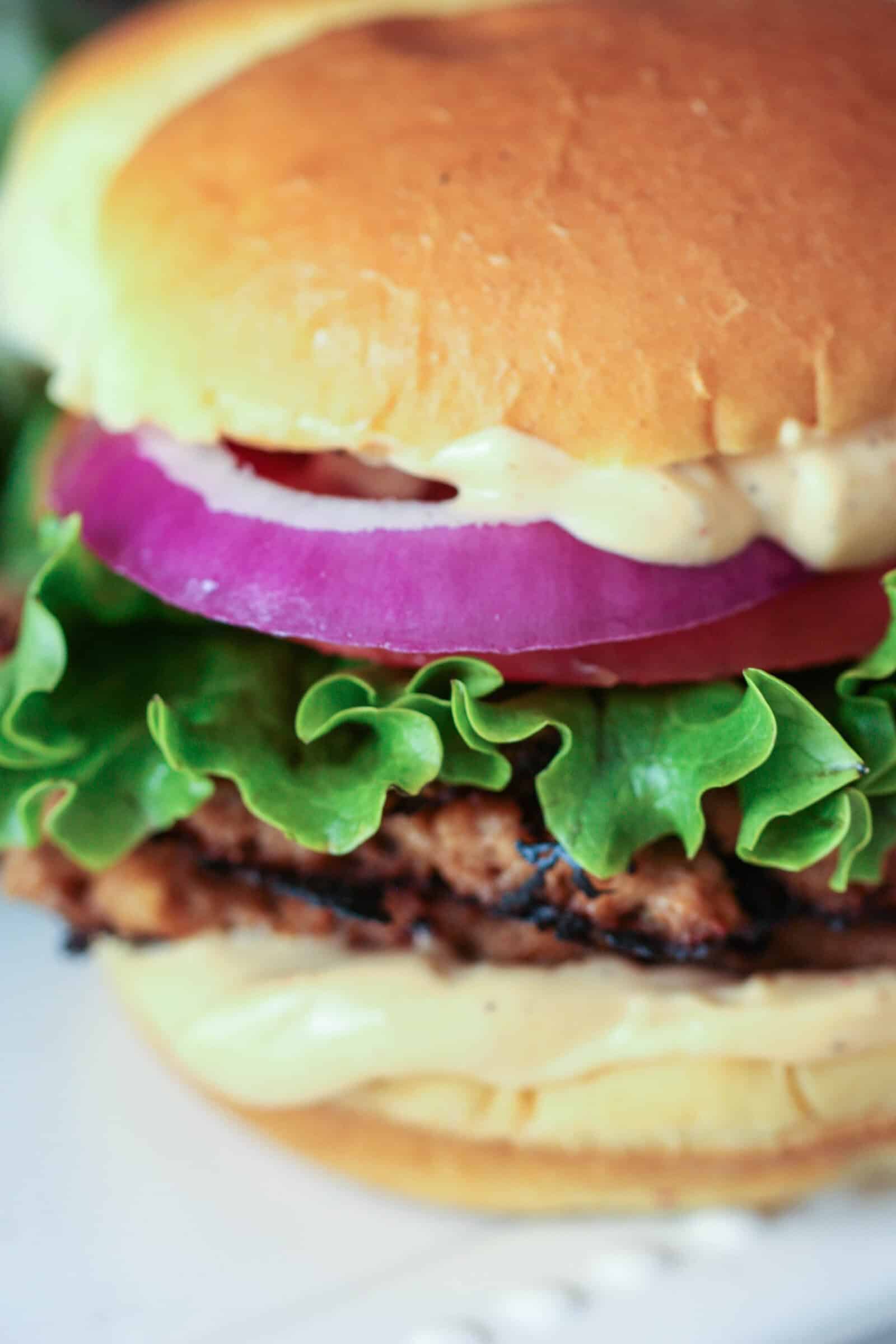 The perfect Hamburger toppings:
red onion
lettuce
cheese (Swiss, pepper jack, American . . . anything goes!)
tomatoes
pickles
avocado
jalapeno peppers
banana peppers
fried onion
mushrooms
The Special Sauce
In addition to the seasoning in the burger itself, this sauce puts our hamburger recipe over the top. The sauce is a mixture of ketchup, mayonnaise, Worcestershire sauce, salt, and relish. Sometimes in Utah we also call this "Fry Sauce" and we love it for dipping our Sweet Potato Fries.
Related Recipe: Try another one of our favorite sauces! This copycat Raising Cane's Sauce is amazing!
The perfect side dishes to go with The Best Hamburger (and Famous Secret Sauce) Recipe: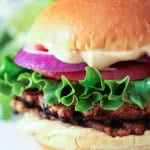 The Best Hamburger (and Famous Secret Sauce) Recipe
Juicy beef, melty cheese, toasted buns, and Famous Secret Sauce take this burger over the top.
Ingredients
1

pound

ground beef

(I used 80/20 – fattier meat means a juicier burger!)

½

cup

shredded Monterey Jack cheese

¼

cup

BBQ Sauce

¼

teaspoon

seasoned salt

pepper, to taste

¼

teaspoon

onion powder
Secret Sauce
¾

cup

mayonnaise

¼

cup

ketchup

¼

cup

pickle relish

2

Tablespoons

Worcestershire sauce

5

Hamburger Buns

(we like sesame seed buns)
Instructions
In a large bowl, combine the ground beef, shredded cheese, bbq sauce, and seasonings. Don't add too much bbq sauce or the patties will have a hard time taking shape. Shape patties that are about 1 inch thick (about 5 patties). (You can also freeze the patties after shaping them for about 1 hour to help them hold their shape.)

Turn grill up to high and let it get hot.

Reduce heat to medium-high and place the burgers on the grill. Allow this side of the patty to cook for about 4-6 minutes, but make sure it does not burn. Then flip the burger over and cook until done.

For the sauce, combine all sauce ingredients and whisk until well mixed. Taste and adjust ingredients to your liking.

Assemble the burgers and serve with the special sauce and other hamburger toppings of choice.
Notes
Keep your hamburger meat cold, that will help the patties stay together.
Nutrition
Calories:
421
kcal
·
Carbohydrates:
38
g
·
Protein:
27
g
·
Fat:
17
g
·
Saturated Fat:
6
g
·
Polyunsaturated Fat:
5
g
·
Monounsaturated Fat:
5
g
·
Trans Fat:
1
g
·
Cholesterol:
72
mg
·
Sodium:
1158
mg
·
Potassium:
524
mg
·
Fiber:
1
g
·
Sugar:
12
g
·
Vitamin A:
230
IU
·
Vitamin C:
2
mg
·
Calcium:
184
mg
·
Iron:
4
mg
Equipment
Large Bowl

Grill

Medium Mixing Bowl

Whisk
Recipe Details