I don't know what is better, the smell of these hamburgers cooking or the actual hamburgers. Either way, I'm in love. These burgers will have you craving more! This is seriously The Best Hamburger Recipe, and it's all due to the Amazing Secret Sauce. Keep reading to find out what it is…
My family and I love eating out. I always find myself ordering a burger, which leaves me feeling a little sick afterward; which is why I love eating at home, with fresh ingredients that I know are good for my body and my family. This hamburger is just that. The ingredients are all right there and this extra sauce adds a punch of flavor that I promise you are going to love!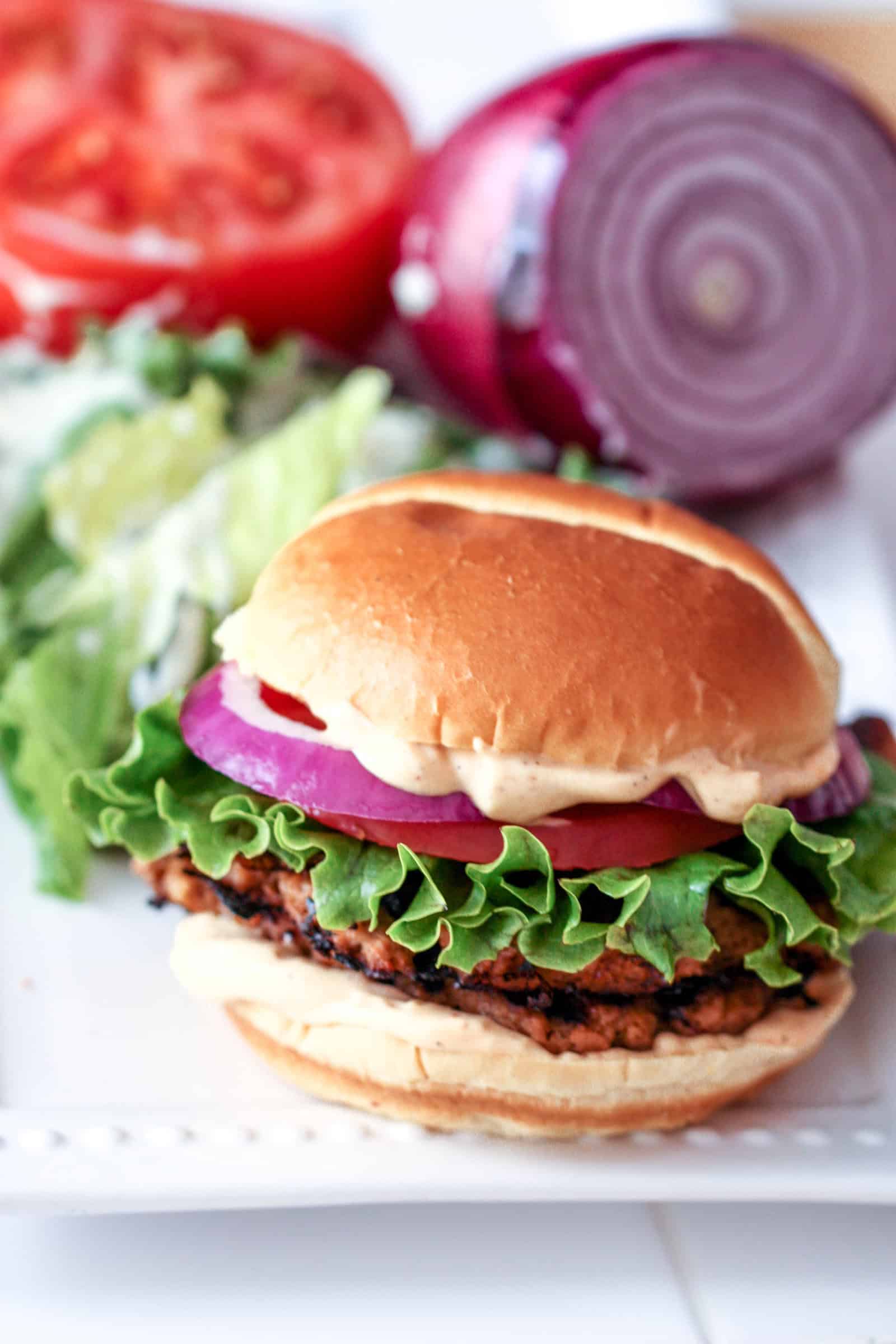 How to Make Hamburgers
If the burgers are having a hard time sticking together, I usually add an egg to the raw ground beef and work it into the meat with my hands (gross I know, but it works better).
I love how fresh homemade burgers are. All the ingredients taste so much better when they are freshly chopped and fresh from the garden. To shape the burgers, I usually just grab a fistful or about a 1/2 cup of the meat, shape it into a ball, then press it out with my palms until my desired thickness. My husband likes his thick, but I love mine on the thin side.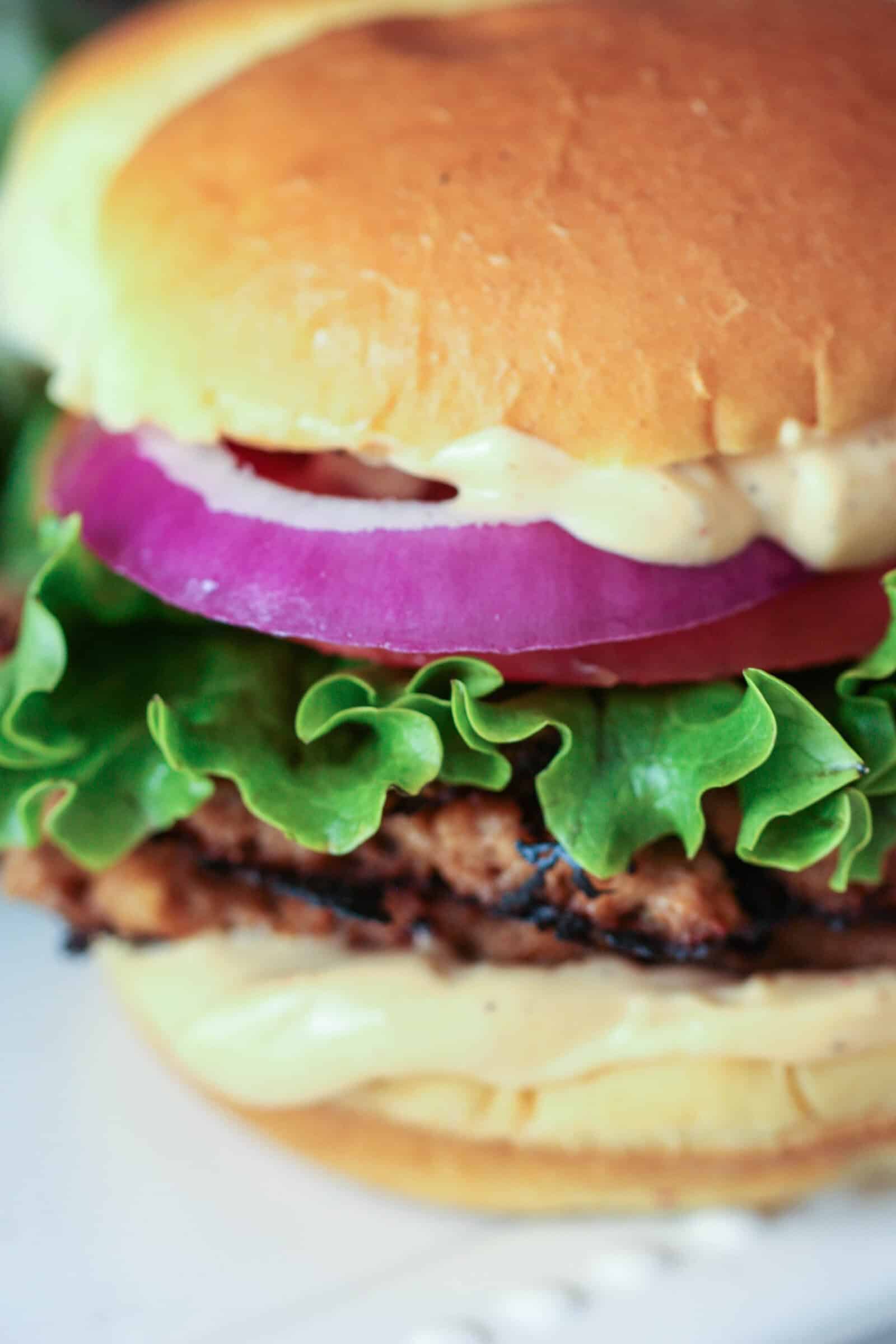 The Special Sauce
In addition to the seasoning in the burger itself, this sauce puts our hamburger recipe over the top. The sauce is a mixture of ketchup, bbq sauce Worcestershire sauce, salt, and relish. The flavor combo is unreal! It's our family's new favorite sauce. We like to dip our Sweet Potato Fries. Some of our favorite toppings to add are red onion, lettuce, cheese, and tomatoes, and pickles. I am also a sucker for a few banana peppers on my burgers.
If you are anything like the sisters, no barbecue is complete without dessert. Check out our favorite summer barbecue dessert here: Frozen Peanut Butter Cloud Pie.
The Best Hamburger Recipe (and amazing secret sauce)
10 minPrep Time
12 minCook Time
22 minTotal Time
Ingredients
Burger:
1 lb ground beef (I used 85/15- you want a fattier meat to make a juicier burger!)
sesame seed buns
1/2 cup Monterrey jack cheese, grated
1/4 cup BBQ sauce
seasoned salt to taste
cracked black pepper
onion powder
Secret Sauce:
3/4 cup of mayo
1/4 cup ketchup
1/4 cup relish
2 tablespoons Worcestershire sauce
seasoned salt
Instructions
Combine the ground beef, grated cheese, bbq sauce, and seasonings. Shape patties that are about 1 inch thick. With the 1 pound of ground beef I made 5 large patties.
Turn grill up to high and let it get hot.
Reduce heat to medium-high and place the burgers on the grill. Allow this side of the patty to cook for about 4-6 minutes, but make sure it doesn?t burn. Then flip the burger over and cook until done.
For the sauce: Combine all ingredients and whisk until well mixed. Taste and adjust ingredients to your liking.
Assemble the burgers and serve with the special sauce, avocado, lettuce, tomato, cheese, pickles and your other favorite hamburger toppings!
7.8.0.1
1871
https://www.sixsistersstuff.com/recipe/best-hamburger-recipe-and-amazing/