This slow cooker Philly cheesesteak is one of the most tender Philly cheesesteak recipes! While the meat simmers all day to make these easy sandwiches, it also develops amazing flavor profiles.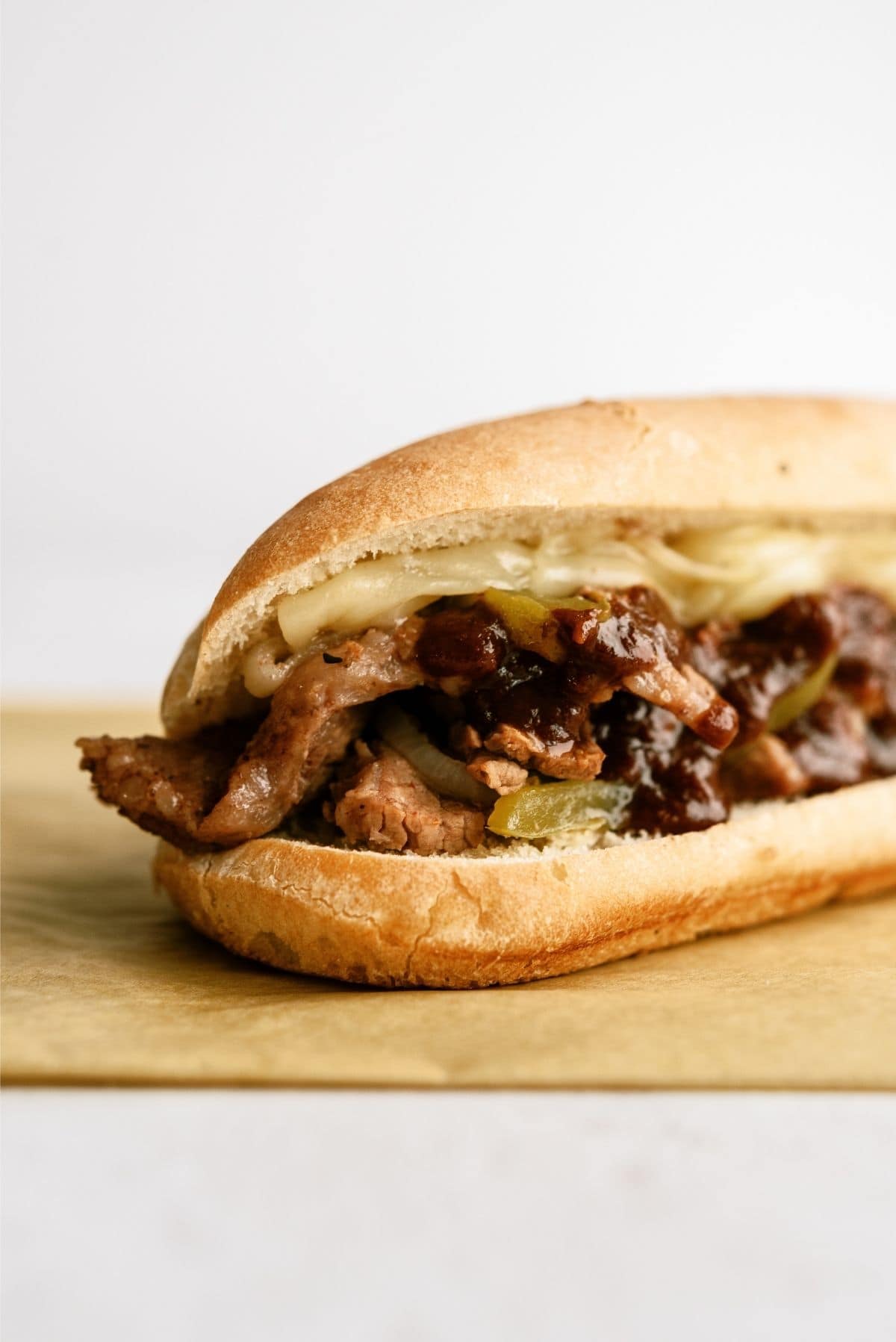 This Slow cooker Philly Cheese Steak sandwiches recipe is the perfect weeknight dinner for those busy nights. You can put this all together in the morning, let it cook in the slow cooker all day, and come home to an easy sandwich dinner.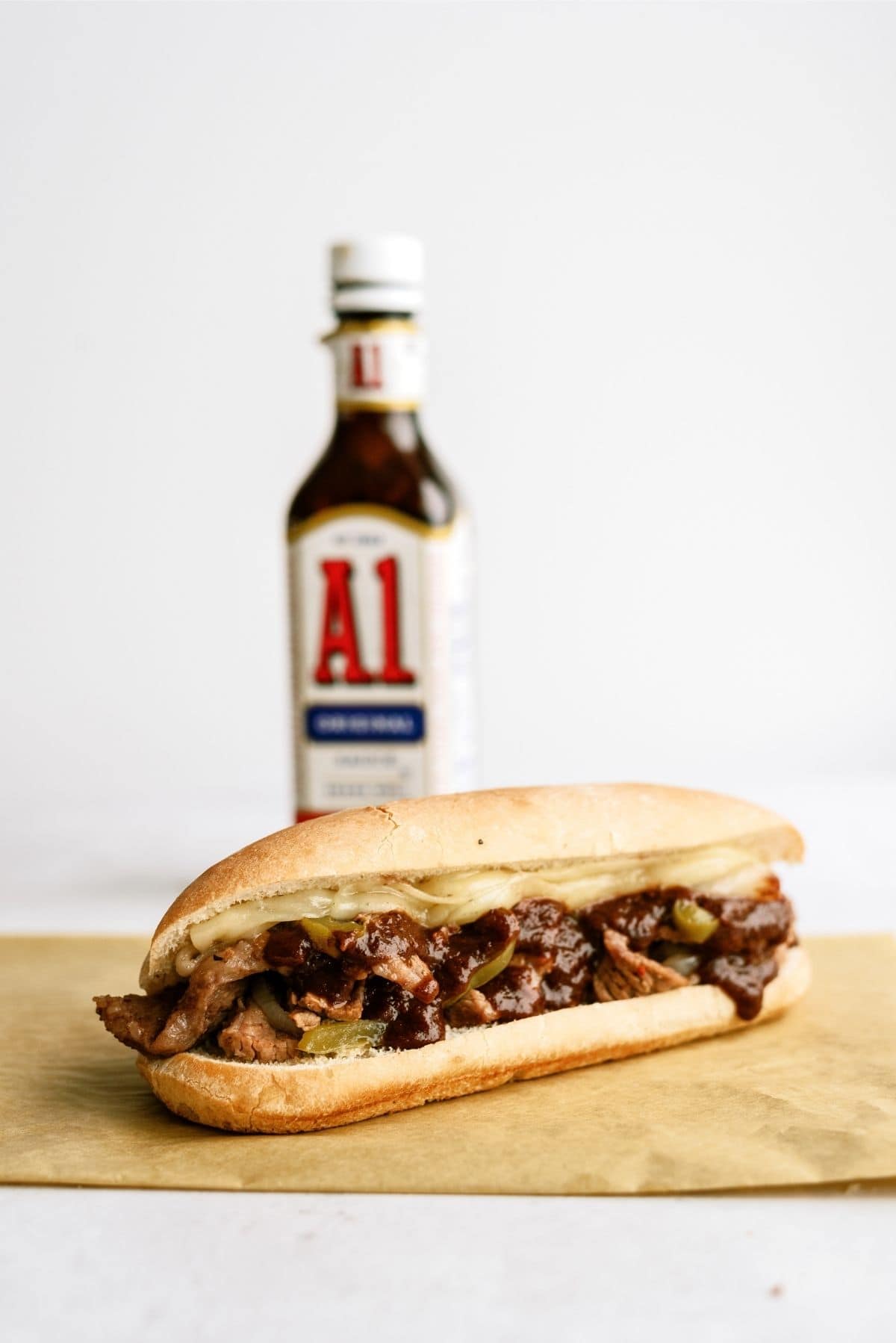 You can change up the type of roll you use to when you serve it. If you want it for kids, use a tasty dinner roll or even a Hawaiian roll. Yourself and your spouse might enjoy a slightly bigger sandwich with a hoagie roll.
This would also make for a great appetizer! Again serve it on a Hawaiian roll and put it out for everyone to enjoy. All your guests will be asking for this easy slow cooker recipe.
If you want to add to this entrée try it with a great apple cranberry walnut green chopped salad, slow cooker cheesy potatoes or baked seasoned steak fries!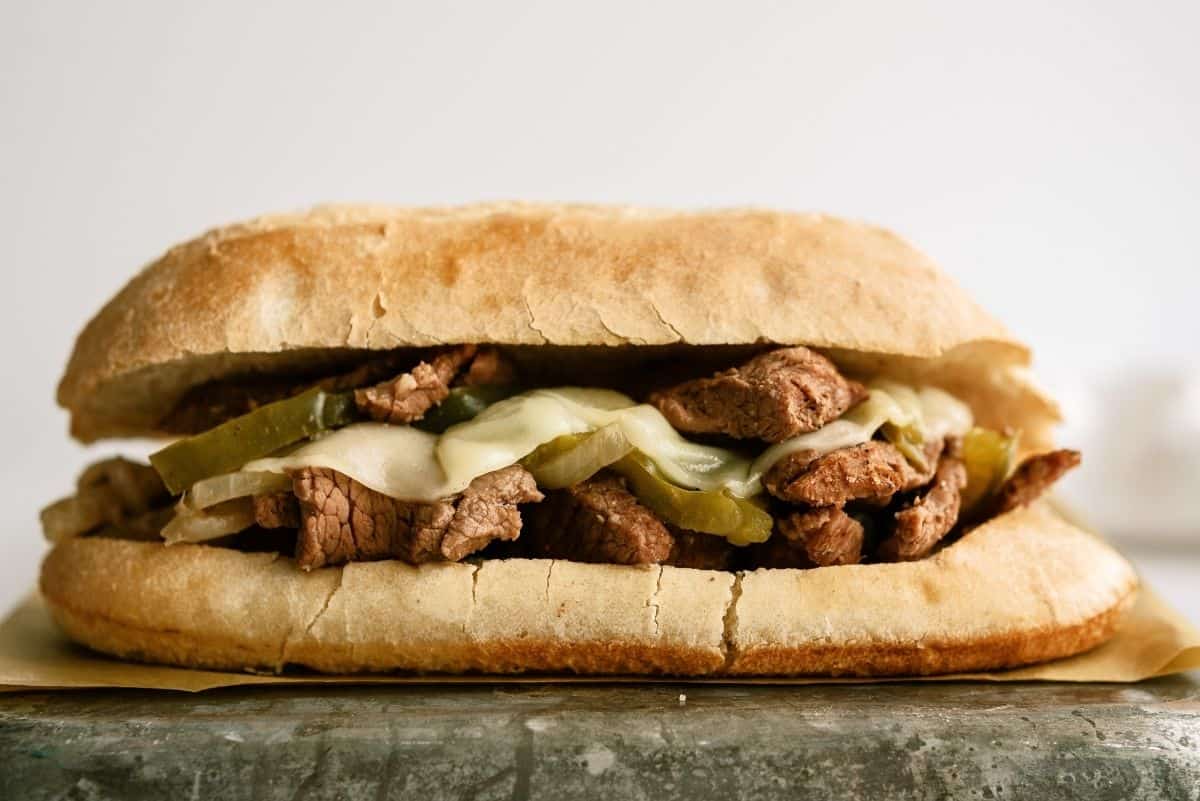 Ingredients You'll Need For Our Slow Cooker Philly Cheese Steak Sandwiches Recipe:   
Beef round steak
Green bell pepper
Onion
Beef broth
Italian dressing mix
Loaf of french bread
Provolone cheese
Cheese Whiz (optional topping)
How To Make Our Slow Cooker Philly Cheese Steak Sandwiches Recipe:
Begin by getting out your slow cooker and spray it down with nonstick cooking spray.
Then cut your ground beef into thin strips and then place the meat in the slow cooker.
Now slice both the green bell pepper and medium yellow onion and place them in the slow cooker.
Then add in the can of beef broth and envelop of Italian dressing mix.
Place the lid on the slow cooker and turn it on low for 7-8 hours or on high for 3-4 hours.
After the meat is done cooking, spoon it onto the cut loafs of french bread and top the meat with a slice of provolone cheese.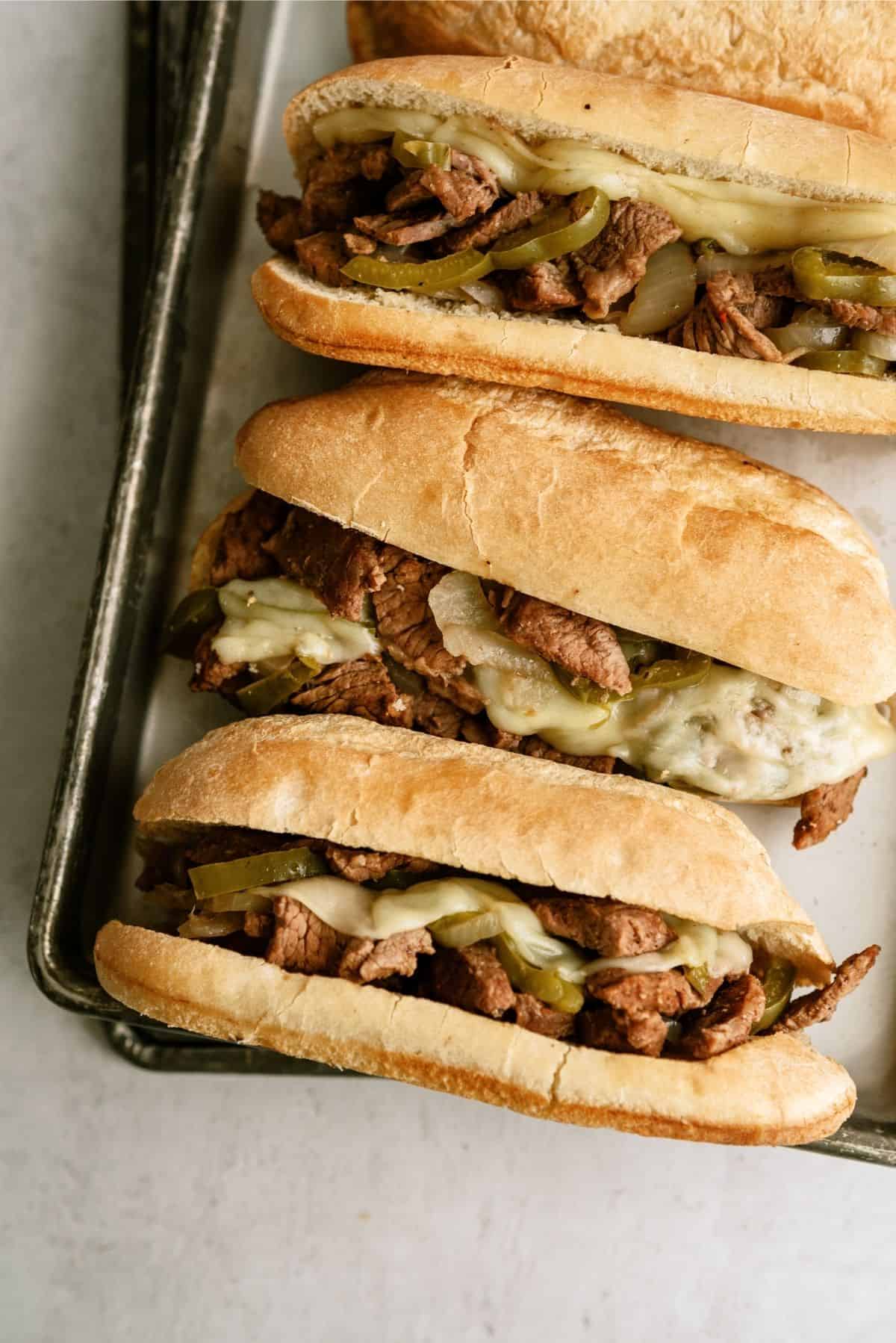 If you want your cheese to be super melted, place the sandwich bread on a baking sheet at 375 degrees for 5-10 minutes and then add the meat and cheese and place it back in the oven for another 5 minutes.
To make the more authentic version, top the meat with Cheese Whiz and even some A1 sauce.
Feel free to add any of your favorite condiments or extra toppings!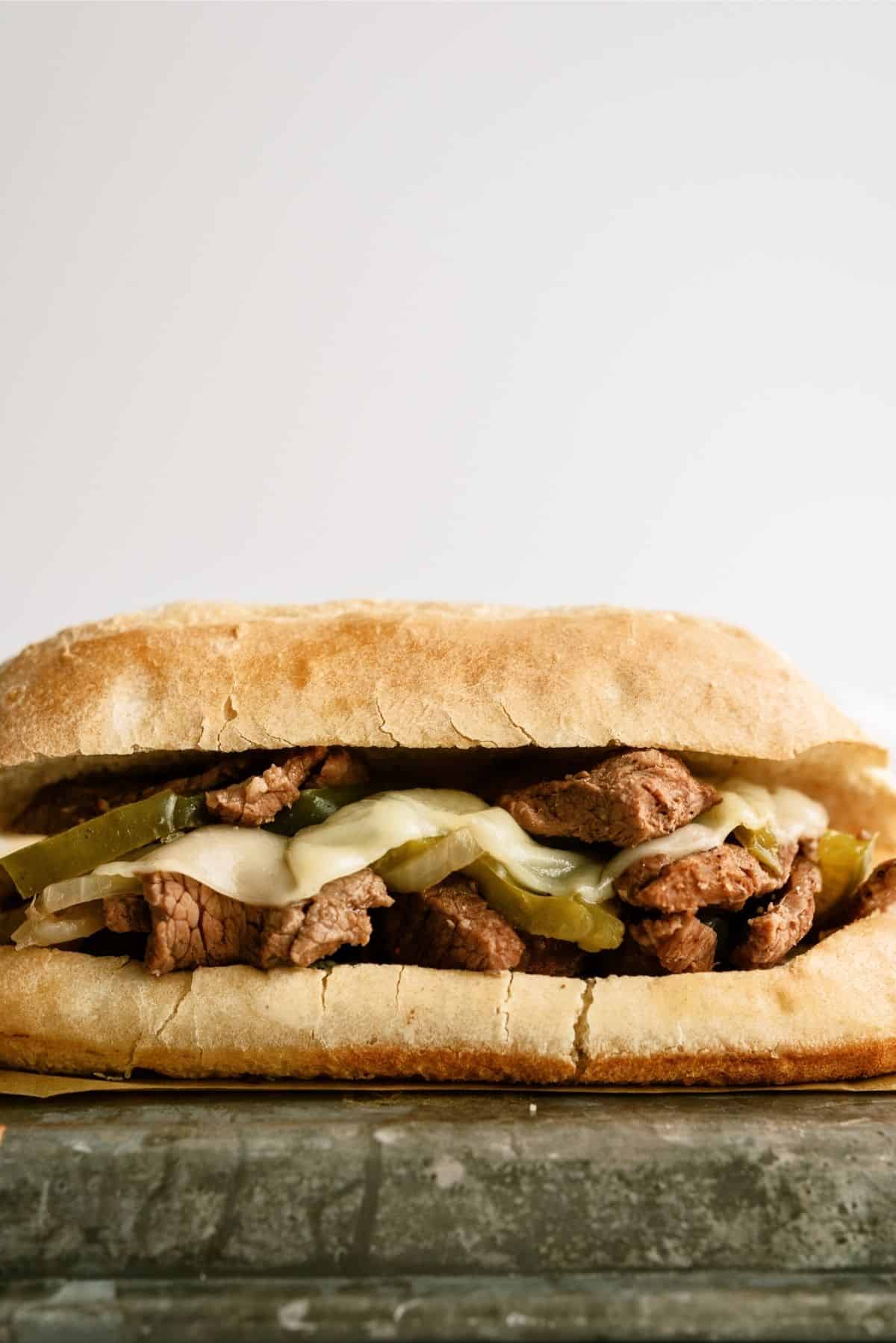 To Make This Slow Cooker Recipe You Will Need:
Slow cooker
Nonstick cooking spray
Tongs
Baking sheet (optional)