Slow Cooker Texas Chili is perfect for a busy day! Throw your ingredients into the slow cooker and have dinner ready to go. Don't have a slow cooker? We'll show you how to make Texas Chili in your Instant Pot too!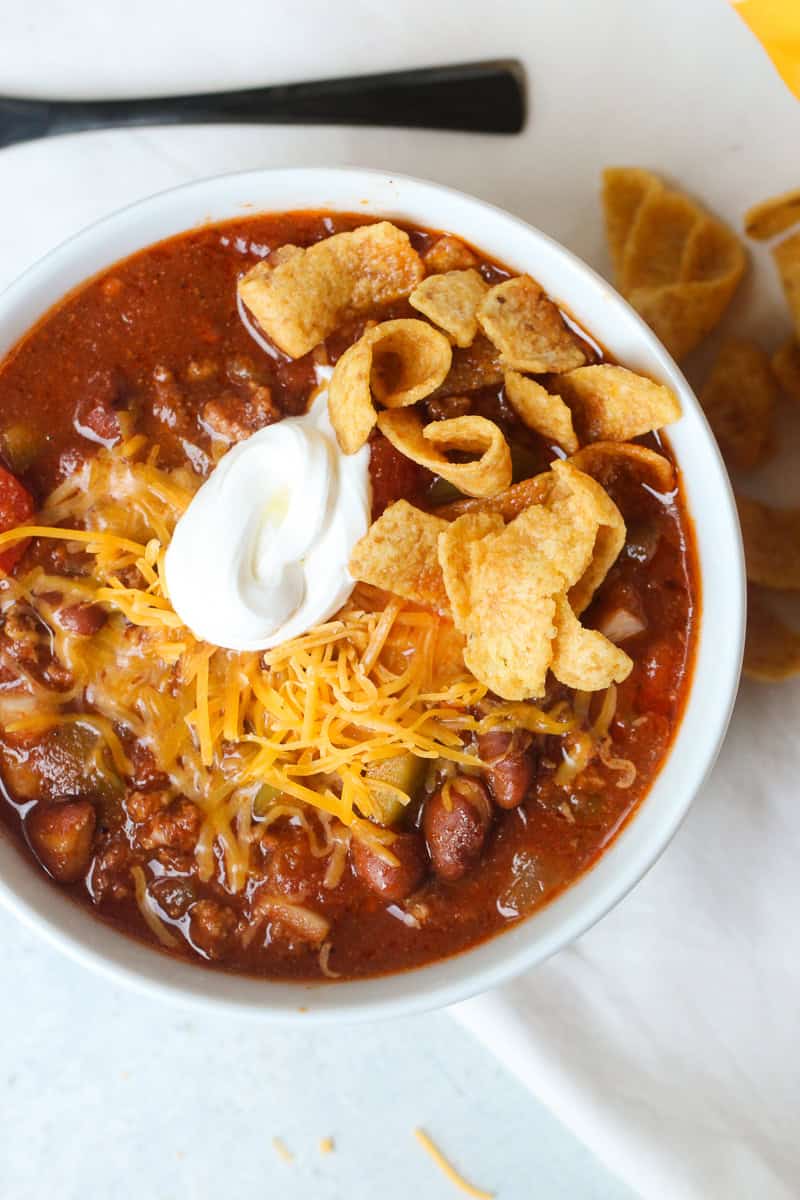 Who doesn't love a big bowl of chili on a cold winter night?
Chili has always been a favorite of ours! Growing up, our mom served slow cooker chili every Halloween! We had to finish our bowl before we could go trick-or-treating. Not a bad incentive on getting your kids to eat their whole meal!
I love that I can throw this into my slow cooker in the morning and have a hot delicious bowl of Slow Cooker Chili when dinner rolls around.
We have a lot of chili recipes on SixSistersStuff. You've probably tried our Mom's Slow Cooker Chili, our White Chicken Chili, or our Best Homemade Chili!
Texas Chili vs Regular Chili
Did you know Texas Chili is not like regular homemade chili? This recipe originated from a friend in Texas, so we've always called it Texas Chili! After posting, we were surprised at how controversial the beans or no beans conversation was.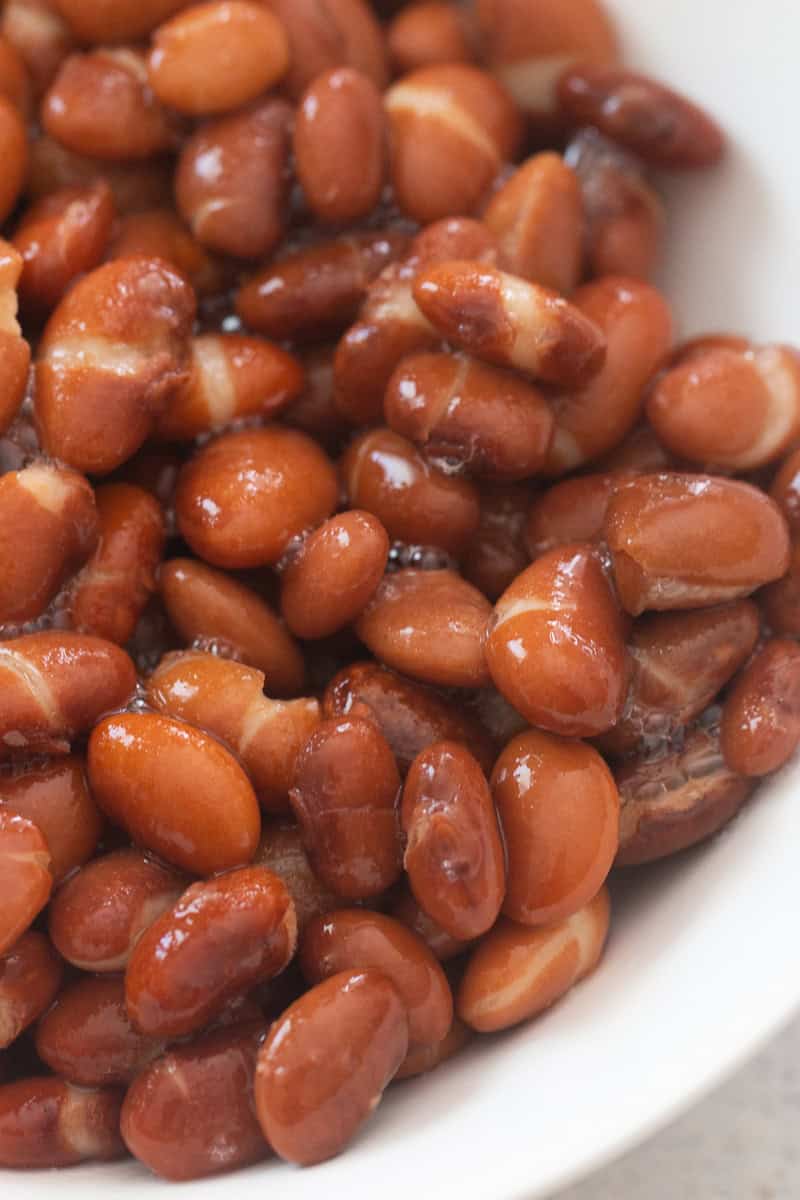 Historically, Texas Chili is typically a chili with beef and a chili sauce base. Most Texas Chili recipes don't have beans or tomatoes like regular chili.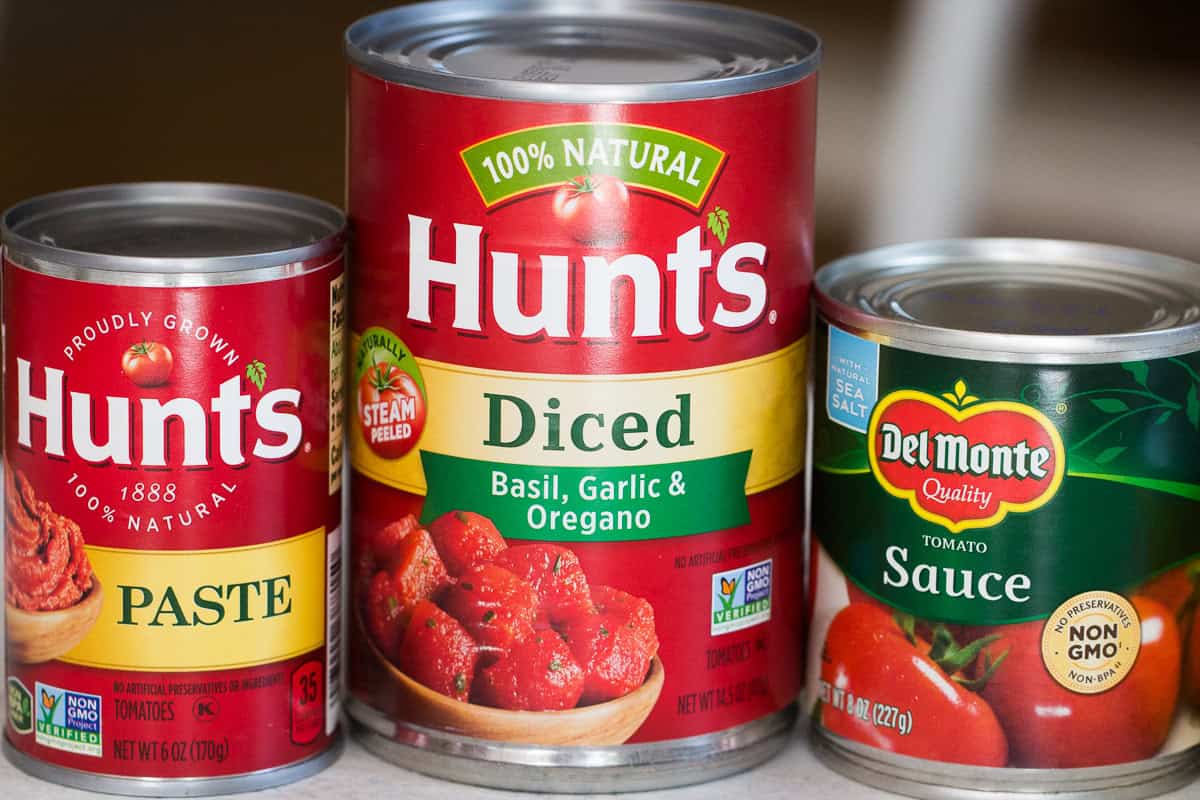 In this recipe, we just couldn't live without the beans or the tomatoes, so we've included both! If you're looking for a traditional Texas Chili Recipe without beans or tomatoes, you should definitely check out this Homemade Texas Chili!
What we love most about this Slow Cooker Texas Chili:
A thick and delicious soup that fills you up! Anyone else's husband complain about being hungry after you serve soup for dinner? Not with this recipe!
I considered naming this Easy Texas Chili because of how quick you can throw it together. It takes a few minutes to brown the beef, but the rest is just dumping ingredients.
Texas Chili is so easy to adjust! Don't like it spicy? Leave out some of the chili powder or red pepper flakes. Want it more spicy? Add more! Everyone will love your homemade chili.
Can you Freeze slow cooker chili?
This recipe should serve around 8 people, but don't worry if you can't eat the whole thing! Slow Cooker Texas Chili can easily be stored in the freezer and saved for another day.
To freeze this recipe, let the chili cool to a warm temperature (just turn off your slow cooker and leave the lid open for an hour or so!) and pour your extra chili into a large freezer bag.
You may want to double up on bags, just to avoid any leaking in your freezer.
You can keep it in your freezer for up to 30 days and it will taste as fresh as the day you made it!
To reheat, let it thaw in your fridge for 24 hours. Place your soup into the slow cooker and heat on low 2-3 hours until it's hot and bubbling again.
To make Texas Chili into a freezer meal, just follow the directions in the post below, but place all of the ingredients in the freezer bag and not the slow cooker.
You'll want to make sure you cook your ground beef before you place it in the freezer. We also recommend labeling your freezer bags with the date, name of the recipe, and cooking instructions so you know exactly what you need to do when you're ready to eat it.
Looking for another simple and delicious chili recipe? Try our Wendy's Copycat Chili recipe!
Related Article: Make 10 Freezer Meals in Less Than One Hour!