Get dinner in the slow cooker in a matter of minutes. You're just 8 cans away from a delicious Taco Soup dinner for your whole family! One of the simplest meals you'll make this month, this Taco Soup in the slow cooker is a crowd pleaser - guaranteed.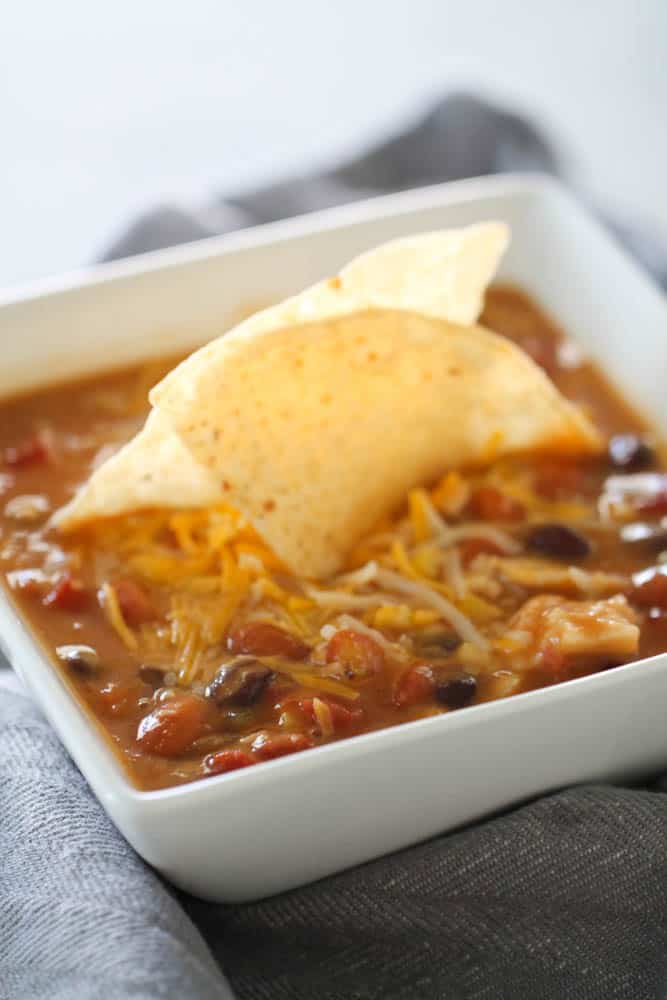 What is Slow Cooker 8 Can Taco Soup?
This Slow Cooker 8 Can Taco Soup has got to be one of the EASIEST meals I have ever made; yet it was surprisingly delicious!
I am always going to keep these ingredients stocked in my pantry for those crazy nights when I need a fast meal.
This is a great recipe to make when you have leftover chicken or ground beef. It's also a great meal for beginning cooks (no matter their age!) and can help them feel successful in the kitchen – there's really no way to mess this one up.
With just 8 cans and some taco seasoning, you're ready to go. You can substitute your favorite beans or enchilada sauce, but here's what we love in ours:
Black beans
Pinto beans
Diced tomatoes
Sweet corn
Chicken breast
Cream of chicken soup
Green enchilada sauce
Chicken broth
Taco seasoning
How to make Slow Cooker 8 Can Taco Soup:
We weren't lying when we said this was one of the easiest recipes you'll make all month! This soup can be made in just a few simple steps:
Spray slow cooker with nonstick cooking spray.
Pour all the ingredients into slow cooker and stir together.
Cook on low heat for 2-3 hours.
Serve with your favorite taco soup toppings (see our list below with our favorites).
How to make this Taco Soup on the stove:
You can easily adapt this recipe to make it on the stove. To do so, prepare it in a large stock pot over medium heat for about 20 minutes, or until heated through.
Related Recipe: Try our 20 Minute Cheesy Beef Taco Soup!