I love dinners that come ready with a side dish. This Sheet Pan Baked Pork Chops and Potatoes, is exactly that. You simply cook it all together and you only have one dish. One dish meals that include a side? Count me in. I am all for easy recipes. You have to try our Sheet Pan Baked Pork Chops and Potatoes.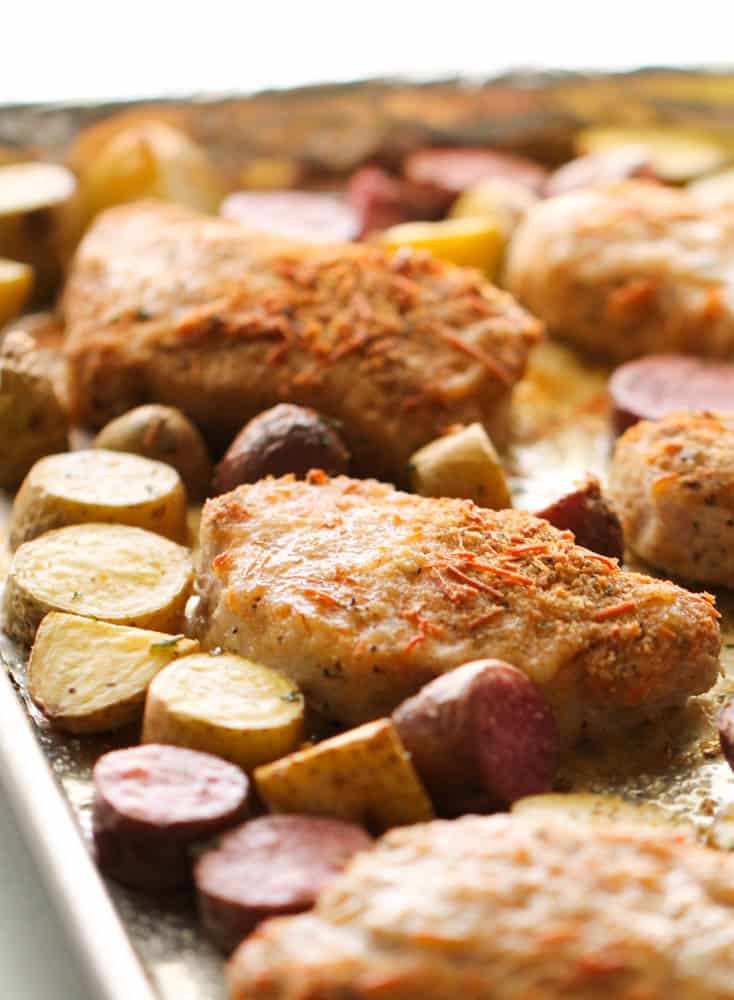 There is nothing better than this Sheet Pan Baked Pork Chops and Potatoes Recipe. If you haven't noticed by now, I am totally obsessed with sheet pan recipes.
If you haven't tried any of our sheet pan recipes yet, start with our Sheet Pan Chicken Pot Pie, Sheet Pan Steak Fajitas or Sheet Pan Meatloaf and Green Beans.
I love using sheet pan recipes because they typically feed a crowd, can be made in a matter of minutes and are easy clean up.
These Sheet Pan Baked Pork Chops and Potatoes are all of those things and more. This recipe is a main dish and side dish in one so dinner is ready to go.
How to make sheet pan baked pork chops and potatoes:
Step 1: Preheat oven to 400 degrees F.
Step 2: Cover a sheet pan in foil and spray with nonstick cooking spray.
Step 3: In a medium bowl, combine Parmesan cheese, Italian seasoning and bread crumbs.
Step 4: Melt butter in a separate bowl.
Step 5: Dip each pork chop in butter then coat in crumb mixture and place on prepared baking sheet.
Step 6: Continue until all pork chops are coated and on the pan.
Step 7: Cut potatoes into halves and toss in olive oil.
Step 8: Place potatoes on pan around pork chops.
Step 9: Season pork chops and potatoes with salt and pepper, to taste.
Step 10: Bake for 35-40 minutes or until pork chops are cooked through and potatoes are slightly browned.