This Sheet Pan Chicken Parmesan is the best meal for busy nights. It requires one dish for clean up, and it includes a side. My picky eaters even ask for seconds. Your family is going to love this delicious and healthy spin on Chicken Parmesan.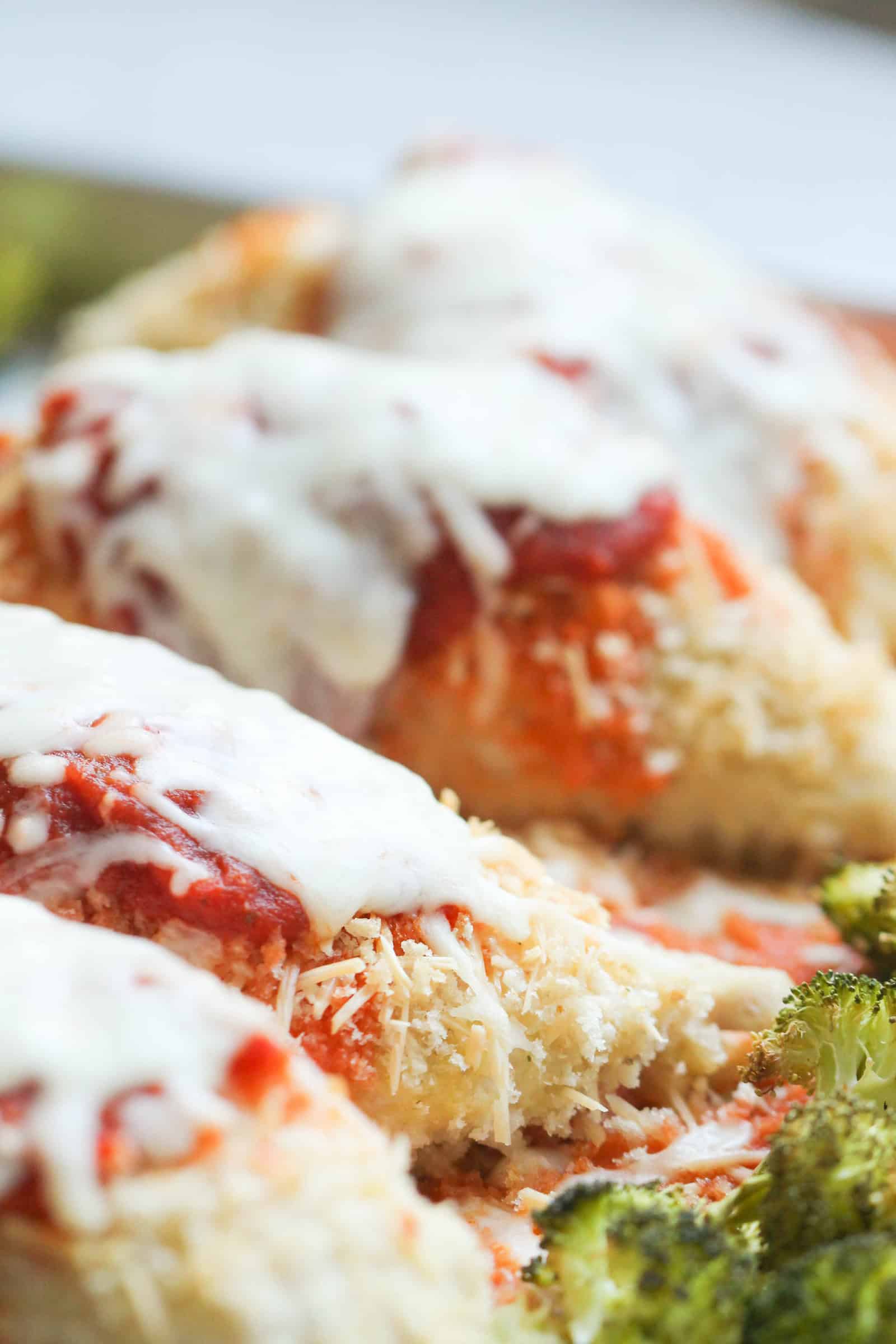 There are so many reasons to love this Sheet Pan Chicken Parmesan! For instance, I am not a fan of dishes. Some nights we go out to eat, just because that's how much I hate doing dishes.
Thank heavens this recipe came to me in a moment of inspiration, because we have already made it twice this week and my husband loves it.
It is so easy to throw together, that he has even made it. It requires one pan, making clean-up easy. Enjoy your night at home with delicious chicken parmesan, and a clean sink and dish free dishwasher.
The best part is, it only requires a few simple ingredients. A simple dinner, with simple cleanup, with a side dish, and my picky eaters LOVE it? It's a Christmas miracle in August.
Tips on making sheet pan chicken parmesan:
I have found this recipe works best when my chicken breasts are all equally sized. I find it difficult to cook evenly when one side of the chicken breast is thicker than the otherTo solve this, I simply but the chicken breasts in a gallon ziplock bag. Make sure it is good quality, or double up bags.I then hammer, or roll out the chicken breasts with a rolling pin, to reach a desired thinness and evenness.I then remove the chicken from the bag, and continue the recipe as directed.
When dipping your chicken breasts in the various dippings, I used a fork. However, after you dip it in the egg mixture they tend to get a little slippery.You can easily use your hands for this step. I found it easier, and had more control over the process. It was also easier to get bread crumbs on the chicken breasts. I almost had to pat them into the chicken breast a little bit.
Be sure to spray the top of the chicken breast with a little bit of oil or butter, just to help the bread crumbs get crunchy and not soggy when they bake. This will really give it that chicken parmesan crunch.